16 Wedding Nail Designs to Rock on Your Big Day
Trying to find the perfect wedding nail design for your big day? Turn to the best and brightest nail artists.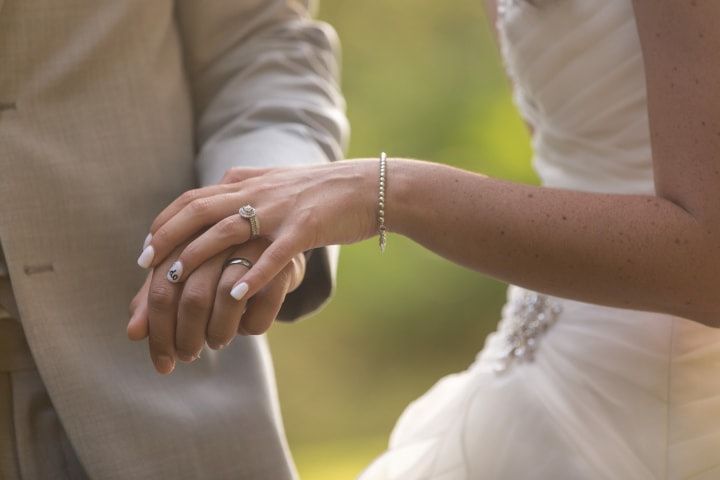 Planning out your bridal beauty routine? Don't forget about your wedding nail design. Sure, your dress will be the main focus, but you want every aspect of your look to be on point for your big day, so don't forego the trip to the nail salon. If you want something a bit more interesting than a nude mani or French tips, you've got options. From ombre foil to nature inspired nails, there's a lot of nail art designs out there to choose from.
Here are a few wedding nail designs for your big day.
Ombre Foil
Need to add a bit of glitz and glamour to your wedding look? Go for an ombre foil wedding nail design. It's a twist on the classic ombre manicure that packs a bit more of a punch. We suggest matching the foil colour to your ring band to make it pop, most nail artists have gold, rose gold and silver on hand.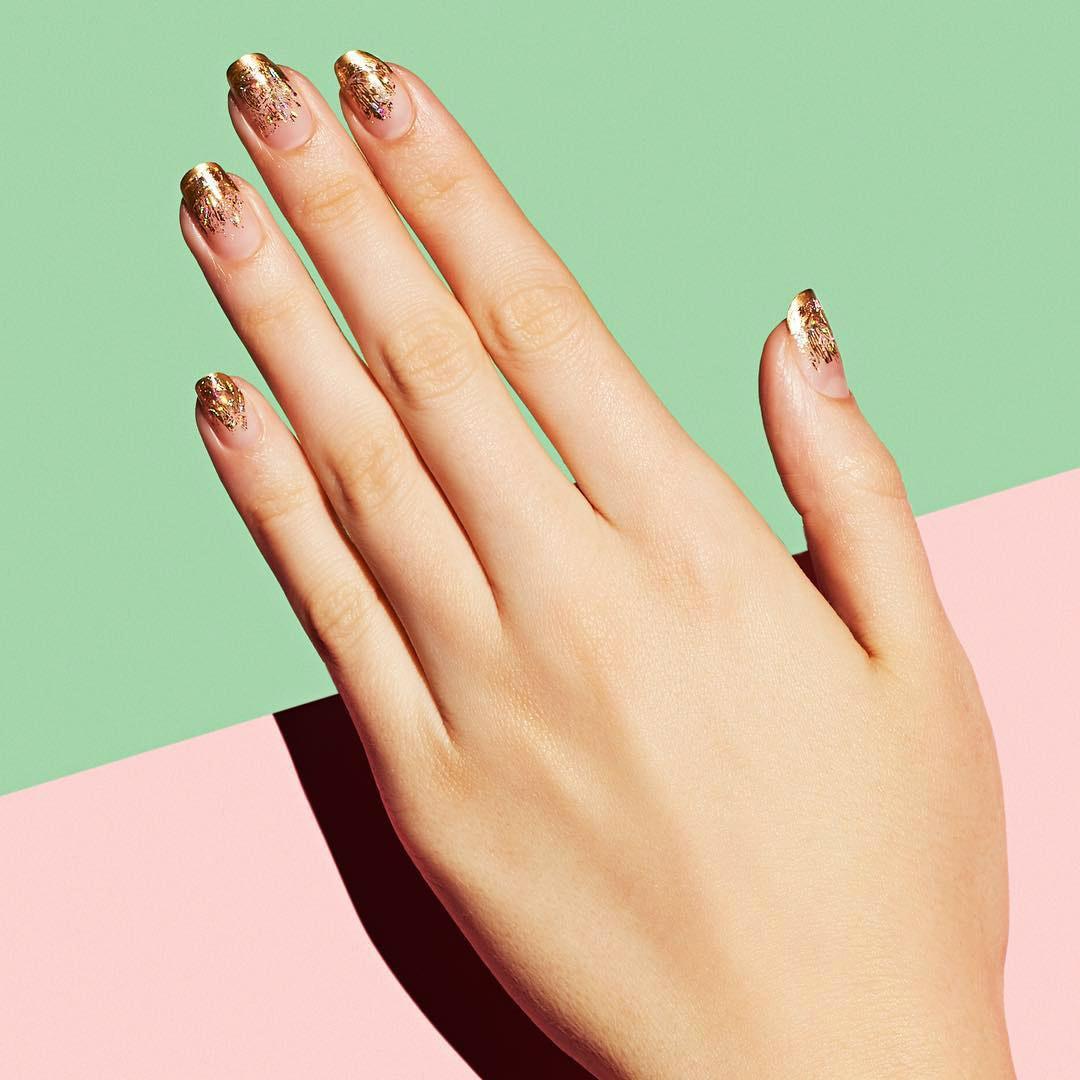 Glitter Ombre
The slightly more subdued sister to ombre foil is the glitter ombre nail art design. This look is perfect for anyone looking for that extra bit of sparkle on their big day. Glitter can fade from top to bottom or bottom to top, both have an awesome effect.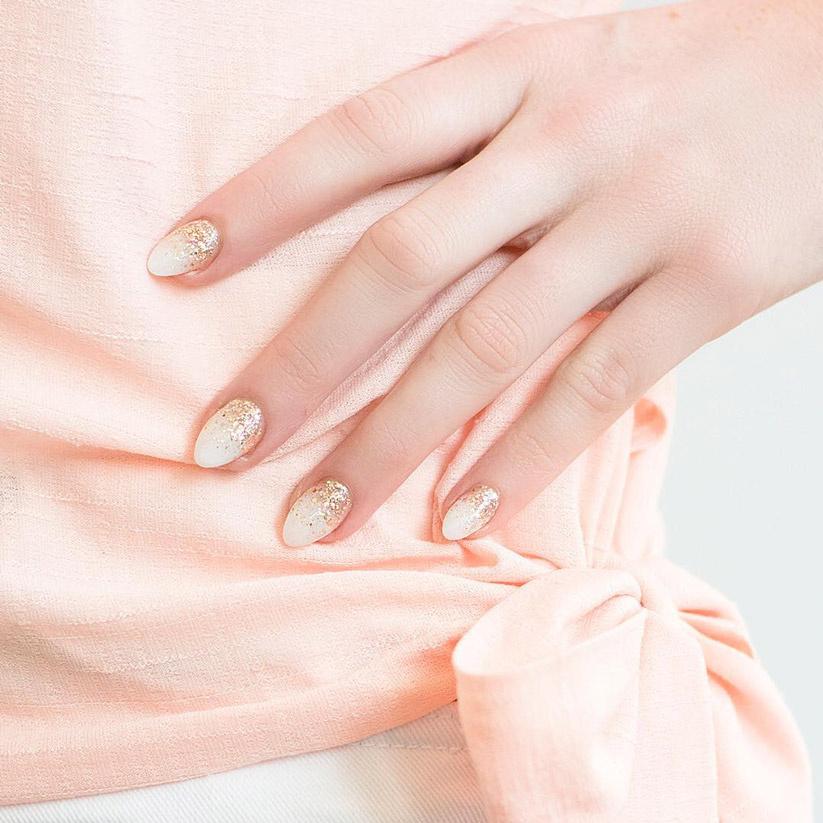 Accent Nail
The accent nail is a tried and true way to add something fun without going overboard. Add a sparkly coat or design to one nail on each hand to make your mani a bit more fun. For wedding nail designs, usually the ring finger is the one that gets special treatment, but feel free to mix it up.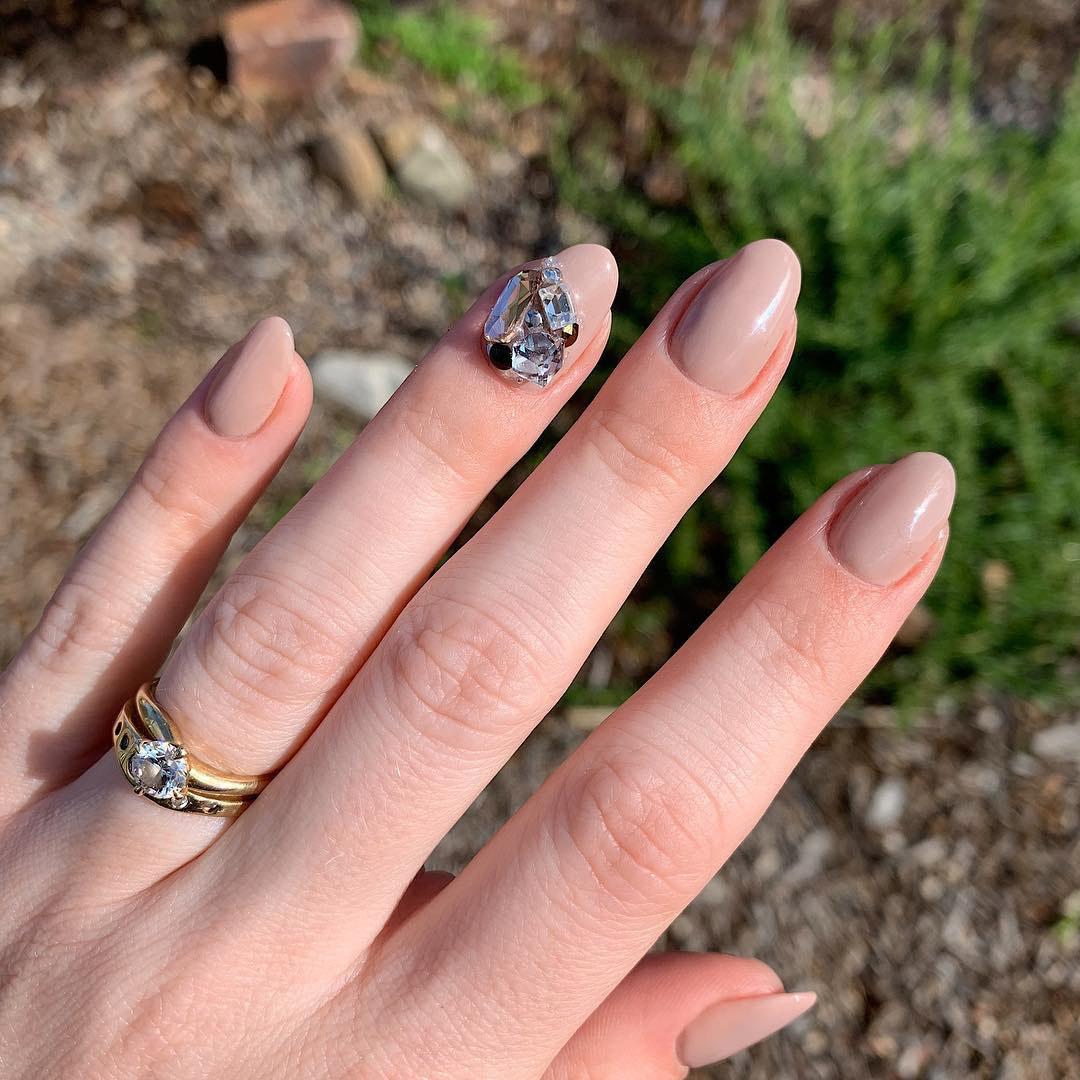 Geometric
If you're embracing the geometric wedding decor trend, why not incorporate some triangles into your nail design, too. We love this look accented with glitter on the ring finger.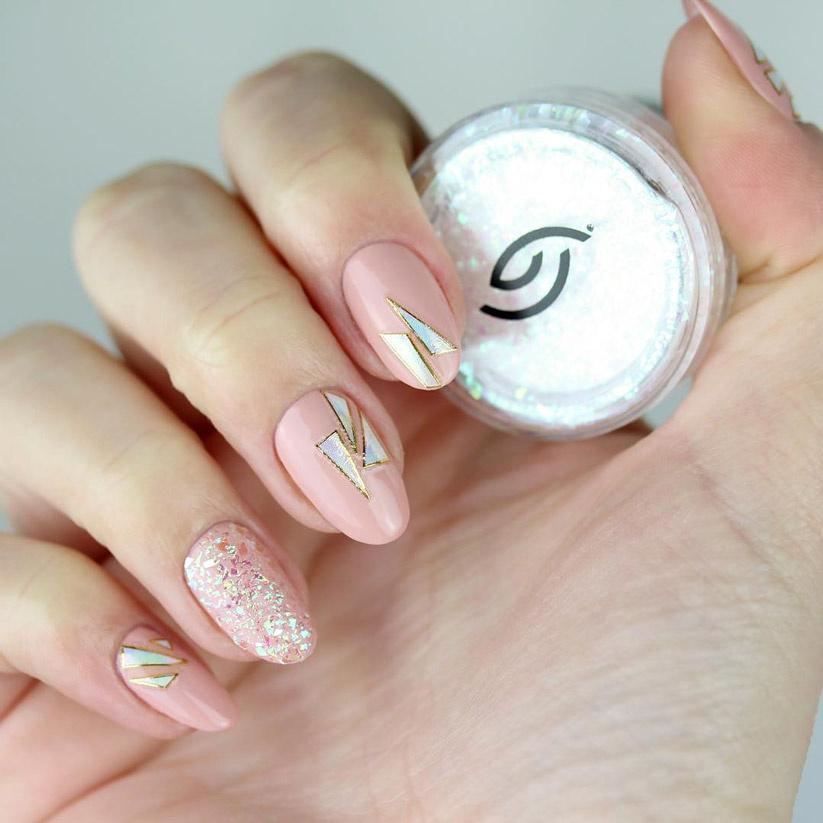 Nature Inspired
Not afraid of bolder nail art designs? If you're hosting an outdoor affair, why not gather nail inspo from your surroundings. We love the idea of using a nude polish for the base and adding the intricate details on top. From butterflies to flowers, you can have it all on your fingertips.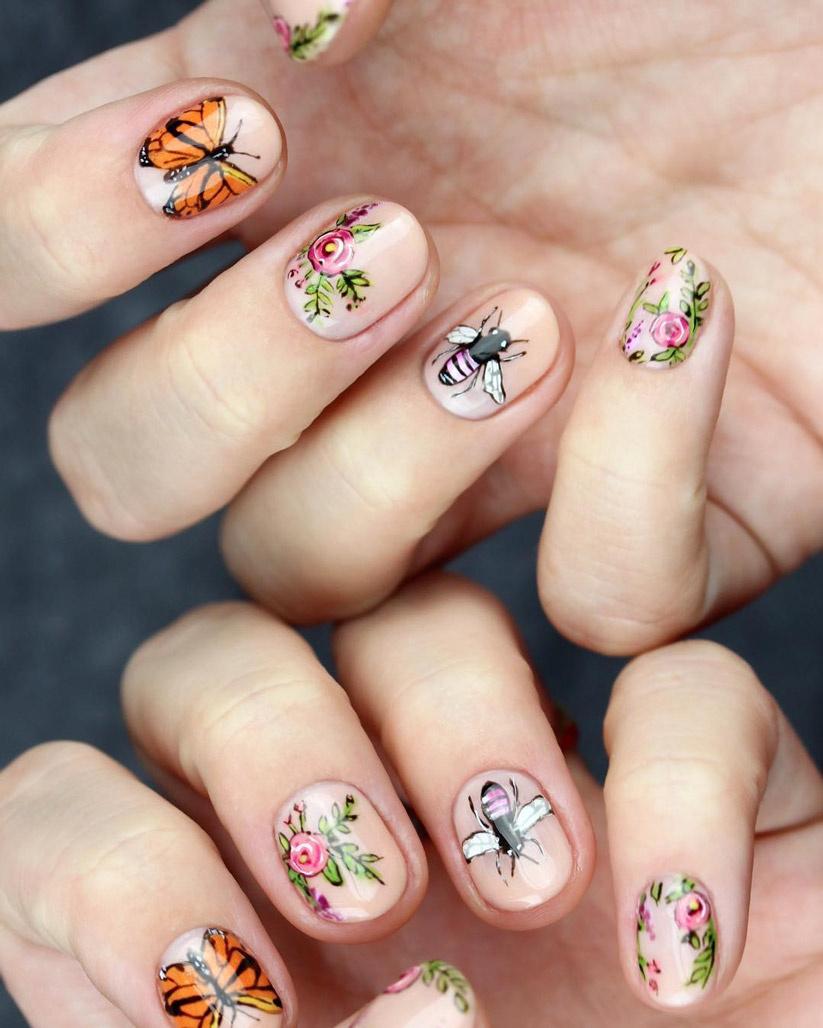 Geode
Speaking of nature-inspired, you can go below the earth and use geodes as inspiration. You've probably seen them inspire wedding cake and place card designs, so why not use them for your bridal manicure, too!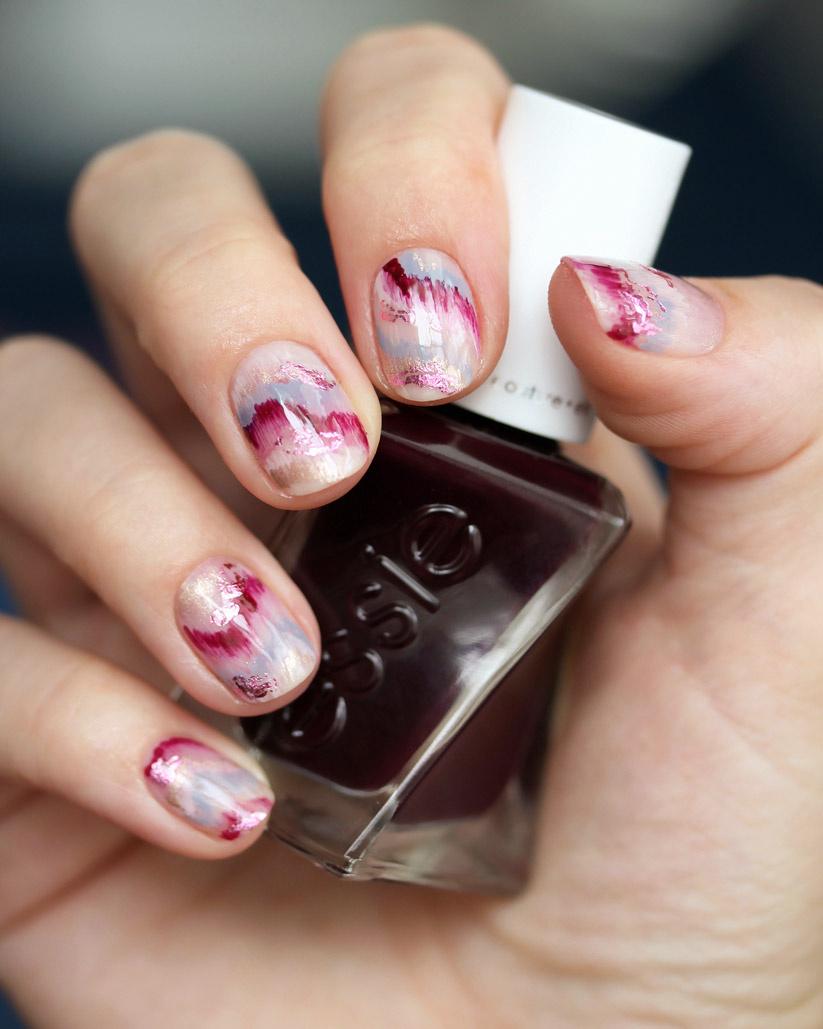 Moon
If you want to stray from the typical French manicure, try a moon mani. Instead of colouring the tips, your nail artist will paint the moons on your nails in a different shade than the base. You can either go with a duo of subtle neutral tones or a pair of bolder hues.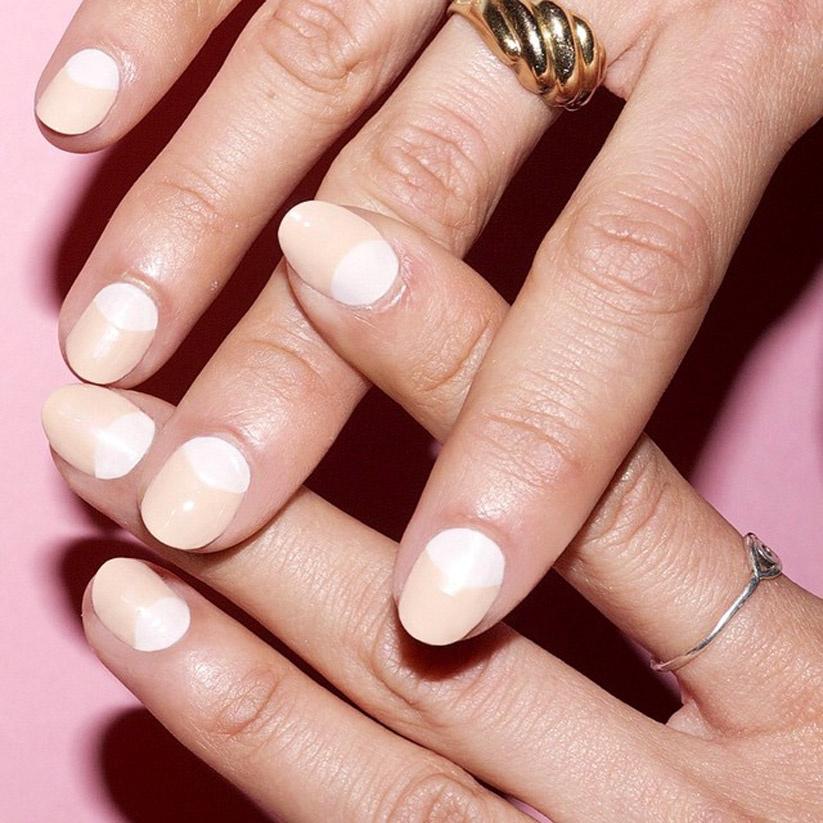 Striped
Sometimes simple is the way to go. Pick a plain base colour - like a blush or nude - and then add a metallic stripe or two across. You can get creative and position them horizontally, diagonally, vertically or a mix of all three.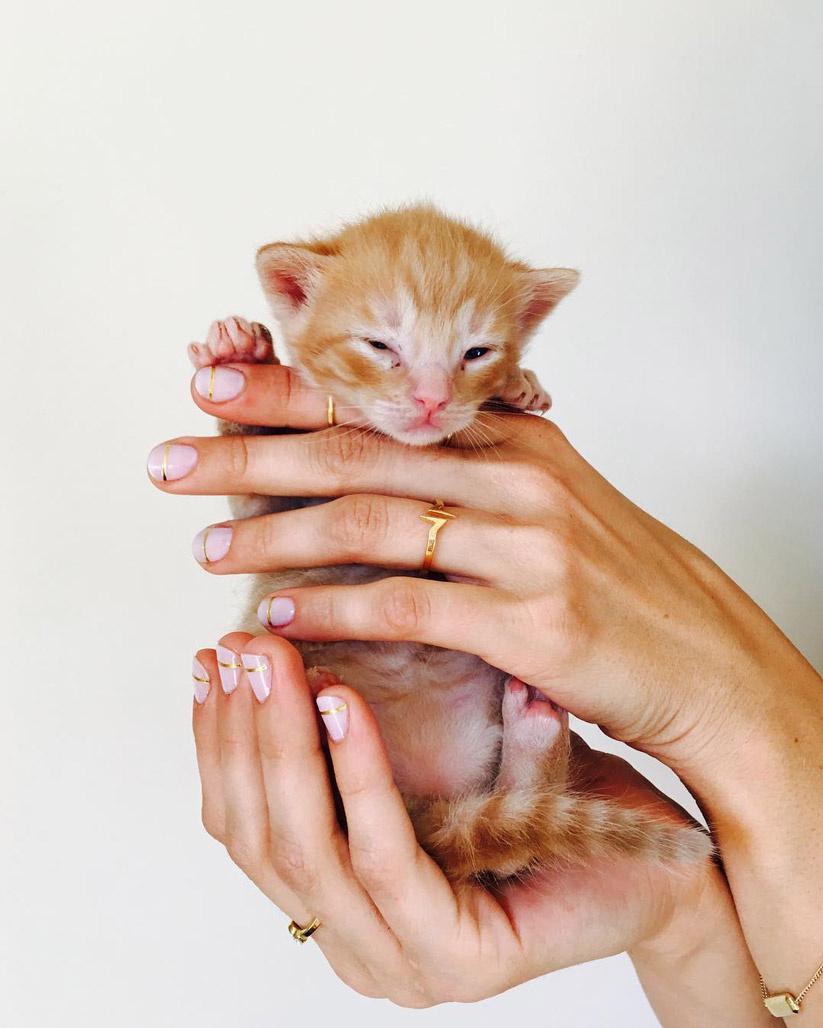 Dry Brush
Dry brush is a technique that makes the stroke of the brush stand out on the nails. When applied in small doses like this, it gives a pretty, understated look, perfect for you or your bridesmaids!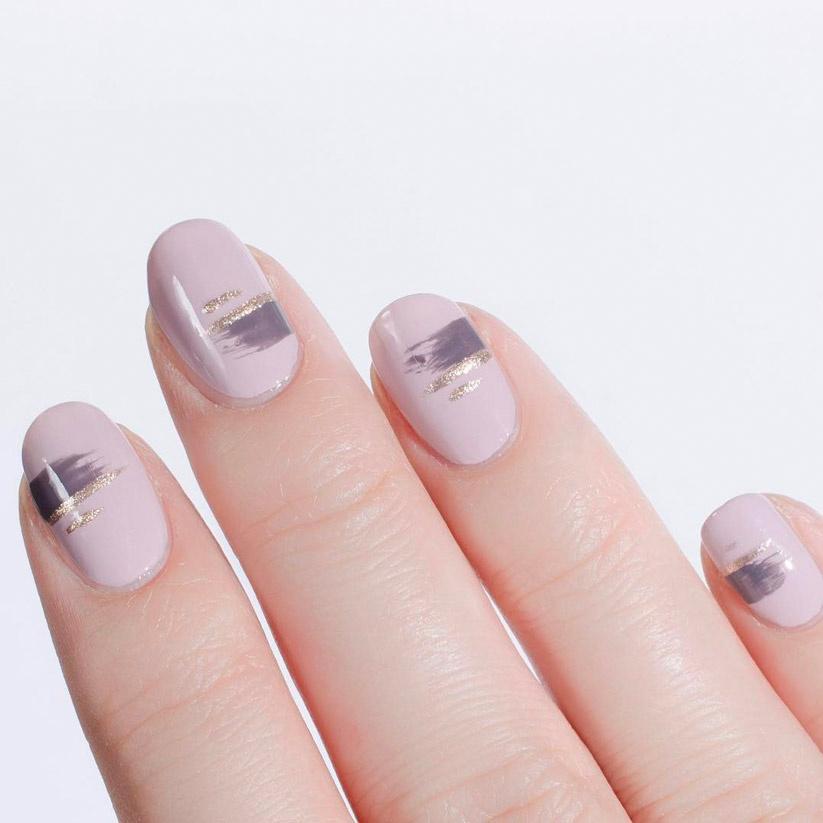 Marble
This effortlessly chic style is a fan favourite on Instagram right now. It's not too over the top, so it won't take away from the rest of your outfit. If stark white seems a bit too matchy-matchy with your dress you can always opt for an ivory or rose hue - or even one that matches one of the shades in your bouquet.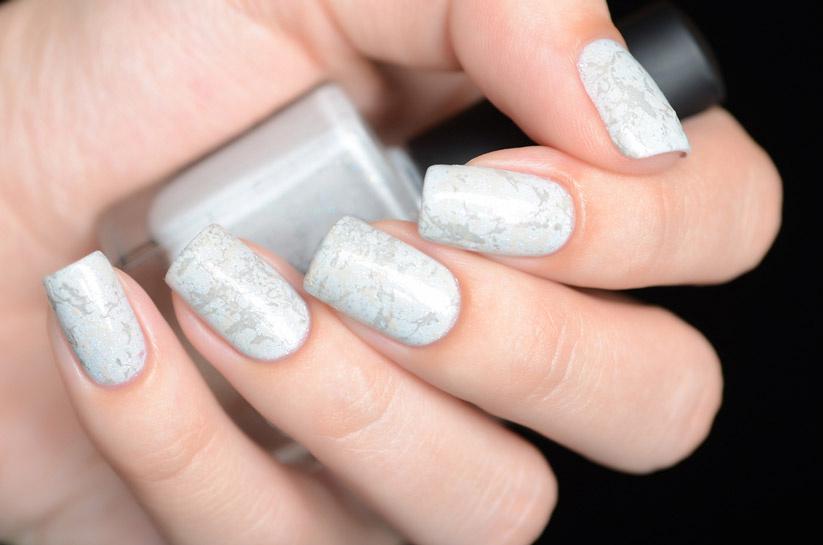 Celestial
If you believe your love was written in the stars, a celestial wedding nail design might be perfect for your big day. This design looks awesome in nude, but can easily be amped up with bold colours and glitter. Pro tip: if you're into astrology, you could even work in your and your partner's zodiac signs.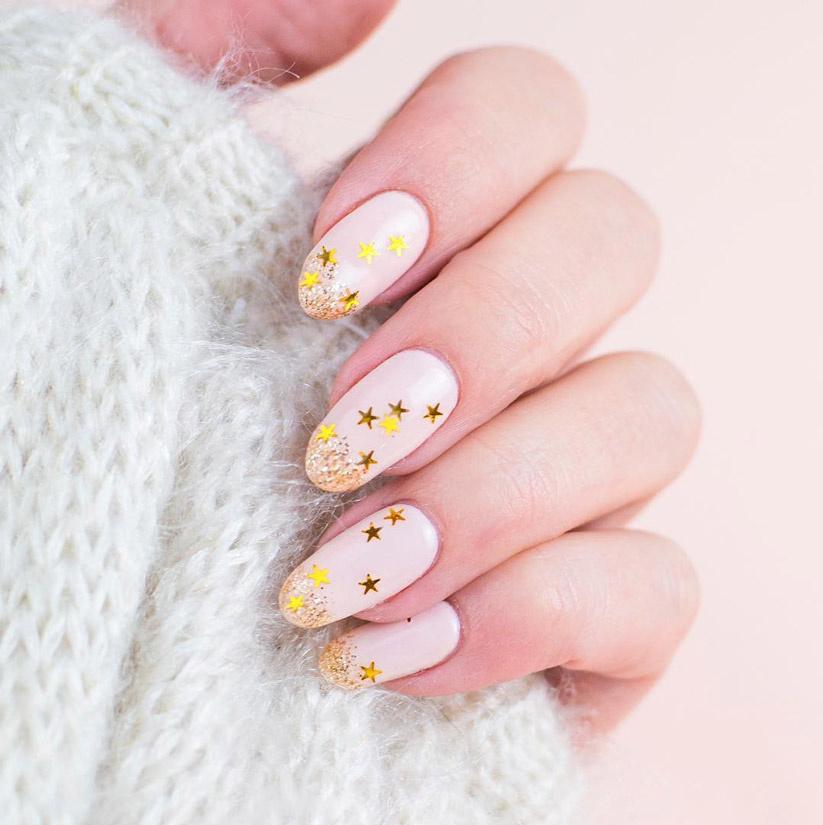 Tropical
Can't afford to host your wedding in a sunny spot like Jamaica or the Bahamas but still want to embrace those tropical vibes? Add a few palm leaves to your nails. You can go the subtle route and just do the accent nail or go for a full-blown, 100% tropical mani.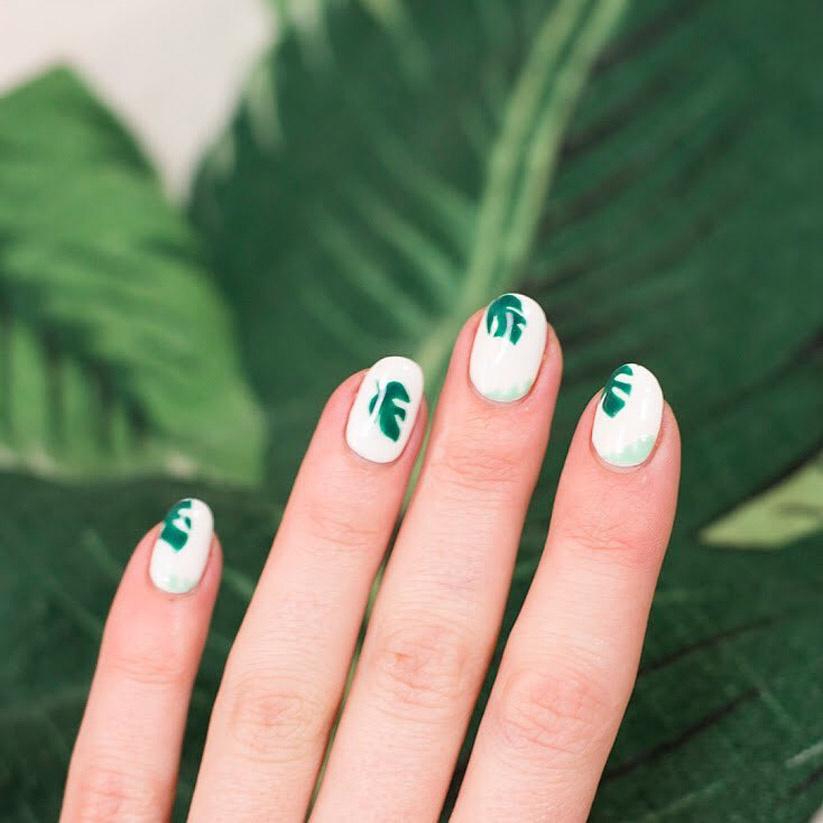 Wordy
Let your nails do the talking on your big day by adding a short and sweet saying to your manicure. You could go with something wedding-related like "Mrs." or "I do", or opt for your new last name or your favourite inspirational words.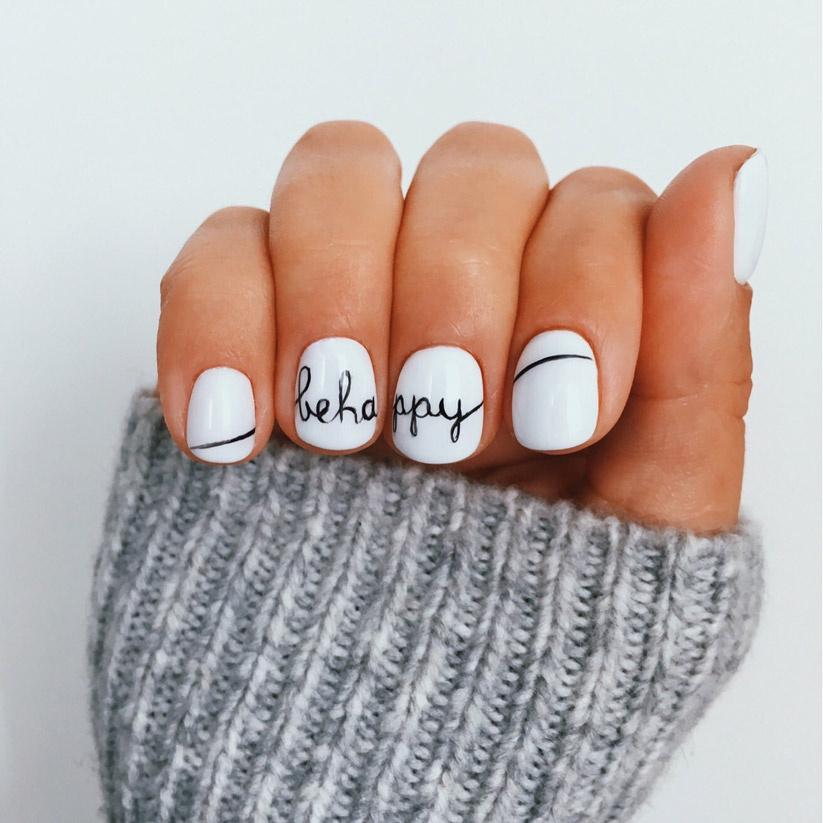 Hearts
Wear your heart right on your nails! This gorgeous nail art design can be painted with nudes and pinks for a more subtle look or with bright colours (like this) for brides who want something on the bolder side.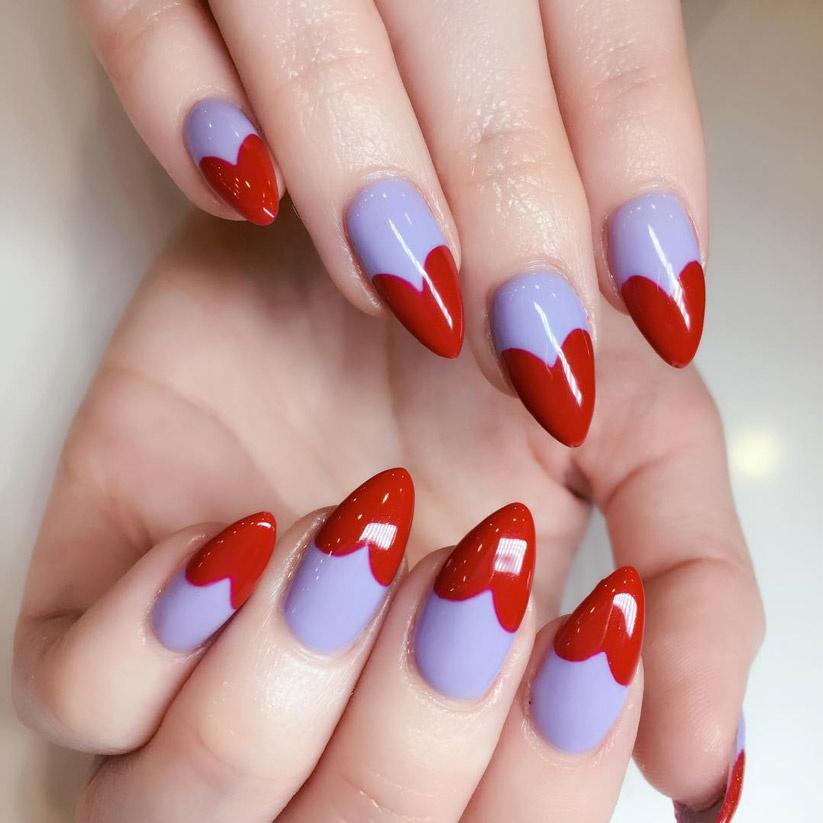 Holographic
Give your nails a bit of '90s flavour by going with a holographic design. Classic iridescent silver looks cool, but there are a ton of darker shades available that'll really make your wedding nail design pop.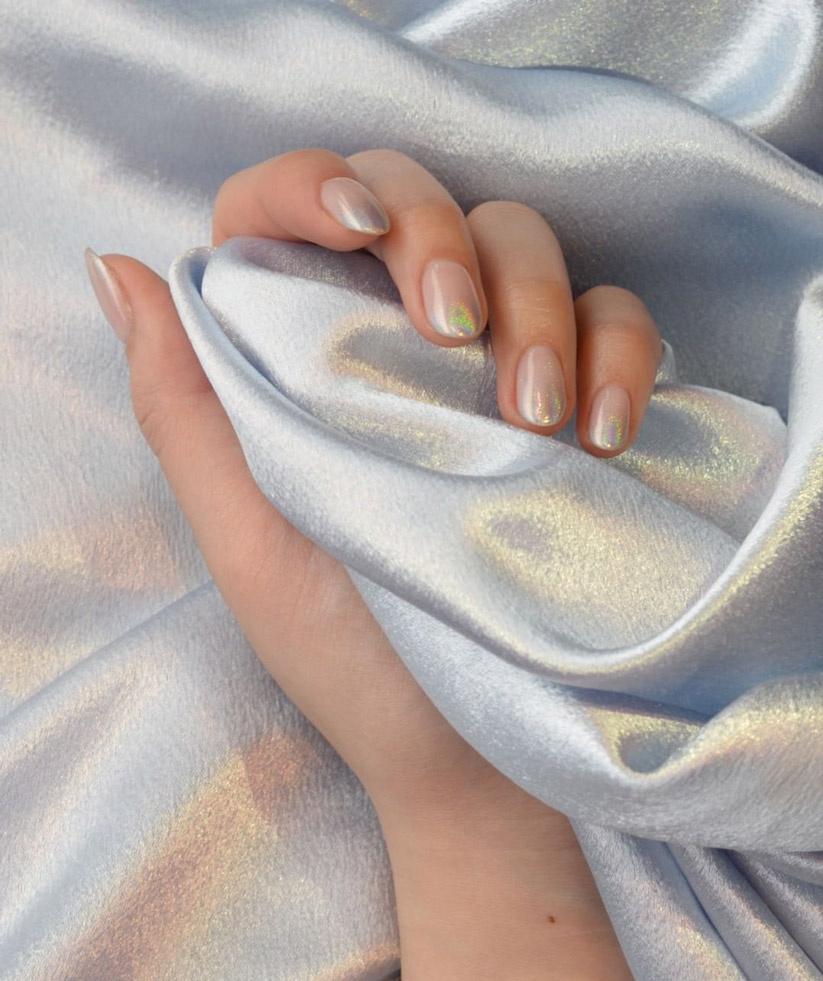 Spotted
Add a few dots and spots to your nails for an elevated minimal design. If you really want to make your mani stand out you could ask your nail tech to work in a few different shades that match the blooms in your bouquet or wedding colour scheme.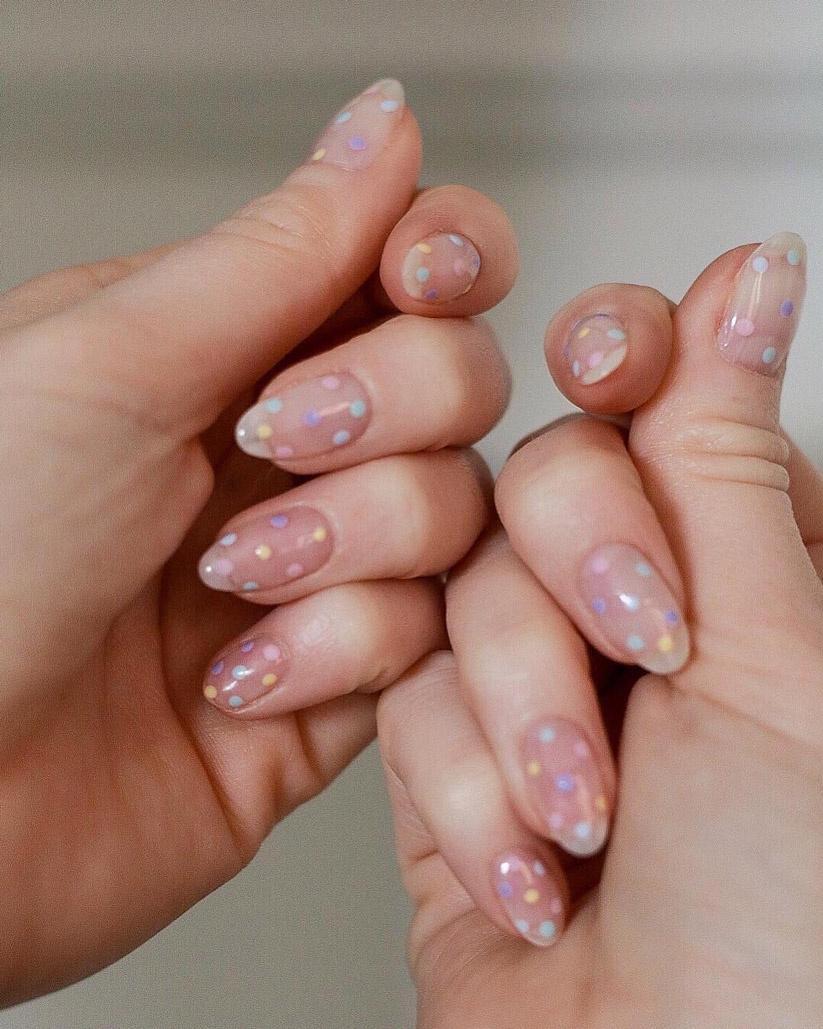 Find your wedding makeup artist and hairstylist on WeddingWire »