Essential Canadian Wedding Dress Designers
Canada is home to many of the bridal industry's top designers. Want the lowdown on the kings and queens of wedding dresses? Read on.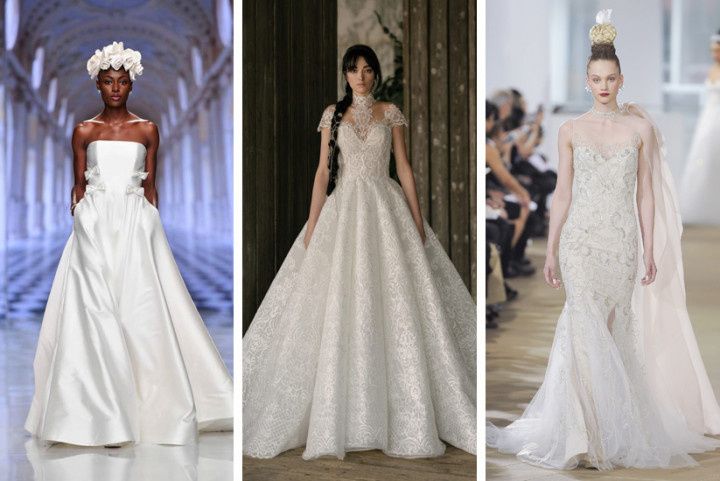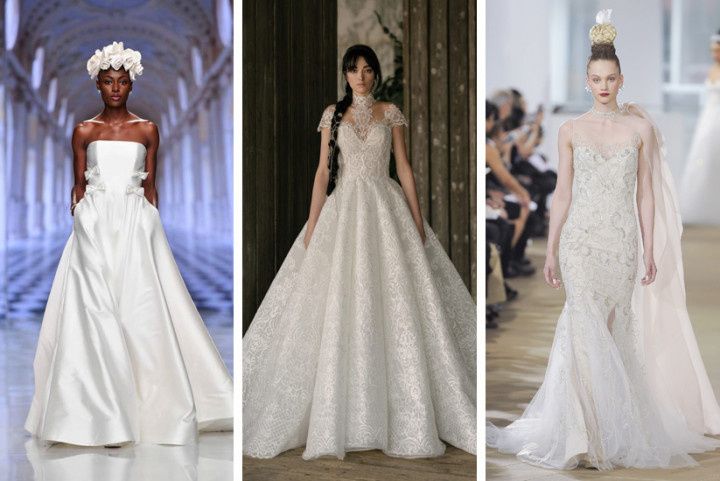 There is a lot of local talent to choose from when it comes to wedding dress designers. While you may be tempted to look into famed U.S.-based designers like Vera Wang and Monique Lhuillier, Canada has some pretty fantastic offerings as well. From Ines Di Santo's ultra feminine frocks to edgier Rita Vinieris numbers, there are plenty of dress designers worth looking into from the true north strong and free.
Here are the essential Canadian bridal designers.
Ines Di Santo
Ines Di Santo was raised in Buenos Aires, studied fashion in Argentina and Milan and now calls Toronto her home and headquarters including her flagship store in Yorkville. When it comes to dresses, she's all about sophisticated feminine glamour. Her beautifully designed pieces often tie in intricate beading, lace and tulle layers. Her gowns have been worn on red carpets by A-listers like Angela Bassett and Laverne Cox and down the aisle by many a bride.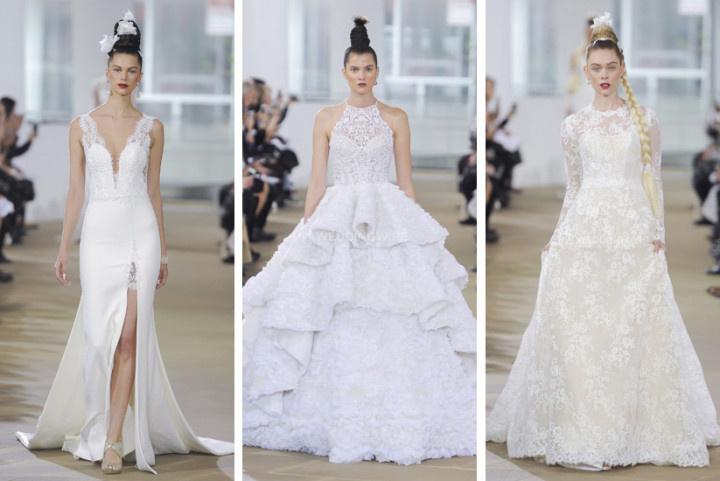 Rita Vineris 
The Rivini and Alyne bridal collections are the brainchildren of Rita Vineris (the latter is the more moderately priced of the two). The designer is based in T.O. and sells her gowns at top notch locations worldwide including Kleinfeld Hudson's Bay and Blush Bridal in Vancouver. Her dresses are geared toward the modern urban bride, meaning you'll see a lot more cut-outs and embellishments than you would on traditional gowns. Her willingness to take fashion risks is what makes her stand out among designers.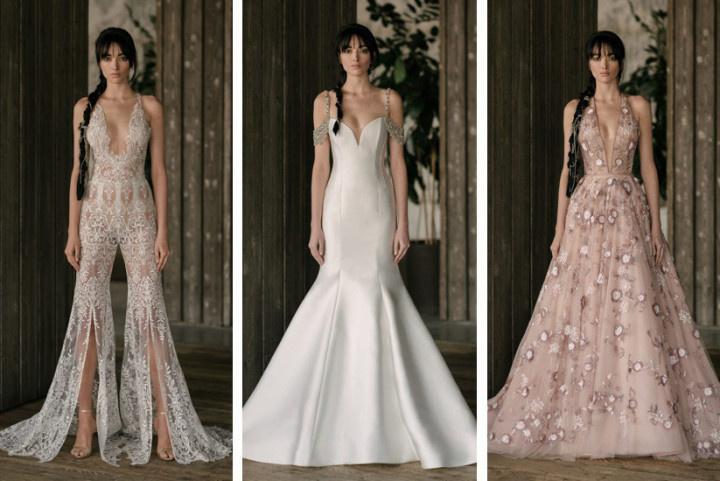 Anais Anette
Anais Anette was born in 2013 in Toronto, helmed by sisters Magdalena Gmyr and Karolina Keeler. Their designs go against the status quo, fusing together pre-revolution era Eastern European fashion with contemporary styles and silhouettes. The label's gowns are aimed at the modern woman who isn't afraid to look outside the box. Expect to see a healthy dose of lace and unique cuts.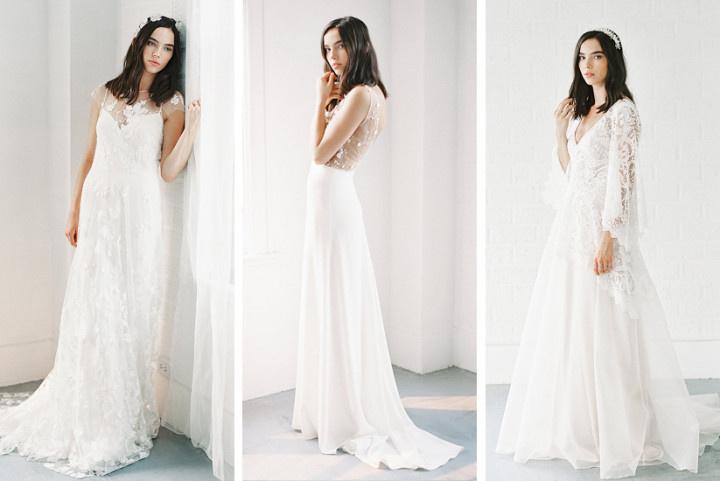 Christopher Paunil
When it comes to fashion, Christopher Paunil has done it all. He's skilled in pattern making, costume creation, teaching and - you guessed it - bridal design. He started his label in 2010 and has been wowing brides-to-be ever since. His Toronto studio boasts dresses designed for the contemporary woman, making them anything but average. His most recent collection includes a romantic pink mermaid gown, fashion-forward bridal jumpsuit and everything in between.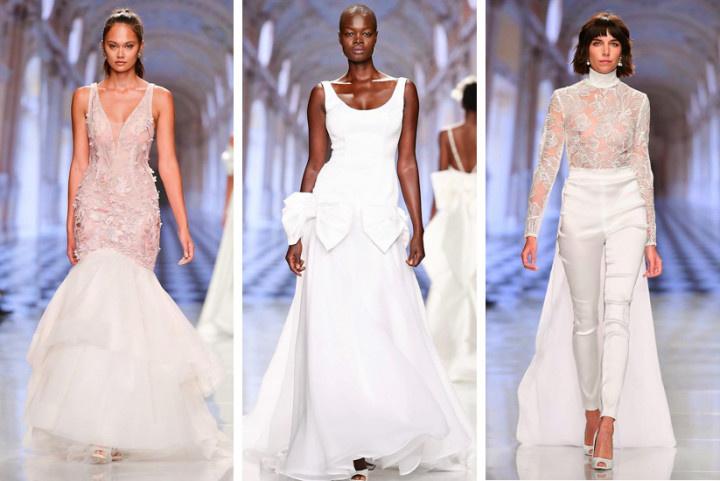 Paloma Blanca
Paloma Blanca has been a Bernstein Family affair since its inception in 1937. The evening wear and bridal label was founded in Toronto by Manny Bernstein under the name Blue Bird Dress. It changed its name and vision in the late 1970's, leaving evening wear behind to focus on bridal gowns and accessories. The dresses are timeless, with classic flattering shapes and subtle trendy additions like lace and jewelled belts. You can find their styles at bridal boutiques across North America.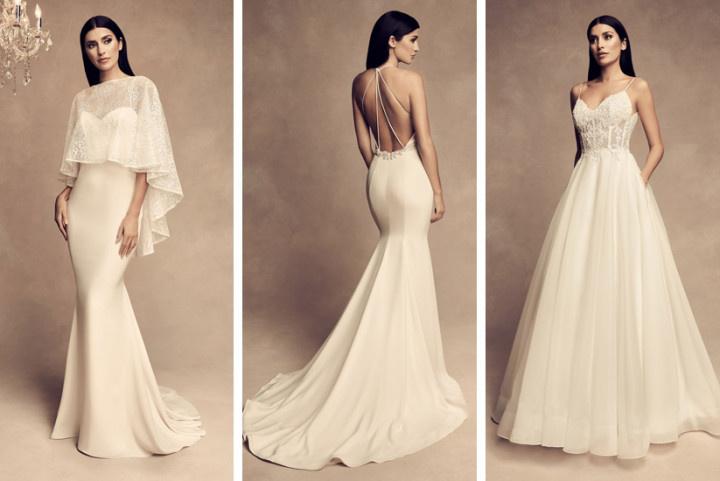 Mikaella
Paloma Blanca's sister label, Mikaella, is also worth looking into if you like the brand's signature style but want something a little more fashion-forward and budget-friendly. Mikaella's designs tend to err on the more modern side, taking on trends like illusion bodices and open backs. While the frocks are definitely edgier than Paloma Blanca's range, they still hold onto tradition with their silhouettes and attention to detail. Mikaella dresses can also be found at bridal shops across North America.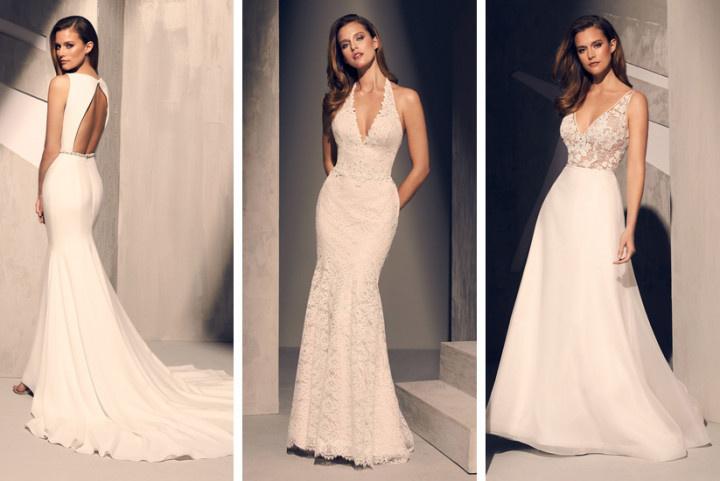 Lea-Ann Belter
When Lea-Ann Belter designed her now sister-in-law's wedding dress she fell head over heels for the world of bridal gowns. Not long after she dove in head first, opening her first boutique in Yorkville. Since then she has moved around Toronto a few times, landing at Dundas and Broadview - which operates as both a shop and her production studio serving bridal boutiques across North America. Her dresses span styles, boasting everything from tight-fitting lace numbers to A-line gowns.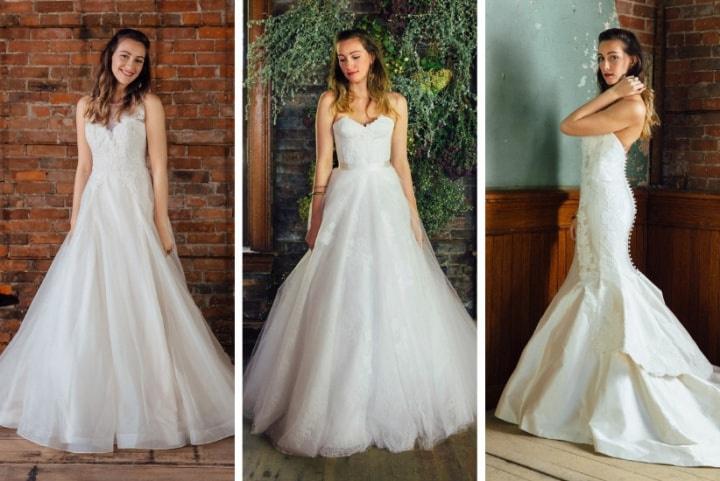 Valencienne
Kim Ironmonger has been working in the Toronto fashion scene for 30 years, making her a true style veteran. She opened her shop at the ripe age of 21 with a strong passion for beautiful frocks and no formal training. The business is now over three decades old, proving that she belongs in the bridal world. She finds inspiration everywhere, from glossy magazine pages to jetsetting to faraway lands. It is this that gives her gowns their own distinct flair. You'll see everything from daring corset bodices to romantic mermaid gowns in her Eglinton West boutique.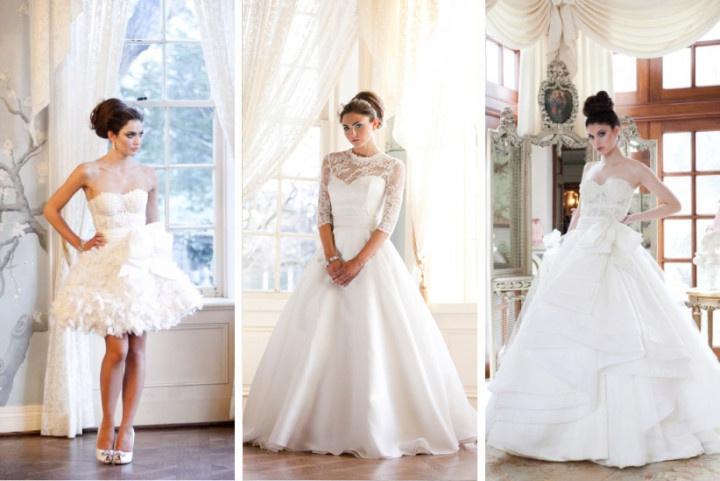 & FOR LOVE
In the market for something truly unique? Look no further than & FOR LOVE. Its showroom flaunts dresses, jumpsuits and separates perfect for the modern bride who likes her outfits outside of the box (no poofy princess dresses here). The line is designed by Toronto resident and OCAD alum, Angel Spendlove.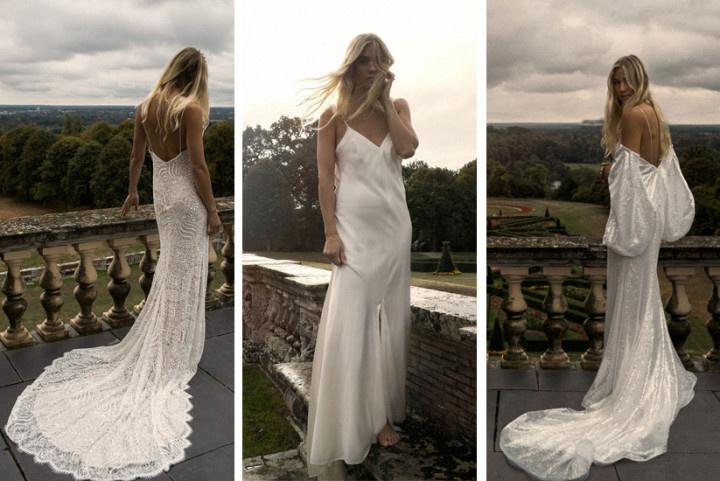 Romona Keveza
Romona Kaveza, a Lithuanian-Canadian designer, has not one but two impressive bridal lines (Romona Kaveza and Legends Romona Keveza). Her line is filled with lust-worthy pieces with intricate details like jewelled belts, embroidered flowers and lace overlays. But that's not all. She's also made a name for herself on the red carpet, dressing the likes of Lea Michele and Christina Hendricks. Her flagship is in New York but her gowns can be found at Kleinfeld Hudson's Bay and Bisou Bridal in Vancouver.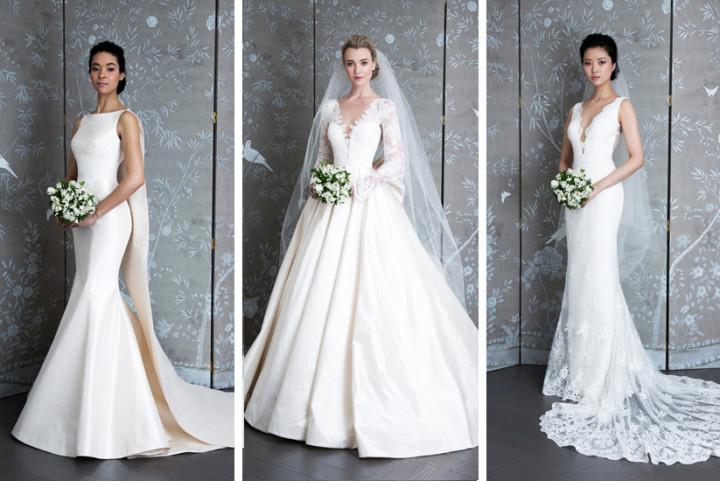 Catherine Langlois
Montrealer turned Torontonian Catherine Langlois has been designing dresses for 17 years. Her gowns are made for all types of brides and are custom made to meet her clients' needs. Her line features high necked lace numbers, graphic cut-out sheaths, fairytale-esque ball gowns and everything in between.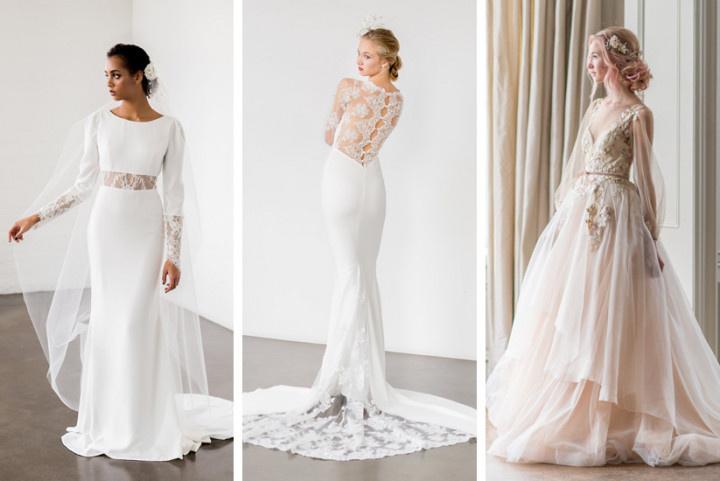 Hoax Couture
Chris Tyrell and Jim Searle, the designers behind Hoax Couture, are well-versed in the world of fashion. Since teaming up in the 80's the Toronto duo has created looks for theatrical performances, skating teams, cocktail parties, celebs and - of course - weddings. Their custom bridal designs include everything from dazzling jewel-toned gowns to traditional white and ivory pieces. They also make suits and children's clothing, meaning they could dress your entire wedding party flawlessly.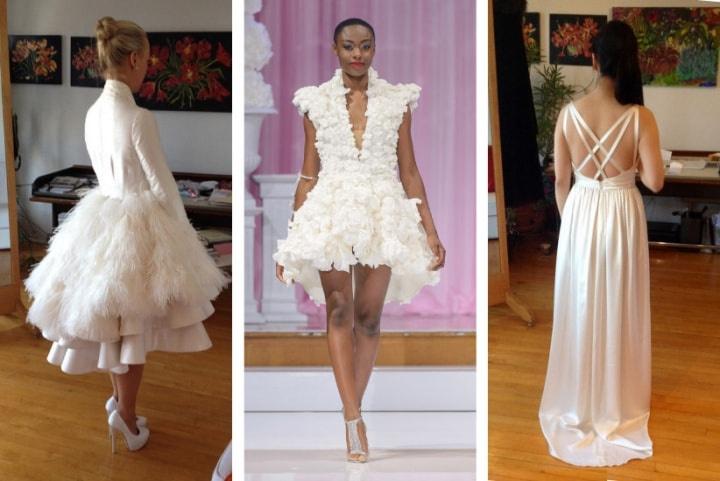 Something Blue
Something Blue is one of the crown jewels of Vancouver and available at select bridal boutiques worldwide. All the frocks have been designed and made in the west coast city since its debut nearly two decades ago, and it doesn't look like that's changing anytime soon. You won't find many bold colours or plunging necklines here, the gowns are ultra feminine, simple and elegant.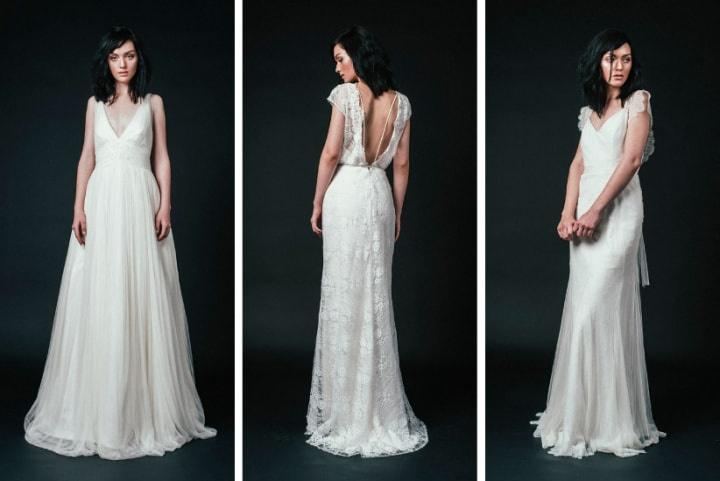 Truvelle
Gaby Bayona, the youngest designer on this list, broke into the world of bridal design at the ripe age of 18. Five years later, her line Truvelle is now fully established. She creates expertly crafted, effortless looking gowns for contemporary brides out of her hometown, Vancouver. From traditional white dresses to blush-hued lace numbers, you'll find it all in her flagship Vancouver store and at retailers across Canada and around the world.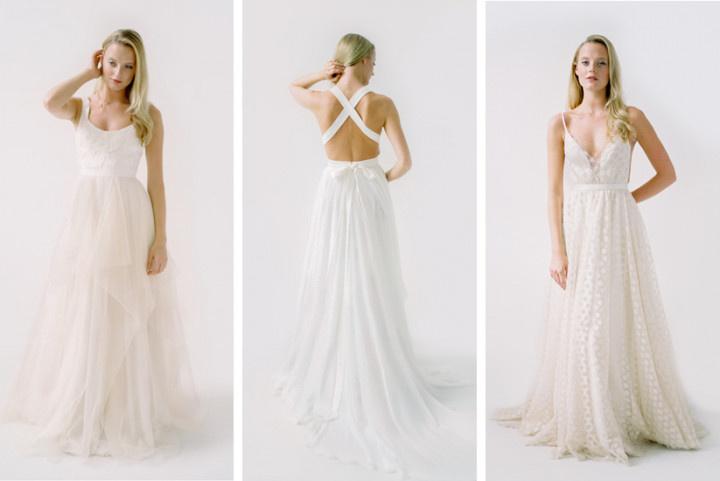 Laudae
LAUDAE, a Vancouver-based design house, is committed to handcrafting comfy, modern dresses in a sustainable way. They even offer fashion tips on how to repurpose and wear your LAUDAE garment after your wedding day. Their sleek silhouettes are designed for an amazing fit with stretchy linings and support through boning for all sizes of brides. You can find their dresses at select boutiques across Canada or shop online.