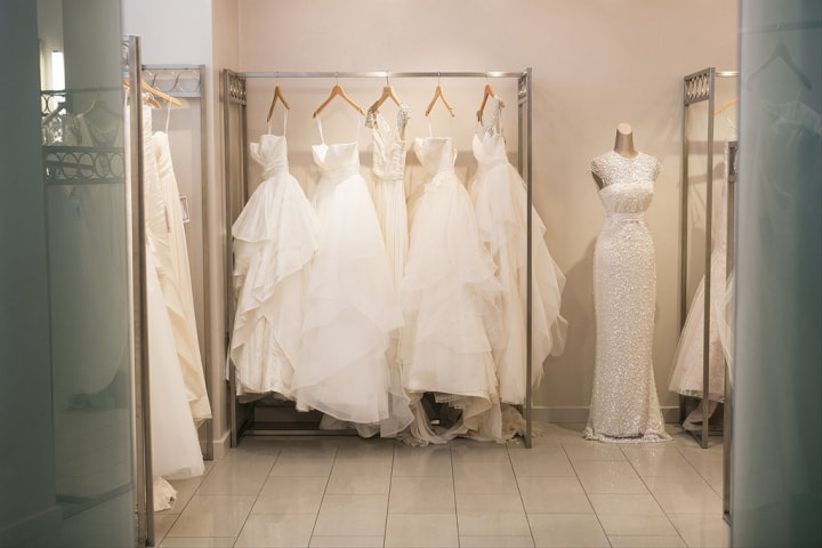 Shopping for your wedding gown isn't as easy as walking into a store and grabbing something off the rack that you like. It requires lots of planning and adjustments, so we've rounded up a list of things we think every bride-to-be should be keep in mind while on the hunt for the perfect dress!
Timing is everything
It's important that you start shopping for a dress anywhere from 9-12 months before your wedding. In fact, it's one of the first things you should do after booking your venue! This gives you plenty of time to visit multiple stores, try on plenty of dresses, and make specific changes such as lowering the back or adding sleeves. You will also have to come back into the salon multiple times for fittings and alterations. You don't want to be making major changes just weeks before you say 'I do!'"
Come prepared
Make sure you bring the proper undergarments with you to your fitting. We recommend a nude strapless bra, shapewear if you choose to wear it, and your bridal shoes! It's a good idea to bring a potential pair of heels or flats with you so you can see how the dress fits you when you're slightly taller. This allows for proper sizing and measurement when you're being fitted for your gown.
Shopping buddies
Think long and hard about who you want to come shopping with you. Of course, we know bringing your close friends along makes the experience all the more fun. However, often times brides bring too many close friends and family members, making the decision-making process even tougher. With so many opinions and ideas, it can be hard to know what you even want. There's also the issue of trying to please too many people at once. The phrase, "too many cooks in the kitchen" directly applies to wedding dress shopping. Pick wisely, and keep your shopping guests to a minimum.
Sizing chart
Keep in mind while you're shopping that the bridal sizing chart is totally different from ready-to-wear clothes you find in a department store. Most designers and manufacturers have their own measurement systems that may cause you to go up a few sizes. In fact, most designers still follow haute couture measurements, which is not what clothes in your local mall tend to go by. Don't be alarmed if you usually wear a size 6 and you end up trying on a size 10. It's not about the numbers, it's about how you feel!
Alterations
Yes, you will need to have your dress altered no matter what body type you have. Some of the changes may be by your request, to make the dress more personal for you. Typically when you're trying on a dress in a store, it's a sample size, something the designer is lending to the stores so brides like you can try it on. Once you find the dress you want, the salon will place an order with the design house and they'll typically make it from scratch to fit your measurements. Once it arrives, you'll have a few more appointments to make any changes you see fit.
Stylists know best
It's completely normal to go shopping with a specific style or designer in mind, but be prepared to be flexible! The dress you always dreamed of may not fit you exactly right, but luckily, you have a bridal consultant ready and willing to give you expert advice. They know wedding dresses better than anyone, and they know what kind of dresses work best on certain body types. If you're at a crossroads and not sure what to do, ask your consultant to pick a few for you to try on. Take advantage of having a professional at your disposal while you're shopping.
Finding "the one"
Most brides go shopping with the idea that as soon as they find the perfect wedding dress, they'll know. However, this is not necessarily how you're going to feel once you find it. You might find a couple of different gowns you love a lot, and need a second or third opinion to make the final decision. You may find a gown that is extremely flattering for your figure, and it simply makes you feel great about yourself. Feelings like those are what you should expect throughout your dress shopping experience, instead of waiting for one big "OMG" moment.