25 Thoughts Every Bride-to-Be Has While Shopping for Her Wedding Dress
Dress shopping can be quite the emotional rollercoaster. Here are some thoughts that may hit you while you're trying on gowns.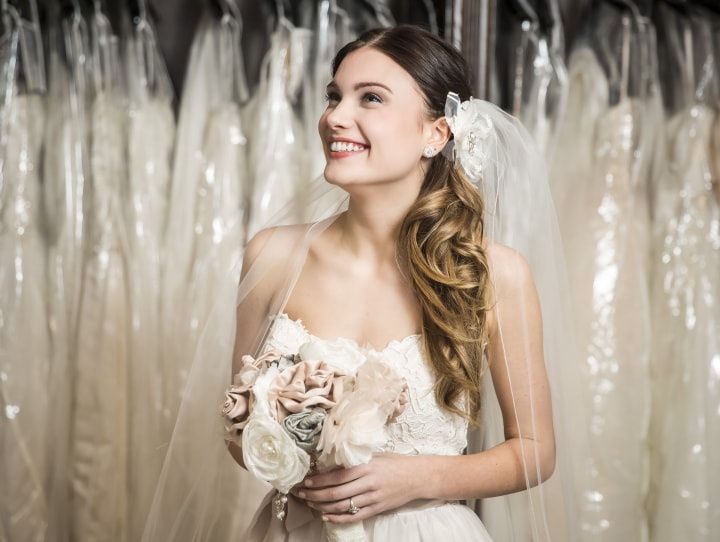 It's time to get this show on the road! You've spent weeks scrolling through gown galleries looking for your dream wedding dress and now you're ready to hit the bridal boutiques. You've brushed up on your silhouettes, you know your neckline and you are practically a shopping expert, so how tough can this be? Answer: tougher than you may think. Trying on gowns can be a real emotional rollercoaster, so make sure you're ready for the ride. While you may not experience all of these thoughts, a handful of them will definitely pop into your mind as you sample frocks.
Here are a few thoughts every bride-to-be has while shopping for her wedding dress.
"I've never seen so much tulle and taffeta in one place."
"Ok, this is a bit intimidating."
"Can I get away with just wearing an LBD on my wedding day?"
"Maybe I should have worn Spanx - or not eaten that breakfast burrito."
"I swear there is absolutely no difference between cream, eggshell, off-white, ecru and champagne."
"I don't think this salesperson and I have the same vision."
"I thought this would feel more like an episode of Say Yes to the Dress. Where is Monte?"
"Oh my god, is that the actual price? Looks like I'm selling all of my worldly possessions."
"I can change my budget, my wedding doesn't really need flowers, anyway"
"What's the difference between A-line and ball gown, again? This feels like a test I forgot to study for."
"You want me to try what on?"
"I kind of feel like a contestant on Toddlers & Tiaras. Let's try something with a lot less glitter and, like, one layer instead of forty."
"What are those clips for? Oh, they cinch me in? Sign me up!"
"Wow! Those do wonders. Remind me to pick some of those up."
"Are these mirrors playing tricks on me?"
"This is the most difficult thing I have ever put on."
"How have I not found "the one" yet? I've tried on like 60 dresses."
"Is it normal to feel awkward in a veil?"
"Woah - I'm actually going to be a bride."
"Will I be able to dance in this? Could anyone dance in this? There are so many layers."
"Why is my mom crying? Are those happy tears?"
"Ok, I don't even care if my MOH isn't a fan. I look amazing."
"This is the one!"
"My fiancé(e) is totally gonna cry when he/she sees me. Mission accomplished."
"I want to wear this forever. I am seriously never changing."
Browse our wedding dress galleries and find wedding dress shops on WeddingWire »