Your Essential Guide to Wedding Dress Fabrics
Don't know a thing about wedding dress fabrics? We've created this crash course to help you choose the perfect one.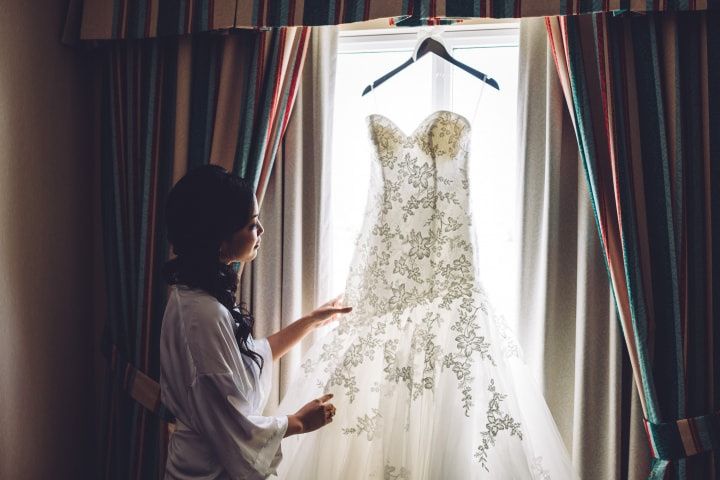 Ready to get down to business and find your dream wedding dress? Well, before you even start looking at styles and silhouettes, you should get to know wedding dress fabrics. These materials are the most popular in the bridal gown game, so get familiar before setting foot in any bridal boutiques.
Here is your essential guide to wedding dress fabrics.
Lace
Lace is a fan favourite for vintage wedding dresses, but can also be used to amp up modern frocks (example: adding sheer lace panels or sleeves to a more daring dress). The fabric is usually made of cotton or silk and is looped, knitted, or twisted into intricate, flowery patterns. Favourite varieties include chantilly, venice, guipure and alençon.
Tulle
Even if you haven't started looking at wedding dresses, you're probably familiar with tulle. It's a sheer material made of fine, stiff netting that's often used to create dramatic ball gowns and avante-garde frocks. If you want your bridal gown to catch everyone's eye and inspire a few audible oohs and ahhs, it's definitely a wedding dress fabric worth considering.
Organza
Looking for a wedding dress that's sheer, but not as stiff as a tulle gown? Go with an organza creation. Organza is a thin, sheer fabric that gives dresses a soft, romantic quality. It's traditionally made of silk, but nowadays you can find budget-friendly varieties made of synthetic filament fibers like polyester and nylon.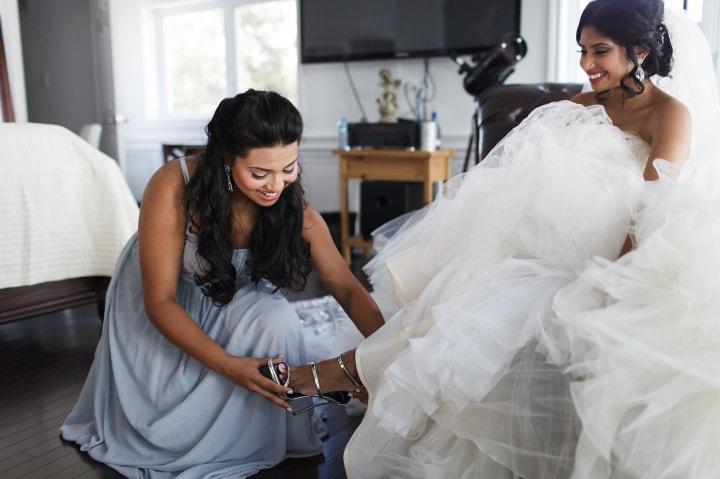 Georgette
If you're looking for something filmy and flowy, but don't want to pack on the layers, think about choosing a georgette gown. This wedding dress fabric is semi-sheer (AKA not completely see-through), lightweight and matte - perfect for flowy, romantic creations. Because it's not as structured or voluminous as some of the others on this list, it's comfortable for dining, drinking and dancing the night away at your reception.
Crêpe
Crêpe is a lightweight material that can be made of wool, silk or synthetic fabric. It can be pulled tightly across the body or crimped and crinkled. It works best for figure-hugging silhouettes and sheath dresses, making it the perfect fit for a bride looking for a timeless, elegant style or beach wedding dress.
Satin
Satin is one of the most popular wedding dress fabrics because of its versatility and durability. It is not a fibre but a weave of silk, polyester or a blend that results in a heavier fabric with a smooth finish. It works for most body types and silhouettes as it can be used in draped, ruched or ball gown styles.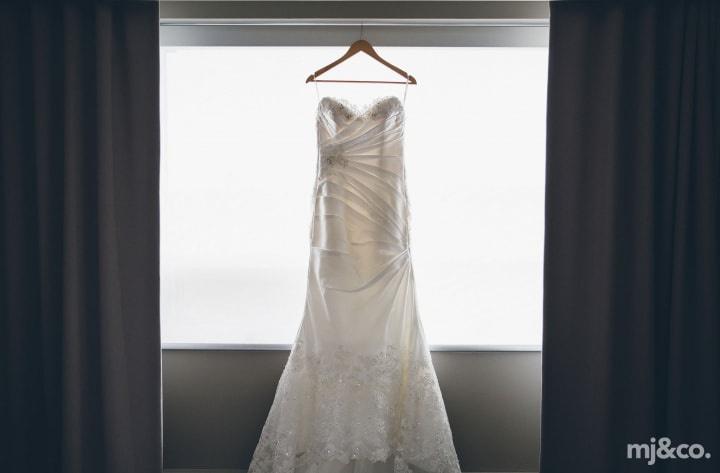 Mikado
This silk blended material is weightier than most, making it perfect for winter wedding dresses. It's best used for more structured gown silhouettes, like a-line or fit and flare. Pro tip: if you want something on the more ethereal romantic side, you may want to consider using mikado for the under layers and adding a material like tulle or organza overtop.
Taffeta
Taffeta is a crisp, smooth, woven material that's traditionally made from silk (but, like others, can be made from synthetic fabrics, too). Thanks to its texture, it's best used for structured silhouettes. If you're looking for some inspo - Princess Diana's royal wedding gown was cut from the same cloth.
Charmeuse
Looking for the opposite of structured when it comes to gown silhouettes? Try a wedding dress made of charmeuse. This lightweight material is soft, silky and body-hugging, making it a great option for more vampy styles.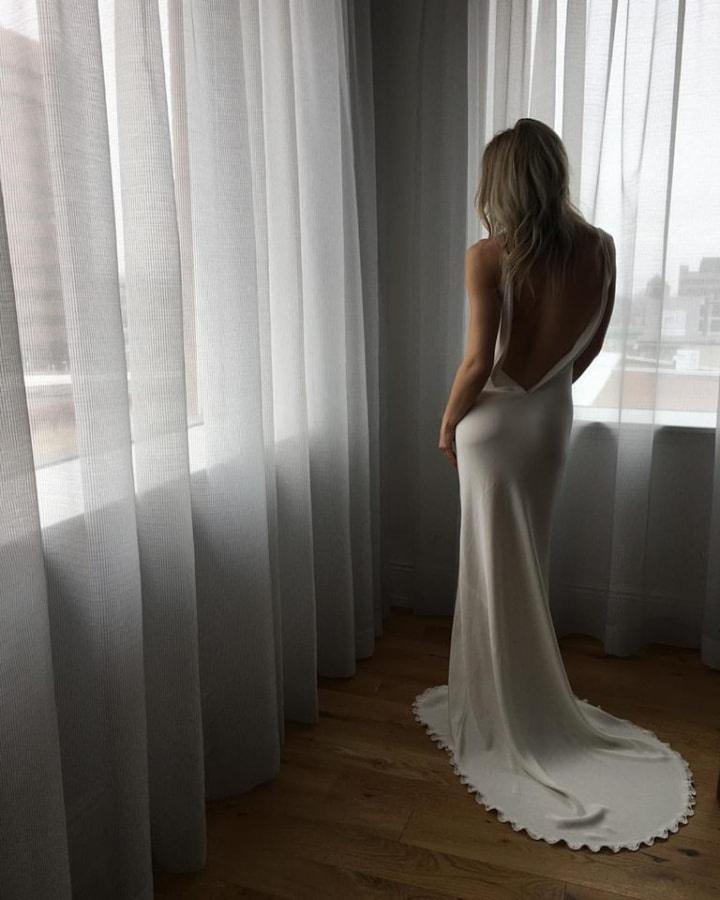 Browse our gown galleries by wedding dress silhouette, neckline and designer.