Where to Hide an Engagement Ring Before You Propose
Don't want your partner finding the ring before you propose? Time to learn how hide it like a pro.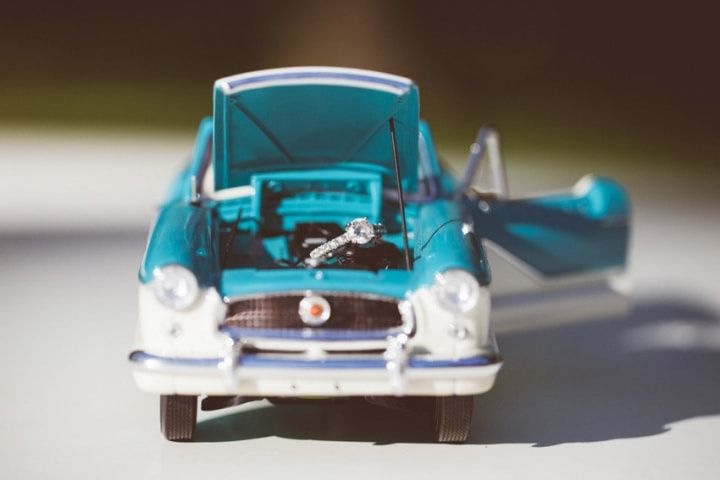 So, you've chosen an engagement ring and your marriage proposal is on the horizon? Well, you're going to need a place to stash that bling before you propose. You definitely don't want your partner finding it, so you've got to get a little more creative than putting it in your sock drawer. Don't worry, if you haven't got a clue where to put it, we've got a few ideas. Btw, if you and your S.O. share a computer, you probably don't want to save this tab (it's a dead giveaway).
Here's where to hide an engagement ring before you pop the question.
With your jeweller
The most secure option is to leave it with your jeweller until the day you're ready to propose. They made your engagement ring and know how to keep it safe. Plus, jewellers have alarm systems galore in place to keep out thieves, so unless your partner is a master cat burglar, they're probably not going to get their hands on it before the proposal.
At the office
Do you have a lockable drawer or safe at work? Leave your ring in there. Your partner probably won't be breaking into your office anytime soon, so you don't have to worry about them finding it.
In your gym bag
Unless you're dating a true angel who cleans your sweaty clothes for you, your gym bag is a pretty safe bet. Your partner probably isn't interested in the state of your resistance bands or which running shoes you've been rocking as of late, so you don't need to worry about them rifling through it. If you don't pump iron on the regular, you could also use a golf bag or some other sporting equipment as your hiding spot.
With a member of your inner circle
If your partner is prone to snooping through your stuff, ask a trustworthy friend or family member to hold onto the engagement ring for you. Just make sure they know that the proposal is super confidential - you don't want anything slipping out in conversation and ruining the surprise.
In a hard to reach place
If your S.O. stands at 5'4" or below you should have no trouble finding a place to hide the ring. Simply put it in a place they can't get to, like on the top shelf of a bookcase or your wardrobe (behind some clothes, for good measure) or, if you're really crafty, in the ceiling. There's no way they'll accidentally stumble upon it there! Just make sure they don't plan on doing any spring cleaning before the proposal or you may run into trouble.
Somewhere that scares them
Does your partner steer clear of the attic because they insist that it's haunted? Do they refuse to go anywhere near the basement in fear of meeting a spider? Well, you can probably get away with hiding your ring in one of those spots. Remember, even if you don't think they'll muster up the courage to visit one of these spots, you shouldn't leave the ring in plain sight. Consider stashing it inside an old filing cabinet or a toolbox, just to be safe.
Find engagement rings and wedding bands on WeddingWire »