How to Plan a Proposal at Home While Social Distancing
Thinking of proposing to your partner in the comfort and safety of your own abode? Here are a few tips and ideas for planning a proposal at home while social distancing.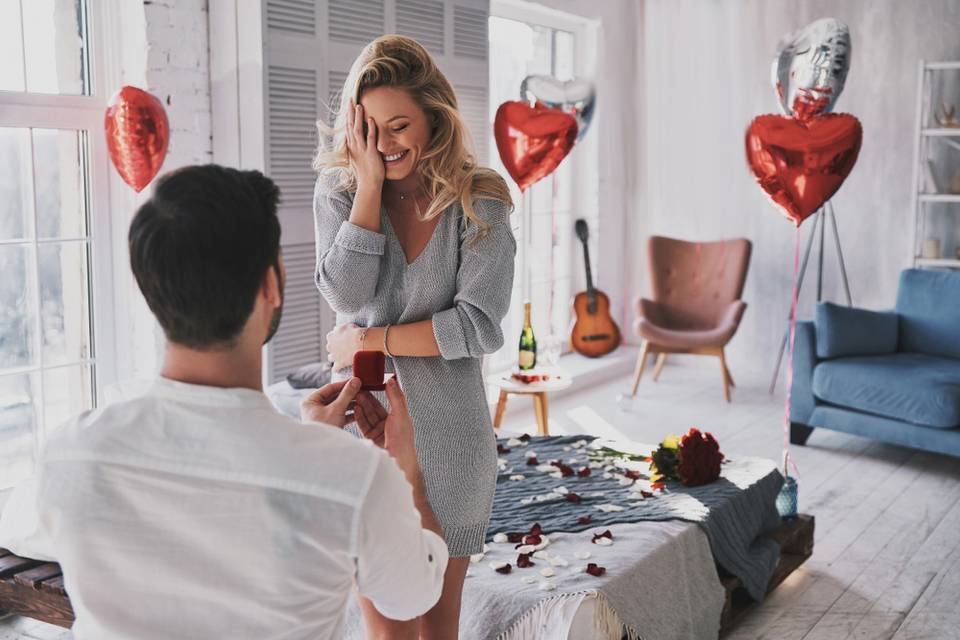 Couples across Canada are facing unprecedented circumstances during the COVID-19 pandemic. If you were planning a New Year's Eve proposal, you may have had to rethink your plans. Or perhaps this more recent wave of self-isolating with your partner at home or the risk to your loved one, if they're an essential worker, has brought a whole new perspective to your relationship. If you've come to the realization (after asking yourself these important questions) that the timing is right to propose to your partner as you face the uncertainty together, we have some tips and ideas for putting together a truly enchanting marriage proposal in the comfort and safety of your own home.
Here's how to plan a proposal at home while social distancing.
Spruce up your space
You don't have to head to IKEA and redo your entire space, but consider giving your home a bit of a makeover before your proposal. Make sure all your dirty laundry is put away, sweep and dust every surface, do your dishes, and tackle any other chores that have been taking up space on your to-do list. Once you've gotten through all the boring stuff, get to decorating. Have a bunch of balloons and a bouquet of flowers delivered to make your home worthy of this major event. Not only will your partner be absolutely flabbergasted by the surprise proposal, but they'll be thrilled you cleaned the living room, too.
Add an element of sentimentality
Of course, the engagement ring is going to be the most important gift you give at your proposal—even if you have to use a makeshift ring until you have the opportunity to buy the real thing—but you don't have to stop there. Get romantic and give them a special something that really speaks to your unique love story, this could be a scrapbook or custom photo album of all your favourite memories together or a box of chocolates filled with their most-loved flavours. Honestly, it doesn't need to be super elaborate to pack a punch, it just needs to mean something to them.
Make it fun
If you're on the hunt for creative proposal ideas, why not amp up the fun factor by doing a treasure hunt in your own home? Make an elaborate proposal plan that involves your partner searching for little clues around your home until they find their way to you and their shiny new engagement ring. Bonus: you'll probably have just as fun making this scavenger hunt it as they'll have doing it!
Write a proposal speech
You don't want to just jump right into the big question, so pen a little a speech to tell your partner just how much they mean to you. Fill it with anecdotes about times you've shared, all the things you love about them, and why you're so stoked to take this next big step with them. This will probably woo them more than a public display of affection, to be honest.
Get gussied up
Just because you're staying home, doesn't mean you should get down on one knee while wearing a full-blown sweatsuit. When you're ready to propose, head to your closet and pick out an outfit that you know they love, or take things to the next level by dressing to the nines in a suit-and-tie ensemble. You definitely don't want to look like a total bum for this occasion!
Time it perfectly
When it comes to proposals, timing is everything. You want your partner to be in the right mood to receive a ring, so avoid times when their sad, cranky, or otherwise under the weather. Yes, a shiny new bauble may cheer them up, but there's also a huge risk that their attitude could put a damper on this major milestone, and you definitely want to avoid that. P.S. Also focus on when they tend to be their happiest to pinpoint when you should do it. For example, if they loathe mornings, it's probably not a great idea to bust out a ring before noon.
Create a killer playlist
While you want your partner to hear you pop the question, you probably don't want to hear crickets chirping up until you put the ring on their finger. We highly suggest creating a playlist filled with songs that have played a role in your relationship to set the mood. If only one or two come to mind, try looking through this list of first dance songs to get a bit of inspiration. Bonus: you'll probably be able to recycle this playlist at your wedding.
Document it
When you were searching for home proposal ideas, you probably saw your fair share of adorable proposal videos. Well, why not make your own? Hide a camera, your phone, or computer, and document the whole thing. You'll love having this memory on film so you can relive it again and again.
Hire a photographer
You can take it one step further and hire a photographer to capture the moment, even while social distancing. Take your proposal outside your house and your photographer can capture photos paparazzi style. Follow up with some engagement photos—emotions will be running high and so you're sure to get some amazing photos to announce your engagement and to eventually post to your wedding website.
Involve your friends and family members
Don't want to go it alone? Make your friends and family members part of your at-home marriage proposal idea by face timing them and hiding your phone or computer so they can be a part of the surprise. If you'd rather keep your engagement one-on-one, simply do a video call after with the big news or throw a virtual engagement party with your nearest and dearest.
Make it a date
When all is said and done, don't go back to your regular routine—celebrate with a date. Order in their favourite food, set the mood with some candles, and make it a day (or night) to remember. Just because you opted for a simple at-home proposal, doesn't mean you can't be super romantic!
A note to our couples planning a wedding during Covid-19: we've opened up a dedicated hotline to answer any and all wedding planning questions that you may have – (833) 998-2865 or help@weddingwire.com
Find engagement rings and professional photographers on WeddingWire »