5 Tips for Planning an Epic New Year's Eve Proposal
Thinking of getting down on one knee for a New Year's Eve proposal? We've got a few tips you need to know.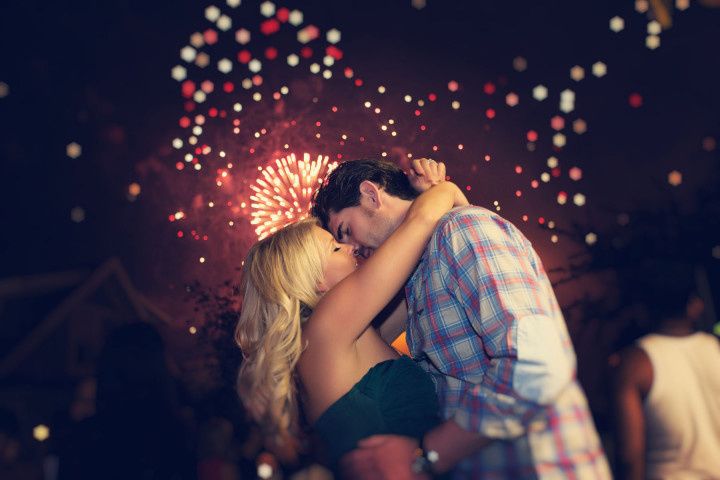 So, you're ready to take the plunge and propose marriage to your partner? Congratulations! That's a big step. Now, obviously you want your engagement to be epic in every single way, but if you want to take it to the next level, plan a New Year's Eve proposal. Seriously, there's no better way to ring in the new year than with a new ring, so we say go for it.
Here are a few tips for planning an epic New Year's Eve proposal.
Do it at your own event
If you're doing a New Year's Eve marriage proposal, it really needs to be at your own event. That way you can control the guest list, the soundtrack and all the moments leading up to the engagement. The only exception to this rule is if you get down on one knee at a close friend or family member's bash and get them in on your plan way in advance (you don't want to steal the spotlight without getting the green light from them first!).
Have the moment prepped perfectly
You'll want to know exactly what you're going to do and say when you pop the question, so hash out your plans well in advance. Remember, unless you've put together a super intimate celebration, you're probably going to have to work around an entire party. If you want you and your partner to be the center of attention, you may want to have a stage and a mic at the ready so that everyone can see and hear what's going on.
Get your party guests involved
You don't want your marriage proposal to be overshadowed by other party guest's shenanigans, so get them in on the surprise. If you're worried that someone will let the news slip, simply tell them "you've got something important planned" for a specific time and place at the party.
Timing is everything
As with any engagement, timing is everything, but this is especially important for a New Year's Eve proposal. While the obvious choice is midnight, some of your guests may try to steal the spotlight or be too caught up in their own plans to pay attention. Unless you've told everyone ahead of time, you might want to pull out the engagement ring and drop down on one knee right after your NYE kiss to make it all about you and your partner.
Celebrate after the party
While a New Year's Eve proposal is pretty epic, you probably won't get a lot of alone time to celebrate your new relationship status the night of. Make sure to plan a separate, one-on-one event when the new year rolls around (and your hangovers subside) so that you can really bask in it. A fancy dinner out, a staycation in a hotel or a trip to a cottage to celebrate your engagement is well deserved for such a momentous occasion.
Capture the big moment! Find professional photographers on WeddingWire. »