If you absolutely love cottage season in Canada, then say your "I dos" lakeside with a casual celebration with family and friends. We've got easy cottage wedding ideas to capture that relaxed summer feeling while making your event wedding-worthy and memorable. Whether you're planning a micro wedding in 2021 or a large post-pandemic party next year, we've got lots of inspiration for nature lovers.
Here are 29 awesome cottage wedding ideas.
Cottage wedding venue
Obviously, you're going to need a wedding venue. Many couple opting for a cottage wedding have a family property that's dear to their hearts (some with a party-worthy community clubhouse). If you don't, all is not lost. There are some amazing summer camps and resorts in cottage country that are well equipped for hosting a summer wedding and make it easy to plan. For a smaller guest count, a cottage rental is also a viable option, although this will take more careful planning. P.S. If you're looking for a cottage wedding venue in Ontario, here are 16 Muskoka wedding venues to consider.
Cottage wedding invitations
Set the tone for your celebration with rustic wedding stationery. Adorn save-the dates and invitations with fun cottage motifs (as shown here) or a design based on local flora, fauna and wildlife. If your location is off the beaten trail, don't forget to include a map and detailed directions.
Directional signage
Speaking of directions, make sure your guests don't get lost on their way to your event by putting up some fun signage along the route.
Bridal cottage
Many wedding venues offer use of a bridal suite, but we love the idea of gathering your squad in a cabin, bunkie, tent or trailer to get ready. Don't forget to take a photo of your gown hanging on the exterior for an on-theme gown portrait.
Boho bridal party
A boho wedding look for you and bridal party with simple flower crowns, loosely-tied bouquets and pale dresses looks beautiful in a forest setting.
Bridesmaid shorts
Here's another stylish cottage wedding idea: keep your bridesmaids cool and comfortable in shorts.
Warm welcome
Greet your guests with a lovey-dovey message on a rustic sign on a lantern-lined path leading to your wedding ceremony spot to build anticipation.
Water transportation
Make a grand entrance and arrive at your ceremony by boat. Decorate your canoe, paddleboat or row boat with flowers to make the moment extra special.
Ceremony on the dock
The natural place to say your wedding vows at a cottage is on a dock with the beauty of the water and shoreline as your backdrop.
Outdoor minimony
If you have a small guest count to meet Covid guidelines, have your guests join you on the dock for an intimate outdoor ceremony.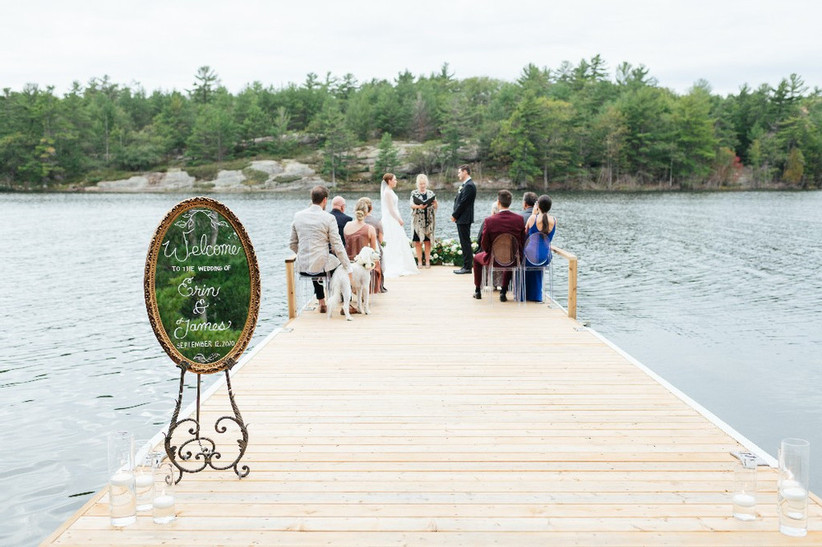 Ceremony seating
If your ceremony is going to be on the longer side, use logs, tree stumps, folding chairs or benches for your ceremony seating arrangement. Some cottage communities have an outdoor chapel or theatre for a turnkey option.
Rustic chic vow booklets
We love the idea of including some fancier elements at a cottage wedding like these handmade-paper vow booklets tied with ribbon.
Cottage-y decor
You probably already have existing decor elements like cottage furniture, decorative driftwood and picnic tables, but elevate the scene with wedding lanterns, bouquets, cushions and throws.

Guest book
Have your guests sign a paddle or wooden chairs for a keepsake guest book that you'll actually use at your cottage for years to come. Bonus: Here are 8 Unique Wedding Guest Book Ideas.
Dog-friendly affair
If having your fur baby alongside you is a priority, a cottage wedding is ideal for including your pet. Pro tip: Here's everything you'll need for a dog-friendly wedding if you want to open it up to your guests' dogs, too.
Boat rides
Enjoy a little private time during your wedding with a paddle in a canoe. You could also treat your guests to some time on the water with a boat cruise.

Grazing table
A long plank of charcuterie is an easy cottage wedding menu idea. Support nearby producers if you can to treat your guests to some local flavours.
Lawn games
Set up some outdoor wedding reception games to get your guests mixing, mingling and competing!
Watersports
And then there's the water sports! Forget about practicing a first dance routine for your cottage wedding. We love how this couple hopped on their wakeboards in their wedding gear to give their guests a demonstration of their skills with a first ride together as husband and wife.
Lakeside dining
For a cottage wedding, you can keep things super casual or get fancy with rustic chic table decorations.
Natural resources
Use driftwood, wildflowers, greenery and moss to make eye-catching wedding centerpieces.
BBQ menu
We also love the idea of serving up cottage favourites off the BBQ. Corn on the cob, grilled meats and veggie skewers will satisfy guests of all ages.
Forest photo shoot
Sneak away with your photographer for a romantic photo shoot in the woods. Whether it's hot and sunny or more on the cloudy side, they'll be able to capture magical moments among the trees. Pro tip: Host your wedding in the woods with these 21 Awesome Forest Wedding Ideas.
Self-serve bar
Keep things casual, with a self-serve bar featuring local spirits and mixers to make your signature cocktail.
Camp fire and s'mores
Gather your friends and family around a campfire for a s'mores session. Also have some cozy blankets available to cuddle up when it cools down.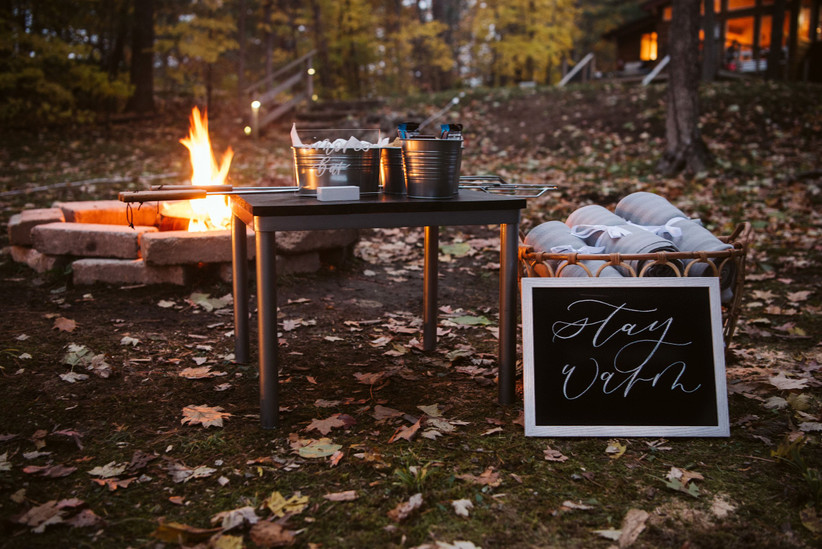 Live music
From an acoustic wedding processional to a campfire singalong (including e few Tragically Hip tunes!), fill the fresh air with the sweet sound of live music.
Guest cabins
If possible, reserve some nearby cabins for guest accommodations so your loved ones can get the full cottage experience and make it a mini-getaway.
Outdoorsy wedding gifts
Commemorate your wedding with outdoorsy wedding gifts like this couple did with custom paddles. P.S. Here are 10 Wedding Gift Ideas if You Love the Great Outdoors.
Getaway boat
Ride off into the sunset in a boat decorated with a "Just Married" sign. P.S. Don't forget to take a sweet photo of your wedding exit.
Find more cottage wedding ideas in our Real Wedding galleries »