9 Ways to Make Your Grandparents Feel Special on Your Wedding Day
Your grandparents probably mean the world to you. Here's how to show them your love on your big day.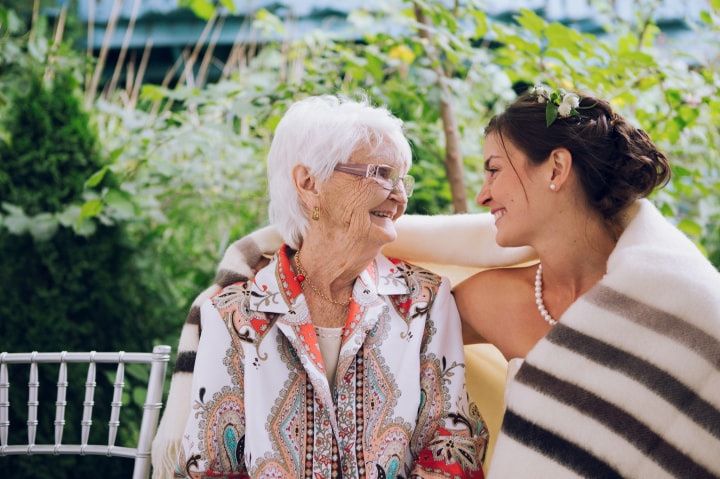 Your grandparents are some of the most important people in your life, and you'll want to show them how much you care about them on your wedding day. While you won't be able to spend the entire ceremony or reception by their sides, there are a few tried and true way to make them feel extra loved.
Here are a few ways to make your grandparents feel special on your wedding day.
Do a first look
First looks aren't just for the bride and groom! Many couples do them with other special people in their lives, too. Invite your grandparents to come check you out in your wedding ensemble before you head into your ceremony so that they can really soak everything in. You'll definitely want to have your photographer there to capture this special moment.
Have a photoshoot
You're going to be posing for a lot of photos on your wedding day - like a lot. A few that you definitely don't want to miss out on? Family portraits with your grandparents. Gather them before or shortly after your ceremony to take photos with you, your new spouse, your parents, your siblings and your in-laws. These are pictures that you'll treasure for the rest of your life, so don't forget to take them!
Borrow something of theirs
Ask your grandmother or grandfather if they'll lend you an heirloom to sport on your big day. This will infuse your wedding look with a bit of their style and take care of your "something borrowed". This could be as subtle as a ring or pair of cufflinks, or you could go all out and borrow their wedding dress or tuxedo.
Let them play a part in your ceremony
Yes, it's typically the bride's dear old dad who walks her down the aisle, but it totally doesn't have to be. If you want to give your grandfather or grandmother that special job, go right ahead. Not for you? You can always give them a quick hug and share a few words before walking up to the altar.
Give them VIP seating
Your grandparents should have spots reserved in the front row of your ceremony venue so they can see and hear everything from your officiant's opening words to your vows. They should also be given seats either at or close to your head table at your reception. Pro tip: you probably don't want to place them at a table next to your stage or speakers, especially if they're sensitive to noise.
Talk about them in your speech
When you're thanking your friends and family in your wedding speech, give a special shout out to your grandparents. They've watched you grow and helped shape you into the person you are today, so they definitely deserve some props. If you want to go the extra mile, you can also thank them in your ceremony program.
Ask them to dance
We've all heard of mother-son and father-daughter dances, but why not add a few extra spotlight events to the evening's itinerary? Play your grandparents first dance song (or a track that they love) and ask them to join you and your future spouse for a spin around the dance floor. This will take them for a romantic walk down memory lane that they're sure to appreciate.
Use one of their recipes
Your grandparents have probably passed down a ton of family recipes that you absolutely love, so why not put one of them to use on your wedding day? If you don't think your favourite dish fits into your perfectly manicured meal plan, you can always serve it at your cocktail hour or post-wedding brunch (it won't make the gesture mean any less, I promise). Pro tip: ask your caterer to edit the recipe a bit to fit your needs. For example, if your grandma's mac 'n' cheese is your absolute favourite, ask your caterer to make mac 'n' cheese bites (instead of a full casserole) and serve them as hors d'oeuvres.
Share a private moment with them
There's no doubt about it, you're going to be a busy bee on your wedding day, but you should make time for family. Somewhere between the toasts, dinner and dancing, have a sit down with your grandparents. If they're hard of hearing, you'll want to invite them out into the lounge or into your dressing room instead of staying among the hustle and bustle of your reception. This is the perfect time to tell them how much you love them and how happy you are that they could join you on your special day. Remember to bring some tissues, the waterworks may start flowing!