10 Bridesmaid Expenses You Might Forget
Work these important bridesmaid expenses into your own budget to save you from maxing out your credit card before the big day.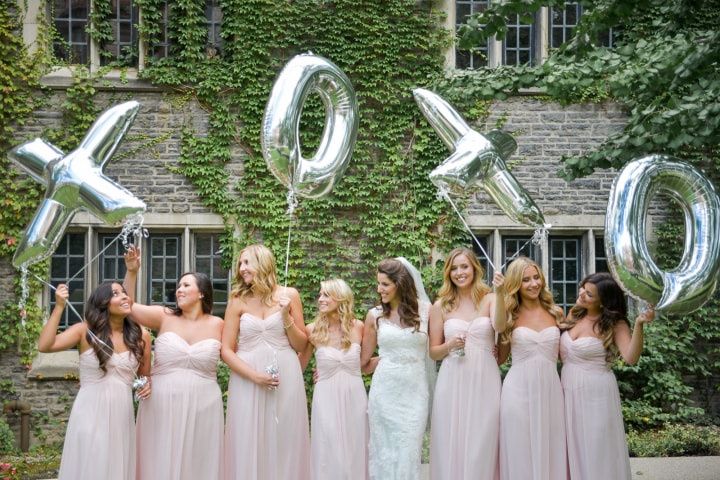 So you got picked to be a bridesmaid? Congratulations! That obviously means that you mean a lot to the bride-to-be. Once you've wiped away those tears of joy you'll want to start thinking about bridesmaid expenses. Not to put a damper on an amazing situation, but being a bridesmaid has a few hidden costs that you'll definitely want to consider. That's right, the happy couple aren't the only ones who will need to do a little bit of wedding budgeting to make their big day a success. But don't get too stressed, there are plenty of ways to cut corners when it comes to spending.
Here are a few bridesmaid expenses that might slip your mind.
Bridesmaid dress alterations
If you slip into your bridesmaid dress and it fits like a glove, lucky you! You won't have to pay for your frock to be nipped and tucked. For most, however, gowns will require a little TLC from a skilled seamstress (no, this should never be a DIY project). Depending on your figure and the style of dress that the bride-to-be has chosen this may mean tightening the straps, bringing in the bodice or adjusting the hemline. Dress alterations usually cost between $50-$180 per gown so account for this potential bridesmaid expense.
Bridesmaid accessories
If your BFF/bride-to-be expects you to sport-specific accessories, they should be willing to foot the bill. So, good news, you probably won't be tasked with purchasing your own Swarovski jewels or Louboutins. However, if you've been asked to wear shoes of a particular style/colour family, you may be on your own. If this is the case and your wardrobe lacks the pair for the job, hit a budget-friendly place like Forever 21 or H&M to scope out a stylish but inexpensive pair. You may also have to buy specific undergarments if the gown calls for it.
Bridal shower decor
No, if you're not the maid of honour, you probably won't be tasked with throwing the bridal shower, but you may be asked to take on some of the expenses. Cocktails, decorations an hors d'oeuvres can rack up quite the bill, so get together with the rest of the bridal party to try to cut back on costs while throwing an awesome and unforgettable party.
Bachelorette party expenses
You don't want to spend your pal's bachelorette party on your phone calculator trying to figure out how much debt you'll be in the following morning. Give yourself a set budget before you hop on the plane or gas up your car to make things a little less stressful for yourself. This may mean that you'll have to skip splurging on top shelf beverages or extra appetizers, but your savings account will thank you in the long run.
Bridesmaid makeup
You don't want to spend your friend's big day messing around with eyelash glue and trying to figure how to perfectly blend your shadows with the help of a YouTube video (and she definitely doesn't want that either). To avoid any makeup mishaps you'll want to include hiring a skilled wedding makeup artist in your bridesmaid expenses. This usually costs around $50-$100, but looking great in photos is priceless.
Bridesmaid hair
Unless you were blessed with a perfect mane, you're going to need someone to help get your hair game on point. The bride-to-be most likely has a vision for your look and you don't want to mess that up by trying to master the art of using a curling wand on her wedding day. A wedding hairstylist typically has a price tag similar to wedding makeup but can get costlier with elaborate looks.
Nails
You may think nails aren't a big deal, but trust me, a good mani/pedi goes a long way. Sure, you could try shellacking your own nails with Essie's 'Ballet Slippers' and hope for the best, but some ladies just aren't the best at wielding a polish brush. We suggest making a day of it and going out for a spa date with the other bridesmaids and the bride-to-be a day or two before her wedding.
Accommodations
If you don't live anywhere close to the wedding venue, you're going to need to find a place to stay and build this into your bridesmaid expenses. Typically, if there are a lot of out-of-towners coming in for the big event, the couple will book a block of rooms at a nearby hotel to help out. Remember to book yours ASAP, they tend to go fast.
Transportation
How exactly will you be getting to the wedding venue? Sometimes couples will offer a complimentary shuttle to and from the location (check their wedding website), but if that's not the case you're on your own. Before the day arrives, look into public transit, cabs, Ubers and the rest. Word to the wise, If you plan on partying until the wee hours of the morning, you should probably leave your car keys at home.
Pre/Post Wedding event attire
As a bridesmaid, you'll be expected to attend your fair share of wedding adjacent soirees, from the engagement party to the post-wedding brunch. This means you're going to need a few cocktail party appropriate ensembles in your wardrobe. If you've recently done a closet clearout, you may want to make a trip to The Bay to stock up on outfits.
Still have questions about bridesmaid expenses? Join the discussions in our community.