How to Choose a Wedding Hair Stylist
Your wedding hair is the cherry on top of your entire wedding look. You'll want to have the right hair stylist on hand to make your dream look a reality. Here's how to choose the best guy or gal for the job.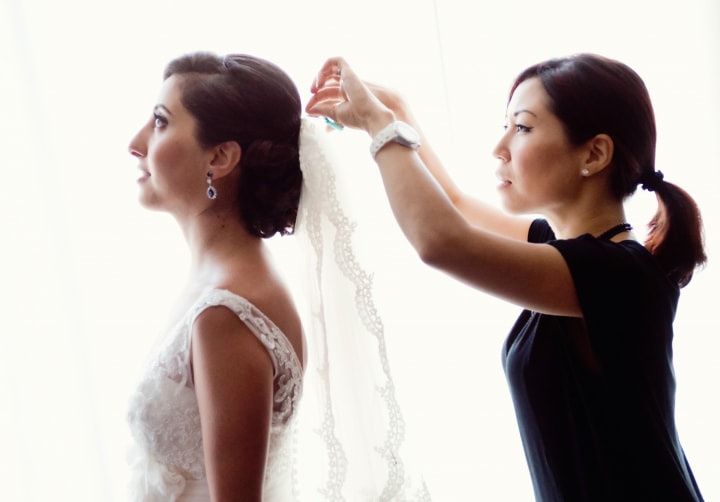 Ready to start working on your wedding 'do? Before you start scrolling through pages of updos, beachy waves and trendy wedding hair accessories, you'll want to have a wedding hair stylist picked out. Don't know where to start? From hashing out your ideal wedding hairstyle to signing the contract and everything between, these tips and tricks should help you land the best wedding hair stylist for your big day.
Here's how to choose your wedding hairstylist.
Begin at the beginning
You'll want to have a few of your wedding details figured out before you begin crafting Pinterest boards of your favourite hairdos. What exactly are these details? At the very least you should aim to have your wedding budget, venue and date sorted out (these will help you figure out what questions to ask your desired wedding hair stylist later down the line). You may also want to to have your wedding dress and makeup style decided on, so you'll know what fits best with the rest of your look.
Be open to new things
While you may not want to stray far from your personal style, it's fun to try something new for your wedding day. If you always rock a pony, why not try a more elegant updo? If you're a huge fan of flat ironing your hair, maybe give beachy waves or tousled curls a shot. Make it a goal to find a wedding hairstylist with a varied portfolio so you can try out a few different looks.
Do your research
To get the wedding hairdo of your dreams you'll need to land a skilled wedding hair stylist. Now, with all the salons out there it can be tough to figure out who's the cream of the crop. A good jumping point is our handy dandy vendor tool. It lists stylists across the country along with photos of their work, contact info and reviews from real brides.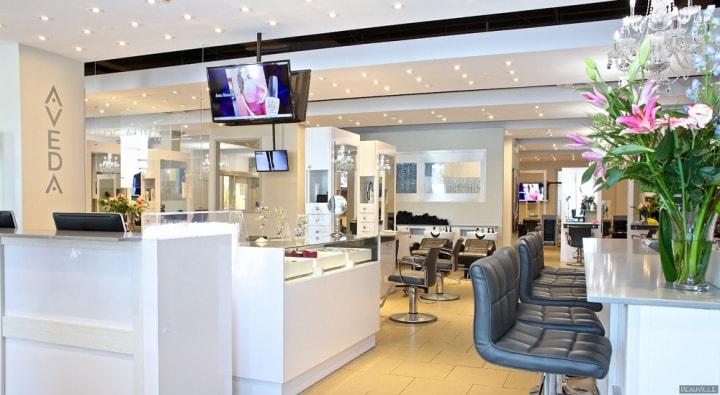 Use your social media skills
Social media is your BFF when it comes to hunting for hair inspo and stylists. It's standard practice for wedding hair stylists to post their best looks on Instagram, so look there first. Try searching for salons close to where you're getting married and then dig a little deeper to find their top stylists. If you're a fan of their work, hit that follow button.
Check out the reviews
You can't learn much about a wedding hair stylist's personality or professionalism from pics of fishtail braids, chignons or bouncy curls. Read reviews by former clients to get the scoop on their timeliness, hair taming abilities and cost.
Get in touch
So you think you've found the best of the best? Well, now it's time to get in contact with the wedding hairstylists themselves. If you stumbled upon them while using our vendor tool, you can reach out by clicking the "request pricing" button. If you're at a loss about what to say, here's a template to help you out.
Hello [stylist's name],
My name is [your name] and I found your work on [where you found their work]. I love the hair looks you've created and am interested in learning more about your services. I am getting married on [your wedding date] at [your wedding venue], and wanted to check your availability. If possible, could you send along information on your packages and pricing as well as a copy of your standard contract.
Thank you,
[your name and contact info]
If you don't hear back in a day or two, take them out of the running. You'll need be in contact with them a few times leading up to your big day and you don't want any chance of them ghosting on you.
Meet and greet
Next up is the face-to-face (or virtual) meeting. Sure, texts, DMs and emails are all good for connecting, but you can learn so much more about someone when you meet them in person. Schedule a brief Q&A session with your desired wedding hairstylist(s) to get the lowdown on their process, cost, product list and more.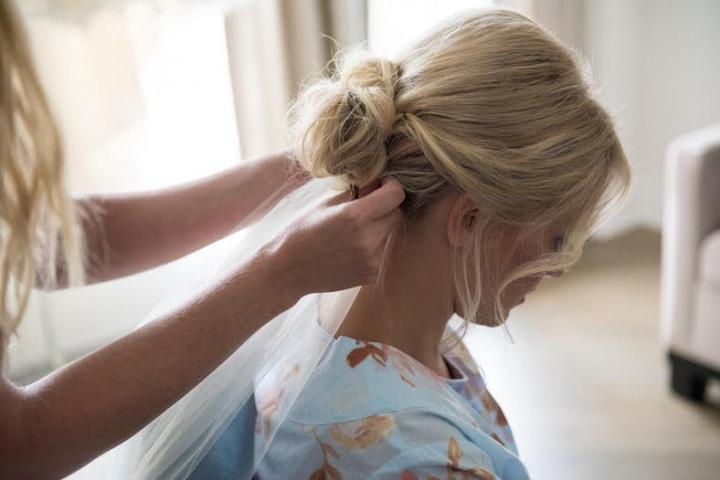 Schedule a hair trial
You should always take your wedding hairstylist for a test drive before hiring them so that you're not met with any surprises on your big day. Ask them to use the products that they'll be using on your big day so you can see if they hold up (everyone's hair is different!). If you want to try a range of styles but don't want to put your hair through the stress of applying multiple heat tools in one day, you can always book a few extra trial appointments.
Read and sign the contract
Think you've found "the one"? Congratulations! All that's left is the legal business. Ask to see a copy of your wedding hairstylist's contract and give it a thorough read through. Make sure that the paperwork accounts for all of their pre-wedding services - like trial runs - and wedding day services. You should also see a section that lists additional fees, like travelling, parking and/or supplies (these may affect your budget). If everything looks good, grab that pen and sign on the dotted line.
Find your wedding hair stylist on WeddingWire »