6 Major Wedding Hair Don'ts
Avoid these major pitfalls and your wedding hair should come out looking picture perfect on your big day.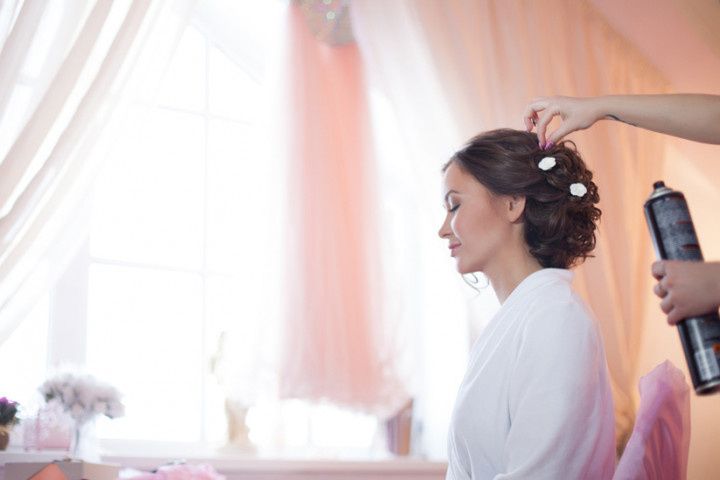 You want to look amazing from your head to your toes on your wedding, and that all starts with what's happening on top - your wedding hair. Finding your perfect wedding hairstyle can be tricky business, but it should also be enjoyable. Keep these no-nos in mind and you should have no trouble pinning down a stunning wedding hairstyle for your big day.
Here are a few major wedding hair don'ts.
Don't go into a wedding hair trial unprepared
Your wedding hairstylist isn't a mind reader, so bring along some visual aids when you meet with them. Find photos of celebs or real brides with similar hair colour, style and texture to your own and use those for inspo. Also keep in mind that there is such a thing as too much inspiration. Try to limit yourself to three or four reference photos so that your ideas don't get lost in translation.
Don't be unrealistic
Your hairdresser can do a lot, but they're not a magician. Be realistic about your expectations when it comes to your wedding hair. If you're looking at photos of blonde beauties with heart-shaped faces and you're a brunette babe with an oval mug, know that the hairstyle will not turn out the same on you (but it still may be worth trying).
Don't make any major changes
You may be tempted to shake up your look before your wedding, but we caution against making any drastic alterations. Though you may love the sound of a pixie cut/flower crown combo, you may have some serious regrets (especially if you're used to your long hair). The last thing you want is to lose your confidence before your wedding day, and your hair can play a huge role in that.
Don't be closed-minded
Your hairstylist knows what they're doing, so let them give you some sage advice. Yes, your wedding hair should look the way you want it to, but they may be able to take it to the next level. Don't say no to trying new things, but also don't be afraid to speak your mind if things aren't working out.
Don't ignore the weather
This may not be the first thing that comes to mind, but the weather should play a role in selecting your hairstyle. For example, if you're doing an outdoor beach wedding, you may want to consider an updo or pony so that your locks aren't flying in your face when you say your vows. Or, maybe you're doing a garden party in the middle of a particularly hot summer? You probably want to tie back your locks to avoid any unwanted frizz.
Don't skip the wedding hair trial
Your wedding hairstyle should not be a surprise on your wedding day, so don't skip doing a trial appointment. This is when you and your hairstylist will figure out what products and tools to use and what styles are realistic for you, so it's definitely mandatory. Pro tip: you'll want to bring along any wedding hair accessories you plan to wear on your wedding day so that you know exactly what the finished product will look like.
Find your wedding hairstylist on WeddingWire »