Wedding Hair 101
Ready to start working on your wedding day hairstyle? Here's everything you need to know before you dive in.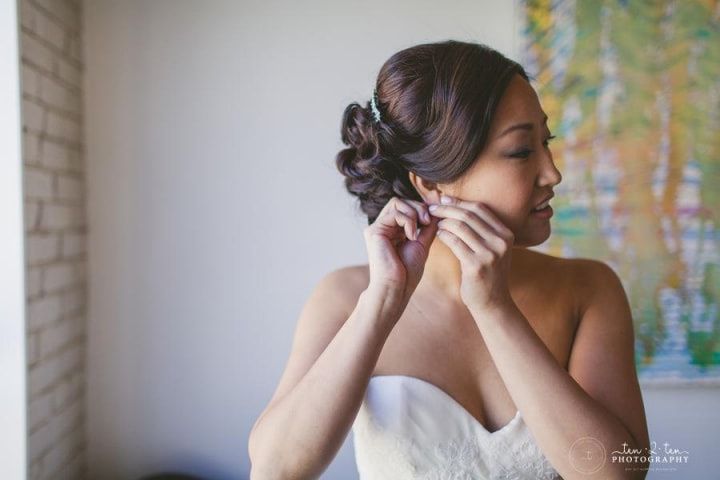 You may be a master with a flat iron and a pro when it comes to fishtail braids, but that doesn't mean you know everything about wedding hair. There's a lot to think about, from budgeting to choosing the right wedding hairstylist and style for you. We've answered all the important questions to save you from having to enroll in beauty school before your big day.
This is wedding hair 101.
How much should I spend on a wedding hairstylist?
Let's begin with the basics: your budget. There's no set price for a hairstylist, but I can confidently tell you that it won't be one of the priciest parts of your wedding. If you're looking for a simple blowout, it may even be as inexpensive as $60. Just remember, the more complex the 'do and the more experienced the stylist, the more money it will cost. You'll want to factor in trials as well as the services they will be providing on your big day so that you don't miscalculate.
Should I tip my wedding hairstylist?
Your hairstylist will be expecting a tip, just the same as if you visited them in their salon. When your service has wrapped and they're done touching you up before you head out to the reception, offer them the tip. It should be around 15-25% of your total bill.
When should I hire my wedding hairstylist?
You'll want to hash out a few basic wedding details before hiring your stylist - namely your wedding venue and date. You should try to sign them on extra early if you're looking to book them during peak season (AKA the summer months), as their calendar is probably already filling up fast.
How do I choose a wedding hairstylist?
If you want great hair on your big day, you'll need a great wedding hairstylist. Now, that sounds like a tall order to fill, but it's not too difficult. We may not have Jen Atkin, but Canada is filled with awesome ladies and gents who can work some real magic with a little hairspray and a few bobby pins. If you need help with your search, WeddingWire's vendor guide is a good place to start. It lists stylists from across the country along with their portfolios and info.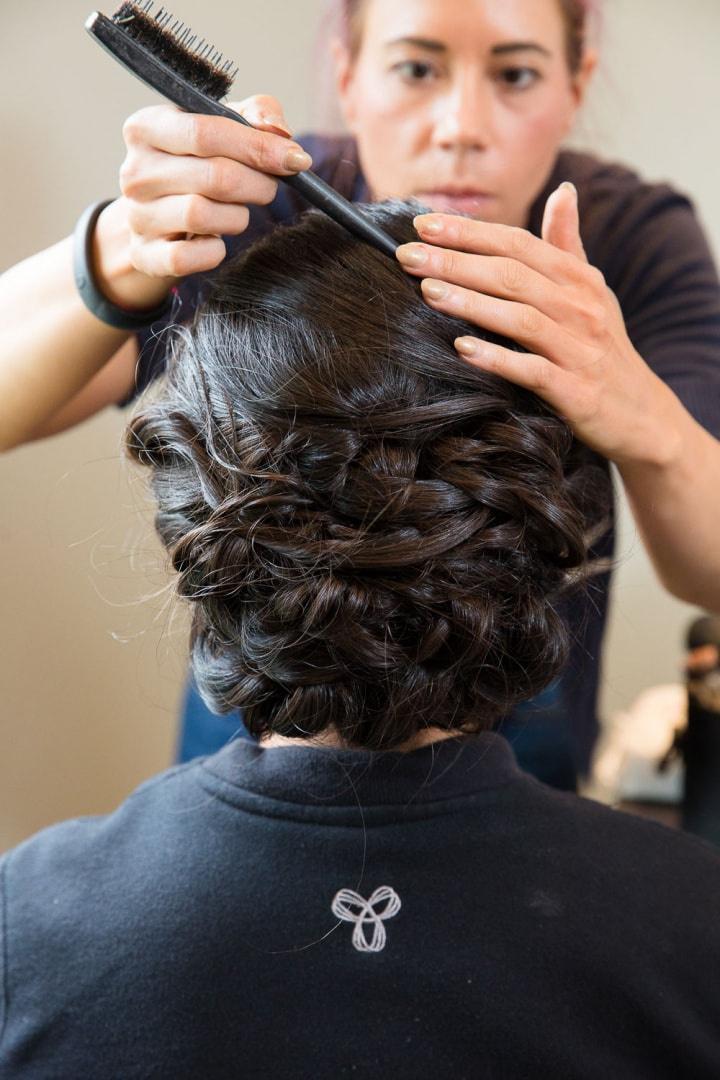 How do I choose my wedding hairstyle?
There's no reason you shouldn't have the hair of your dreams on your big day. Think about the celeb red carpet looks you love to get some inspiration, gather advice from your friends and family and consider the overall look you're going for from head to toe. Once you've selected a few styles that you absolutely love, try them out at home or with your stylist to see if they actually work. If you need more tips on selecting your hairstyle, we've got your back.
Will I need hair extensions?
Looking for a voluminous or lengthy look on your big day? You may have to sport some faux locks. Don't be afraid if you're an extension virgin, there are plenty of foolproof options that'll allow you to hair flip and head bang all night long. If you only want long hair for your wedding day, go for clip-in or glue-in extensions (these are short-term options). Or, if you're in the market for something that'll last you through your honeymoon, ask your stylist about keratin bonds or cold fusion extensions.
Do I add bridal hair accessories?
Wedding hair accessories are a good way to amp up your look. If you're going with a simpler 'do, adding a halo of flowers or an ornate hair comb may be just what you need. If you prefer a cleaner, minimalistic look, you may want to skip adding any bits or bobs.
Find your wedding hairstylist on WeddingWire »