How to Help Your Bridesmaids Save Money
Want to help your bridesmaids save money? Here's how you, the bride, can help them save their dollars.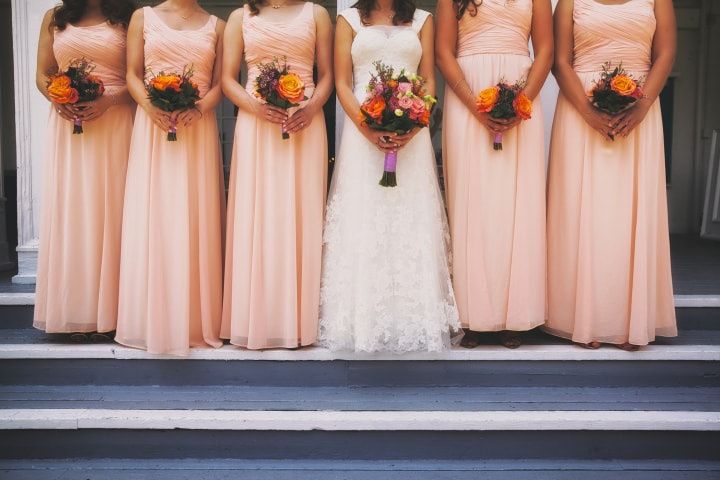 Being a bride is expensive, but so is being a bridesmaid. There are a ton of expenses that often go unnoticed during the hustle and bustle of planning, and these can really add up. If you want to help your bridesmaids save money, there are a few surefire ways to cut costs. From knowing their budget at the beginning to gifting them wedding accessories, these little things can really minimize the damage they do to their credit cards.
Here are a few ways to help your bridesmaids save money.
Discuss budgets at the get-go
Don't start shopping for bridesmaid dresses or hunting down your dream bachelorette party destination before talking dollars and cents with your bridesmaid squad. Yes, discussing budgets isn't fun, but it is a must. Getting a feel for what all of your 'maids can spend will help give you direction for ensembles, accommodations, pre-wedding events and more.
Give them outfit options
Even if you have a specific look in mind, giving your girls options at different price points is a good way to help your bridesmaids save money. If you don't want to go the mix and match route, take a poll on which gown your bridesmaids like best. They'll be purchasing and wearing the dresses, so their opinions matter.
Skip piling on the accessories
You're bridesmaids probably know that they'll be shelling out a bit of money for their dresses, but don't surprise them by asking them to buy specific shoes, necklaces and earrings, too. Yes, you can give them directions (i.e.: wear nude strappy sandals) but help your bridesmaids save money by having them find something that works in their price range.
Give accommodation options
Unfortunately, five star hotels probably won't be in the cards for all of your bridesmaids. Sure, one or two of your BFFs may be able to afford that, but probably not all of them. So, what can you do? Reserve hotel room blocks at more than one hotel to give your girls options. That way they can splurge if they want to or opt for the more modestly priced option to save a few bucks.
Don't go overboard at pre-wedding events
A spa retreat in a luxury hotel somewhere off the grid sounds like an amazing bachelorette party location, but it also sounds expensive. Remember that not all of your bridesmaids will be able to afford such extravagant pre-wedding soirees, so a few members of your girl squad may have to sit this one out. If you don't want to miss out on celebrating as a group think about hosting something a little more budget-friendly or host two events (one for the high rollers and one for everyone).
Don't have them pay for your expenses
Having your bridesmaids pay for expenses that you should be handling is a major no-no (even if they're not on a strict budget). Don't have them chip in on things like favours or postage for your wedding invites - that's your job. You can ask for help packing up gifts or running errands, but they shouldn't be spending their hard earned dollars on your big day.
Let them handle their own hair and makeup
Yes, having professional hair and makeup is a nice bonus, but it can be pricey. If you don't want to foot the bill yourself and you want to help your bridesmaids save money, we suggest letting them handle their own wedding day looks. If you have one particularly beauty savvy lady in your bridal party - you know the one who watches YouTube beauty tutorials for hours on end and always sports a killer cat eye - let her lead the rest of the pack. The results will still be amazing.
Give practical presents
The bride will typically gift her bridesmaids with a little somethin' somethin' before the main event to say thank-you for their help and support. Instead of giving them fun monogrammed robes or t-shirts they may never wear again, give them something practical that they can use on your wedding day. Maybe you want them all to wear the same necklace or pair of shoes? Gift 'em! That way you'll get the wedding look you want and they'll land an amazing accessory that they can wear for years to come.