Wedding Party Gifts 101
Looking for a way to thank your bridesmaids and groomsmen? We've got the lowdown on finding the perfect wedding party gifts to say "thank you".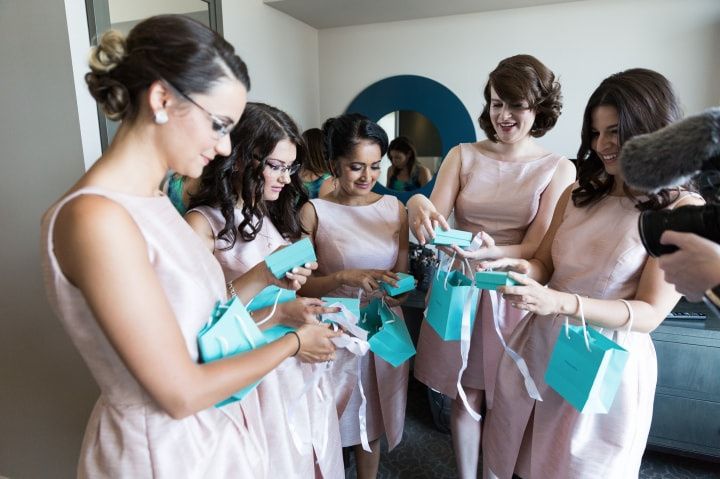 While the only presents on your mind may be the ones on your wedding registry, you shouldn't forget your own role as a gift giver. That's right! Weddings are about both giving and receiving. Remember to give wedding party gifts before your ceremony gets underway to thank your bridesmaids and groomsmen for their love and support. If you have no clue where to start, here's a quick lesson on the ins and outs of wedding party gifts.
This is wedding party gifts 101.
What are wedding party gifts?
Wedding party gifts (a.k.a bridal party gifts) are a way of saying thank you to your wedding party. They're small tokens of appreciation that let your nearest and dearest know you love them for standing by you on your big day.
How much should I spend on wedding party gifts?
Don't go overboard. Your wedding party is probably stacked with amazing people, and giving them props for supporting you is necessary - but you don't have to pay an arm and a leg to do so. Anywhere from $20-$100 is perfectly reasonable. If you're keeping your purse strings extra tight DIYing your gifts is always an option.
Who gets a wedding party gift?
Wedding party gifts are different than wedding favours - only the real MVPs get them. They should be bought for all the people that'll be accompanying you to that altar. Namely, your bridesmaids and groomsmen.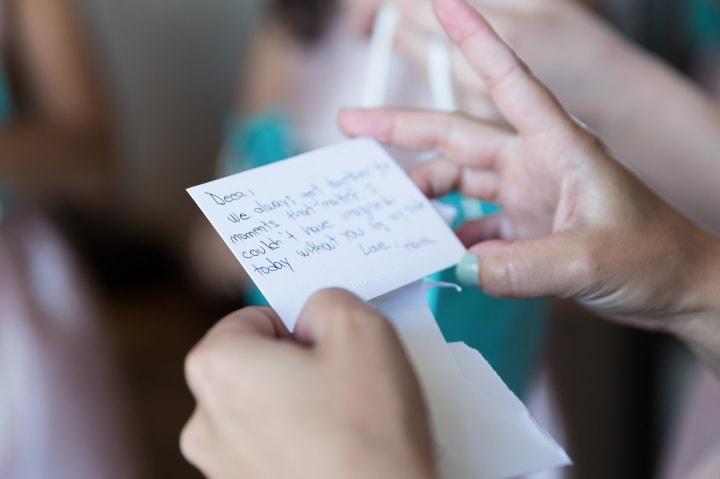 When do I give my wedding party gifts?
There's no designated time for giving out your bridesmaid gifts and groomsmen gifts, so just choose a moment that feels right. Many couples distribute them during the rehearsal dinner so that they can honour their bridesmaids and groomsmen with a loving toast, as well. Alternatively, you could choose an intimate moment on the day of your wedding, perhaps when you're all getting ready together. You definitely want to give them out before you set foot in your wedding venue, especially if it's something they could wear during your ceremony (like a bracelet, ring, watch or necklace).
How should I choose my wedding gifts?
While you may be tempted to base your wedding party gifts on your own taste, fight the urge. The gifts should suit the people you're giving them to, not yourself. Here are a few rules to follow when selecting your presents:
Appeal to their tastes instead of your own
They don't have to be identical
It should something they wouldn't normally buy for themselves
Bigger doesn't always mean better - something small like a bracelet, candle or journal will do the trick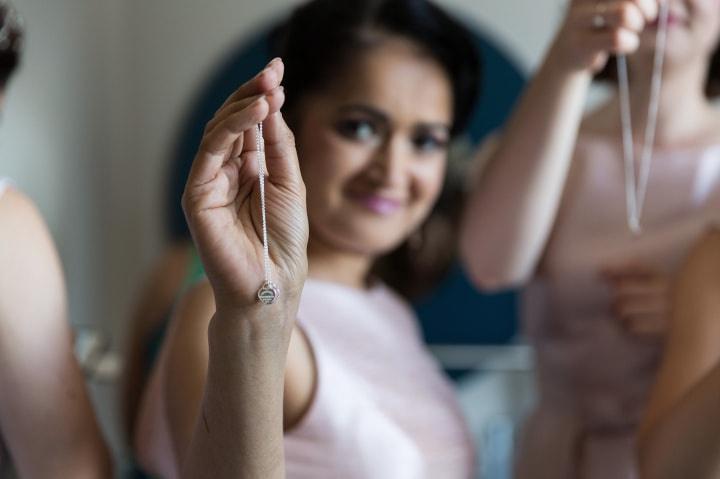 Are wedding party gifts mandatory?
The short answer is yes. Your wedding party has helped you prep for your wedding day and deserve a pat on the back. But don't be overwhelmed, you don't have to get extravagant with your gifts.
When should I buy my wedding party gifts?
While there is no set timeframe, about two months before your big day is a good idea. This will save you from rushing to find something at the last minute. If you can take advantage of Boxing Day or Black Friday sales, even better.