How to Prep to Party All Night Long at Your Wedding
You don't want to be the first person to hit the hay at your own wedding, here are some tips on prepping for the long night ahead.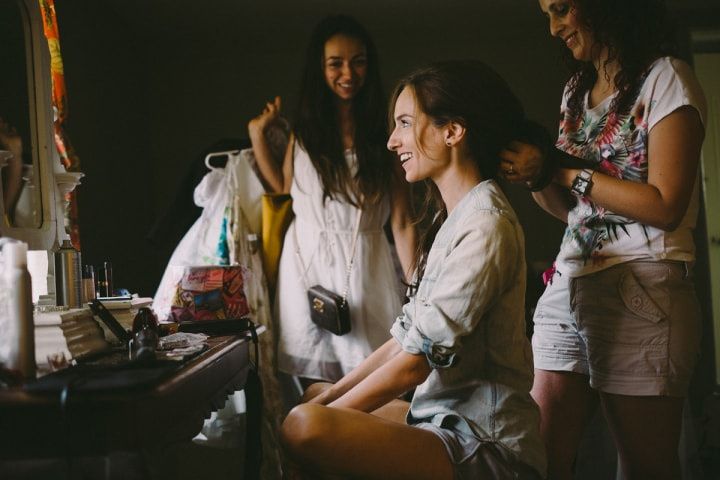 Don't exactly identify as a night owl? That's fine! If you haven't partied all night since your university years you may forget how taxing it can be on your body. From building up stamina to doing an outfit change, here's everything you need to know to get you through the night.
Here's how to prep to party all night long at your wedding.
Work on working out
If you've already started working out, awesome, your stamina is probably becoming amazing. If not, now's the time to start. Dancing the night away is a full blown workout and, trust me, you don't want to sit this one out.
Catch some z's the night before
Want to party until sunrise? Well, you're going to need a good night's sleep before your wedding. Yes, it may be difficult to fall asleep thanks to your butterflies fluttering around your stomach, but try your best to get 8 hours of shut-eye. Count sheep, put some lavender under your pillow or turn on those calming oceans sounds and snooze.
Drink your water
Staying hydrated is important - you already know this. Remember to drink enough water to keep your body happy and hydrated - especially if you plan on consuming a few extra cocktails. Have a water bottle handy while you're prepping for your ceremony and always have a glass nearby at your reception. Don't skimp on your 8 glasses just because it's your big day.
Delegate
Don't shy away from giving your friends and family tasks. You've already got a lot on your plate on your wedding day, so it's easy to burn out by doing all the little things. Whether you need some last minute seating plan changes or someone to rearrange centrepieces, ask a trusty bridesmaid or venue staffer to take it on, don't do it all yourself.
Get zen before the ceremony
Yes, your wedding day will be a busy one. Take a step back for a minute and just breathe it out before walking down the aisle. Turn on an app like Headspace or Calm and get in that yogi mindset before you're bombarded with love.
Remember to eat
You're gonna need some fuel to see you through the entire evening, so don't forget to enjoy all the amazing eats your caterer is serving up. If you think you might need something extra halfway through the night, order some late night eats for your reception. This will save you from sneaking into your getaway car to drive to the closest McDonald's between dances.
Pace yourself
After you've said your vows and signed your marriage license you'll be ready to party. But, hold on. Before you make a beeline for the bar and start popping bottles, think about how long you want this night to last. If you plan on staying out until the crack of dawn you'll need to pace yourself. So don't drink, dance or socialize to the point where you want to go home ASAP.
Take five
You'll probably spend hours posing for photos, hugging your guests and thanking your friends and family for coming out - in other words, you'll be exhausted. Take a few minutes to yourself by hiding out in your dressing room or a bathroom. You can touch up your makeup, put your feet up and just have a bit of quiet time before you return to the festivities.
Put on a new outfit
If you spend more than six hours surrounded by layers of taffeta and tulle you'll be dying to change into your PJs. Prep a post-ceremony (or even just post-reception) outfit that's a little bit more comfy than your gown so that you can let loose. Trade your heels in for flats and your ballgown for a more casual dress or ensemble and you'll be ready to take the night by storm.