How to Get in Shape For Your Wedding
So you want to be in the leanest, meanest condition of your life for your wedding day? Here are a few tips to get in shape for your your wedding.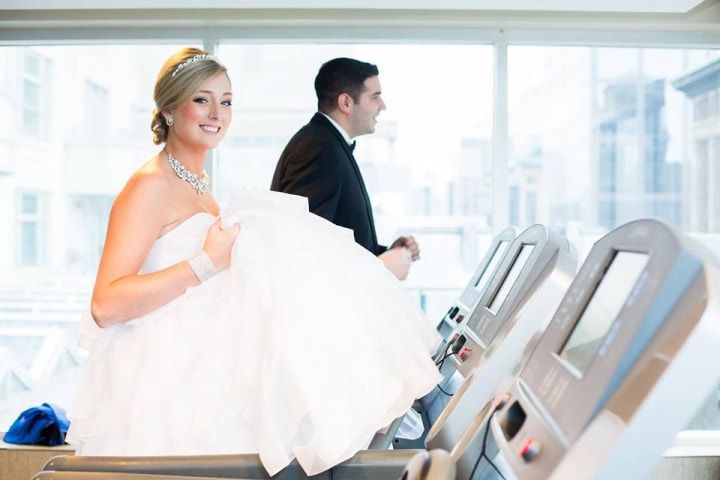 Ready to get in shape for your wedding day? Good for you! The first step is committing to the cause. Aside from that, it involves some willpower, a hefty dose of dedication and a little bit of guidance. You'll want to keep your overall health in mind when prepping for your wedding, but here are a few tips for fitness that'll go a long way. If you're ready to begin your transformation from a couch potato to buff bride or groom, read on.
Here are a few tips on getting in shape for your wedding.
Schedule your workouts
Schedule your workouts just like you'd schedule a visit to the doctor's office or an important work meeting. That'll hold you accountable. If you can pre-book your workouts on a database like MINDBODY, even better.
Find an activity that's fun for you
Workouts are never one size fits all. You may have a friend who loves spinning, but you may loathe it with all your being. To get in shape for your wedding, find something that makes you happy when you break a sweat, be it dragon boating, rock climbing, dancing or power walking.
Try a variety of workouts
The last thing you want is to get bored of your fitness routine and give up. Even if you really love a particular workout it's always good to add variety. Mixing things up will save your body from getting used to a particular type of workout and help you target different areas. Try going outside your comfort zone by doing something totally different, like hula hooping, suspension yoga or lifting weights.
Make your home a fitness mecca
Getting your sweat on at home is an absolute must. All you'll need is a mat and maybe a few weights to get the job done right. When you're marathoning home makeover shows on the W channel, do a plank or lift weights during the commercial break. Preheating the oven? Do your squats while you wait for it to get to 350 degrees. If you've got even more time on your hands search for fitness videos on YouTube, there are plenty of full length workouts that cost zero dollars.
Work with a trainer
If you've got the funds, hiring a trainer is never a bad idea. He or she will help you get the most out of your workout, meaning you'll probably burn a ton more calories and have better form than you would if you were flying solo. To cut costs, try getting a friend to join you. It'll also give you some friendly competition at the gym.
Make the easy things hard
Sure, it's super easy to drive to work and then take the elevator up to your cushy office space where you'll spend the day planted in your ergonomic chair. But you could be getting in a workout! Instead of grabbing the keys to your Prius, pick up that helmet and bike to work for a little bit of cardio. When you get there, forget about setting foot on the elevator or escalator and take the stairs - your calves will thank you.
Record your results
It's nice to see your progress when getting in shape for your wedding. Unfortunately, a lot of us can't tell our bodies are changing for one simple reason - we see them every day. Take body photos each week or keep a journal of the workouts you've completed so that you can see how far you've come. This will help keep you from throwing in the towel.
Use your phone to your advantage
When it comes to working out, apps are your friend. There are plenty of options for iPhones and androids that'll help you on your fitness journey - and good news, a lot of them are free! Whether you want to dip your toes into yoga, circuit training, spinning or running, there's an app for that. Some tried and true favourites are Yoga Studio, Couch to 5K, Freeletics and Sworkit.
Drink your water
Drinking water is the easiest and cheapest way to up your fitness game. The amount you "should" be consuming varies depending on who you talk to, but around 2 litres a day should do the trick (remember, drinking more never hurts!). This has a myriad of benefits - it can improve your sleep, make you less bloated, clear up your skin and generally help your body to function better. Try to cut soda, sugary juices and coffee altogether and stick to a strictly water plan for the best results.
Eat clean
The first step to eating clean is cutting out most - if not all - processed foods and foods that contain hydrogenated oils (AKA trans fats). These wreak havoc on your body and will keep you from achieving your fitness goals. If you have the stamina to switch to a 100% plant-based diet - your results will be top tier. Can't help but grab cookies, pre-made sauces and instant potatoes when you grocery shop? Stick to the perimeter of the store. The inner aisles - known as the aisles of doom - tend to hold all the junk.
Plan and prep your meals
Create a wedding diet plan and spend Sunday night planning and prepping your meals for the week. Decide on a few simple recipes that can easily be portioned into tupperware containers and stored in your fridge or freezer. Not only will this save you from stressing out and ordering Domino's, but it'll cut down your grocery bill massively.
Reward yourself
In the immortal words of Parks and Recreation's Tom Haverford, "Treat yo' self." What I mean is this: don't get so caught up in the idea of getting in shape for your wedding that you drive yourself crazy - your mental health matters, too! Invest in some fancy bath bombs from Lush, get a massage or go out for a cheat meal at your favourite restaurant. These little things will help you stay sane and on track.