7 Things You Need to Do Before Walking Down the Aisle
Think you're ready to walk down the aisle to say "I do"? Don't forget all of your last-minute must-do tasks!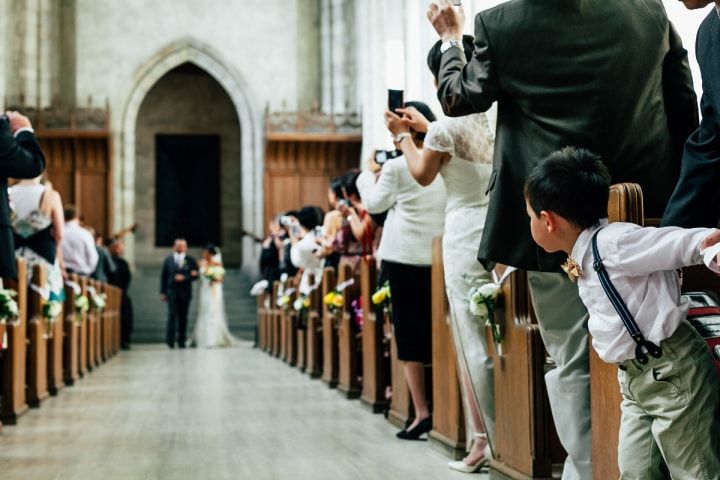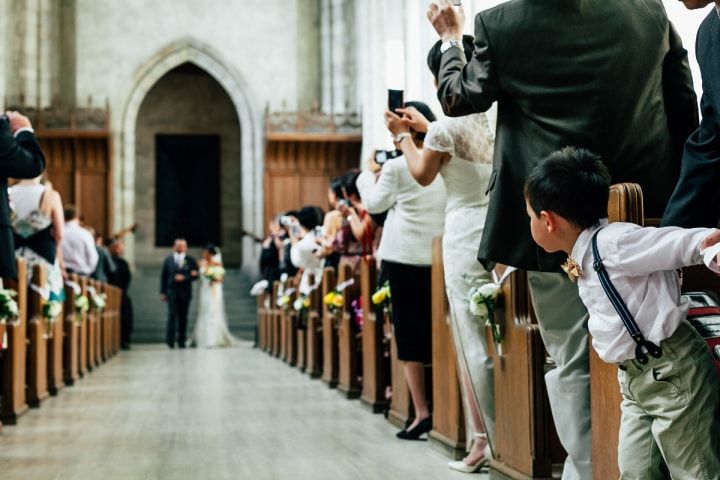 So you're dressed in your picture perfect wedding gown, your veil is in position and you're ready to make your way to the altar. Well, hold on just a sec. Before heading into your ceremony venue and walking down the aisle there are a few things you'll want to do to save you from any fumbles or interruptions. Tick these off your list minutes before you head out and you'll be good to go.
Here's everything you need to do right before walking down the aisle.
Fix your makeup
Yes, you've probably paid someone a pretty penny to look like a million bucks, but that doesn't mean you won't need to do a few last minute touch-ups before walking down the aisle. Powder your nose, give your lips that extra coat of balm and make sure your mascara isn't starting to run (it's gonna have to withstand the waterworks after your vows).
Have a drink
You don't want to realize your mouth is the bodily equivalent of the Sahara when you go to say your wedding vows. Have a few sips of water before you get out there so that you won't be thirsty during the ceremony.
Use the restroom
Use the bathroom before you head to the altar so that you're not doing an awkward shuffle/dance while your officiant does their thing. There's not really time for you to sneak out during the ceremony, so do your business before walking down the aisle. Tip: after this do not even think about gulping down another bottle of water or you're bound to run into problems.
Put away your phone
You're not going to be texting, gramming or checking your emails for the duration of the ceremony, so put that thing on airplane mode and hand it off to one of your trusty bridesmaids for safe keeping. Do not forget to silence it, you don't want your alarm or an embarrassing ringtone to ruin the vibe of your big day.
Get your bouquet in order
Your wedding bouquet is your most important accessory (besides your engagement ring) so make sure it looks picture perfect before you leave your dressing room. Remember to keep it positioned below your waist and not to grip it too tightly - you don't want it to overshadow your beautiful dress or fall apart in your hands.
Interlace your arms
Find whoever's walking you down the aisle and lock arms with them. They'll be the one to hold you up and make sure you keep a steady pace on your stroll down the aisle. If you're flying solo, make sure you feel confident in your footing before you head into your ceremony venue. Get your wedding planner or maid of honour to give you a pep talk and maybe squeeze in one last pump up jam - a little Beyonce can do wonders.
Let it all go
If you start to get a case of stage fright right before your big reveal, don't stress, it's totally normal. Do your best to breathe it out and let it all go. You don't want to rush through it like you would a class presentation, so just remember as you're walking down the aisle to savour the moment and enjoy every second.