8 Essential Wedding Cake Questions Answered
Ready to start working on your wedding cake? Here's everything you need to know about your big day's star confection.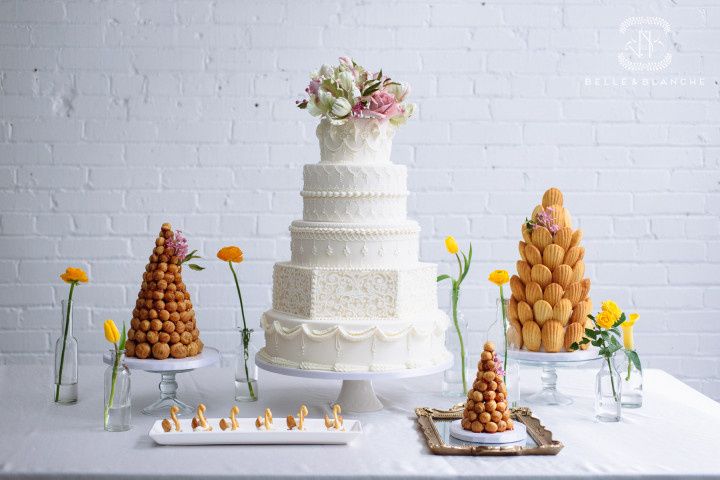 Choosing your wedding cake can be a slice of cake, but you need to be prepared for the process. We've answered some FAQs so that you know exactly what you're in for. From the right time to start looking for inspiration to tips on preserving your cake post-wedding, this is everything you need to know about your big day's star confection.
Here are all your wedding cake questions answered.
When should I start hunting for wedding cake inspo?
ASAP! It's never too early to start making your wedding cake vision board, so get started early on. This will save you from getting super stressed later on. If you're a bit of a procrastinator, a safe bet is about six months in advance of your wedding, so that you know what to say when meeting with bakers and doing tastings.
When should I book my wedding cake tasting?
Your wedding cake tasting should be scheduled about six months before your big day. Now, I know this seems early, but you're going to need the time to get all the finishing touches just right. If you need a few more tips on wedding cake tasting, read this.
How do I decide on my wedding cake style?
Your wedding cake probably isn't the first planning decision you've made. At this point you've most likely said yes to a dress, a venue and a colour scheme (and maybe a few more things) - so use those as your compass. You can probably confidently say whether your wedding will be rustic, vintage or boho, so share that with your baker. They'll be able to help you hash out exactly what your cake style should be.
Should my wedding date influence my choice of cake?
This may seem like an odd question, but the answer is yes. If you're hosting an outdoor summer affair, you may want to skip the creamier icings - like buttercream - so that you don't face a full blown meltdown the moment your cake leaves the fridge. However, if you're hosting your wedding in just about any other season it should be smooth sailing.
How can I make my cake serve all my guests?
Depending on your guest list and size of your cake, you may not be able to. Before you start freaking out, there are plenty of other ways to give your guests a sugar fix. Fill your dessert menu with a bevy of cupcakes, mini-cakes, donuts, Canadian desserts and more and your friends and family will be 100% satisfied - even if they couldn't snag a slice of your cake.
Will I be charged for delivery?
This varies from bakery to bakery. Some will charge an extra fee for delivery while others will include it in the price of the cake. If you've chosen a bakery farther away from your venue, you'll probably need to cover the cost. Remember to ask this question when meeting with your baker so you have no surprises later down the line.
What will I need to rent or purchase for my dessert table?
Your dessert display will need a few key items to make it both fashionable and functional. We've made a handy dandy shopping list to help your round up all the things you'll need for your sweet treats when your big day rolls around.
Can I keep some of my cake after my reception wraps up?
Sure you can! It's actually tradition to hold onto the top tier and indulge in it on your first anniversary together. Know the basics on how to preserve it and you shouldn't run into any pesky problems like freezer burn.
Find wedding cake creators and specialized bakeries on WeddingWire »