8 Details Not to Share Before Your Wedding Day
Keeping some key details about your wedding day under wraps is essential. Here's everything you shouldn't be sharing.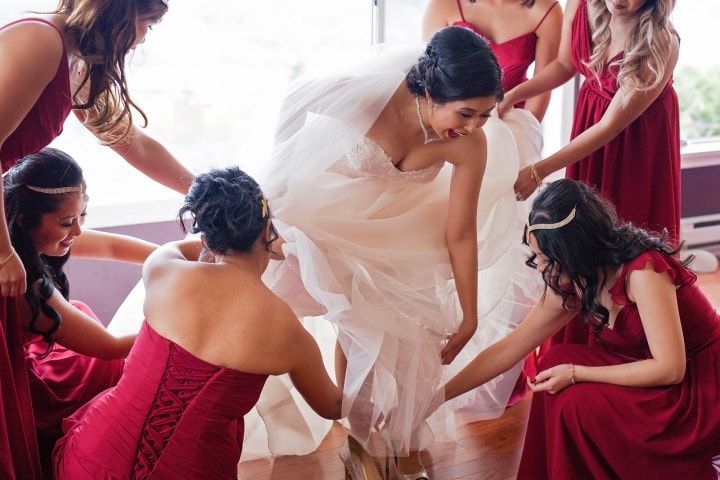 Wedding planning is an exciting and laborious process. So, naturally, it's difficult to keep your lips sealed once you've hammered down any important details. But, trust me, you don't want to go sharing everything about your big day right off the bat. Saving a few key surprises for your big day will help keep your wedding guests guessing, leaving them excited for everything the main event will have to offer.
Here are a few details not to share before your wedding day.
The Outfit
You want jaws to hit the floor when you arrive at your wedding venue, so save showing off your wedding ensemble for your big day. Yes, you may be tempted to send sneak peeks of your look to your pals on social media, but try your best to hold off. Having trouble keeping your lips sealed? It's more than likely that a few members of your wedding party joined you while you were outfit shopping - if you can't help but chat about your amazing ensemble, talk to them.
Hair & Makeup
Details about your wedding hair and makeup should also be kept on the DL. Maybe you rock a pony almost daily and you'll be trying out a more free-flowing look with your locks on your big day? Perhaps your makeup routine typically includes BB Cream and a quick coat of mascara and you'll be switching things up for the wedding? Skip divulging this information from the get-go and you'll be bound to hear some encouraging "oohs" and "ahhs" when you step out onto that aisle.
Colour Scheme
Your guests should be surprised when they enter your venue, so don't give them too much info about how you'll be embellishing it. If you've got some super sleuths on your guest list they may be able to figure out the colour scheme themselves, especially if you've been using the same shades on your wedding website and stationery.
Decorations
Your friends and family don't need to know all the nitty-gritty details about your wedding decor before your big day. Sure, your wedding theme should give them a hint as to how your venue will be spruced up, but save what type of wedding centerpiece vessels you're going with and which table linens you're using for the day of. There's a big difference between telling them it'll be a rustic-chic affair and showing off all your fancy new bits and bobs on Instagram.
First Dance Song
Understandably, you've probably spent a lot of time hunting for your first dance song. When you've finally nailed it down, you don't want to risk getting any weird looks nor negative remarks from your pals, so keep it to yourself. If they don't understand your choice, that's A-OK, it's your first dance, not theirs.
Guest List
There's a good chance you'll be inundated with texts before your wedding day asking if so-and-so is coming to your wedding, but you don't have to let everyone in on your guest list. In fact, it's best to keep those details to yourself and a few family members. Explaining why someone didn't make the cut can be quite the awkward situation, so save yourself the stress and skip sharing too many details.
Favours
Would you tell your BFF what you bought them for their birthday before it arrived? Probably not. Think of your wedding favours in the same way. No matter how big or small, they're still presents, so let your guests be excited to unwrap them.
Surprises
Organized any unique wedding entertainment to surprise your guests? Keep it hush-hush! After all, they're called surprises for a reason. If you plan on doing an elaborately choreographed dance number, adding a GIF photobooth to your venue or are hiring a drone videographer for the big event, don't let it slip.