5 Tasks to Let Your Wedding Party Handle
No bride (or groom) is an island. Let your wedding party handle these tasks so that you can move on to the important stuff.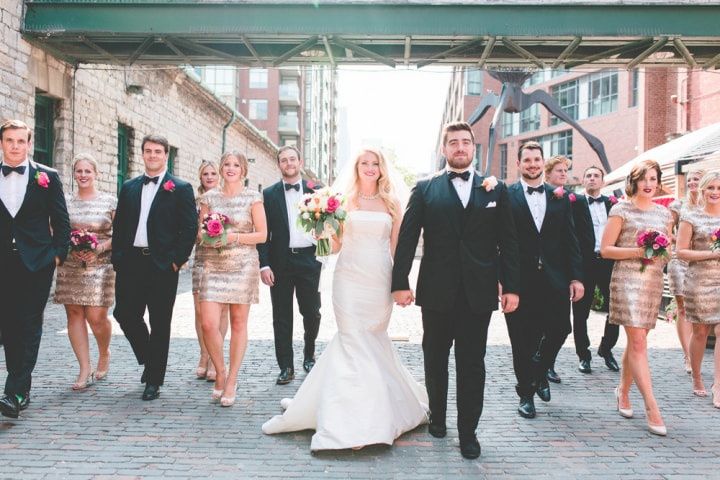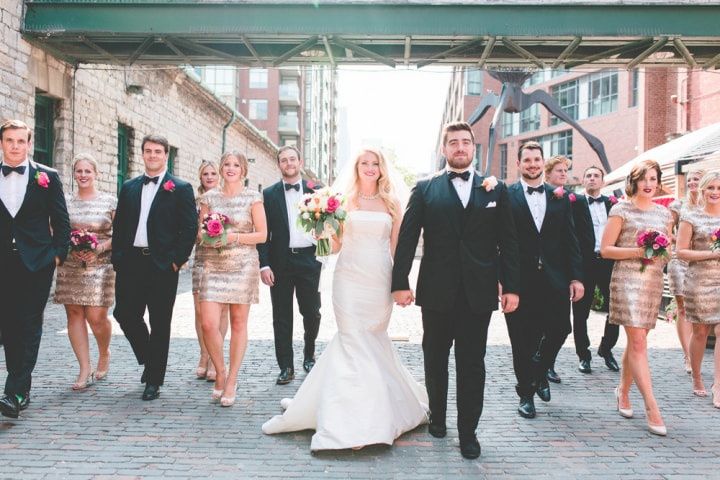 If you're a type A bride (or groom) handing off wedding tasks may not be easy, but, trust me, it's necessary. Planning your big day takes up a lot of time and energy, and, unfortunately, you won't be able to do it all on your own. Luckily, you've probably got a squad of trusty friends and family members willing to help you out when times get tough. Delegating these tasks will help free up your schedule without giving up control.
Here are a few tasks to let your wedding party handle.
Packing invitations
Packing invitations is one of the first jobs you'll need to handle - and you definitely don't have to go it alone. In fact, you can let a few of your wedding party members take it on without supervision (after all, it's not rocket science). If you've got a lengthy guest list, you'll definitely want to have a handful of friends and family tackle this one together.
Keeping track of RSVPs
Sitting around waiting for RSVPs to roll in is a bit of a bore. Sure, you want to know who will be attending your wedding, but staying on top of your guest list is definitely less enjoyable than sampling cake flavours, scrolling through wedding inspo photos on Insta and searching for your dream dress. Ask an uber-organized pal to keep track of all the yeses and nos using our guest list tool (or in a spreadsheet) so that you can focus on the other stuff. This will come in handy when you go to make your seating plan later down the road.
Giving out welcome baskets
Welcome baskets (or bags) are a must for out-of-towners. While delivering them to the hotels(s) where your guests are staying may seem like a piece of cake, there's a good chance you won't have the time to do it yourself (you'll be wrapping up all those last minute details). Give one of your buddies a list of addresses with the names and room numbers of your guests and ask them to drop them off for you. Tip: you'll want to get someone with a car to deal with this task, nobody wants to maneuver around the subway, streetcar or bus with armfuls of gifts.
Organizing place cards or escort cards
Getting your wedding's seating stationery in order is a tedious task that you probably won't have time for on your big day. Opting for place cards? Get a detail-oriented friend or relative to follow your seating plan and place them in their correct spots. If you're having a wedding on the larger side, you may want to assemble a crack team to get it done quickly and painlessly. Going with escort cards? Ask your pals to organize those alphabetically to make things easy on your guests. Psst! If you don't know the difference between the two, read this.
Assisting the photographer
Now, your photographer knows what they're doing and the last thing they want is your mother-in-law following them around all day giving them advice about their own job. However, they may need a helping hand when it comes to choosing the detail shots and rounding up your friends and family members for photos. Ask one of your wedding party members to point them in the direction of some of your amazing decorations, accessories and stationery - after all, they'll know where they are. Once the event gets underway, ask another trusty friend or relative to wrangle your nearest and dearest for group shots (here's a list of all the ones you'll want for your album).
Stay organized with WeddingWire's FREE wedding planning tools »