If you've hopped on board the greenery-heavy decorating trend, there's a good chance you have at least one cactus or succulent sitting around your place. If you're a fan of these (sometimes) prickly little guys, there are plenty of ways to work them into your big day. From having them doodled on your wedding stationery to using them in your bridal bouquet, the options are endless.
Here are a few creative ways to use cacti and succulents in your wedding decor.
To decorate your stationery
Head to your local Chapters or Indigo and I guarantee you will find at least one notebook or sketchpad with a cactus on its cover. Why? Because they're aesthetically-pleasing little plants and they're super trendy at the moment. We suggest embracing the craze and adding a few sketches of your favourite cacti and succulent varieties to your wedding stationery. One thing's for sure, they're a lot more interesting than colour-blocked invitations.
As aisle markers
When you think aisle markers, your mind probably goes directly to flowers. While a few of vibrant blooms will make these itty bitty arrangements pop, adding earthier greens into the mix can really amp up their wow-factor. Skip the boxwood and eucalyptus, go with one or two succulents and/or cacti in a mini terrarium to give yours a unique spin.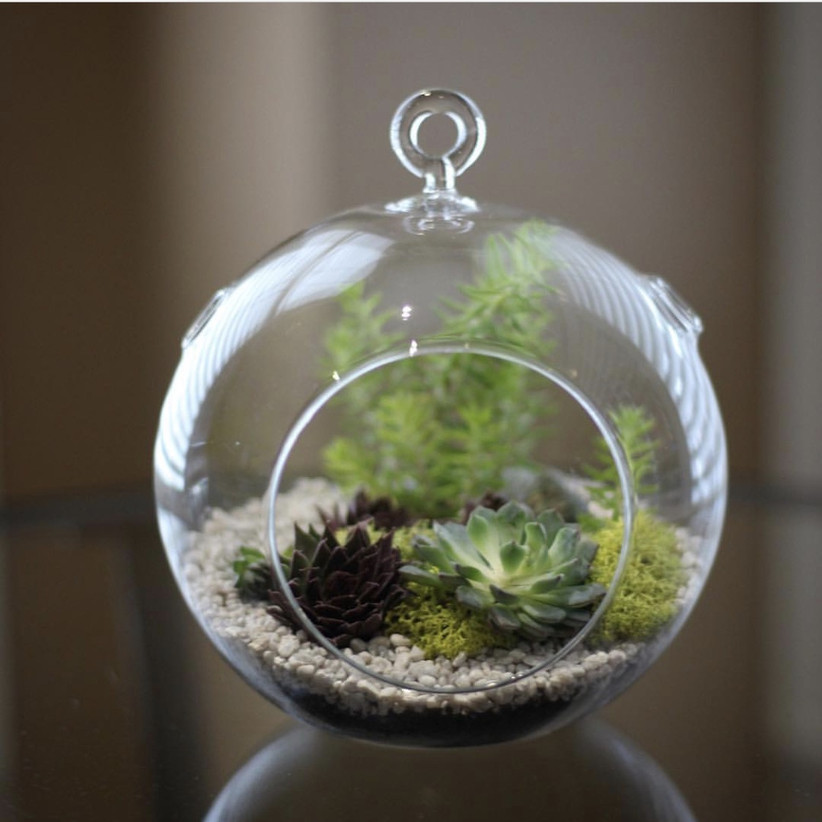 As a wedding altar backdrop
Forget about copying Kim and Kanye's floral wall - use succulents as your altar backdrop instead. This is the perfect option for couples who want to liven up their space with a splash of green and dose of boho magic. Word to the wise, you'll probably want to skip their pricklier counterpart for this one - you don't want to accidentally snag your dress or tux on a cactus needle.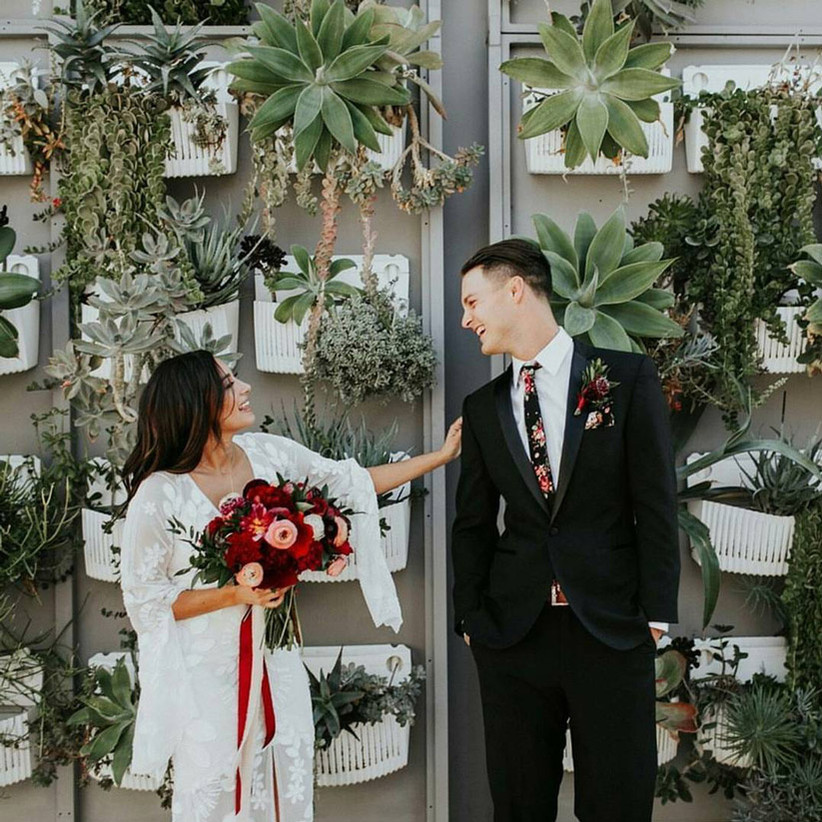 As altar arrangements
You don't have to tailor your altar arrangements to match your bouquet and boutonniere. If you want to give your ceremony's stage a rustic twist, decorate your altar with a few cacti and/or succulents. If you're going with larger ones, you can probably get away with one or two, but if you're sticking to the smaller guys you may want to invest in a handful (good news, they're usually way less expensive than flowers).
In your bouquet
You've probably seen plenty of peony and rose bouquets in your day, and you may not want to see another when your wedding rolls around. If you're in the market for something different, look no further than these little plants. Adding cacti and/or succulents to your bridal bouquet will put your big day's most important arrangement above and beyond.
In your boutonnieres
The groom doesn't have to miss out on the fun! While you should probably avoid adding any needle-clad cacti to your boutonniere, attaching a tiny succulent may be the perfect way to beautify your lapel. Since these plants are pretty neutral, you can add just about any other bloom or accessory alongside it.
As wedding centerpieces
Want to take your shabby-chic tables to the next level? These potted plant pals can instantly turn any wedding centerpiece into an instagram-worthy piece of art.
As place cards
Place cards don't have to be bland and boring. Make yours more interesting by writing your guests' names on cactus leaves or inserting place cards into potted plants. They can play double duty as table decorations and wedding favours too.
On top of your wedding cake
Yes, miniature renderings of you and your S.O. sound like adorable wedding cake toppers, but the idea isn't exactly hip, happening and now. If you want to go with something a little more modern, why not use a few cacti and succulents to top off your wedding's most important dessert? Just make sure you don't lose any needles in the frosting!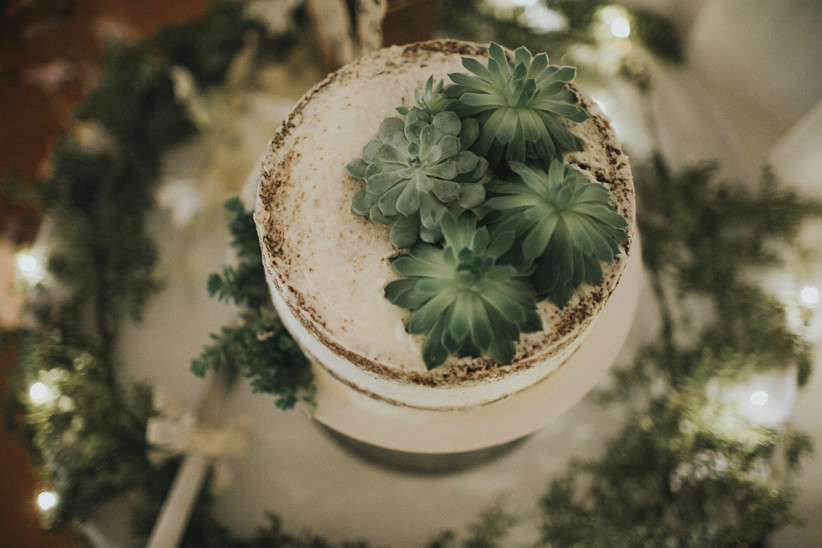 As wedding favours
Before your guests head out for the evening, they've got one thing left to do - grab their wedding favours. While you could offer up sweet treats or pint-sized bottles of champagne, we suggest giving them eco-friendly wedding favour that they can hold onto for a while. Cue the cacti! These little plants can live in their houses for years to come, making them a keepsake worth keeping.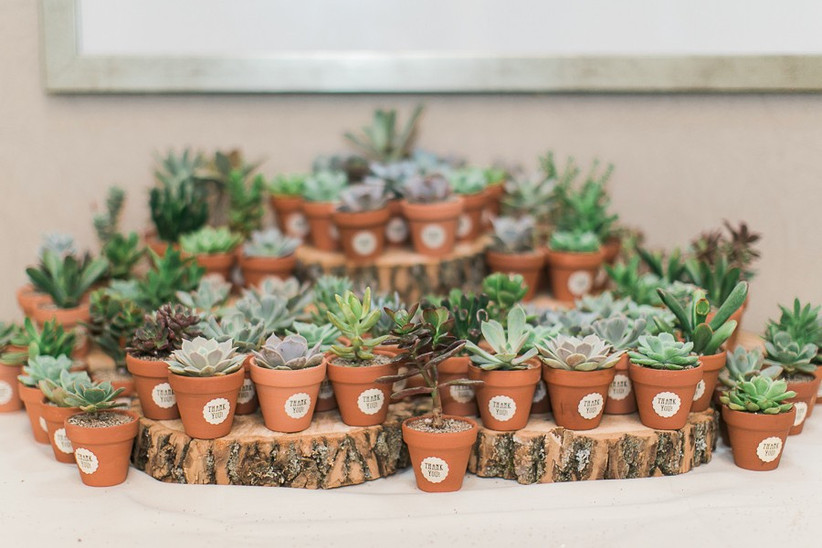 Find wedding decorations and florists and event rentals on WeddingWire »