24 Awesome Nautical Wedding Ideas
Dreaming of sailing off into the sunset? We've got lots of nautical wedding ideas to help you navigate through planning your big day.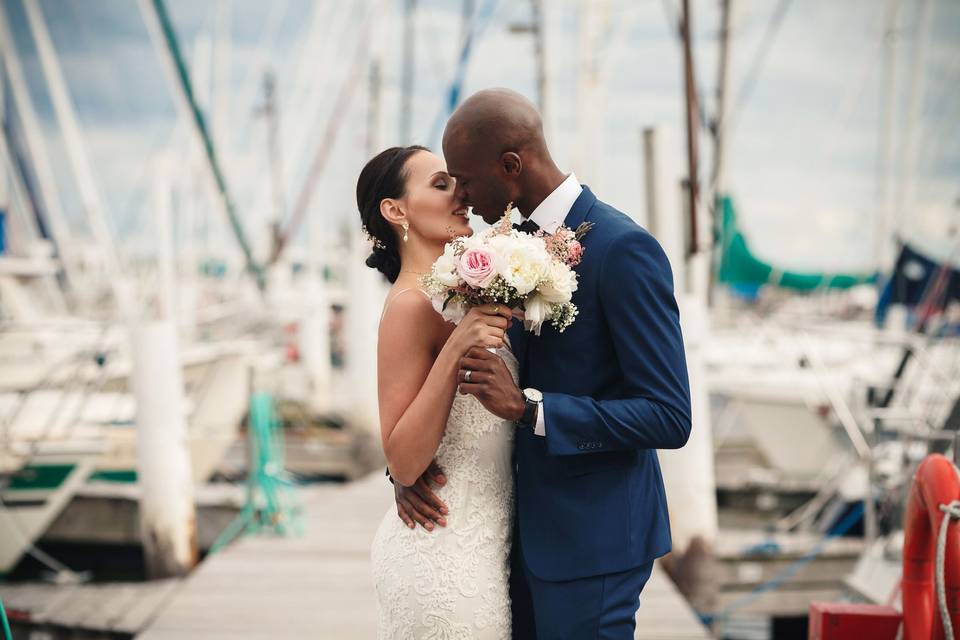 If you and your partner gravitate towards boats, beaches and bodies of water, consider infusing your celebration with some of these nautical wedding ideas. From wedding venue ideas and table centerpieces to signature cocktails and decorations, there are plenty of creative ways to give a nod to nautical. Whether you choose to incorporate a few of these elements into your wedding or go all out with a nautical wedding theme, we've got lots of inspiration for you.
Here are some of our favourite nautical wedding ideas.
Waterside wedding venue
While you could just go with nautical decor at a banquet hall or backyard wedding, choosing a yacht club, boat rental or waterfront wedding venue will really set the tone for a nautical theme.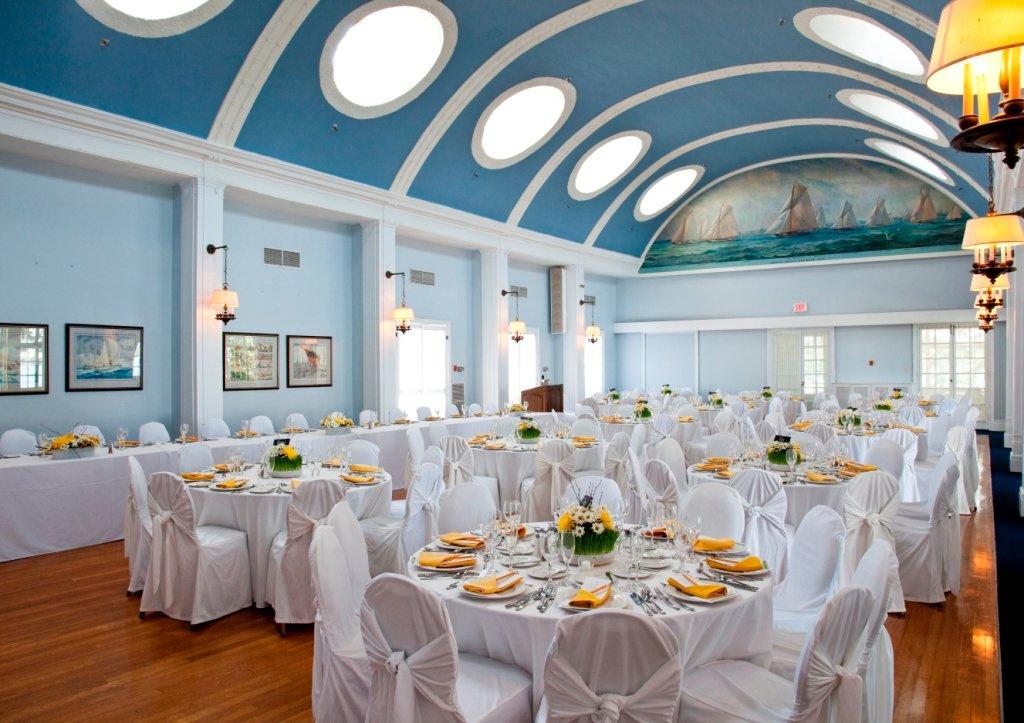 Boat wedding ceremony
Mixing and matching venues also works well. If you love the idea of boarding a boat for your wedding vows but would prefer to be on land for the wedding reception, you can set sail for your ceremony and cocktail hour then take to the shore for dinner and dancing.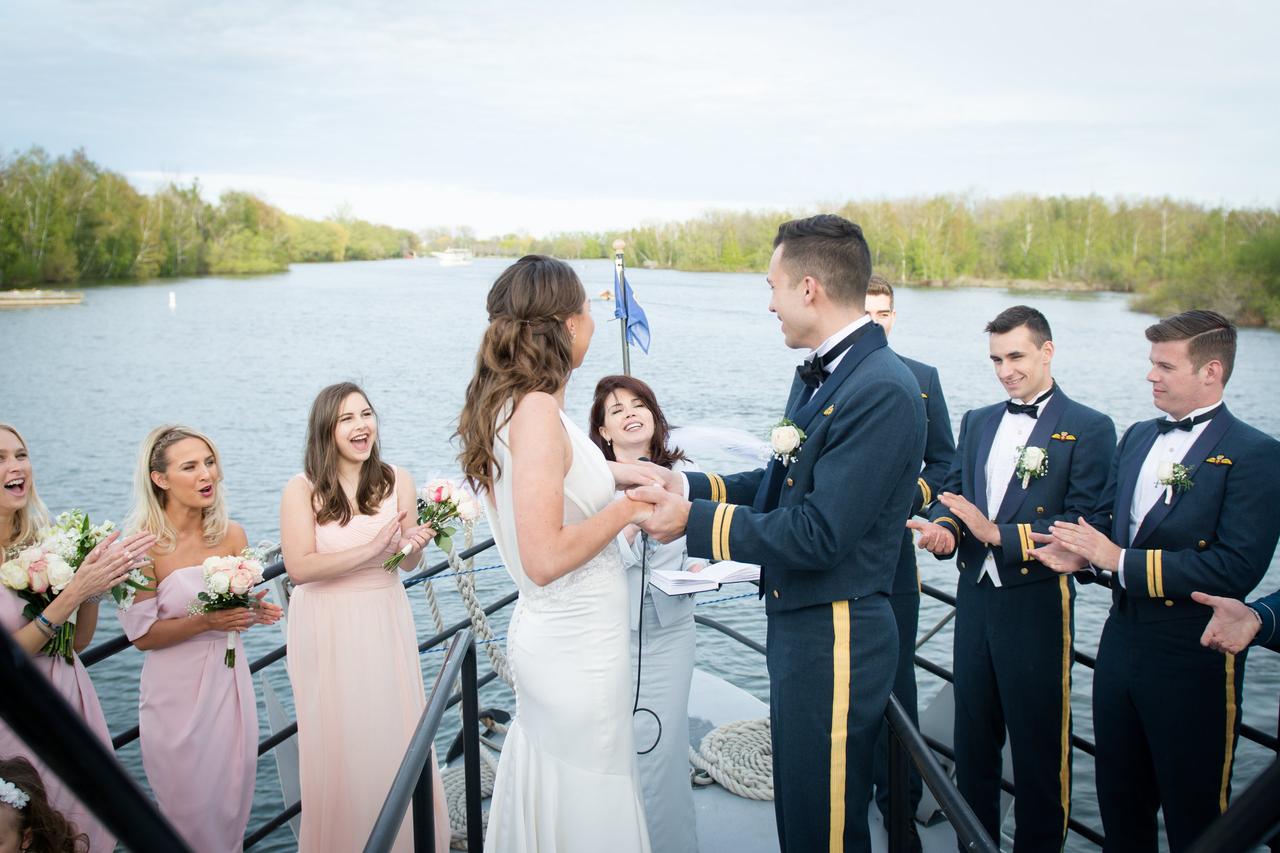 Blue and white colour scheme
Hues of blue and white are a natural choice for a nautical wedding theme. Event rental companies offer everything from linens to glassware in this popular shade and so you'll be able to easily decorate your ceremony venue and reception tables.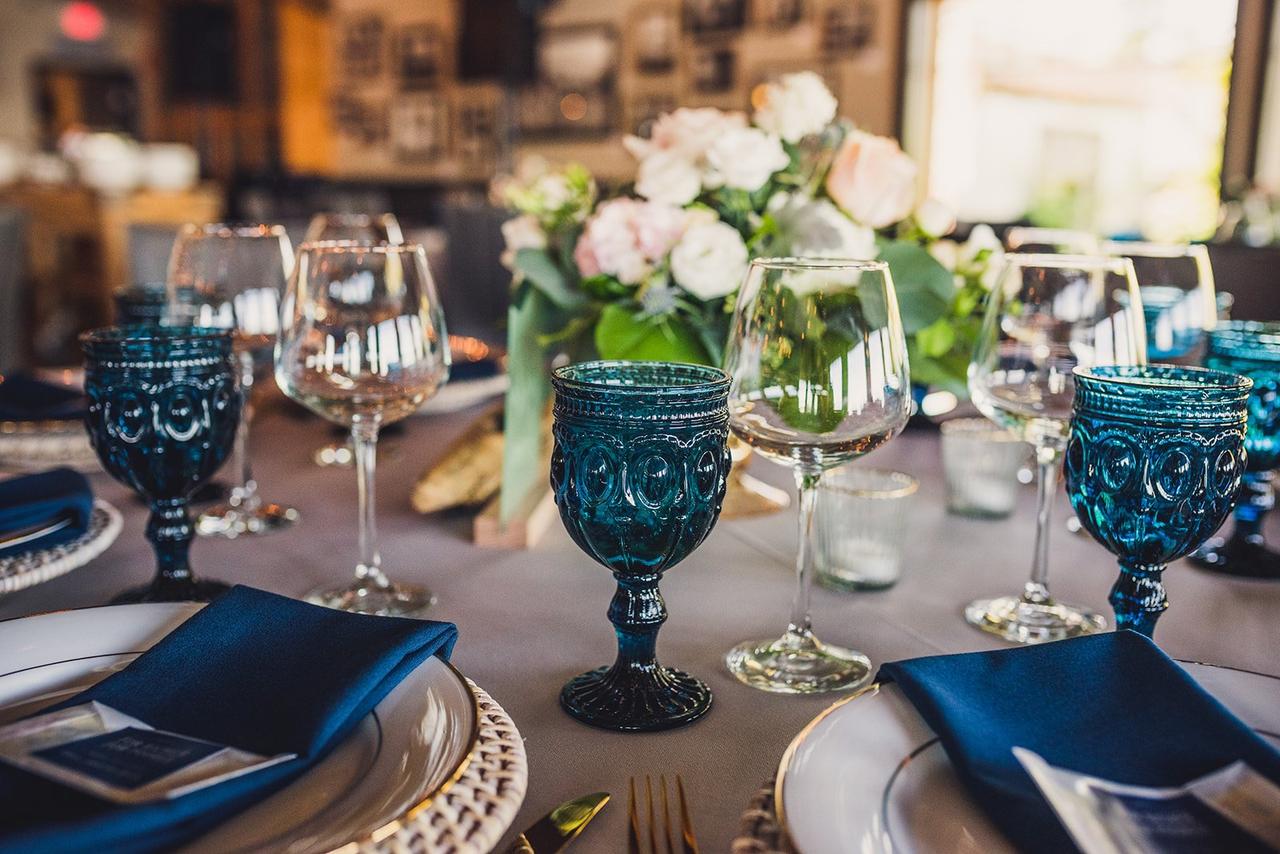 Navy bridesmaid dresses
Navy bridesmaid dresses are a flattering choice for your crew, especially when paired with a white bouquet.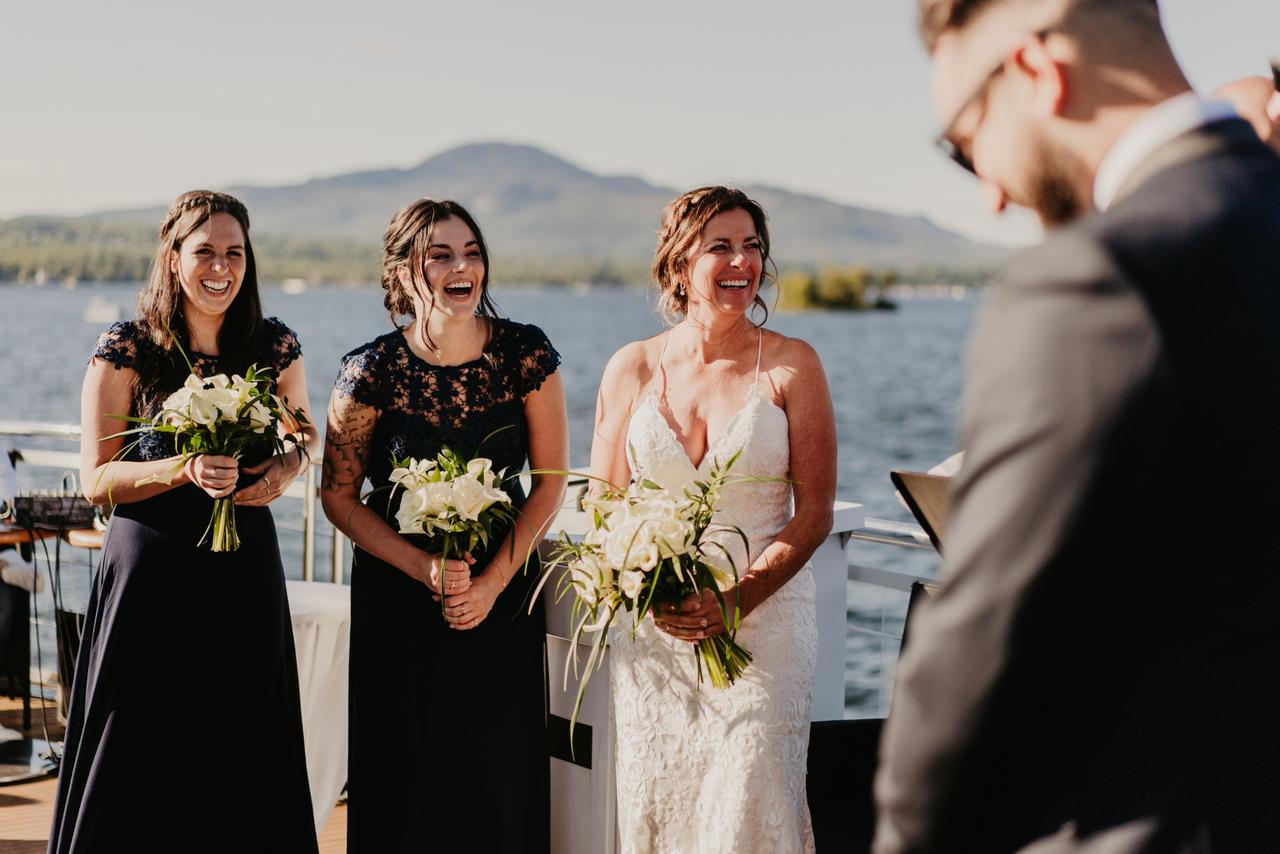 Blue groomsmen suits
Let's not forget about the fellas in your wedding party. We love this pairing of a white shirt and tie with a blue suit for the groomsmen. The groom is set apart with a blue and black tuxedo.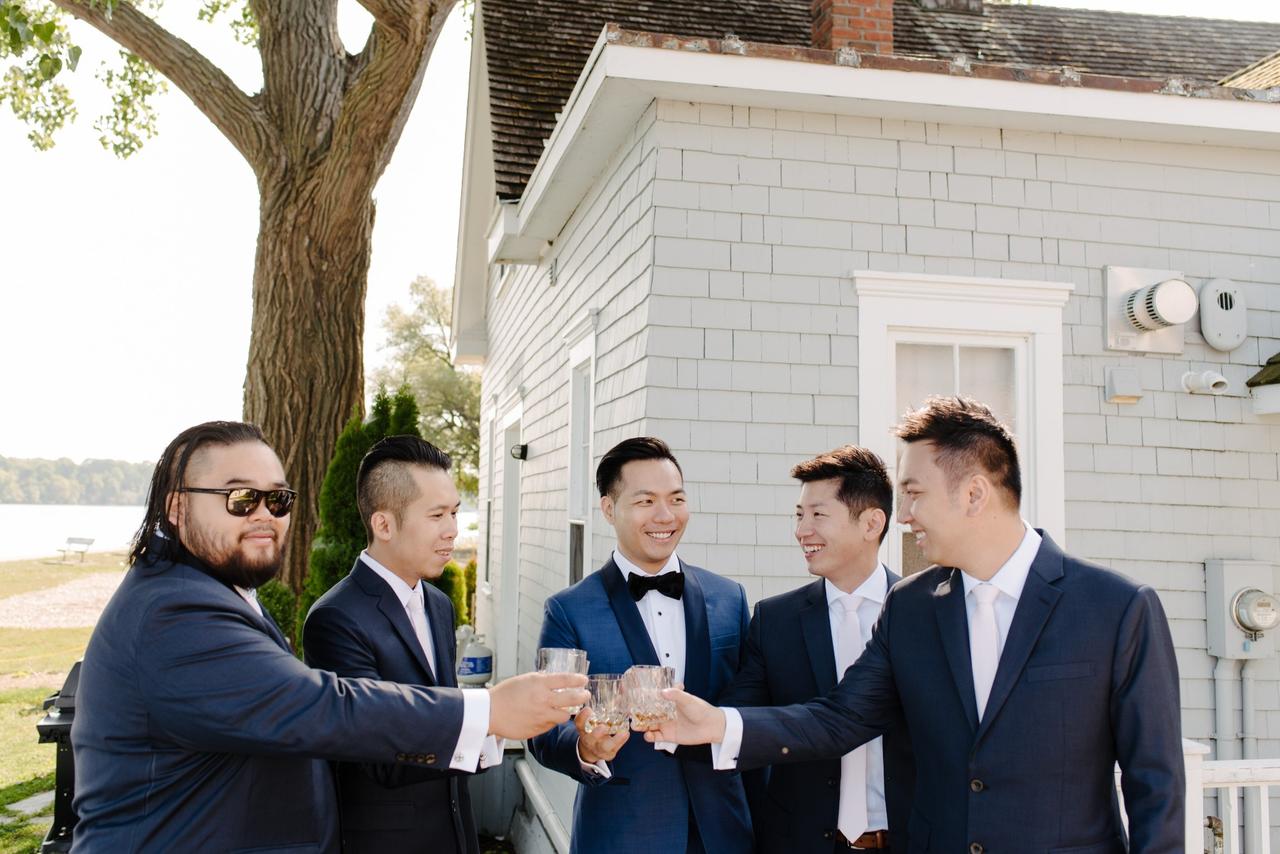 Nautical wedding invitations
You'll want to sent the tone for your celebration with nautical-themed wedding invitations. An anchor or ship's steering wheel motif is a simple way to get the message across and the great basis for a wedding monogram that you can use throughout your wedding.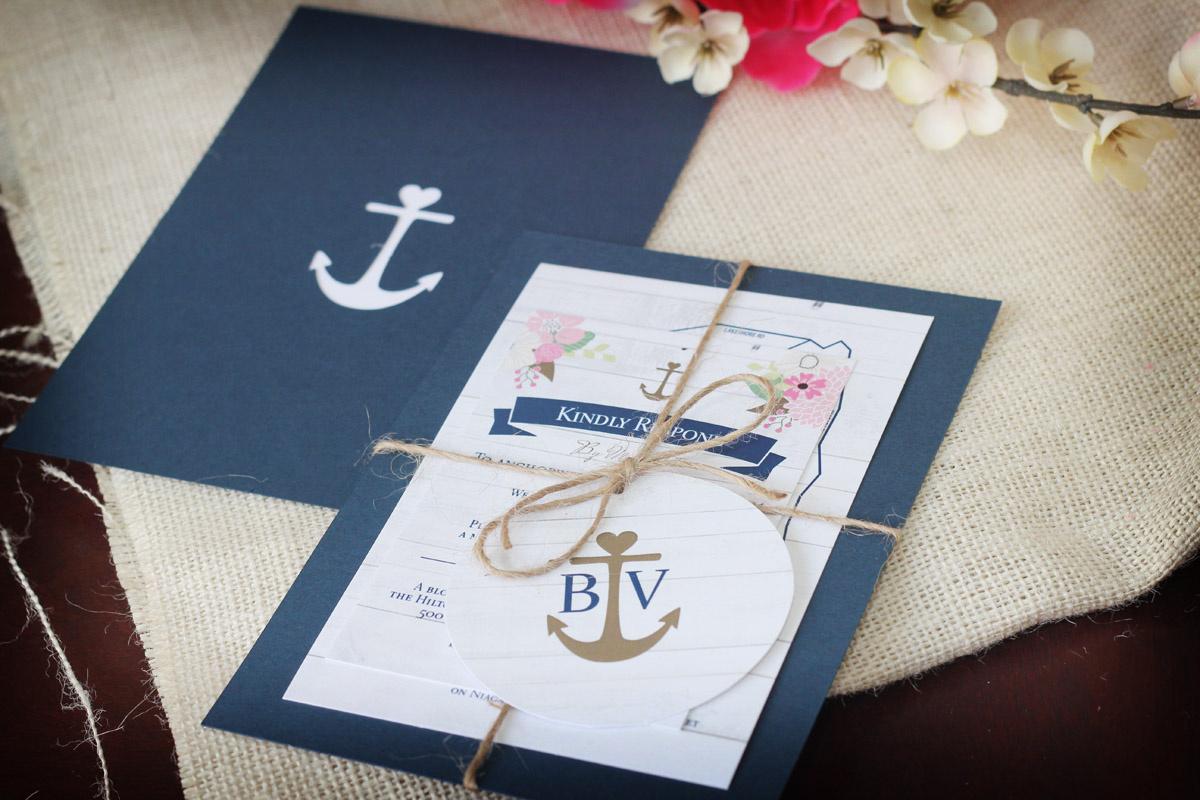 Striped decor
A striped pattern is also a festive nautical wedding idea that works well on printed materials, signage, ribbons and fabric.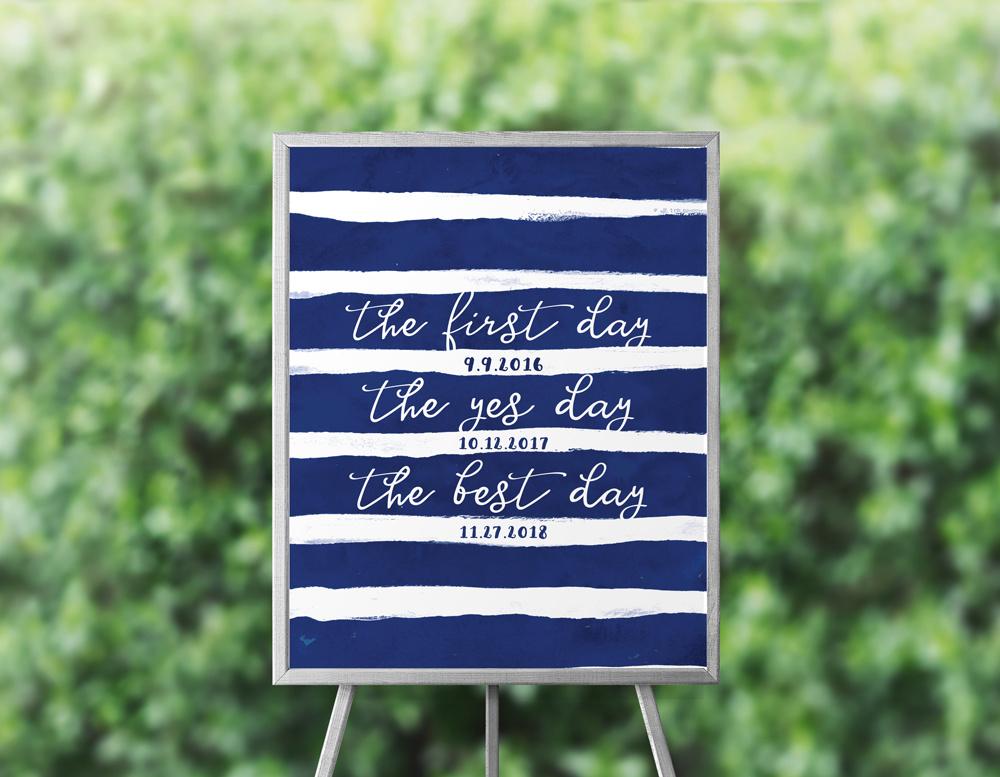 Lantern wedding decorations
Now let's talk lighting. Wedding lanterns are the perfect addition to your decor. We particularly love the look of brass lanterns to add some warmth to your displays. P.S. Here are 9 Creative Ways to Use Wedding Lanterns.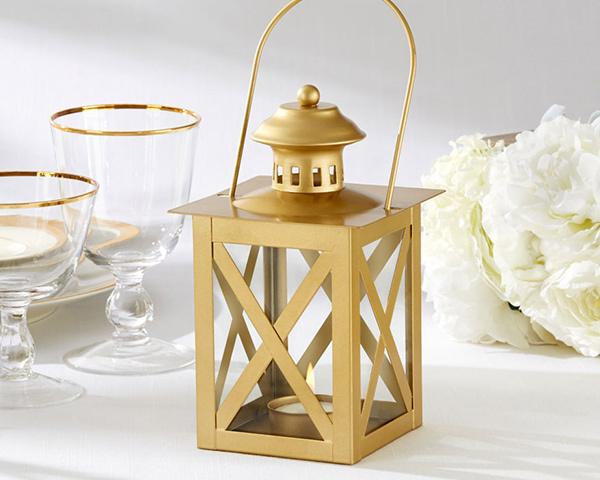 DIY sailboats
Another adorable DIY nautical wedding idea is to decorate with paper sailboats. There are great origami tutorials on YouTube for various designs. For the best result, use paper with a different pattern or colour on the front and the back to differentiate the sails from the hull. These paper sailboats were made from old charts from a flea market for a vintage nautical theme.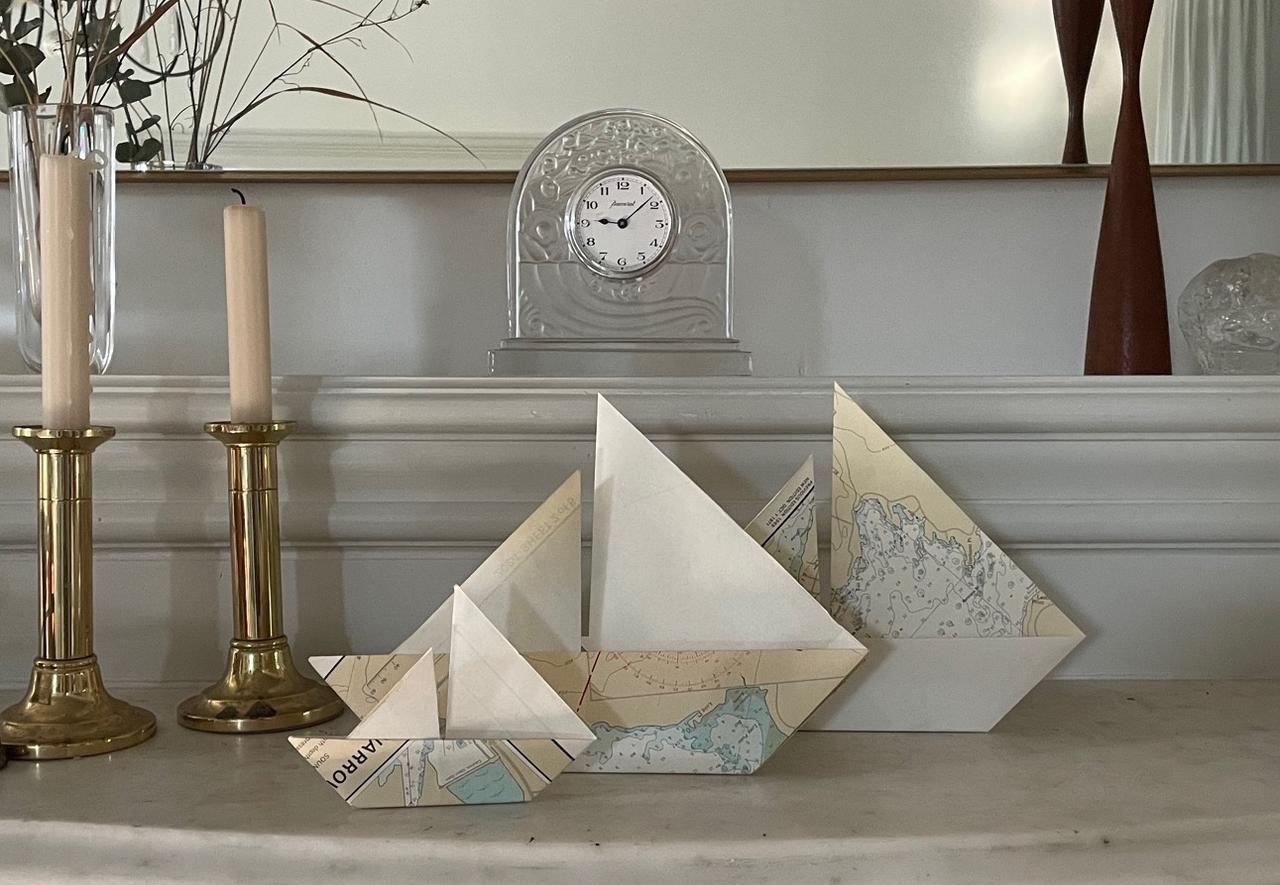 Nautical wedding centerpieces
For your wedding centerpieces, group together several nautical elements for a creative display. This can take on a vintage vibe with old globes and nautical instruments or a casual DIY look with an anchor motif, vintage jars and seashells, as shown here.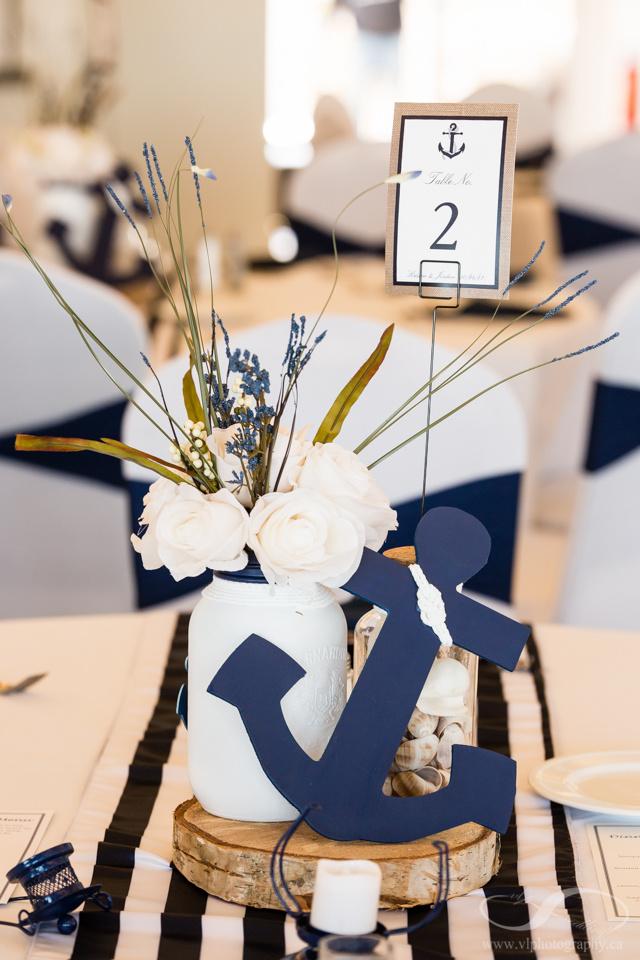 Elegant reception tables
Prefer to keep things on the fancier side? Decorate your tables with crisp white and blue linens, a floral centerpiece in a brass vase and a rope table number holder,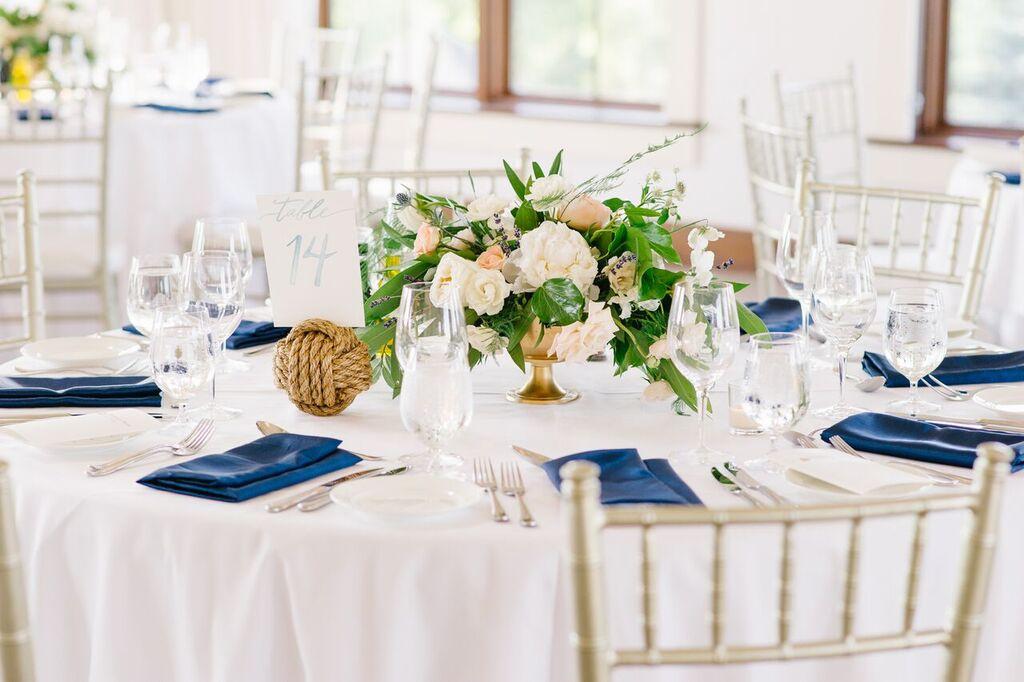 Rope place card holders
Love the rope decoration idea? Then use a rope place card holder at each place setting. We love this white one with a nautical design on the card placed on blue and white patterned dinnerware.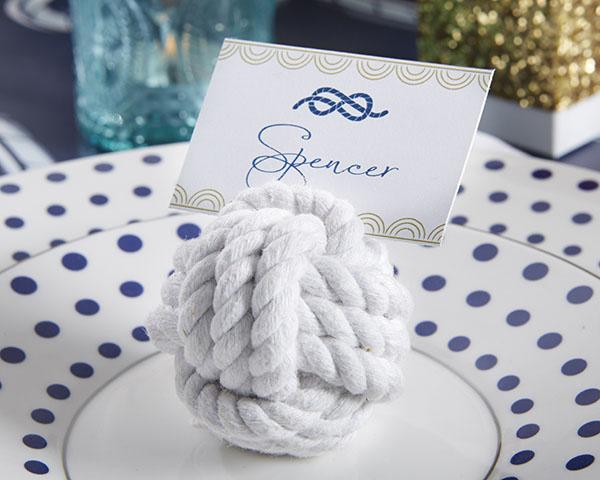 Outdoor wedding ceremony
Say your 'I dos" in the great outdoors with the water as your backdrop. A dock, yacht club lawn, beach or the bow of a boat are all ideal (and photo-worthy) spots to exchange your wedding vows.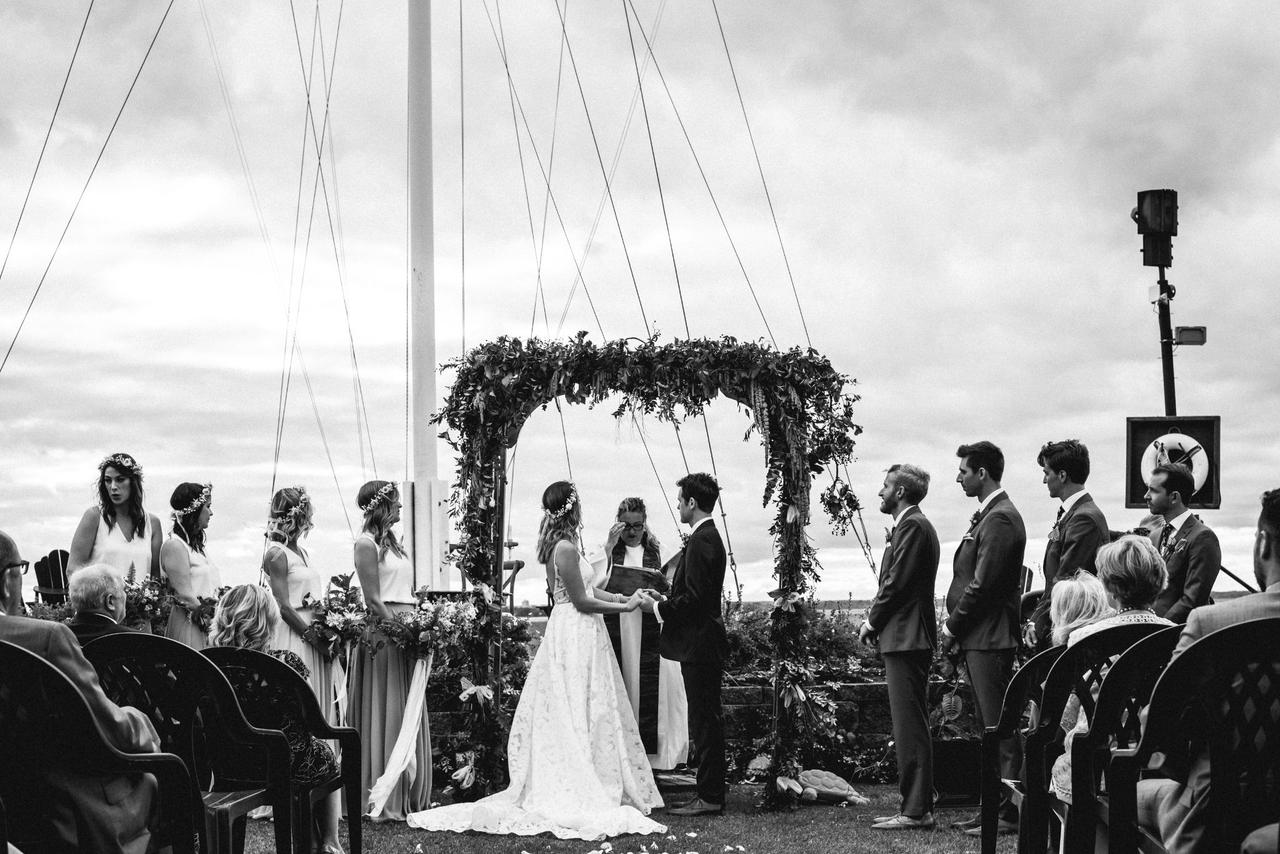 Tie the knot
Why not literally tie a knot as part of the proceedings. The tied piece of rope makes for a great photo prop as well as a themed keepsake. P.S. Here's everything you need to know about a knot tying ceremony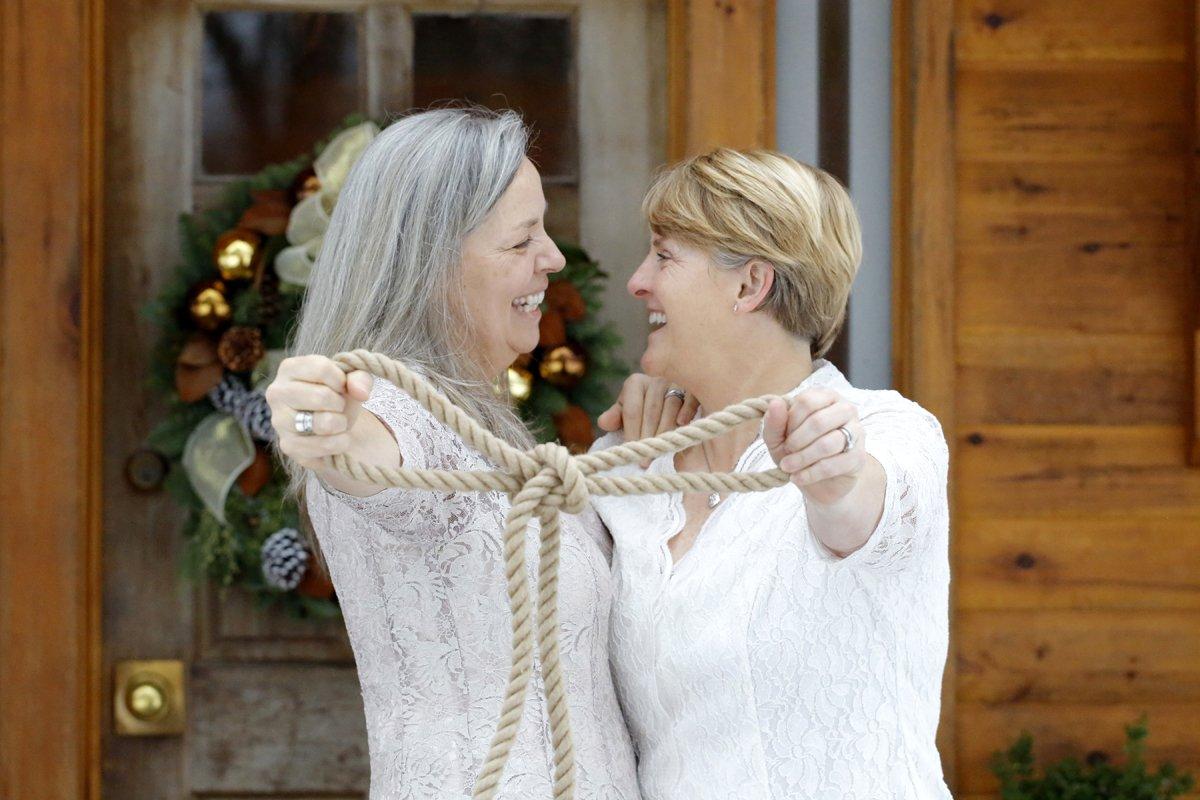 Refreshing cocktails
Gin and Tonic, Dark and Stormy, Bloody Caesar, Rum Punch—serve up any any of these classic cocktails.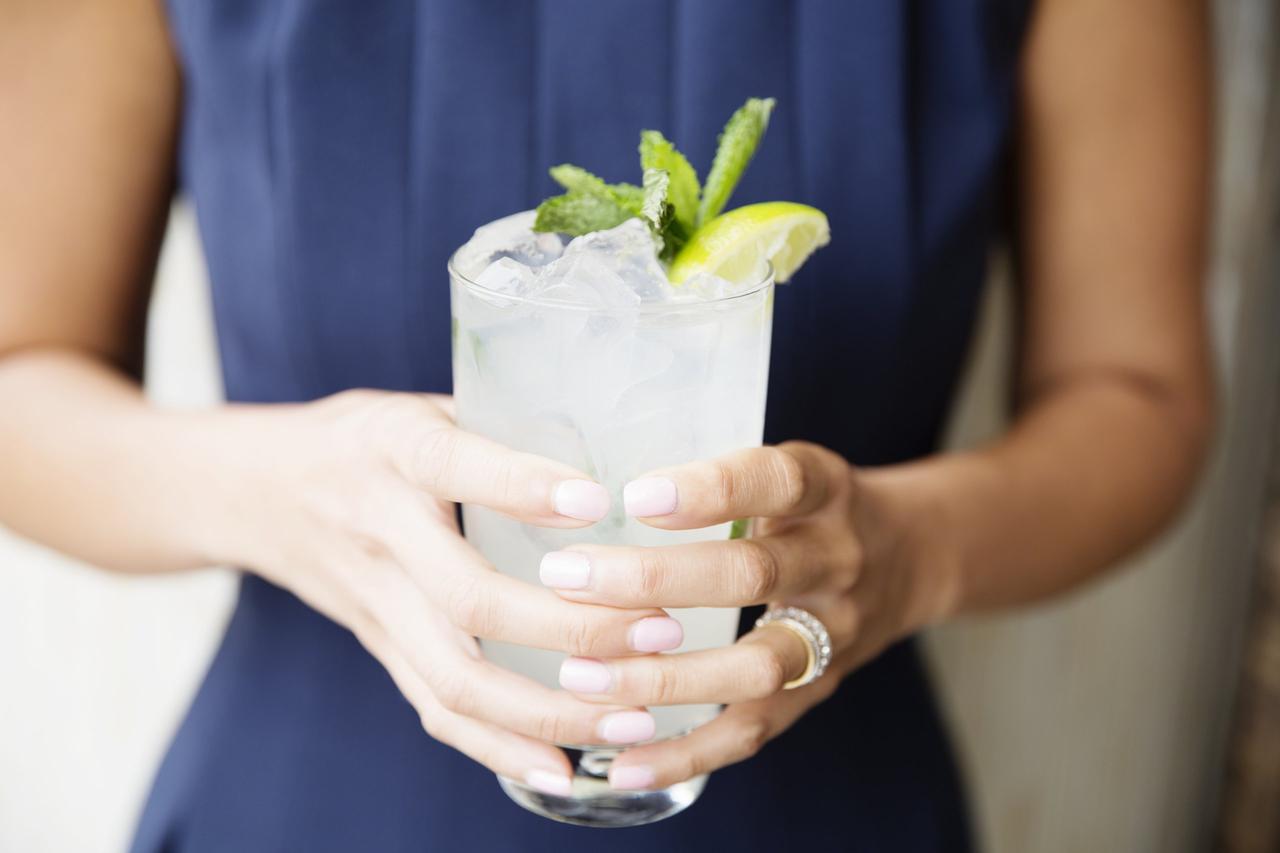 Lots of water
Don't forget to have plenty of water on hand to keep guests hydrated—especially for an outdoor summer wedding. You can even order custom labels featuring nautical-themed graphics.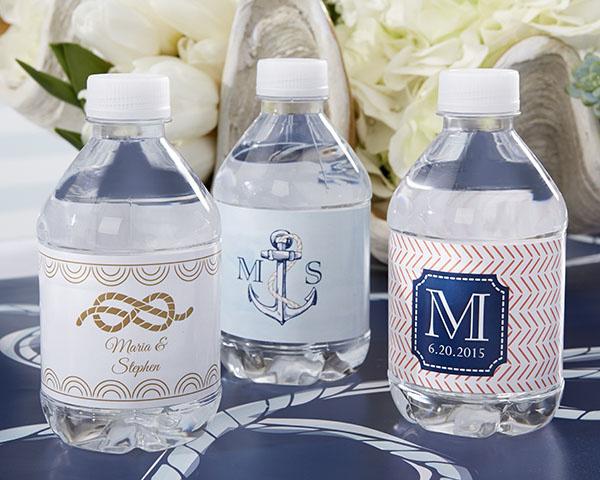 Lighthouse wedding portrait
Who doesn't love a good lighthouse! If there's one nearby, sneak away with your photographer for a wedding portrait in front it.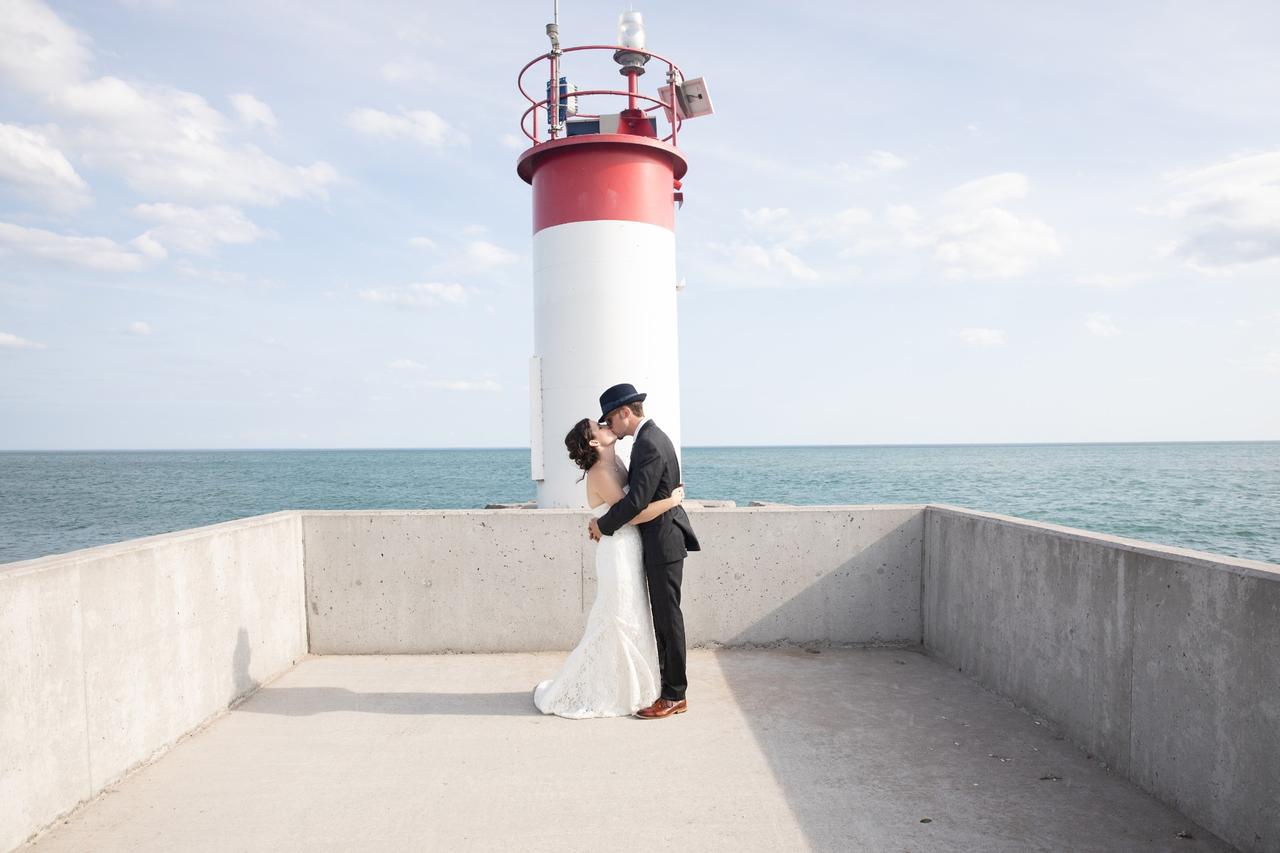 Festive flags
if you love the look of bunting, then hang up a string of nautical flags. These will add a colourful and festive touch to an outdoor or indoor wedding space.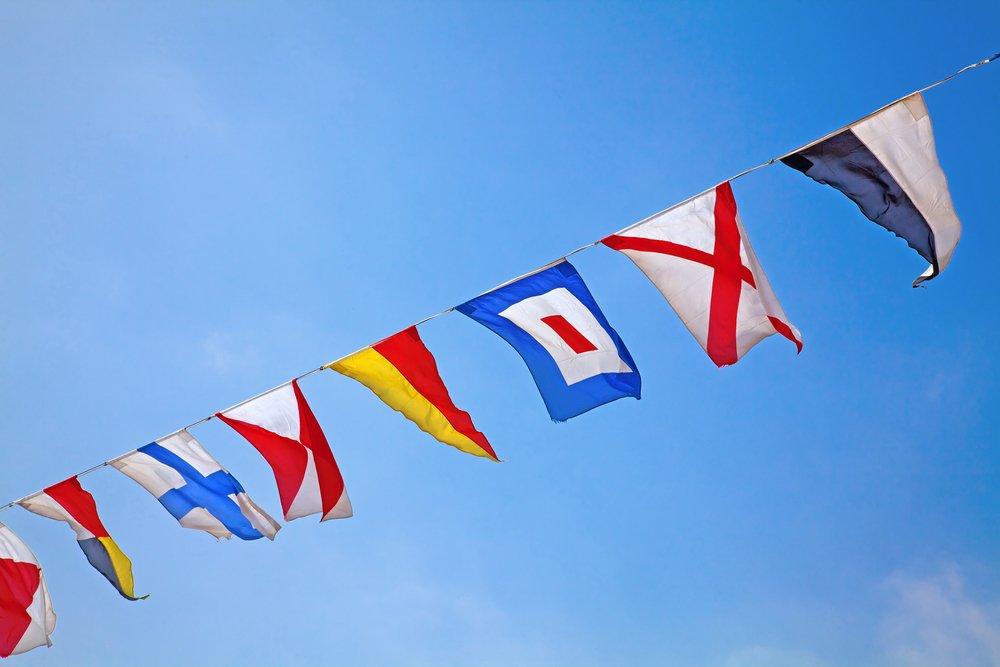 Vintage trunks and suitcases
Looking for some larger nautical props? Rent some vintage trunks and suitcases for displays throughout your wedding. They can be used for your welcome table, dessert display or to put a focus on your bar area.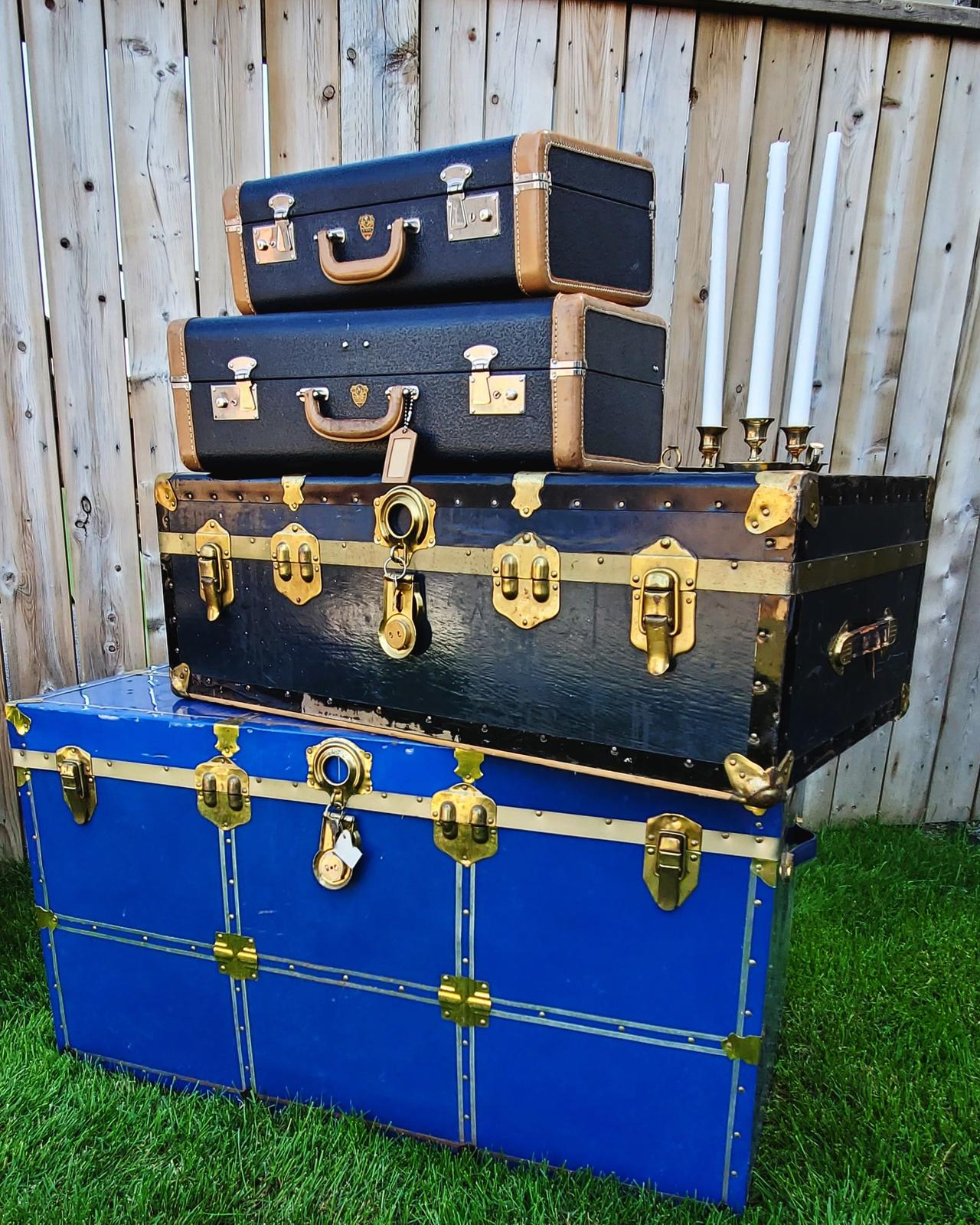 Nautical-themed wedding cake
You can really have fun with this element of your wedding. You could apply decorations like this rope and steering wheel design or paint a nautical scene with watercolours. Ask your baker for some design ideas.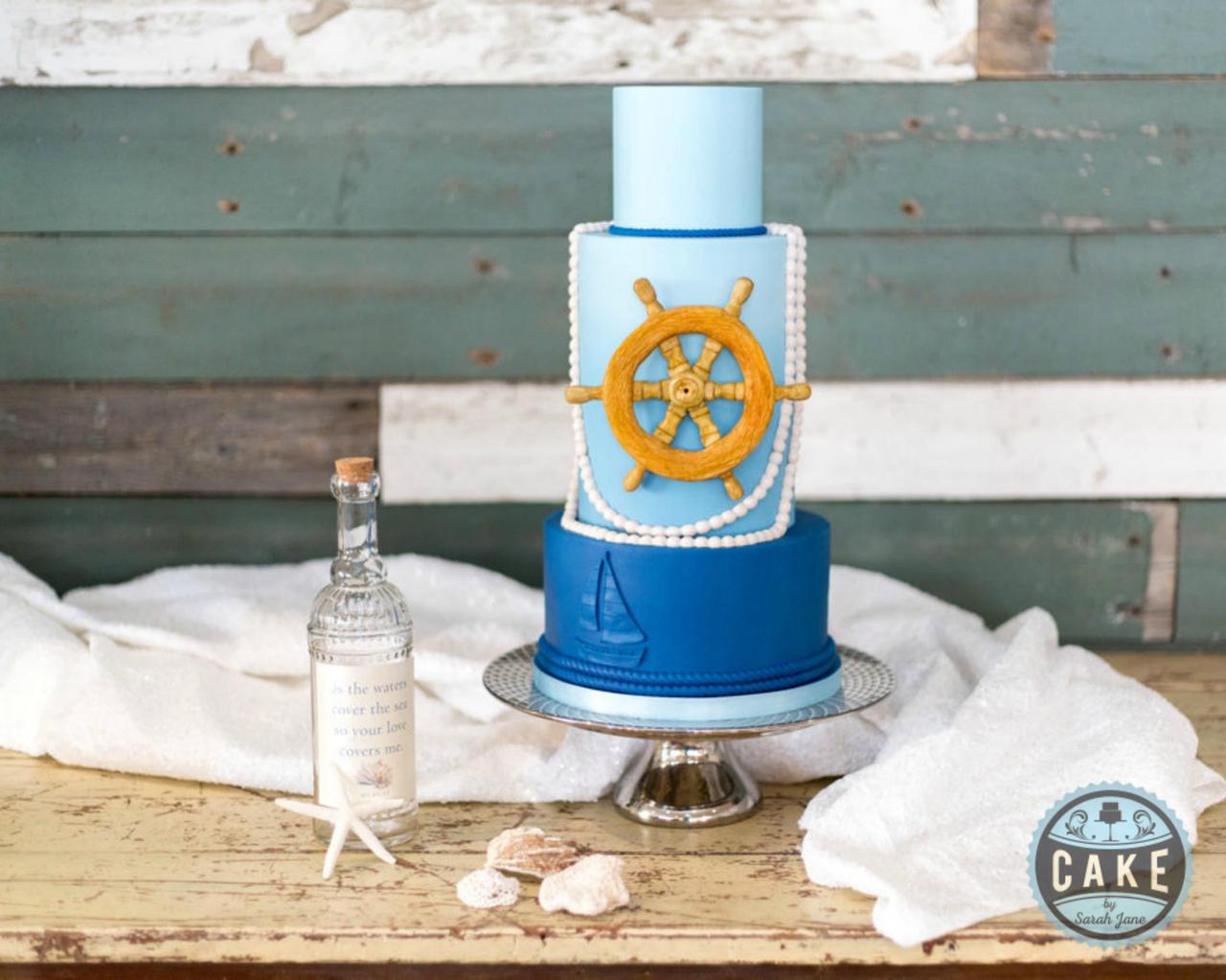 Message in a bottle
There a few clever ways to include a message with a bottle at your wedding. You could place one at each table as a decoration and use it to display the menu, a greeting or provide instructions for a game (as pictured above). Or, if you're on the ocean, go the traditional route and toss the bottle in the water and hope it gets carried out to sea to be discovered by someone far, far away.
Sailboat wedding favours
Give your guests a small sailboat as their parting gift. These adorable ones can also double as place card holders at each place setting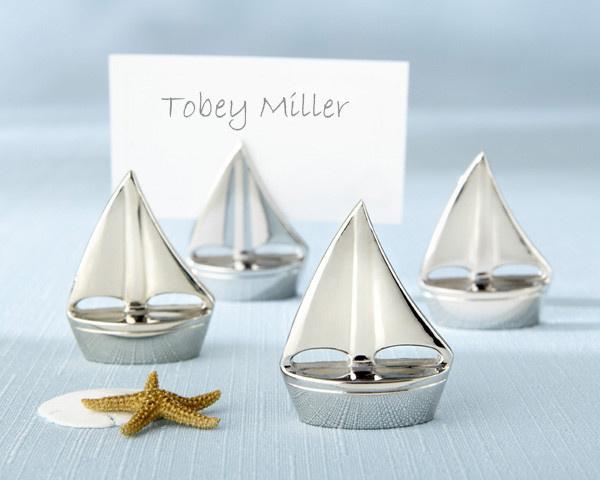 Drop anchor
Even your dance floor can be decorated with an anchor motif. Decorate your dance floor with a decal, gobo spotlight or a large marquee symbol, like this one.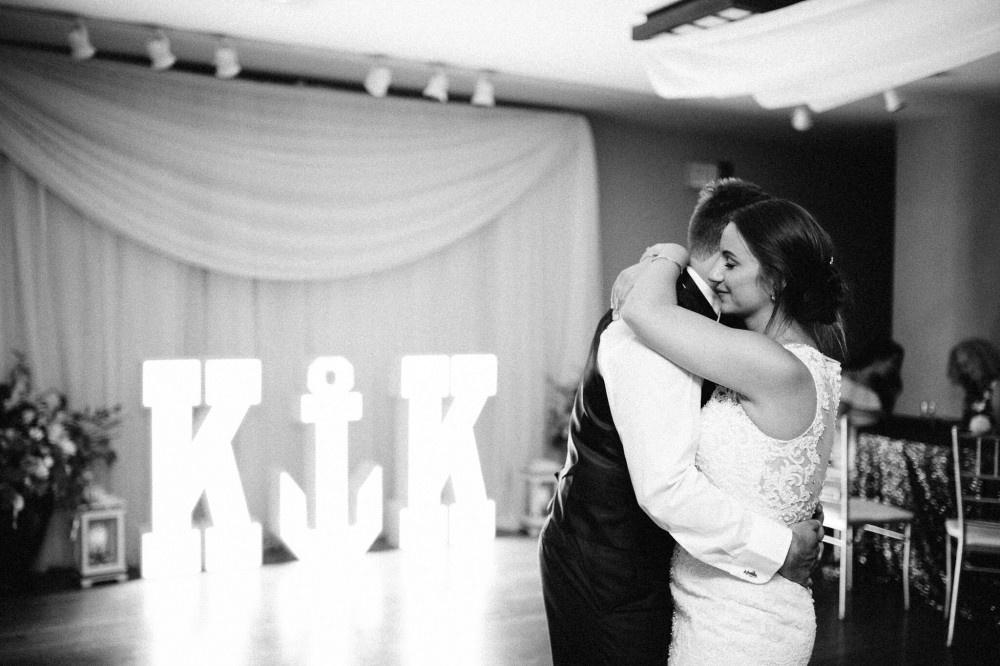 Sail off in the sunset
For a romantic wedding exit (or a bit of private time on the water to celebrate your newlywed status), take to the water in a boat of some kind.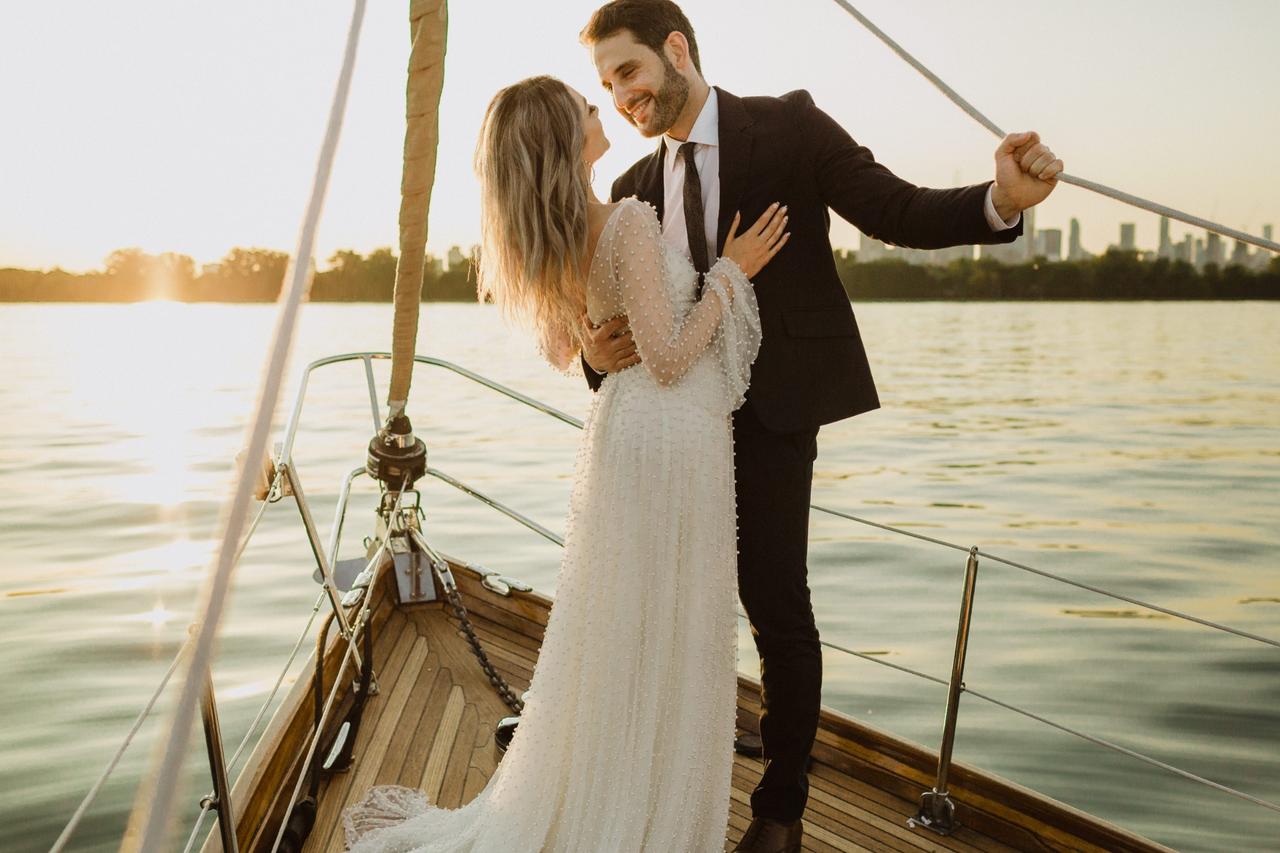 Find more nautical wedding ideas in our Real Wedding galleries »