What is a Tying the Knot Ceremony?
A tying the knot ceremony is an adorable way to take your wedding to the next level. Here's the lowdown.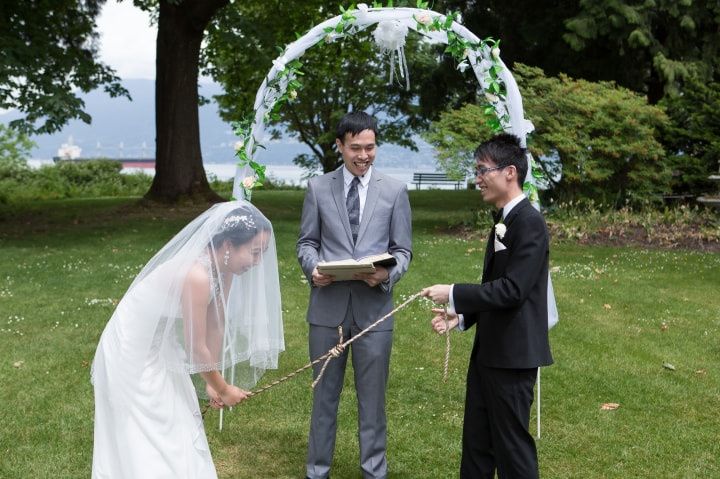 Why not literally tie the knot after tying the knot? This short little ceremony is an awesome way to give your "I dos" that extra something special and will leave you with a fun keepsake to display after your wedding is over. It can be worked into both religious and non-religious ceremonies, so every couple can get in on the action.
So, what exactly is a tying the knot ceremony?
It's a simple ceremony in which you and your S.O. will work together to tie a fisherman's knot at the altar. This is one of the strongest and most reliable knots - under pressure it grows stronger, as opposed to breaking or wearing down - and is used to symbolize the bond that the two of you share (pretty darn cute, eh?).
Before you start stressing out - you don't need to spend hours teaching yourself how to craft elaborate loops and twists for this one (phew!). All you need to know is how to tie a double fisherman's knot. Yes, it may take a few tries to get the two-person choreography down, but it's definitely not rocket science. Remember, even if you already know how to get the job done with ease, you'll want to practice a few times so that you're not fumbling when the spotlight it shining on you.
The ceremony typically happens after the wedding vows have been said and rings have been exchanged, acting as a nice finishing touch to your ceremony. Your officiant, celebrant or commissioner will introduce it and then go on to offer an explanation as the two of you tie ropes together to form a secure knot. As mentioned before, the finished product symbolizes the unbreakable bond that the two of you share.
What exactly will you need to make this ceremony come to life? Just two things! One rope for you and one rope for your brand new spouse (very budget-friendly and easy to find). Fishing rope is the traditional option, but if you want your knot to be a bit more decorative, you can always go with ribbons, pieces of twine or coloured cord that matches your wedding's colour scheme.
After you've your ceremony has wrapped and you're ready to head to your reception, you'll want to hand off your completed knot to a responsible friend or relative (this is usually a parent, best man or MOH). Once it's in safe hands, you can move onto partying!