How to Stay Chill the Morning of Your Wedding
It's hard to keep calm and carry on the morning of your wedding, but we're here to make it all a little easier.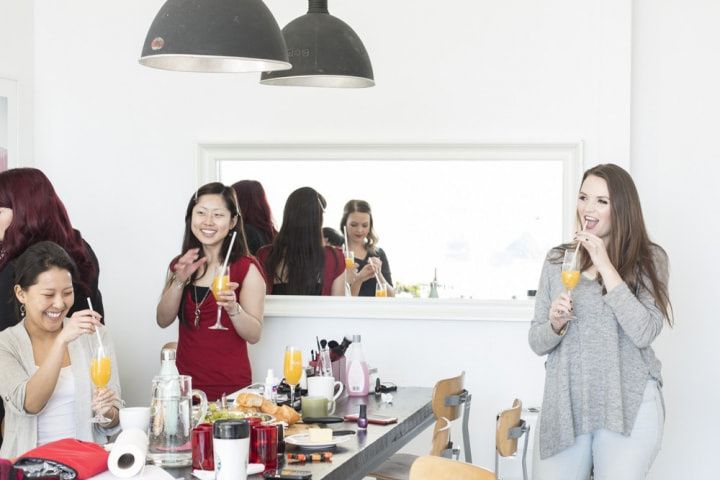 Staying calm on the morning of your wedding is definitely easier said than done. You're so filled with butterflies, excitement and nerves that keeping your calm is next to impossible. If your pre-wedding jitters are getting the best of you, there are a few tried and true ways to find your zen (even in the midst of a wedding crisis).
Here's how to stay chill the morning of your wedding.
Find someone to deal with drama
You're on cloud nine and you're staying there! Hire one of your type A pals to deal with the drama so you can focus on the important stuff (AKA getting your hair done and practicing your vows). The last thing you want to do is deal with squabbling 'maids or a seating chart issue at the eleventh hour. You may also want to hire a professional to deal with any potential big picture issues, like putting up a tent in the event of a rainstorm or corralling everyone to their place when it's showtime (this'll most likely be your wedding planner or venue coordinator).
Know your timeline
You'll want to have your wedding's big moments planned down to the minute. Yes, there's a good chance that your schedule may move around a bit as the day goes on but you want to start off strong. Having a copy of your itinerary on-hand will let you know where you should be, what you should be doing and when you should be doing (eliminating any stressful guesswork from the equation). Pro tip: you should share this doc with your wedding party and vendor squad so that everyone's on the same page.
Don't stress about the weather
Mother Nature is going to do what she wants and you can't stop her. If the forecast starts calling for rain on the morning of your wedding, don't freak out! You (or your venue coordinator) probably made a Plan B a while ago, so there's no need to stress. Remember, rain actually signifies good luck on a wedding day, so it may just be a blessing in disguise.
Work it out
A little physical activity can do wonders for a stressed out bride. So, instead of spending the morning holed up in your hotel room, get a little workout in. No, you probably don't want to tire yourself out with an intense spin class or crossfit session - you want to be prepped to party all night long! - but a short run or zen yoga class may be just what the doctor ordered.
Find your perfect prep space
Trying to squeeze your entire bridal party, hairstylists and makeup artists into a single hotel room sounds a bit nightmarish, doesn't it? You don't want claustrophobia to kick in the morning of your big day, so make sure you plan ahead and book a space large enough for everyone to get ready (if you want to save money, you can do it at home).
Keep your loved ones close
Distractions are key. While you may be tempted to fly solo while getting ready, spending too much time alone on the morning of your wedding isn't a great idea (especially if you're prone to stressing out). Having your nearest and dearest around to crack jokes, gossip and chat with is sure to take your mind off of any pre-wedding jitters.
Carve out some alone time
You'll also want to schedule in a bit of me-time before the festivities kick off. Think about it, you're going to be around people until the sun sets (and probably long after), so you'll want to have at least ten minutes to yourself to gather your thoughts, review your vows and centre yourself.
Choose your look wisely
You've probably seen your fair share of adorable Pinterest photos of ladies getting ready in matching silk robes or floral rompers, but that's definitely not for everyone. The key to a good pre-wedding outfit is comfort. You may be sporting layers of tulle or a tight corset for the next few hours, so pick something that you can really relax in while you get your makeup and hair done. You could go with plush bathrobes, matching PJ sets or even Roots sweats - the world is your oyster.
Craft your dream playlist
Spend a little time creating a playlist filled with your favourite upbeat songs and throwback tunes so that you and your squad can turn your wedding pregame into a party. Singing along to Britney and Beyoncé will make all your cares drift away.
Stay fuelled
A hangry bride is a stressed out bride, so get some food into your belly before heading to the altar. You may not have a lot of time to eat during your reception, so it's best to have a solid meal before noon. Even if you're planning a group brunch, you'll probably want to have a snack before meeting up with your 'maids so that you don't accidentally snap at anyone.
Focus on the endgame
You're getting hitched and you're so happy about it! Instead of focusing on everything that could go wrong, focus on everything that is going right. At the end of the day, you'll be saying your "I dos", so any bumps in the road won't matter.
Find your wedding hairstylist and makeup artist on WeddingWire »