8 Ways to Reduce Stress the Week Before Your Wedding
Has wedding planning started to get to you? Make time to reduce stress and give yourself a little TLC before your big day.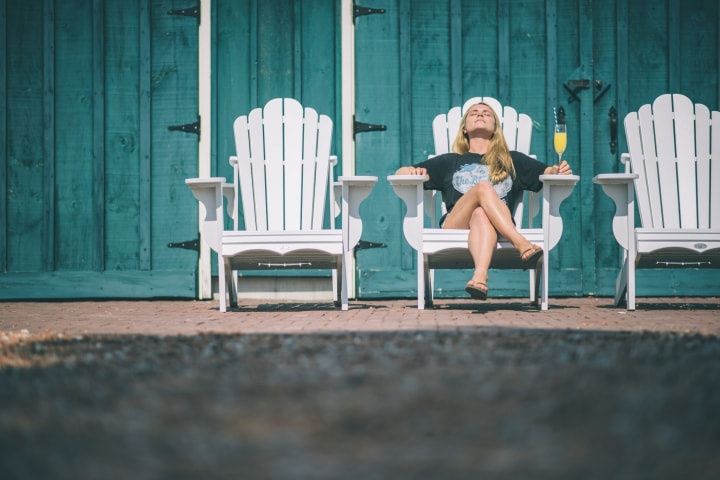 The week leading up to your big day is bound to be a stressful one. It's the final stretch of the marathon of wedding planning and you're almost at the finish line. Instead of sitting at home reviewing your seating plan and frantically texting your wedding planner, find ways to reduce stress and do something non-wedding related to calm down.
Here are a few ways to reduce stress before your wedding.
Hit the gym
Naturally, exercise is a way to reduce stress and anxiety, so getting in a good workout sesh could be just what the doctor ordered. I mean, if there's one thing that Elle Woods taught me it's that working out releases endorphins and those make you happy. Even if you don't frequent the gym, make an effort to suit up in your finest spandex and get your butt moving. Anything from a speed walk around your local park to a full on HIIT workout could do wonders for your mood.
Have a spa day
If working out last minute wedding details has you on the brink of a meltdown, it's time for some R&R. Put down that phone, step away from your computer and get yourself to the spa. We recommend going the whole nine yards and booking everything from a massage to a mani/pedi - after all, you're worth it. Word to the wise, now's not the time to try new products or treatments - you don't want your skin freaking out right before your big day.
Head to the mall
Nothing calms the soul quite like retail therapy, so get thee to the mall ASAP. Don't go wild with your credit card on miscellaneous kitchenware and cosmetics, shop with a purpose. Maybe you need a showstopping number for your rehearsal dinner or post-wedding brunch? Now's the time to buy. If you'd rather wind down in your sweats with a glass of chardonnay in hand, that's also an option. Take to Amazon and make use of that Prime trial membership for two-day shipping.
Cook a healthy meal
If you see the kitchen as your sanctuary, work off some of that stress with a bit of baking, blending and boiling. While it may be tempting to try out trendy Instagram-worthy recipes, you should probably save whipping up chicken and waffles and freakshakes until after your "I dos". No, you don't have to stick to a bland and basic menu of sauteed kale and salmon, but you should err on the healthier side on the days leading up to your wedding.
Delete your weather app(s)
If you are a control freak, the weather is probably your worst enemy at this point. You've most likely downloaded several weather apps and become an amateur meteorologist in the hopes that you'll know the exact conditions of your big day. But unfortunately, in the immortal words of Outkast, "You could plan a pretty picnic / But you can't predict the weather." Nix all your weather apps and try your best to be prepared for rain and go with the flow. Constantly checking them will only stress you out more. 
Leave work at work
Planning a wedding is a full time job and when you add your actual job on top of that the stress can get to be a little much. While it may be hard to turn off your work phone and turn on your "out of office" response, you're going to have to do it. No, don't put your career on the line, but try to dial back your workload a bit on the days leading up to your wedding. As with anything else, balance is key.
Netflix and chill
No, I am not using this in its traditional sense as a sexual euphemism. What I mean is that you should literally bring up Netflix on the big screen and chill out. Binge watch all those shows you've had queued up in your list for ages and relax in your favourite sweats. I fully support watching Friends seasons one through ten if you've got the time.
Treat yo' self
Is there any better way to reduce stress and relax than indulging in your guilty pleasures? Probably not. Purchase a stack of trashy magazines, order some pizza and throw on E!. This shouldn't turn into your new nightly routine, but sometime you've just gotta treat yo' self.
For more ways to reduce stress, join the discussions in our community forums »