10 Ways to Reduce Wedding Planning Stress
Feel like you're on the verge of becoming a bridezilla or groomzilla? Here's a few ways to reduce wedding planning stress.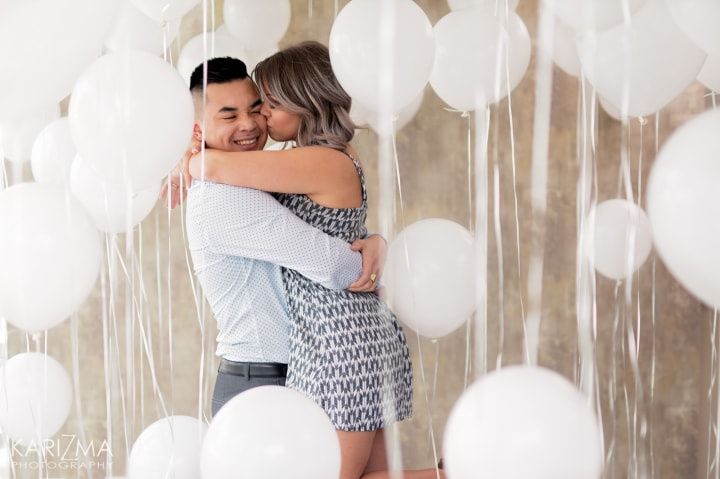 Prepping for a wedding is like prepping for a marathon - it can be mentally, physically and emotionally draining. But don't forget, it should be fun - not frazzling. If you start to lose your cool there are a few things you can do to reduce wedding planning stress and save yourself from a total meltdown. From giving yourself regular breaks to hiring a professional, these are things that will make your life easier during the wedding planning process
Here are a few ways to reduce wedding planning stress.
Give yourself breaks
It's easy to get caught up in wedding planning, but don't let it take over your life. Give yourself regular breaks from scrolling through vendor profiles and design feeds to let your mind relax. If you can limit wedding planning to a specific day and time every week, even better.
Talk it out
When in doubt, talk it out. Sit down with some of your besties or a few of your family members and give them the lowdown on your wedding planning stress. Sharing can be very cathartic.
Try something new
Take a pottery class, learn to crochet, go to a paint night at a local studio or do something else outside of your comfort zone. You'll be so caught up in your new hobby that you'll totally forget about any wedding planning woes.
Hit the gym
Getting your sweat on might be just what the doctor ordered. Working out will get your mind off of your wedding for a little while and coax your body into producing some endorphins (you know, those things that make you happy). Try scheduling in some meditative yoga, a spin session or an intense HIIT class once a week to keep your mind and body happy.
Keep everything organized
With piles of contracts, checklists, fabric swatches and bridal mags lying around your place can start to look like a more like a wedding warzone than a happy home. The way your house looks can greatly affect your mood, so try to keep it as organized as possible to avoid a meltdown (and misplacing important docs!). Tip: we have a budgeting tool, to-do list tool, table planner tool and more that will help you keep everything in one place and out of your space.
Skip town
Desperately need to decompress? It may be time for a change of scenery. Try heading out of town for a few days to recalibrate. Book a cute Airbnb or hotel and do a full wedding detox (no checking emails or sneaking your seating plan into your luggage!). Aside from making your wedding planning stress vanish, it'll also help you reconnect with your partner.
Delegate tasks
Don't feel like you have to do everything yourself - even the biggest control freaks need a pair of helping hands once in awhile. If you don't want to loosen the reigns on big projects, give your friends and family members a few of the more tedious tasks, like envelope stuffing or wedding favour packaging. This will help free up your schedule so you can focus on the important stuff.
Hire a planner
If you're having trouble juggling all your vendors, plans and appointments, you may want to consider hiring a wedding planner. Their job is to keep everything running smoothly, so they'll definitely take away some of that wedding planning stress. Tip: you can still do this midway through planning, so don't feel like you missed your shot if you didn't sign one on at the get-go.
Choose the right vendor team
Stacking your wedding's crack team with the right vendors is the key to staying zen. If you've hired a wedding planner, they're probably equipped with a preferred vendor list, making finding trustworthy and reliable vendors a cinch. If you're going it alone, you'll definitely want to do your research, read reviews and sit down with them for a Q&A before signing any contracts.
Put things into perspective
For times when tensions are high, put everything into perspective for yourself and look at the bigger picture. Take a few deep breaths and remind yourself why you're putting in all this hard work. Remember that no matter what cake you choose or which dress you say yes to, all that matters at the end of the day is that you'll be saying your "I dos".
Stay organized with WeddingWire's FREE wedding planning tools »