8 Things to Do Right After the Wedding
Working on tying up the loose ends after the wedding? Here's what you need to once your big day is over.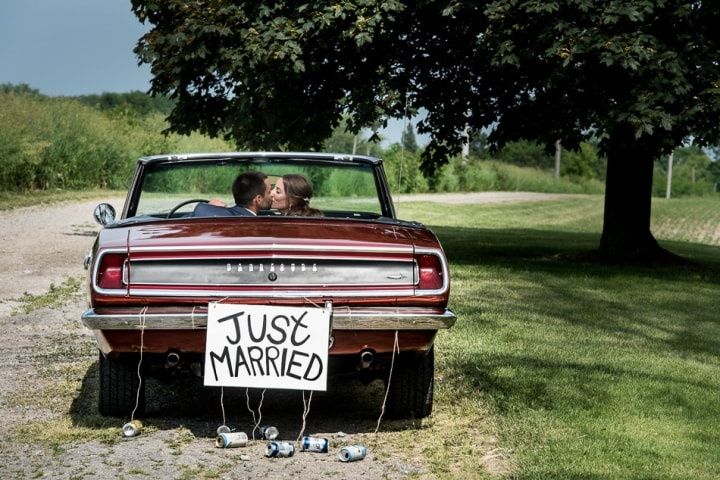 Once your reception has wrapped and your guests have left the building, it's time to do a little clean-up work after the wedding. No, we don't mean grab a broom and a dustpan - we mean tying up the loose ends. From returning rentals to finishing the important paperwork, these are the things you absolutely need to get done once your wedding is over. P.S. by 'right after' we don't mean the night of your wedding - many of these tasks can be taken care of in the weeks following your wedding – the point is to get 'em done ASAP.
Here's what you need to do right after the wedding.
Bring back any rentals
There's a good chance you didn't purchase all the decor, dishware and linens that you used at your wedding, so it's time to give them back to their rightful owners. Check your vendor contracts so that you know when and how to return each item. Some companies will offer complimentary pick-up services while others will require that you bring everything back yourselves. If you plan on heading out on your honeymoon right after the wedding, make sure you ask a trustworthy friend or family member to take care of this for you.
Pay your vendors
You probably paid many of your vendors, like your wedding cake baker and florist, for their services upfront, but others might need to be paid after the big day. You'll want to give your contracts and financial records a once over to make sure everything has been taken care of. The last thing you want is to realize you've racked up interest when you return from your honeymoon.
Take care of your wedding dress
Wondering how to store your wedding dress after the wedding? You probably spent a good chunk of money on your bridal gown, so you'll want it to stay looking its best even after your wedding has wrapped. This means you'll need to get it professionally cleaned, preserved and boxed by a gown care specialist. If you don't want to hold onto it, you can donate it or sell it so that another bride can put it to use. We've laid out all the options for what to do with your wedding dress in this article.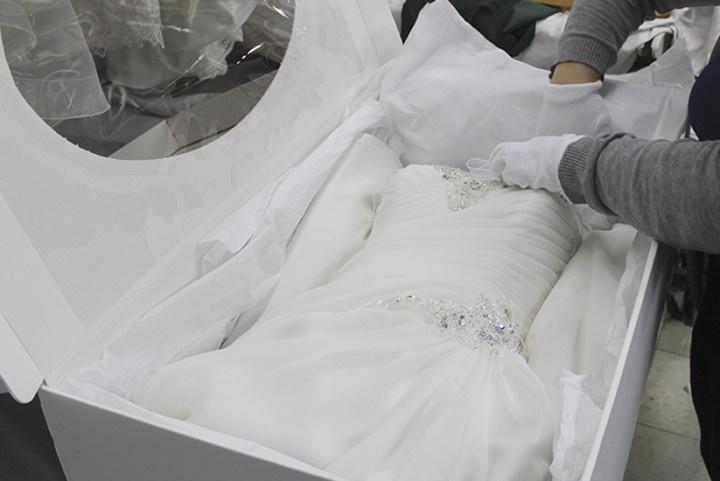 Return or exchange any unwanted gifts
Even though you spent a ton of time creating your perfect gift registry, one or two of your guests may have gone rogue and purchased something completely different. Or, someone may have purchased a duplicate item by accident. If that's the case, you may have to do some returns or exchanges. Make sure you take care of this task ASAP so that you don't have any unnecessary items cluttering up your home.
Finish up your important paperwork
If you've decided to change your name(s) after the wedding, there will probably be a handful of documents left to finish up. You'll need to check your provincial guidelines and start the process ASAP. Remember, aside from legally changing it, you'll need to update everything from your driver's license to your passport.
Write your thank-you notes
Naturally, you need to thank your guests for coming to your wedding and giving you all those beautiful gifts. You don't need to power through hundreds of cards right when your wedding has wrapped - they probably won't be expected for a few months - but you'll want to start working on them right away so that you're not still sifting through a mountain of stationery months after you get back from your honeymoon.
Create your wedding album
Some photographers will put together and package your wedding photos for you while others will leave the job up to you. You'll want to tuck yours away in wedding photo albums and frames almost as soon as you get them so that none of your faves go missing. P.S. ask for digital copies, too, so that you can reprint them if anything goes wrong.
Review your vendors
Last but not least, you'll want to review all the vendors you used for your big day. Reviews probably steered you towards the right caterer, baker and photographer, and you can be that guiding light for another couple later down the line.
Share your experience! Review your vendors after your wedding and help other couples choose their dream team. »