8 Things You Can Do to Make Your Life Easier Post-Honeymoon
Coming back to reality can be hard after you've been on your honeymoon. Here's how to make it all a bit easier.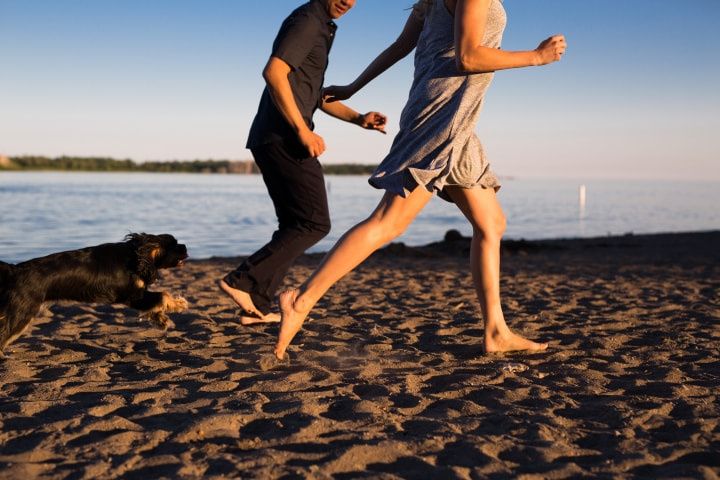 Coming back from your honeymoon can be tough. You won't be able to lounge around in bed all day, order room service for every meal or have someone to handle all of your day-to-day chores. I know, it's a huge bummer, but everyone's carriage has to turn into a pumpkin at some point, right? But, good news, there are a few tasks you can do before you leave to make your arrival back to reality a little less bumpy.
Here are a few things you can do to make your life easier post-honeymoon.
Delegate
Ask one of your trusty wedding party members to handle a few of your post-wedding tasks so that you can get some R&R. These begin pretty much as soon as your ceremony wraps, so make sure the person (or people) you're asking are trustworthy (AKA not drinking too much). What exactly are these tasks? Tipping vendors, wrapping up the top tier of your cake, dropping your clothes off at the drycleaners' and dealing with all the other loose ends that need tying up. The timeline for this is pretty short, so doing it after your honeymoon doesn't really work.
Get food delivered
When you return your fridge is probably going to look pretty barren - after all, you've been tanning instead of grocery shopping for the past few weeks. Instead of tasking your housesitter with grocery shopping for you, hire a grocery delivery service to get the job done. Make the order before you hop on the plane home and have it scheduled for the day or the day after you arrive back. Tip: if you have no grocery services in your hometown, ask a friend or family member to drop off a few essentials.
Hire a house sitter
Ask a neighbour, friend or family member to check in on your place every once in awhile (or even stay over). You may think you don't need it, but you're better off safe than sorry. Maybe you left a candle burning or your basement got flooded after a storm? You don't want to come home to deal with that magnitude of mess. Don't forget to give them the alarm code, keys and/or tell the concierge that they're allowed in. Bonus: you can also task them with picking up all your mail and packages.
Freeze your meals
You may be a little jetlagged after returning, so the last thing you'll want to do is cook. If you don't want to spend the rest of your hard earned cash ordering UberEATS upon return, cook a few meals in advance and freeze them. These will be lifesavers when all you want to do is hit the hay but you're too hangry to function.
Don't forget about thank-you notes
No, you don't need stock your luggage with stationary so that you can work through your thank-you notes on your honeymoon. However, you should keep everything in order so that you can stay on top of things when you return. Set up a thank-you note station in your home with a list of all your guests' names, a stack of cards and a few pens, so that you know to get the job done when you return.
Clean your crib
You don't want to come home to piles of laundry and a sink full of dishes, so make sure you give your house a good clean beforehand. If you really don't want to spend a day scrubbing and polishing, treat yo' self and hire a cleaning service. It can count as your wedding gift to yourself.
Keep your pets in mind
There's a good chance that the first thing you thought about when booking your honeymoon was your animals. After all, these little balls of fur are like your children. If you're not putting them in boarding, remember to hire a pet sitter (this can be your house sitter too, doubling up is the way to go). And don't forget to stock up on supplies for when you return, like food, kitty litter and the works - you don't want your first stop on the way back to be Pet Valu.
Book an extra day off
Falling straight back into your daily routine when you return is easier said than done, especially when you're dealing with a gnarly case of jetlag. Make sure you book at least one day off in between returning home from your vacation and going back to your job - you'll definitely need the time to recalibrate and come down from that honeymoon high.
Join the "Just Married" discussion in our community forums »