5 Ways to Serve Sushi at Your Wedding
Sushi is definitely a wedding-worthy food. Here are a few tried and true ways to serve it on your big day.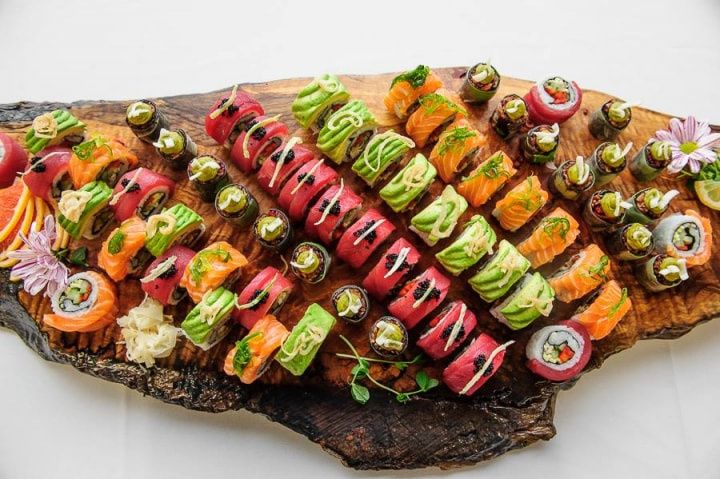 Who doesn't love sushi? While you may not want to treat your guests to an all out AYCE buffet, there are plenty of ways to incorporate this Japanese staple into your wedding menu. Whether you're looking to take your cocktail hour eats to the next level or are in the market for an innovative dish for your post-wedding brunch, you should definitely consider sushi.
Here are a few ways to serve sushi at your wedding.
As hors d'oeuvres
Your cocktail hour is the perfect time to serve traditional sushi rolls. Treat your guests to plates and platters filled with a bevy of different types of sashimi and maki (remember to include both veggie and meat options, so that everyone can enjoy it). If you want to go the extra mile, see if your chef is willing to create a signature roll just for your wedding stuffed with your favourite fillings. Feel free to get creative with your flavours - fusion sushi is definitely a thing!
As a main
Want to give your guests something a bit heartier than a few rolls for dinner? Ask your caterer to craft some deconstructed sushi bowls. Your guests will get all the deliciousness of maki or sashimi, but arranged in a dish instead of in roll form (think of them as Japanese burrito bowls). This means bigger portions, which your guests will be grateful for.
As a dessert
Sweet sushi can be just as delicious as the savoury stuff. Instead of nori, rice and salmon, have your caterer craft rolls out of fruit and chocolate. Don't forget to replace the soy sauce with chocolate, caramel and fruit sauces for dipping.
As a late night snack
While I'm sure nobody would be disappointed to see your waiters walk out with trays full of sushi, sashimi and maki around midnight, we suggest doing something a bit more interesting. Late night snacks are where you can really have fun with your food, so take advantage. Instead of plain 'ol rolls, serve one of Instagram's most popular dishes - sushi burritos! These massive maki wraps will keep your guests fuelled so that they can party all night long.
At your post-wedding brunch
Want to take your post-wedding brunch menu to the next level? Add some breakfast sushi to your spread! Have your caterer whip up some crepes (or pancakes) and roll in fillings like fresh fruit, Nutella and peanut butter, then chop them into maki-esque rolls. You don't have to eat them with chopsticks, but you totally can.