Your Guide to Pre-Wedding Party Guest Lists
Here's everything you need to know about inviting your friends, family and followers to pre-wedding events.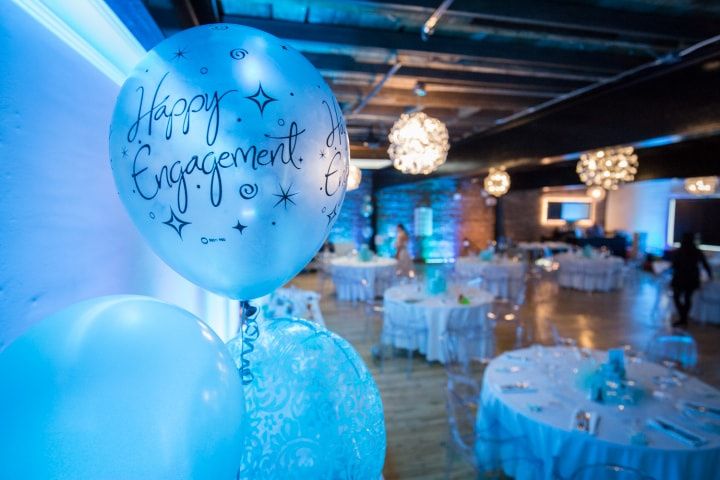 One of the first questions you'll have to ask yourselves as a newly engaged couple is, "who do we want at our wedding?". While it may seem weird to hash this out before you've even considered sending out save the dates, it's totally necessary. Remember, if a guest is invited to almost any pre-wedding party, they should be invited to your wedding, too (so, you'll want to have a good idea of your desired roster at the get-go). Note: if you're having a very small wedding, eloping or doing a destination wedding, you can invite people who are not on the guest list for your wedding, just let them know the situation in advance.
Here's your guide to pre-wedding party guest lists.
Engagement Party
Engagement parties come in all shapes and sizes. Some are massive soirees with hundreds of guests while others are chill backyard bashes with only a handful of loved ones in attendance. If you're going with the former, you'll want to be mindful when crafting your guest list. Yes, you're probably super stoked for your big day and want to celebrate with all of your friends, family members and followers, but put some serious thought into who you send your invites to. Unless you're willing to shell out the big bucks for a huge venue, hundreds of meals and tons of favours, you'll want to rein things in a bit.
Bridal Shower
The bridal shower is typically geared toward the ladies in the bride's life. Usually, the female family members of the bride and groom attend, along with the bride's BFFs and bridesmaids. Of course, you don't have to stick to tradition, if you've got some close guy friends, feel free to add them to your list, or, throw a co-ed bash and invite along the groom and his buddies, too.
Bachelorette/Bachelor Party
Of all the pre-wedding parties, the bachelorette and bachelor parties tend to be where the bride and groom let loose the most. That being said, not every single one is a wild rager with events that sound like they were torn from the script of The Hangover. Tailor the guest list to suit the type of party you're in for. For instance, if you want a relaxing day at the spa for your bachelorette, you may only want your bridesmaids and your mom in attendance. However, if you're planning on renting out party buses and booths at a bar in the name of your bachelor, you may be able to up your head count.
Stag & Doe
When it comes to stag and doe parties, no guest list is too big. The point of this bash is to raise funds for the happy couple, so a bigger guest list means more earning potential - just make sure you have a big enough venue to accommodate everyone. Note: this is pretty much the only pre-wedding soiree where the "only invite people who are invited to the wedding" rule does not apply.
Welcome Party
A welcome party is geared toward all the out-of-towners, so be sure to put all the non-locals on your guest list (AKA everyone who needs to crash on a couch or book a hotel room to attend your wedding). Some couples also choose to let their wedding party members tag along, too. If you're doing a destination wedding, technically all of your guests are out-of-towners, so go ahead and invite 'em all.
Rehearsal Dinner
The final pre-wedding event, the rehearsal dinner, is typically reserved for the wedding's VIPs. Grandparents, parents and siblings from both sides, bridesmaids (and their partners) groomsmen (and their partners) and possibly a handful of close relatives and BFFs make it onto the guest list for this exclusive bash. Some couples like to shake things up and extend invites to their out-of-towners or go all-out and invite all of their wedding guests.
Create a guest list using WeddingWire's FREE guest list tool »