How to Make Your Bachelorette Party Guest List
So, you have been tasked with throwing the bachelorette party? Here's who to put on your guest list.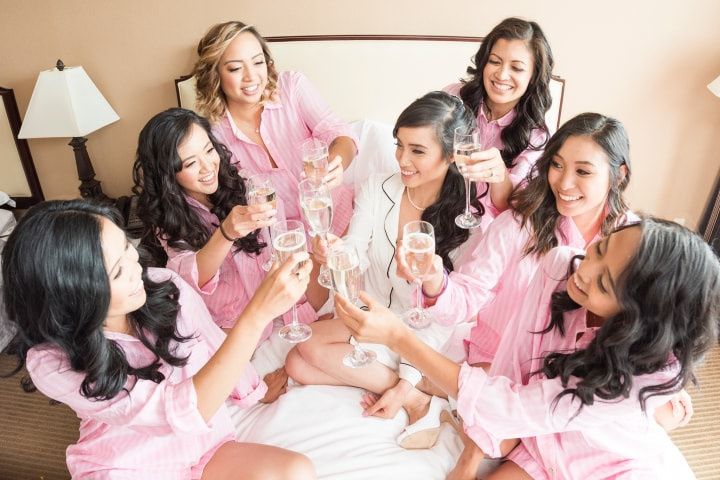 Planning a bachelorette bash is all sorts of fun. You get to choose the decor, the location, plan an awesome menu and put all of your party planning skills to good use. One of the first steps you'll want to take is putting together the guest list. Before you start signing, sealing and delivering those invites, here are a few things to think about.
Here's who you should invite to the bachelorette party.
Should the guest list be a surprise to the bride?
That's a hard no. You can draft the guest list, but make sure you have the bride look it over before you send out any invites. She'll probably have a few people to add or cut, and you need to respect her wishes. No debating!
Do only bridesmaids make the cut?
There are no rules dictating who should and should not be on the guest list. If the bride wants a few guy friends, her college pals or some of her out-of-town guests to get in on the celebration, send 'em an invite. The party doesn't have to be super exclusive to be a fun time. In fact, a bigger party can sometimes be better.
If I know someone can't come, do I still invite them?
Yes. The proper protocol is to send invites to everyone the bride wants in attendance, even if you know they can't make it. Yes, you may get a few no-shows for financial or scheduling reasons, but that's A-OK. They'll just be happy you asked, no one likes to feel left out of the loop!
Should I invite her soon-to-be sister-in-law?
She's probably expecting an invite, so sending her one is a good idea. Leaving her off the guest list will probably lead to awkward conversations later down the line with the host and the bride (and you definitely don't want that). Luckily, if the two are already super close, it's a no-brainer. Bottom line: let the bride be the judge.
Should I extend an invite to her mom?
It really depends on the bride's relationship with her mom and what you plan on doing. If the two of them are super close, you'll usually get the green light (but always remember to ask first). Also, if the guest of honour has called for a relaxed weekend in the country - instead of, say, a bar-hopping adventure through the streets of Vegas - there's no reason her mom should miss out.
How many people should be invited?
A bachelorette bash is not a 'one size fits all' type of deal, so consider what you're doing for the event and then tailor the guest list to fit. Hosting a bar crawl in the bride's home town? The more the merrier! Doing something a little more intimate, like a destination party that takes a few planes and trains to get to? Maybe cut it down to just a handful of the bride's closest pals to make coordinating the trip less stressful for everyone.