10 Things Not to Do at a Bachelorette Party
Your bestie's bachelorette party should be a night to remember. Here's how you should be conducting yourself at her last hurrah.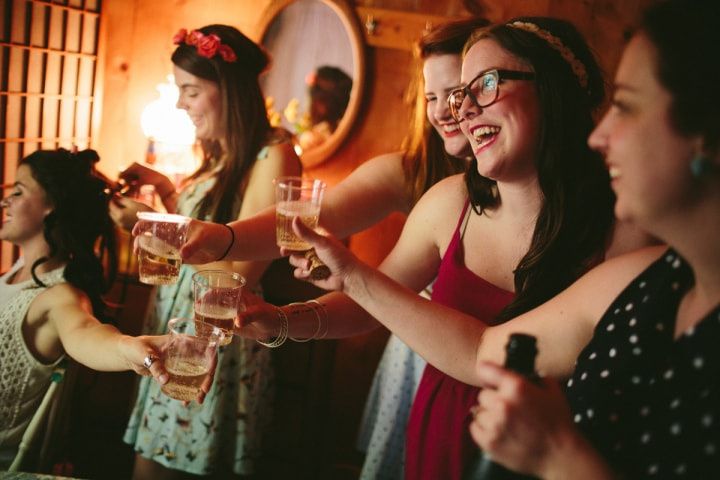 Ready for the best GNO ever? The bachelorette party is probably one of the most important pre-wedding bashes. It's the bride's last chance to go a little crazy before she walks down the aisle, so it should be a memorable one. If you're one of the lucky ladies (or gents) that snagged an invite, there are a few things you should keep in mind. From not taking too many shots to paying for the bride, these are the rules you should live by (for the night).
Here's what not to do at a bachelorette party.
Don't peer pressure the bride
If your bride is a total homebody who thinks going to a club is on par with getting tazed, quit trying to drag her out of the house for a night filled with neon dance floors, glow jewellery and DJs. Respect her wish to have a laid-back bash and commit to a spa night in or a movie marathon, instead.
Don't get too wild
You want this evening to be fun for the bride, not embarrassing or uncomfortable. If you get the feeling you're taking something too far, you probably are. This should be a night to remember, not a night she hopes to forget.
Don't bail on your friends
We've all had those nights. You know, the ones where you wander off into the evening without saying any goodbyes. Well, this night will not be one of those. Stick with the bachelorette squad at all times to keep the party going. Sure, you can hit the dance floor solo or take a trip to the bar alone, but no sneaking into a cab at midnight without a word - you're in this for the long haul.
Don't complain about money
You should know this right off the bat, bachelorette parties can get pricey. Instead of spending the evening talking about your financial woes with the bride, set a budget for yourself and try your best to stay within it. If the party is really beyond your means (like, if it involves a plane trip) do the responsible thing and sit this one out - you can always party with the bride at her reception.
Don't invite extra friends
Once the guest list has been okayed by the bride, it's not up to you to fill any empty seats at the table. She probably has her reasons for leaving certain people out, so don't interfere. If your bestie didn't make the cut, make plans with her for another day, this party is all about the bride and her squad.
Don't get dramatic
The last thing you want is for the bachelorette party to end up like an episode of Vanderpump Rules, so save the drama for another night. No throwing drinks, no gossiping about other guests and no stirring the pot. Seriously, these things may work well on television but they never end nicely IRL.
Don't mess with the plan
You and the rest of the bachelorette squad probably put a lot of work into planning the perfect party, so don't mess with it at the last minute. You can always offer up suggestions, but you don't want to derail the game plan once you've hopped into the limo.
Don't get too boozy
No, you don't have to have a dry bachelorette bash, but mind your alcohol consumption. You don't want to put a damper on the night by taking a few too many shots. The bride should not be spending the night holding your hair back in the bathroom!
Don't let the bride foot the bill
This event should be cost-free for the guest of honour. Instead of letting her pick up her bill at the restaurant or bar, chip in with the other guests to take care of the tab. She's spent plenty of cash on her big day and honeymoon, so her credit card could probably use a night off.
Don't be self-centered
Consider this your mantra for the evening: this is not my party. Repeat it once, repeat it twice and then repeat it again. While you may experience some ups and downs over the course of the night, keep that spotlight firmly on the bride. Make sure she has the time of her life - this is her last hurrah, after all. You'll get your moment when you get hitched!