6 Things You May Forget to Pack for Your Wedding (But Shouldn't!)
Packed your luggage and think you're ready for your wedding? Make sure you have these items in your bag!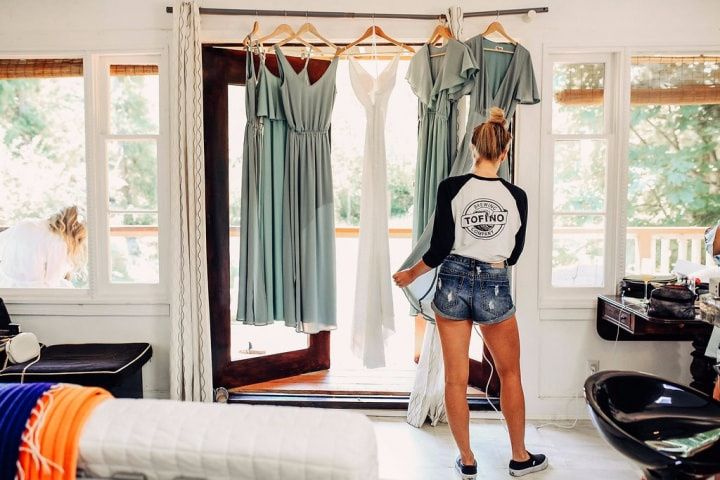 Vows? Check! Rings? Got 'em? Wedding attire? Good to go! Sounds like you're perfectly prepped for your wedding day, but before you hop in the car and head off to your wedding venue, there are a few other things you'll want to add to your luggage. These bits and bobs are extras that you may not think of but will probably come in pretty handy on your big day.
Here are a few things you may forget to pack for your wedding (but shouldn't!).
A garment emergency kit
Yes, your wedding dress was probably tailored to perfection and there's a good chance you spent weeks deciding on the perfect bridal lingerie, but accidents do happen! Don't forget to pack a garment emergency kit filled with safety pins, sticky tape, extra undies, spanx, Tide to Go and whatever else you may need to save yourself in the midst of a wardrobe malfunction, just in case something goes awry. Of course, there's a good chance you won't use this, but it's always better to be safe than sorry.
A steamer
Another wardrobe-related item you'll want to add to your bag is a portable steamer. This will help you kink out any creases in your or your wedding party's ensembles, so it's absolutely essential (nobody wants to be rocking something wrinkled in the wedding photos). P.S. you can always call your venue ahead of time and ask if they have steamers on site - if you're hosting your celebration at a hotel, there's a good chance they will.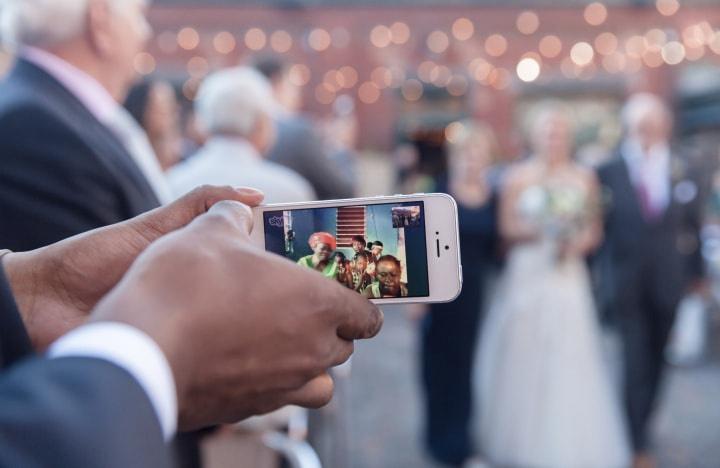 Chargers galore
If you're a social media king or queen or live streaming parts of your day, you'll want to be tweeting, facetime-ing, snapchatting and Insta-storying your celebration (no shame), but you can't do that when your phone is powering down. You'll want to have at least one regular phone charger and one portable charger on you so that your devices are in the green from morning until night.
Backup shoes
Your wedding shoes may be beautiful, but they may not be able to carry you from dawn 'til dusk. If you've chosen sky-high heels or uncomfortable kicks for your ceremony you'll want to pack backup for your reception. Remember, you can't bust a move on the dance floor if your fighting off blisters!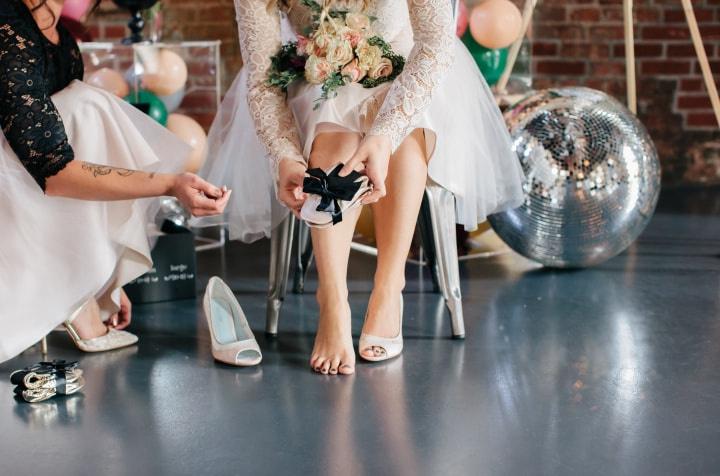 Cash or cheques
You probably always have your wallet on you, but you'll want to make sure it's filled with more than just cards on your wedding day. Even if you've paid all of your vendors in advance, you'll still need to take care of tipping on your big day and you can't exactly do that with your debit or Visa.
Snacks
You invested a lot of money on the food for your wedding, but you may not have much time to eat on your big day. Add a power bar, some dried fruit or nuts to your luggage so that you can sneak in some food before you head to the altar. Make sure it's nothing crumby or anything that could drip on or damage your ensemble.