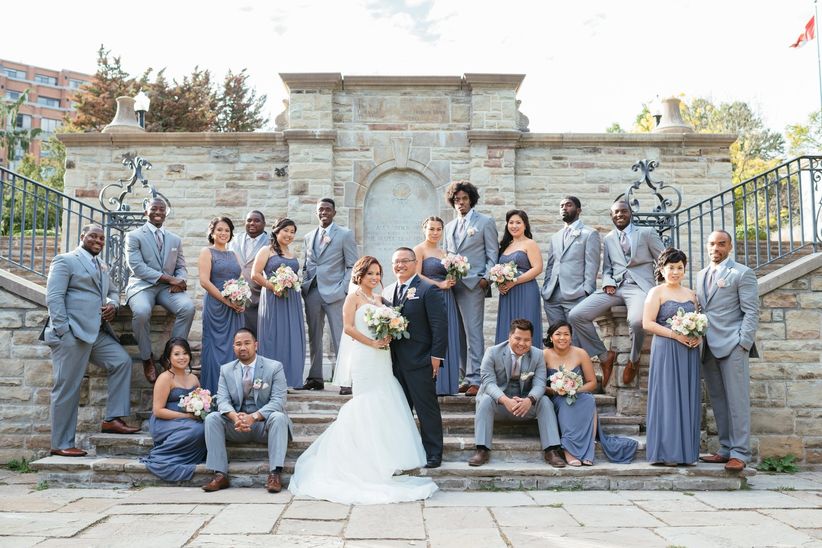 Trying to narrow down your wedding party? You don't have to! While you probably shouldn't have more people in your processional than guests, don't knock the idea of a big wedding party. From having more helping hands to creating some wow-worthy group photos, inviting all your friends to be a part of your wedding squad has its advantages.
Here are a few reasons why big wedding parties are awesome.
You don't have to let anyone down
Nobody likes to be the bearer of bad news - and, if you're planning on having a bigger wedding party, you probably won't have to be (phew!). Instead of trying to dodge calls from your friends because they didn't make the cut, you'll be able to sleep well knowing that each and every one of them will be by your side when you're heading to the altar.
You can get more creative with outfits
Do you love the look of mixed and matched bridesmaid and groomsmen outfits? Us, too! Well, good news, it'll pack a much bigger punch if you're working with a larger squad. Have your bridesmaids change up their gown length or dress shades and ask your groomsmen to amp up their looks with some fun accessories. Just make sure it all looks cohesive before you approve it for your big day - maybe do a trial run at a pre-wedding event?
You'll have plenty of helping hands
Need help packing up your favours? Want to make a few DIY decorations to save a couple bucks? All those little tasks will be taken care of in a flash with your mighty army of guys and gals. No, you shouldn't put them to work every day - remember, they have lives, too - but they'll probably be more than happy to chip in every once in awhile.
Your pre-wedding events will be amazing
If you've got a ton of party-loving pals in your squad, you can bet that all you pre-wedding bashes will be a success. Each party member can take on a task and knock it out of the park instead of one frazzled MOH trying to gather her bearings while trying to plan multiple soirees.
Getting ready will be awesome
Everyone knows the pregame is an essential part of the party. While you probably won't be playing beer pong and flip cup before your wedding - no judgement if you do, though - you can still kick off your festivities with a bang. Make a killer getting ready playlist (we've crafted one for brides and one for grooms, if you need a bit of inspo), stock your dressing room with champagne bottles and get to partying.
You'll have some amazing photo-ops
While you won't be able to do a classic Charlie's Angels-esque pose with a giant wedding party, there are plenty of amazing group photo ops that require more than one or two people. From pyramids to tug of war style shots, there are a ton of creative ideas just waiting to be taken advantage of by you and your squad.
More love!
There's a reason why the saying "the more, the merrier" exists. Having all - and I mean all - your loved ones by your side on your wedding day is sure to light up your heart with love.
Join the discussions in our community forums »