6 Major Maid of Honour Don'ts
There are a lot of things you should do as a maid of honour, but there are also a lot of things you shouldn't. Here's the lowdown.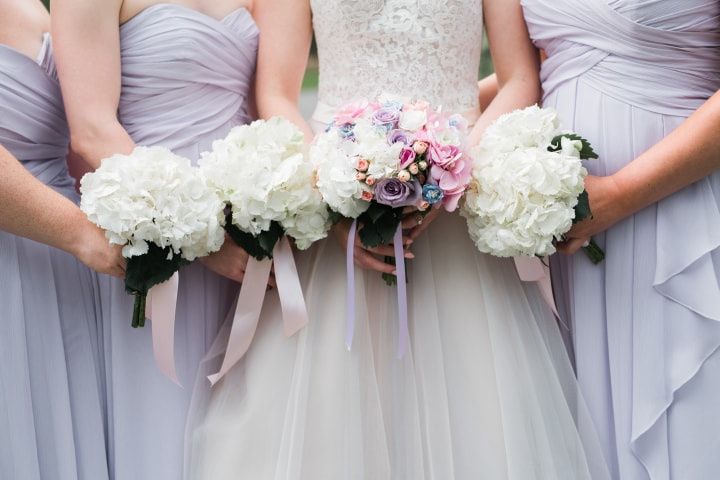 Congratulations! You've been chosen to be the bride's maid of honour - her right-hand lady. You'll be the one to pick her up when she's feeling down, snap her out of her most bridezilla-y moments and help her de-stress after the craziest days of wedding planning. While you probably have a good idea of what you need to do to be the best MOH you can be – if you don't, here's a maid of honour duties checklist – you may not know what to avoid.
Here are a few things you shouldn't do as a maid of honour.
Don't be overly opinionated
Repeat after me: "this is not my wedding". Even if you have similar tastes to your bestie, there are bound to be a few things you won't agree on. While the bride-to-be may ask for your opinion on things like her wedding dress, venue and menu, she probably doesn't want you picking apart every aspect of her wedding plans. Yes, it's fine to give some pointers, but don't try to monopolize her big day or make her feel bad about her choices.
Don't complain about your dress
The bride-to-be probably spent a ton of time crafting you and the rest of the bridesmaids' looks. While you may not understand her decision to go with chartreuse gowns or Converse sneakers, you're going to have to roll with the punches. Sure, it sucks to be asked to wear something you don't feel your best in, but try your best to channel your inner diva and rock it.
Don't be a follower when you need to be a leader
When you accepted the title of maid of honour you also signed on to be the leader of the pack (even if you didn't know it at the time). That's right! You are the alpha 'maid and it is your job to keep the other ladies in line and on task. You should be the one leading the group texts and delegating tasks, not crossing your fingers and hoping that someone else will take care of things for you.
Don't forget about your toast
Because you're one of the wedding party's MVPs you'll probably be expected to share a few words about your bestie. Follow these rules and it should be smooth sailing when you walk up to that mic for a maid of honour speech. Remember, even if you're not the greatest with public speaking, you'll want to have something prepared when the big day rolls around (sorry, you can't play sick for this one).
Don't come unprepared
When the big day arrives you want to be ready for anything - and I mean anything. Stock your bag with everything from tampons to toothpaste to make sure everyone is in tip-top shape before entering the ceremony. Hint: if you need a bit of help with what to pack, we've created this handy dandy wedding day emergency kit. shopping list
Don't leave the couple to their own devices
Naturally, the happy couple will be a pair of busy bees on their wedding day, and they're going to need some top-notch point people. So, who exactly are these trusty companions? Usually the maid of honour and the best man. Be prepared to talk to vendors, direct guests and field questions so that they can enjoy their moment in the spotlight.