8 Do's and Don'ts of Same-Sex Wedding Planning
Check out these do's and don'ts for inspiration on how to approach your same-sex wedding planning — from proposal to ceremony.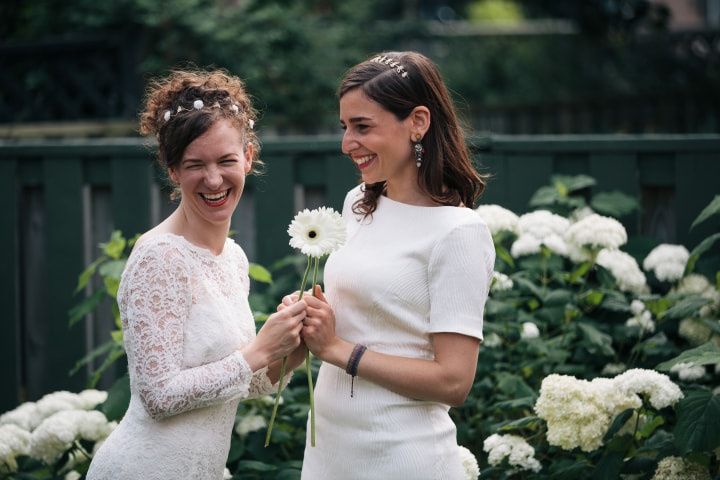 In some ways, same-sex wedding planning isn't very different than planning a wedding between a man and woman. Generally, there's a ceremony with vows, followed by a party with toasts. Many of the finer details, however, can be quite different for LGBTQ couples than for straight counterparts.
Here are the do's and don'ts for same-sex wedding planning.
Do throw tradition to the wind and have the proposal of your dreams. If you or your partner feel passionately about a traditional proposal, with one of you surprising the other and brandishing an engagement ring, then go for it! For other couples, each may want a turn to ask for a hand in marriage, so one may propose one day and their partner proposes to them at another time. Still, some couples may opt out of the proposal ritual altogether and choose to simply decide to get married, then begin to plan a wedding.
Don't assume that only one of you is "allowed" to wear an engagement ring. More and more same-sex couples elect to purchase engagement rings for each other these days, rather than the tradition of only one member of the couple wearing an engagement ring. Whether you and your partner go this route, or choose to have only one partner wear an engagement ring, know that how you do this is totally up to the two of you. Buy matching rings, pick out rings together and exchange them on the spot or surprise your partner with a ring. Whatever works for you two is perfectly acceptable.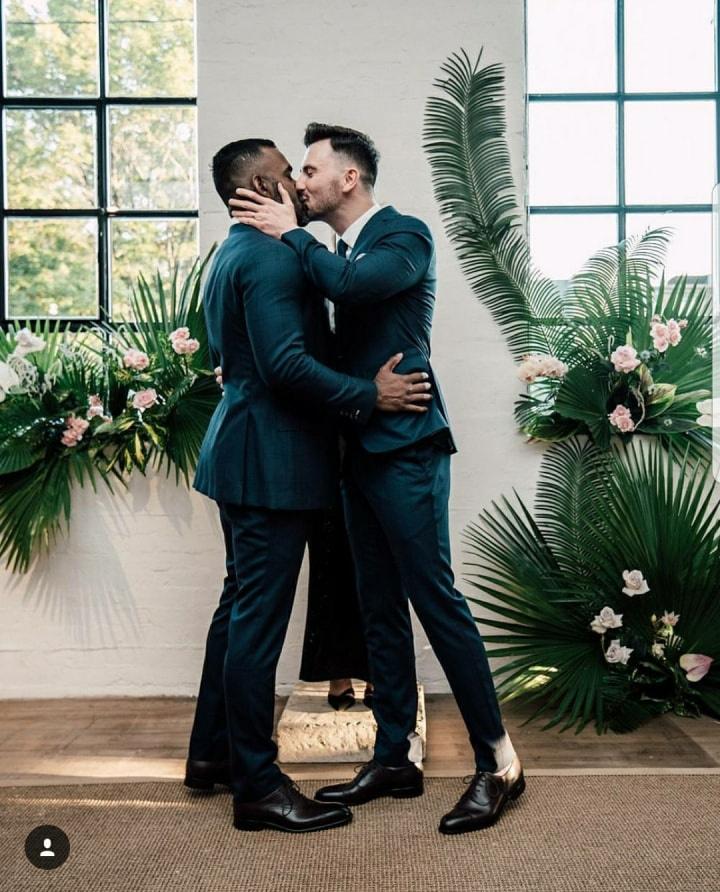 Do be sure your wedding venue is LGBTQ-friendly. The world of wedding venues for all couples is wide open now, and same-sex couples are hosting beautiful weddings in venues that range from restaurants to rustic barns. Now that same-sex weddings are more common, there are a wealth of online reviews for venues from gay and lesbian couples. Be sure you vet your venues before requesting more information to be sure they will enthusiastically accommodate your wedding.
Don't think you have to put aside your religion or culture when selecting an officiant. While it's true many sects of popular religions like Christianity, Judaism, Islam and Hinduism condemn same-sex marriage, that doesn't mean there aren't clergy in those religions who happily perform same-sex weddings. For religious couples, it may take a bit more digging, but with persistence, you and your partner will likely find a minister, rabbi or priest to marry you.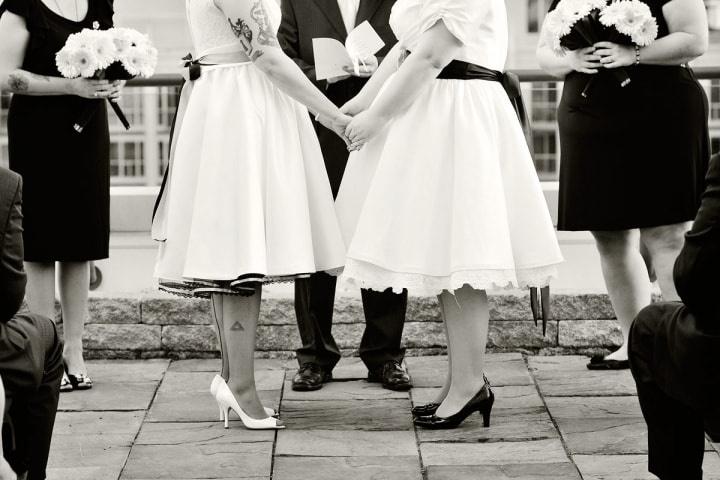 Do take advantage of evolving same-sex marriage etiquette and adapt traditions. The modern wedding is something of a hodge-podge of traditions, with couples borrowing rituals from other cultures and religions freely. Same-sex weddings have always marched to the beat of their own drum in this way, so shop around! Adapt rituals from straight weddings like unity candles and processional order, or create unique ways to symbolize your union. Feel free to craft the ceremony of your dreams.
Don't feel like you must wear a wedding dress or a traditional tux. Just because you're a bride doesn't mean you want to wear—or even feel comfortable wearing—a wedding gown. The same goes for grooms: You're not relegated to traditional black formal wear. Same-sex couples are leading the wedding fashion world with creative and unique wedding attire like bridal suits or shorts for grooms. Think about what makes you feel special and comfortable, then shop for wedding attire that fits the bill.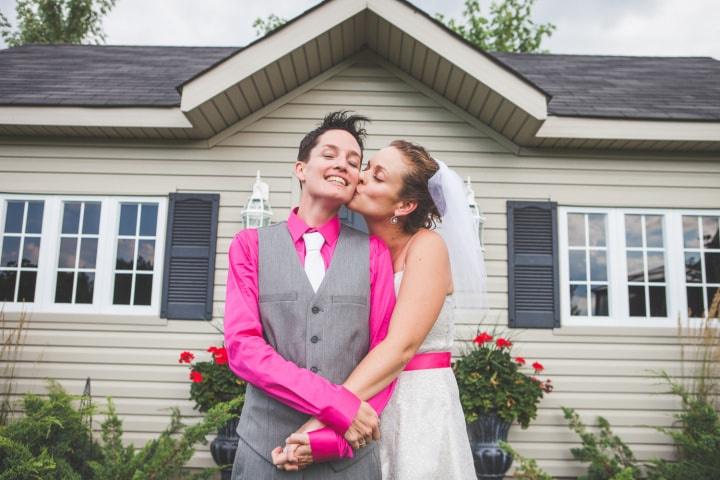 Do be as unique as you'd like with engagement, bachelor, bachelorette parties and wedding showers. What does a bridal shower become when there's no bride? An awesome celebration of love and marriage with close friends and family—no matter what you wish to call it. Don't be shy about breaking the mold when it comes to your pre-wedding parties and showers. Name them whatever you'd like, invite whoever you'd like without regard to gender or "side" of the wedding party and have fun. Some popular trends for same-sex couples include inclusive wedding showers (i.e. one shower for the couple, rather than a shower for one person in the couple) and co-ed, combined bachelor or bachelorette parties.
Don't think your wedding party must be divided by gender. In fact, same-sex weddings are much more likely than opposite-sex weddings to include men and women on both sides of the wedding party. Think about the folks who've supported you and your relationship, and ask them to participate. Forget about being super matchy-matchy in terms of the number of attendants, too. No one will fault you if the parties are a little lopsided.
Keep organized with WeddingWire's FREE wedding planning tools »