6 Major Best Man Don'ts
Congratulations! You've been chosen as one the wedding's MVPs. All you have to do is avoid these missteps and you'll win Best Best Man of the Year.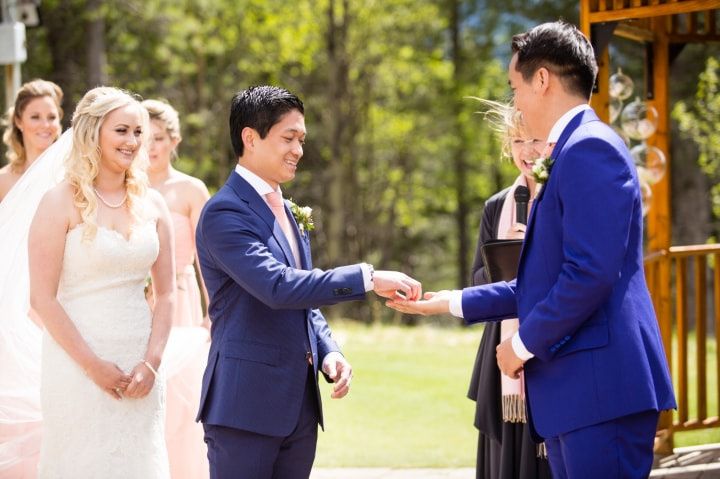 Ready to step up to the plate and be the best best man you can be? Great! From here on out you'll be the groom's right hand guy, helping to make sure everything wedding-related is running like a well oiled machine. He needs your fashion advice when shopping for a tux? You'll be there. He wants a buddy to help him run errands for his fiancé(e)? You should already have a playlist ready for the road. But there are also some things you definitely should not be doing...
Here are a few major best man don'ts.
Don't be too critical
Offering your opinions is fine at times, but don't be too judgmental about the happy couple's choices. They've put blood, sweat and tears into crafting their dream wedding and the last thing they need is for you to bring them down.
Don't complain about your outfit
So, the groom has decided to go with something a little bolder than your average suit? Don't make a fuss about it. You'll only have to wear this ensemble once, so don't let it ruin your day. Focus on one thing you like about it (even if it's just the pocket square or plain white shirt underneath) and try your best to sport it with confidence.
Don't let the groomsmen get out of hand
Repeat after me: "I am the captain now". As the best man you will be expected to keep all the other groomsmen in check. No, this doesn't mean that you need to be babysitting them at the bachelor party or calling them every single day, but you should make an effort to make sure that everyone is doing their job and ready for the big day.
Don't slack on writing your speech
One of your most important duties as best man is giving a toast at the reception. Even if you don't love being in the spotlight, you shouldn't reject the opportunity to say a few kind words about your best friend and his partner. When you walk up the mic, you want to deliver something amazing, so writing should not be put off until the last minute.
Don't come unprepared
You should be prepared for any trial or tribulation that may befall the groom and his band of merry men, so don't forget to craft an emergency kit filled with all the essentials. Did one of the clumsier groomsmen stain his dress shirt at lunch? You should have Tide to Go at the ready. Is the man of the hour suffering from a bit of a headache? The remedy should be waiting in your bag.
Don't forget that you have jobs to do
Yes, you want to enjoy your best bud's wedding, but you have a handful of pretty important tasks to complete, as well (they're not tricky, so don't stress). Little things like holding onto the rings and decorating the couple's getaway car will probably fall onto your plate, so don't forget to add them to your agenda.