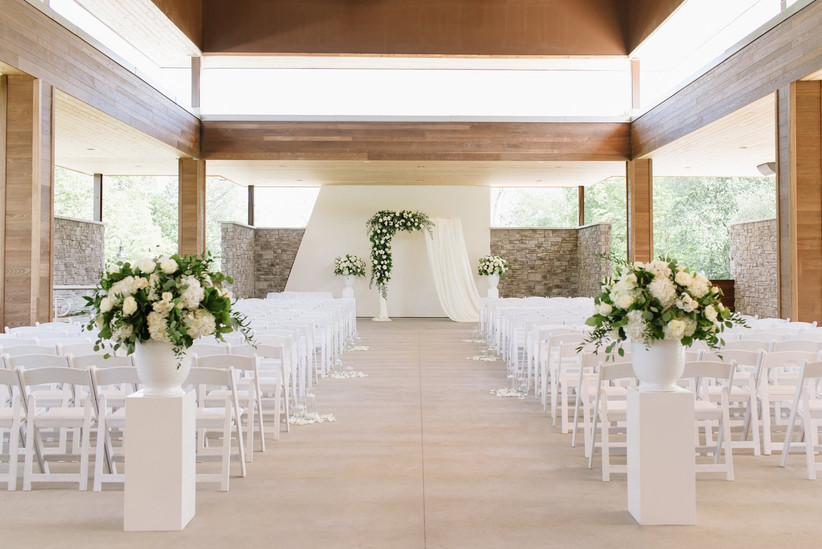 Haven't found that dream Toronto wedding venue just yet? Well, you're in luck! A few of the city's top spots host wedding open houses, giving you the chance to see everything they have to offer. You'll get to scope out their event spaces, meet with preferred wedding vendors and mix and mingle with other brides and grooms-to-be — which will definitely get you even more stoked for your own wedding. The list includes hotels, a castle, a former theatre and more, so you'll get to see plenty of unique styles. Of course, we suggest squeezing all of them into your schedule (if you can).
Here are a few can't miss wedding venue open houses in and around Toronto.
Fall 2019 Wedding Venue Open Houses
The Mississauga Convention Centre (September 22, 2019)
On Sunday from 1 p.m. to 6 p.m., the Mississauga Convention Centre will open its doors to engaged couples to showcase its exceptional banquet hall facilities and the vendors you can hire to make your wedding happen. Enjoy cocktails and appetizers as you tour the popular wedding venue and talk to wedding planning experts. Find more details and register here.
The Guild Inn Estate (September 24, 2019 )
If you call the East End home (or want to host your wedding there) The Guild Inn Estate is an amazing option. The versatile, Toronto waterfront venue flaunts sweeping grounds and amenities like valet parking, in-house catering and complimentary service staff (making it more than wedding-worthy). At the open house, it will have live entertainment complimentary hors d'oeuvres and its preferred vendors and wedding staff in attendance. The event will run from 6:00 p.m. to 9:00 p.m, so you won't have to skip a day of work. For more details and to RSVP click here.
La Maquette (September 25, 2019)
La Maquette is a stunning Art Deco Toronto wedding venue opposite St. James Cathedral at King Street East and Church Street. Make it a mid-week date night and sip a cocktail while you explore the stunning two-storey event space during their open house from 5 p.m. to 8 p.m. The former restaurant features lots of natural light with leaded glass windows, a solarium and large covered patio overlooking the Toronto Sculpture Garden. RSVP and register here.
The Eglinton Grand (September 26, 2019)
Love the arts? Well, why not host your wedding celebration at a decommissioned theatre? The Eglinton Grand is a truly unique Toronto wedding venue that's sure to impress your guests. Its two function spaces boast Art Deco decor, mahogany furnishings and a healthy dose of marble. You can see all of that and more when it hosts its wedding open house from 6 p.m. to 9 p.m. For more details and to RSVP, click here.
The Berkeley Church (September 26, 2019)
If you're looking for a historic vintage wedding venue in downtown Toronto, then this could be the perfect spot for you. Head to Queen Street East On Thursday, September 16 from 5 p.m. to 8 p.m. to meet their wedding team, enjoy a welcome cocktail and explore the unique indoor and outdoor event spaces. RSVP and register here.
W Event Boutique (September 27, 2019)
Looking to tie the knot in Vaughan? W Event Boutique will open its doors to couples on Friday, September 27 from 7 p.m. to 10 p.m. to showcase its beautifully designed event spaces that feature industrial chic decor. You'll also get to meet a selection of equally impressive vendors for catering, audiovisual, decor and more to help you achieve your wedding vision. Register for the event here.
Spring 2019 Wedding Venue Open Houses
One King West (January 20, 2019)
If you love the idea of having a hotel wedding, One King West needs to be on your radar. It's an ultra swanky King Street West hotspot with amazing accommodations and event spaces. On January 20th it will be hosting its wedding open house from 11:00 a.m. to 4:00 p.m., so you can see everything it has to offer. Look forward to tours, bites to eat by Executive Chef Angel Sevilla, meet and greets with its preferred vendors and a raffle.
Twist Gallery (January 20, 2019)
In the market for an artsy, industrial chic wedding venue in Toronto? Twist Gallery may be "the one". The function space boasts giant, factory-style windows, exposed wood beams, and ductwork and all-white walls - perfect for couples who want something on the less traditional side. On January 20th it will be fully set-up and styled for weddings From 11:00 a.m. to 4:00 p.m. for its wedding open house. There will be canapes, desserts, art, music and much more, so it's definitely worth attending.
Casa Loma (January 20, 2019)
If you want to feel like royalty on your wedding day (and who doesn't) the city's one and only castle is a must-see. Casa Loma is hosting its wedding open house on January 20th from 10:00 a.m. to 4:00 p.m, offering couples a chance to scope it out and see what a magical venue it is. Registration is required to attend, so don't forget to fill out this form before heading out.
Estates of Sunnybrook (January 20, 2019)
The Estates of Sunnybrook is a glamourous banquet hall-style Toronto wedding venue that's ideal for luxurious affairs. It's got gorgeous, manicured grounds, an elegant, vintage interior and has plenty of indoor and outdoor options to choose from for your big day. On January 20th from 11:00 a.m. to 3 p.m. you'll get the chance to explore the space and meet some of the top wedding pros in Toronto at its annual wedding open house.
Graydon Hall Manor (January 26, 2019)
Another amazing vintage Toronto wedding venue option is Graydon Hall Manor. It's a Georgian-style mansion that has been around since 1936. The estate has sweeping gardens, stone terraces, fountains, grand fireplaces, golden chandeliers, gallery-worthy paintings and more, giving you plenty of beautiful backdrops for your big day. On January 26th it will open its doors to the public for a mini wedding show with all the bells and whistles. Final details have yet to be released, but you can stay updated on the venue's website.
Liberty Grand Entertainment Complex (January 27, 2019)
The Liberty Grand Entertainment Complex was built in 1926 and has maintained its old-school charm over the years. It has a number of elegant banquet halls and ballrooms inside as well as stunning courtyard spaces outdoors (making it perfect for every season). On the last Sunday in January it will open its doors to the public, giving happy couples the chance to meet with the team and check out each space.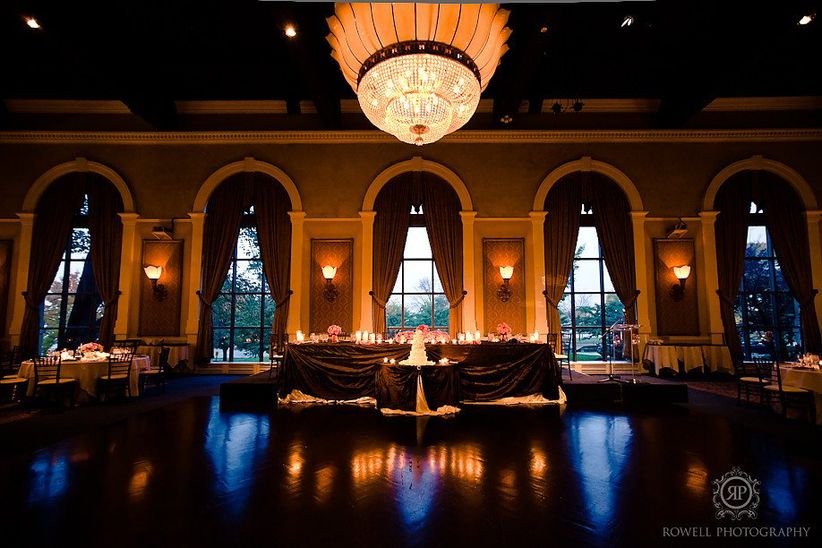 Rosewater Room (February 5, 2019)
If a Toronto restaurant wedding is in the cards for you, this is one Toronto wedding venue open house you don't want to miss. The Rosewater Room is the epitome of elegance with crystal chandeliers, cornice moulding, ornate columns and modern furnishings. It will be hosting its event on February 5th from 4 p.m. to 7:30 p.m., giving you plenty of time to see all its stunning details.
Old Mill Toronto (February 6, 2019)
The Old Mill sits on the bank of the Humber River and brings some old world charm to the big city. On Wednesday, February 6th, the venue will be opened to the public for its wedding open house. You'll get the chance to scope out all its event spaces IRL, meet with its preferred vendors, snack on hors d'oeuvres and even enter to win a couple of contests. The event will run from 4:30 pm to 8:00 pm.
Vantage Venues (February 12, 2019)
Right in the heart of downtown Toronto on the 16th and 27th floors of 150 King Street West, you'll find Vantage Venues. It's perfect for couples who want to celebrate their nuptials in a contemporary space with a killer view. Make their wedding open house a pre-Valentine's date on February 12th from 4 p.m. to 7 p.m. Connect with their wedding specialists and leading Toronto vendors, sample some of Executive Chef Kyle McClure's creations and be pampered with one site makeovers and goodies!
Eglinton West Gallery (February 21, 2019)
Looking for a fresh new Toronto wedding venue? Head to Midtown to check out the Eglinton West Gallery. The loft-style space is equipped with exposed brick walls, distressed concrete floors, and wooden accents, making it a great choice for industrial-chic soirees. Its grand opening/open house will take place on February 21st from 6 p.m. to 9 p.m. You'll get the chance to sample delicious food and drink, listen to live music and tour the venues, making it well worth the while.
Find Toronto wedding venues on WeddingWire »