How to Play the Wedding Shoe Game
Want to play the wedding shoe game on your big day, but need a refresher on the rules? We're here to help you out.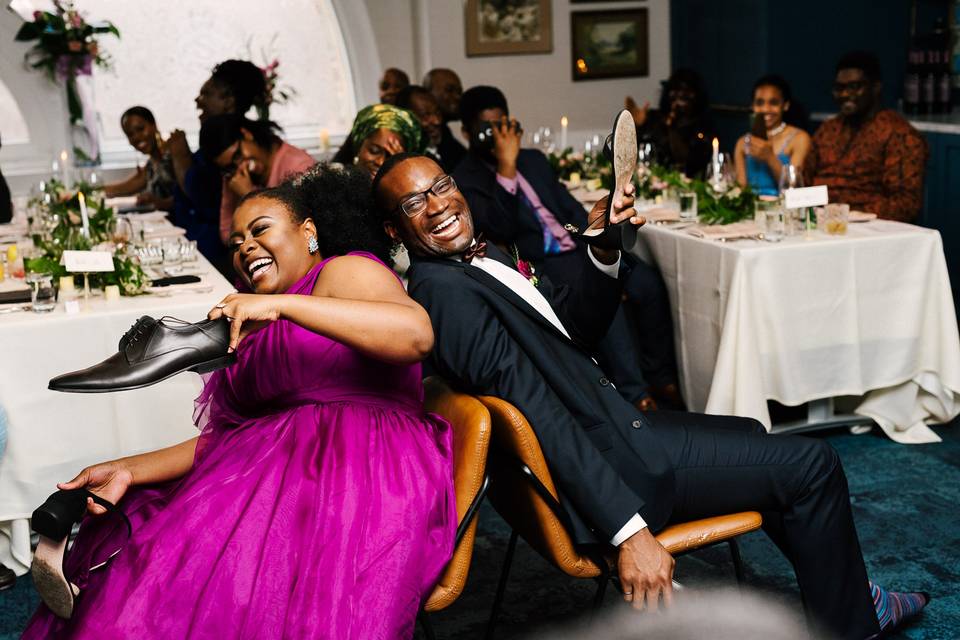 If you want to take your wedding reception to the next level, add some wedding entertainment to your itinerary. Of course, lawn games like croquet, bowling, giant Jenga and ring toss are always crowd pleasers, but why not shine the spotlight on you and your new spouse for a sec? The wedding shoe game will show your guests how well the two of you know each other and probably get everyone laughing, tearing up and aww-ing.
So, how exactly do you play the wedding shoe game? Let's dive in.
The game
The rules of the wedding shoe game are easy, you and your new spouse will be asked multiple questions about your relationship and each of you will hold up the shoe of the person it most relates to (instead of answering aloud). For example, if the question were, "Who's more likely to fall asleep in front of the TV?" and the groom snoozes while watching Seinfeld nearly every night, you would both hold up the groom's shoe. You're bound to disagree on some of the answers, which is what makes it fun.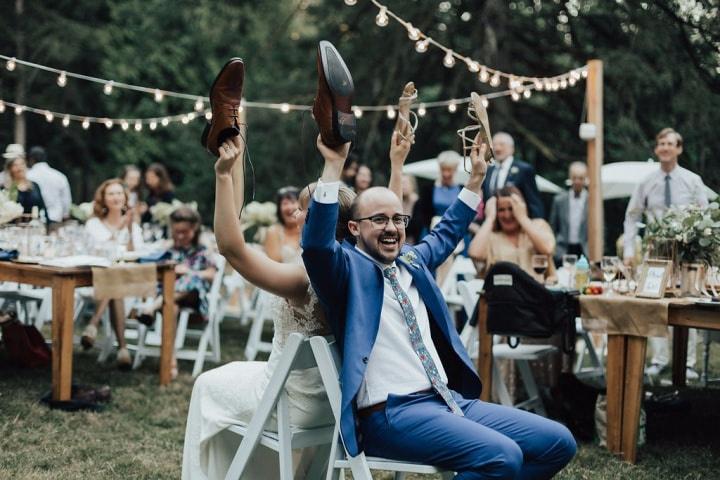 The players
The wedding shoe game only has two real players: you and your partner. The aim of it is to show each other (and your guests) how well you really know each other, so there's no need to add tons of friends and family into the mix. The one additional person you will need is your question-asker. This could be your emcee, your best man, your maid of honour, your mom or anyone with great stage presence and a clear voice.
The set up
Now you've got to set up for the game. You'll need two chairs facing back to back that you and your new husband or wife can sit on. You'll want to put them in the centre of the dance floor or on the stage so that all of your guests can see you. Then you'll each want to ditch a shoe and give it to the opposite person and hold your remaining shoe in your opposite hand (so that you're holding one of each). If your answer is yourself, hold up your own shoe. If your answer is your partner, hold up their shoe.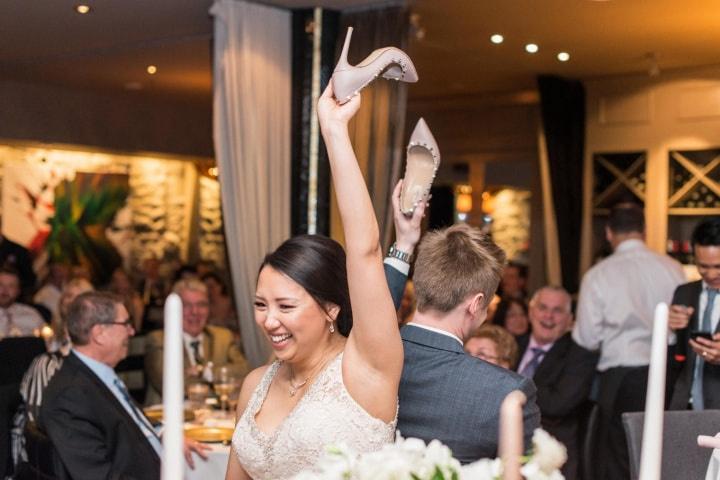 The questions
All of the wedding shoe game questions should begin with "Who?" and relate to you and your partner's lifestyles and tendencies. If you need help penning the questions, you could ask your guests to submit them on your wedding website (just keep the eyes off the page yourselves!), get your families and wedding party to come up with them or ask your nearest and dearest to submit them during your reception.
Looking for more wedding entertainment ideas? Find wedding entertainers, event rentals and decorations on WeddingWire »