Toronto's Financial District is known for its towering office buildings, suited denizens and no-nonsense vibe. However, if you look beyond its investment bankers and law firms you'll find a few gems that'll make your wedding planning adventure much easier. Sure, they're not the most budget-friendly options in the city, but your wedding day is worth splurging on.
Here's how to plan the ultimate Financial District wedding.
Venue: Fairmont Royal York (100 Front Street West)
The Fairmont Royal York is one of Toronto's ritziest hotels. It boasts a grand ballroom with crystal chandeliers, an oil-painted ceiling and all the trappings of luxury - perfect for an elegant black tie affair. The staff here can handle everything from your catering and cocktails to your accommodations for the evening, making it an easy sell. If that's not your thing, the neighbourhood offers many other amazing spots, like One King West, Drake One Fifty and the Arcadian.
Dress: Kleinfeld (176 Yonge Street)
If you've ever tuned into Say Yes to the Dress - and let's face it, we all have - you know the name Kleinfeld. Head to Hudson's Bay's flagship store at Yonge and Queen and you'll find the bridal boutique's Toronto outpost, filled with every dress, accessory and shoe that you could ever dream of. It's got frocks from A-list brands like Badgley Mischka, Monique Lhuillier, Pnina Tornai, Greta Constantine, Naeem Khan, Reem Acra and Oscar de la Renta lining its racks, so you're bound to find something amazing.
Suit: London Bespoke Club (372 Bay Street)
While budget-friendly brands like Moore's and Topman make a mean suit, why not splurge for something a bit swankier for your wedding day? The London Bespoke Club, located near the corner of Bay and Richmond, creates luxury suits that are customized right down to their buttons. If you can't find "the one" there, King & Bay Custom Clothing (161 Bay Street) is another tried and true option worth checking out. Pictured here: King & Bay raw silk jacquard smoking jacket; photo by Emma Timusk.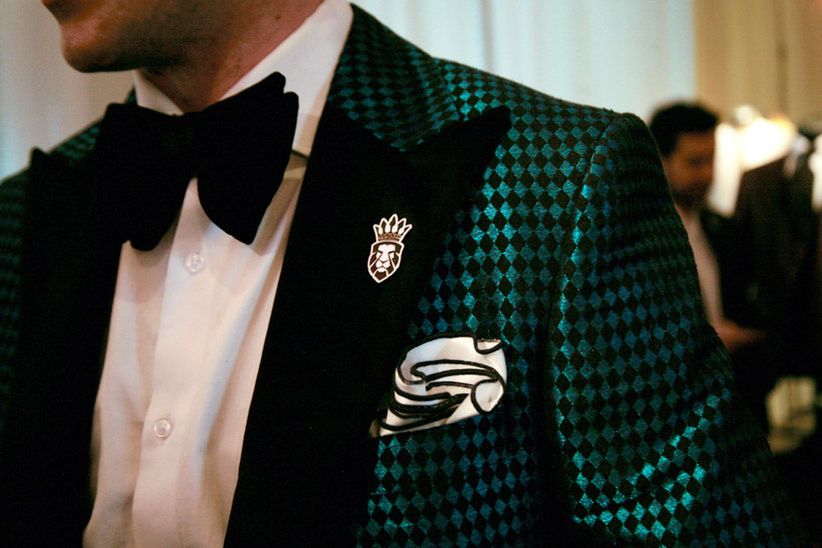 Flowers: Ringe Flowers (40 King Street West)
When cruising around the Financial District you may not notice many flower shops, but there are a fair few hiding within office towers and in the underground PATH. Make your way to the concourse level of Scotia Plaza and you'll find Ringe Flowers, a well-loved florist that's been in business for over 30 years. From sweet and simple corsages to vibrant, tropical centrepieces, this place does it all with an extermely personal touch.
Cake: Milk Bar (190 University Avenue)
Just on the outskirts of the Financial District sits Momofuku, a trendy Asian hotspot with locations in New York, Washington, Vegas and Sydney. Head past the Noodle Bar that occupies the first floor and you'll find a closet-sized version of Milk Bar filled with sweet treats like cake truffles, cookies and pies that you can add to your sweet table. Sadly, you won't see any of their famous naked wedding cakes here - but that doesn't mean you can't get your hands on one. All of the shop's goodies are made in the NYC shop and they can ship out any item - including multi-tiered confections. Also in the area you'll find a Prairie Girl Bakery location (100 King Street West) that'll bake a wedding cake or cupcakes for you.
Catering: Oliver & Bonacini (401 Bay Street)
O&B can be thanked for many of the city's top event spaces and restaurants, and good news - the company does catering, too. Its chefs are up to just about any culinary challenge, offering breakfast menus (perfect for a brunch wedding) filled with artisan butter croissants and mini danishes as well as an array of customizable cocktail, lunch and dinner options.
Rehearsal Dinner: Canoe (66 Wellington Street West)
Speaking of Oliver & Bonancini, its ritzy Financial District restaurant, Canoe, is a fan favourite. It's one of the best places in the city to host a rehearsal dinner thanks to its swanky private dining room (which boasts stellar views of Lake Ontario) and its menu brimming with contemporary Canadian eats, like Newfoundland cod and Ontario beef rib eye.
Registry: Hudson's Bay (176 Yonge Street)
Hudson's Bay is one of the first places Canadian couples turn when crafting their registries - and for good reason. If you've ever set foot in a Hudson's Bay store, you know the treasures that they hold. From Le Creuset cookware to Hudson's Bay Company blankets, you can find everything to outfit your new marital home here. Image: Gordon Ramsay by Royal Doulton Bread Street collection available at Hudson's Bay.
Wedding Favours: Squish Candy Store (176 Yonge Street)
On the lower level of Hudson's Bay you'll find Squish Candy. This artisinal candy store has over a hundred flavours of gourmet gummies including Proseco Bears, Champagne Roses and lemon and raspberry Ring Bling. Stock your sweet table or package up favour bags with these colourful and tasty treats.