Calling all eco-conscious Vancouverites! If you're looking to make your wedding a green affair, we've got a few tips for you. From beautiful garden venues to ethically sourced flower companies, Vancity has it all, and we're here to point you to the best of the best in the neighbourhood.
Here's how to plan an eco-friendly wedding in Vancouver.
Venue
First things first, sorting out exactly where your wedding will happen. The VanDusen Botanical Garden is the perfect option for couples looking for a stunning green venue. In 2016 it was dubbed the "most sustainable building" in the city, making it the ideal place for eco-friendly weddings. Bonus: the 55-acre property can host up to 800 guests, so you can add a few extra names to your guest list.
Dress
If you're looking for an elegant, eco-friendly wedding dress, Pure Magnolia (1001 Churchill Crescent) is the bridal boutique for you. The designers use sustainable materials to create everything from elegant and effortless A-line gowns to trendy modern two-piece sets. It also sells frocks for bridesmaids and flower girls, so you can kill a few birds with one stone.
Flowers
Olla Urban Flower Project has joined forces with Studio Full Bloom (831 Commercial Drive) to make Vancouver's flower industry a little more ethical. All of its arrangements are crafted using socially and environmentally sustainable blooms and greenery from local fairtrade farms, gardens and greenhouses. The florists here can create everything from bountiful rose bouquets to stunning terrariums, so you've got plenty to choose from when designing your big day.
Stationery
If you're a big fan of Mother Nature's work, OMD Creative is the paper company for you. It makes sustainability a priority and aims to be as environmentally friendly as possible. The stationers here use the beautiful BC landscape as inspiration for their goods. You'll find adorable floral designs, watercolour greenery, geode patterns and more paired with beautiful calligraphy and printed on top quality paper.
Catering
Now it's time to take care of catering. You'll want to find a place that uses locally sourced and sustainable ingredients, like Savoury City Catering (3925 Fraser Street). Its event menus boast delicious eats like Fraser Valley muscovy duck breast, beet salad, falafel skewers, chicken karaage lollipops and more. It can handle every catering style, from cocktail bites to plated meals, so you should have no problem finding something that works for you.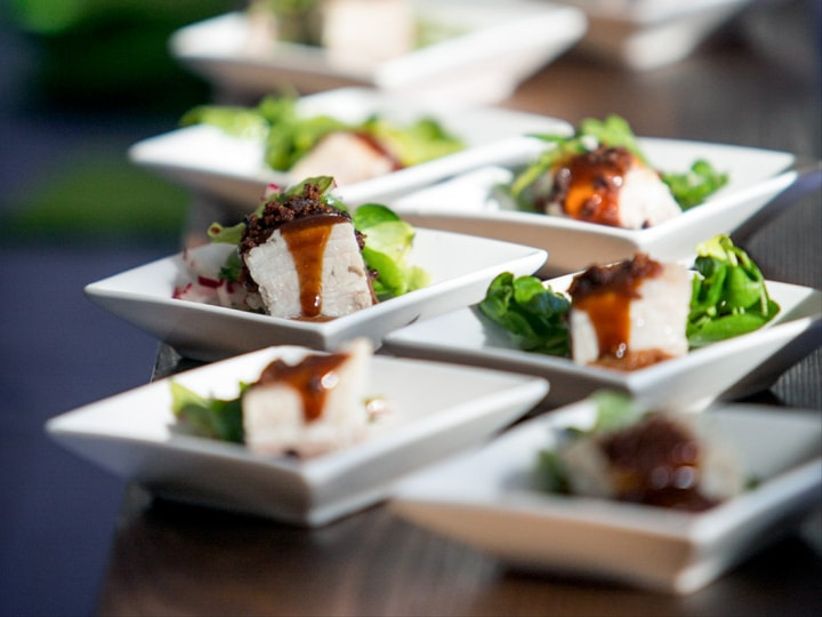 Cake
Looking for a green wedding cake that's just as drool-worthy as the ones you've saved on Pinterest? Edible Flours (2280 West Broadway) is the place to go. Now, I know, not every environmentally conscious person is vegan, but plant-based ingredients tend to be a lot greener than their alternatives. This bakery uses unbleached flour and natural sweeteners and food colourings to craft epic desserts. From naked cakes to multi-tiered designs piped to perfection, the bakers here can do it all.
Favours
Lastly, you've got to figure out what type of gifts to send your guests off with. While itty bitty packs of seeds and tiny potted plants are tried and true eco-friendly options, not everyone wants to go the DIY route. Make Vancouver is a local company that specializes in laser engraving, fabric printing and embroidery, using upcycled and recycled goods as canvases. The pros here can personalize anything from cutting boards to passport holders, so you can really flex your creative muscles.
Find Vancouver wedding venues and vendors on WeddingWire »