5 Ways to Cut Wedding Transportation Costs
Booking transportation is a non-negotiable, but it doesn't have to eat up a ton of your wedding budget.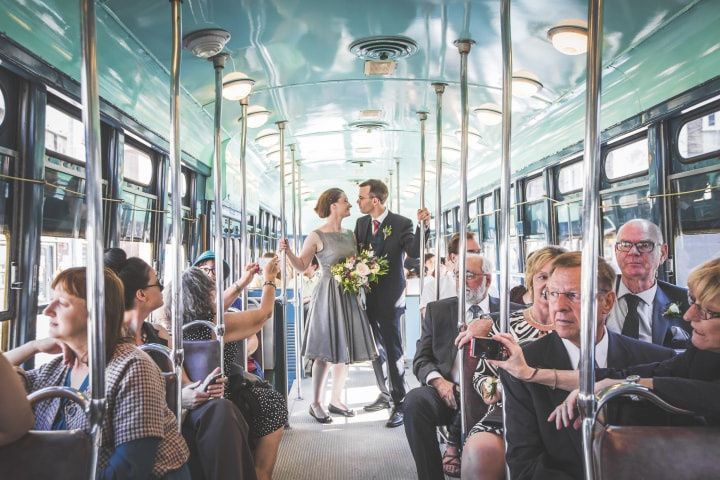 Transportation typically eats up about 2% of a couple's total wedding budget, but it doesn't have to. If you play your cards right you can definitely take it down a few dollars. From choosing your venue wisely to skipping multiple cars, these are a few surefire ways to shrink those pesky transportation costs.
Here are a few ways to cut wedding transportation costs.
Choose a venue that's close to your accommodations
The easiest way to save money on transportation is to choose a wedding venue that's within walking distance of your accommodations. This is perfect if you're planning a hotel wedding, because you'll be able to spend the night mere steps away from your event space. Note that this is probably next to impossible if you're doing a barn or country wedding, but don't fret, you can cut costs elsewhere.
Go big or go home
If you need to arrange transportation for your extra large wedding party (and maybe even a few of your guests), skip booking a bunch of different vehicles and go with one big one. A party bus is the perfect way to get everyone pumped before the main event and it will probably cost you significantly less than ordering a dozen cars.
Don't pay for everyone's ride
If you're worried that your guests may be late or lose their way, you may be tempted to organize shuttles for all of them to get from point A to point B. While it's a nice idea, it can get pretty pricey, especially if you have a lengthy guest list. Instead of chartering a fleet of cars, buses or limos, give your guests detailed travel instructions on an invitation insert and on your wedding website. You may want to consider including public transit routes and the numbers for local car services and anticipated travel times, too. They should have no trouble finding their way with all the instructions laid out for them.
Consider alternative forms of transportation
While limos are super chic, you don't need to ride in one on your wedding day. Think about going for an alternative form of transportation, like bikes! These will add an extra somethin' somethin' to your grand entrance and can be used as photo shoot props later on.
Skip the fancy getaway car
If you have to choose between arriving or leaving in style, go with the former. No one will judge you for using an uber or your own car to get from your reception to your after party. Just remember, you'll probably need a designated driver after all that champagne.