5 Things to Have Inside Your Party Bus or Limo
Want to take your transportation to the next level? Here's what you need to bring along for the ride.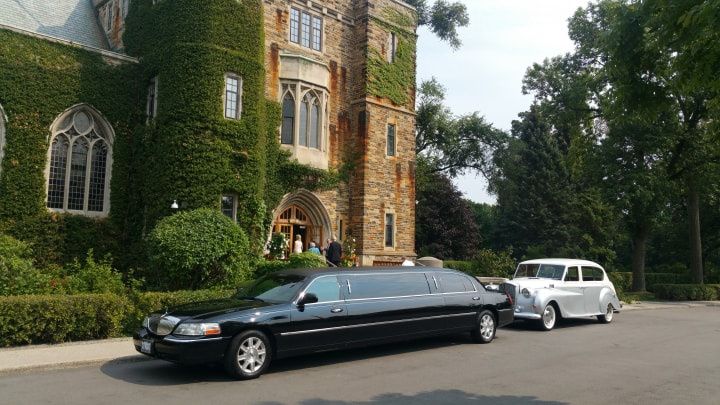 You're probably ditching your Ford Fusion for something a touch more festive on your wedding day, like a limo or party bus. While it's likely already equipped with plenty of bells and whistles, you'll probably want to pack a few things of your own for the ride. From boozy beverages to your camera, here's what you should be bringing along.
Here's what to stock your party bus or limo with.
A few boozy beverages
Now, your limo or bus may come with some complimentary champagne, but you may want to splurge on the good stuff - or ask your pals to splurge on the good stuff ;) - on your wedding day. It's a special occasion, and you deserve the best of the best. If bubbly isn't your go-to drink, feel free pack a different type of liquid courage for the ride - your wedding day means your rules. Tip: don't drink too much - you don't want to stumble down the aisle or slur your way through your vows!
Some snacks
You've got a long day ahead of you and it'll require some fuel. All those butterflies in your stomach may trick you into feeling full, but you don't want to skip eating before your ceremony begins. Though you probably ordered lunch before you set off, you may not have actually eaten it (no, two leaves of lettuce does not count). Pack a bag of trail mix, a granola bar or another small snack to help see you through. Remember, you don't want to munch on anything that could mess up your ensemble, so stick to things that aren't sticky or crumbly.
A music device
Pretty much every party bus or limo has an aux cord or bluetooth, so you can take over the DJ duties from your driver. Create a playlist on your phone or iPod (we've got a few to choose from) and get those pump up jams playing. Nothing quashes worries and warms cold feet like a little bit of Beyoncé.
Your wedding emergency kit
Your bridesmaids (or groomsmen) probably banded together to craft you an amazing wedding emergency kit and now's the time to put it to work. If your hands start feeling clammy, your eyes start watering or you feel a blister coming on, there's probably something that'll save you inside of it. Remember, it's best to fix these things ASAP, so don't leave it in the bottom of your luggage and hope for the best upon arriving at your venue - being proactive is key!
A camera
The ride to the venue is like the party before the party and you don't want to miss out on some killer candids. You probably won't have room to squeeze your photographer in with the rest of your wedding squad, so bring along a camera of your own. If you don't want to pack your own DSLR or polaroid cam, don't worry, your phone will do just fine - just make sure the battery is fully charged before hopping in (or bring along your charger).