16 Fun and LOL-Worthy Wedding Party Photo Ideas
Once all of the formal portraits have been taken, it's time to let loose with your best gals and guys for some fun wedding party photos.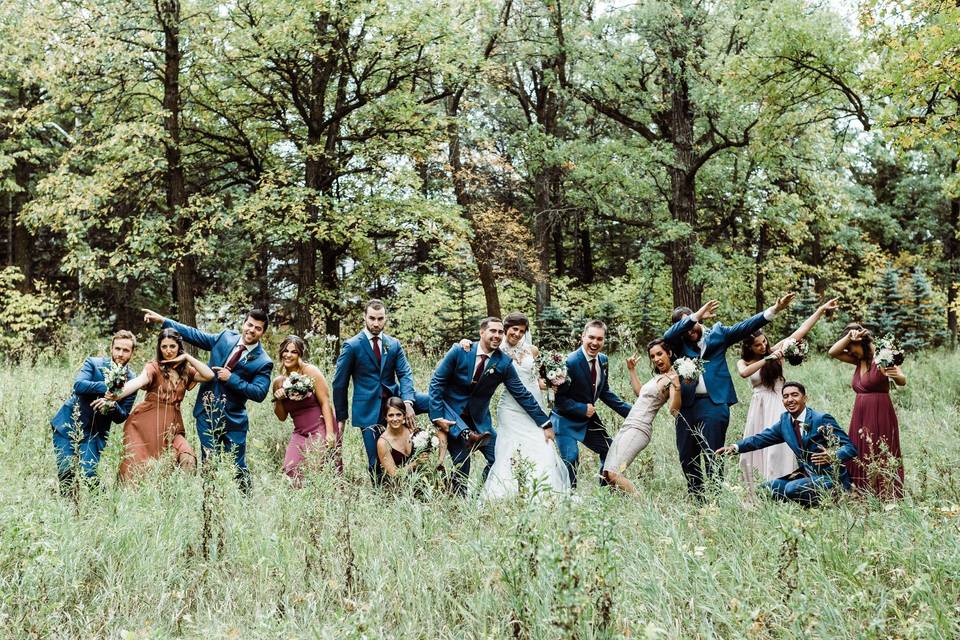 Once all of the formal portraits on your wedding day photography checklist have been taken, it's time to let loose with your best gals and guys to take fun wedding party photos. Trying some silly wedding party poses will help relax your crew and you'll end up with some hilarious pics too!
Here are some of our favourite wedding party photo ideas for creative and LOL-worthy pics.
The stunt group
While this definitely makes for a silly wedding party photo-op, be sure to take extra precaution to avoid any accidental injuries.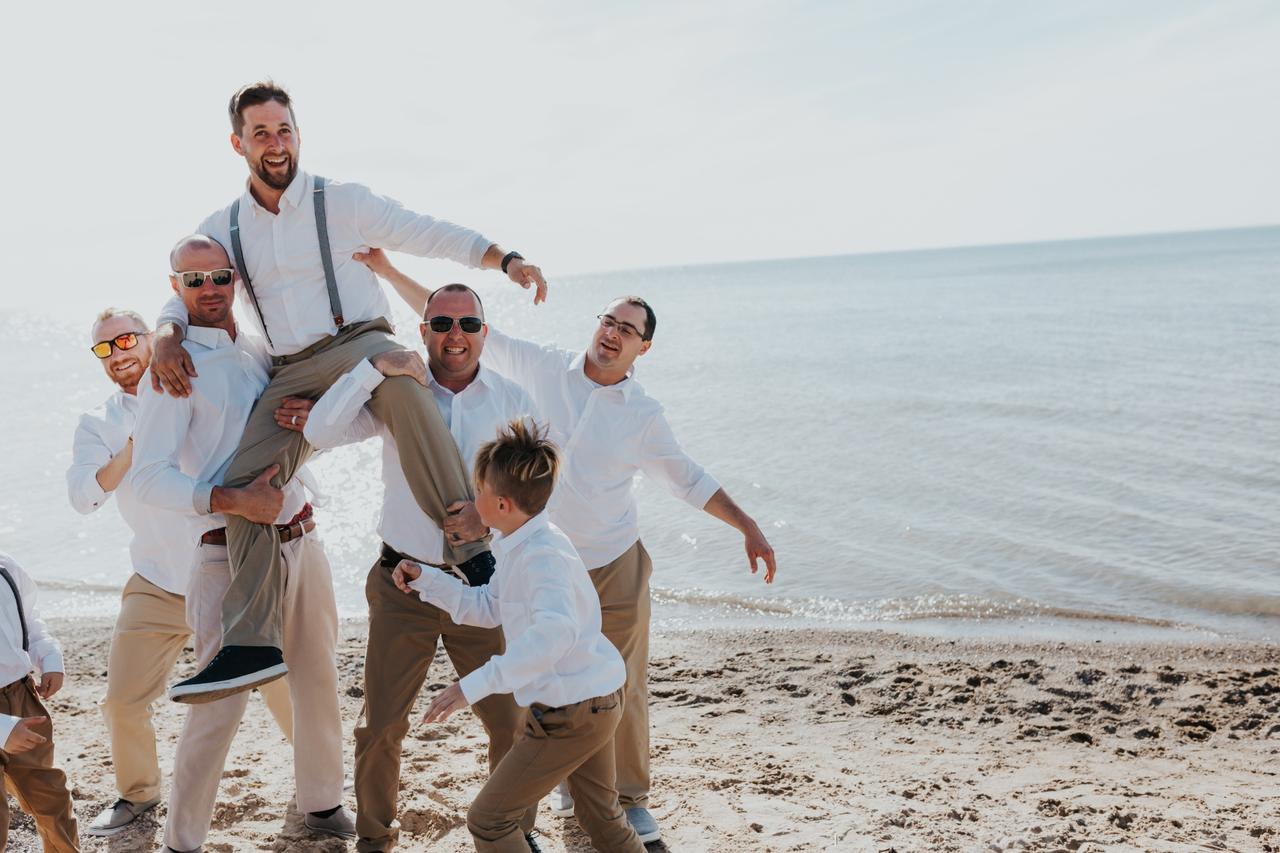 Go for a stroll
Get your group together and stroll towards the camera. With your wedding photographer capturing it all on film, it will feel like your own Hollywood moment!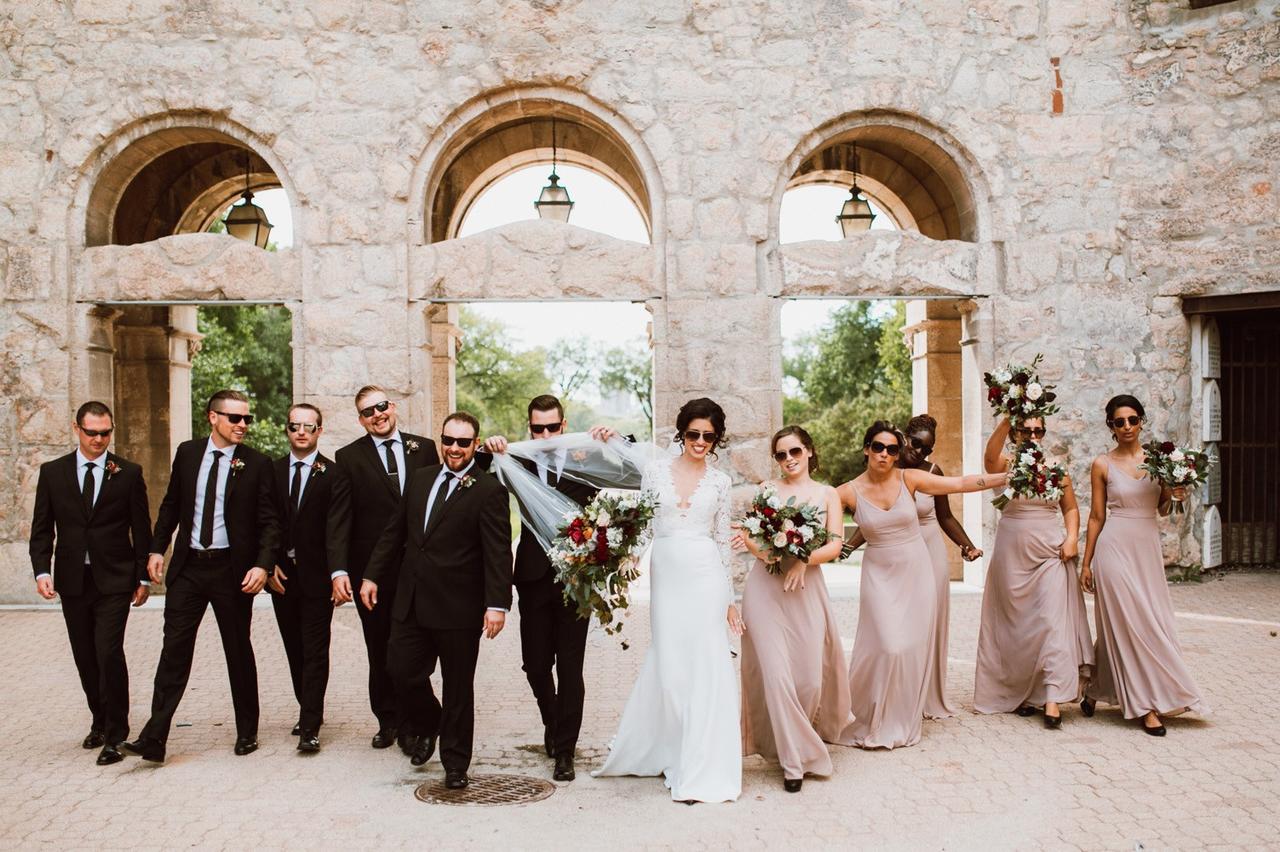 Follow the leader
Some locations lend themselves to a follow-the-leader approach. This wedding party photo idea looks great in the countryside, walking down the sidewalk or crossing a city street (a la The Beatles Abbey Road album cover).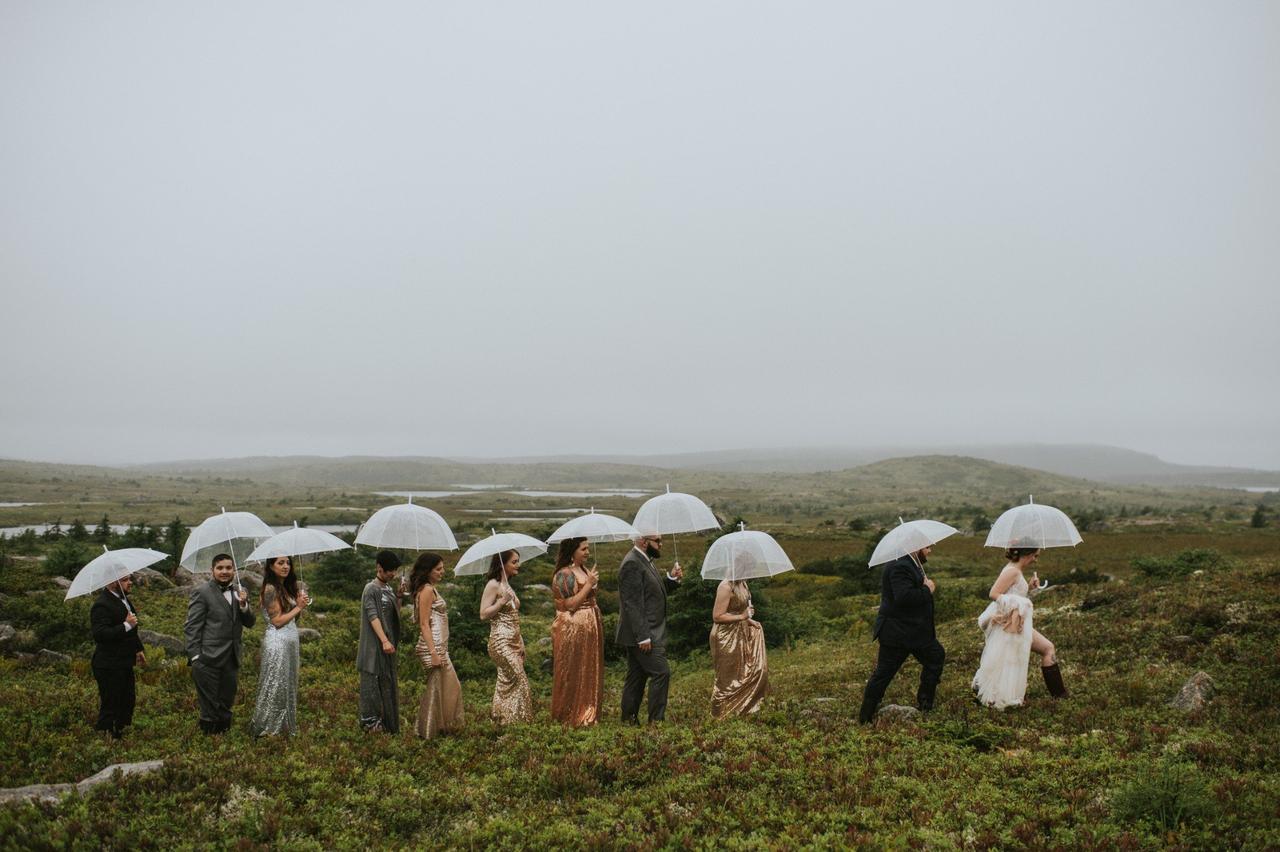 Smoke bomb
If you love the look of smoke bomb wedding portraits, be sure to capture one with your entire wedding party too.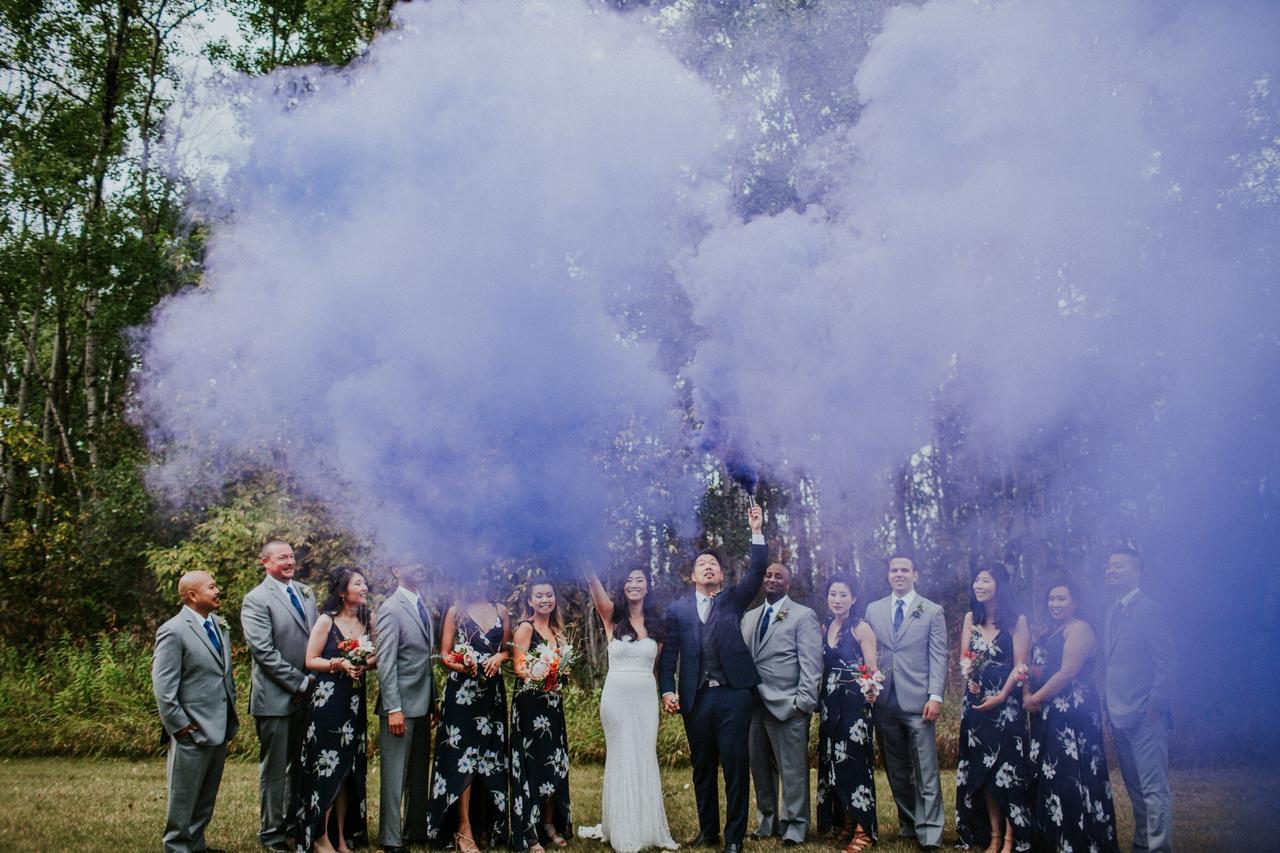 Strike a pose
Pretend you're models posing for a fashion shoot with your best 'Blue Steel'.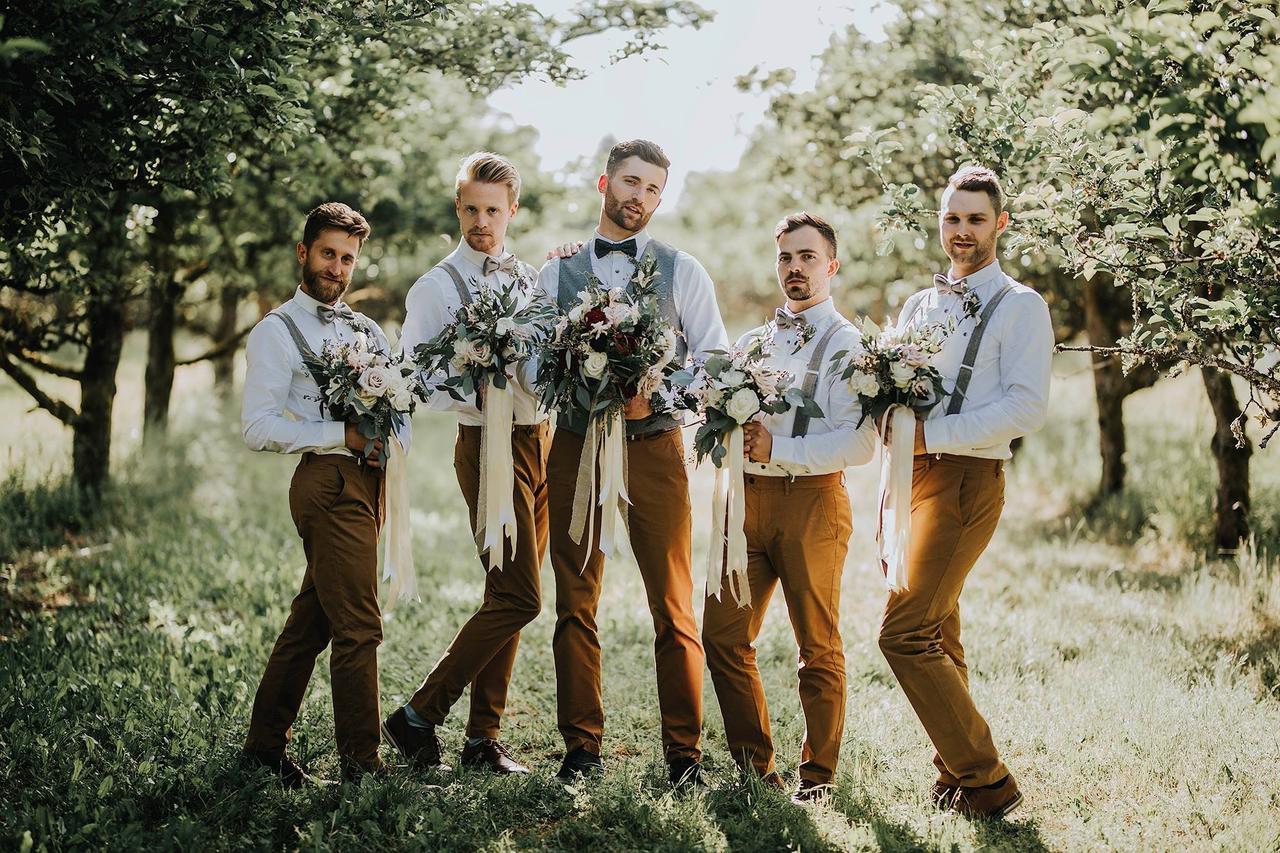 Staggered configuration
If it works for an indie rock band promo shot, it can work for you and your besties. Take your spot in front and stagger your wedding party members behind you.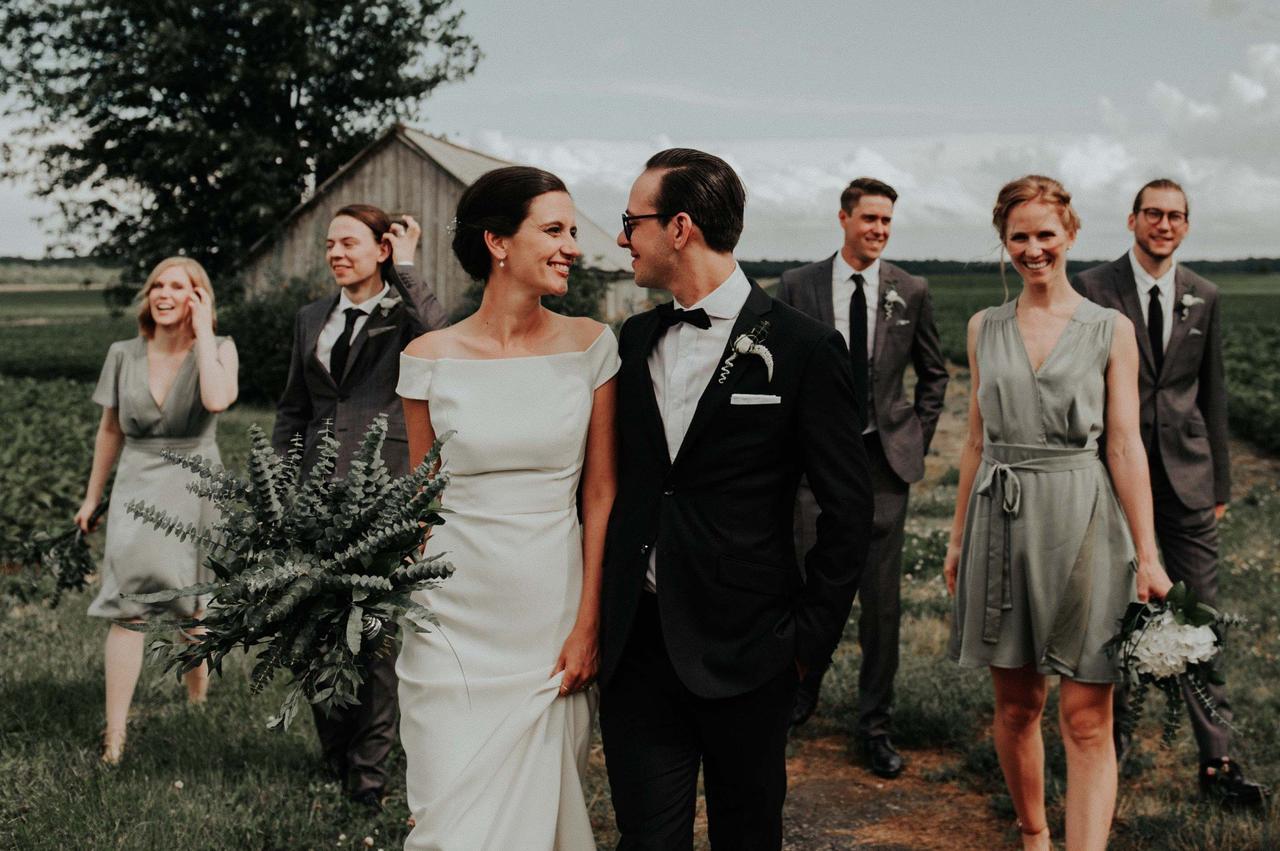 Groom with bridesmaids
Mix things up and get a shot of the groom with the bridesmaids. We love this shot featuring the bride's bouquet.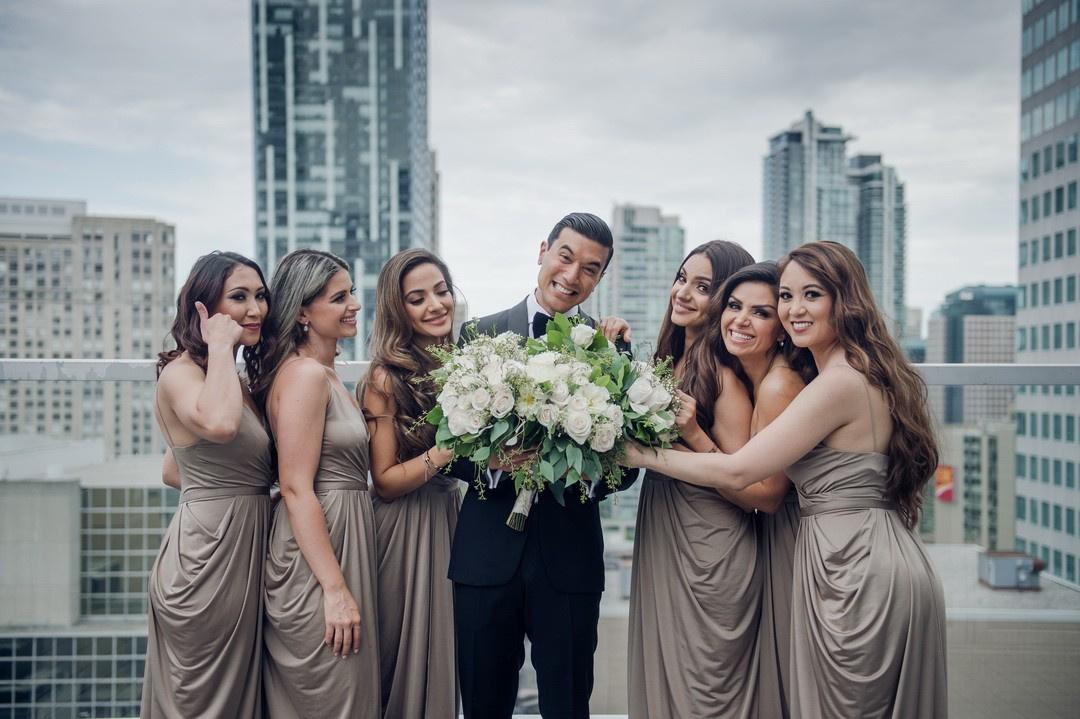 Bride with groomsmen
Follow suit and capture the bride with the groomsmen too!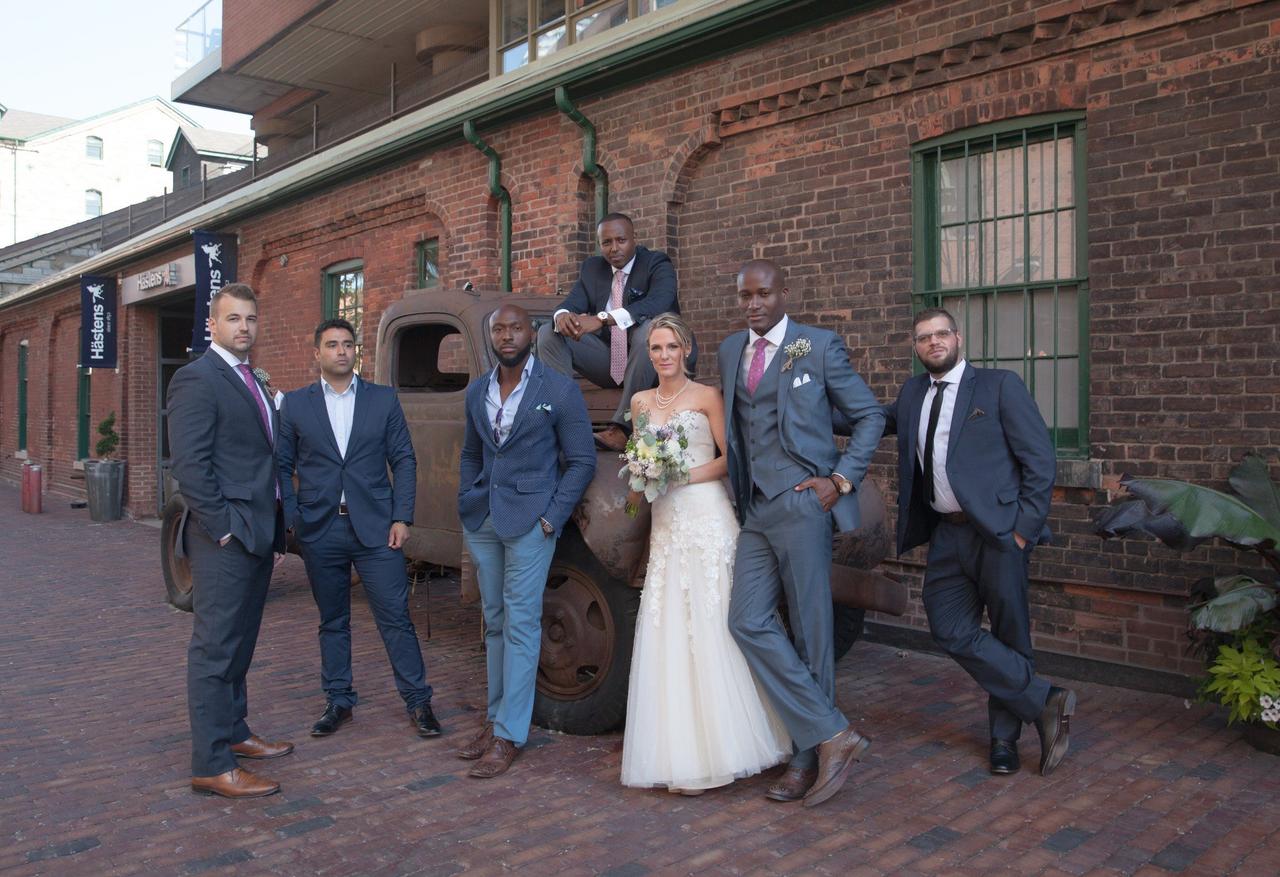 Funny faces
Have your VIPs make ridiculous faces – emulating their favourite emoji perhaps?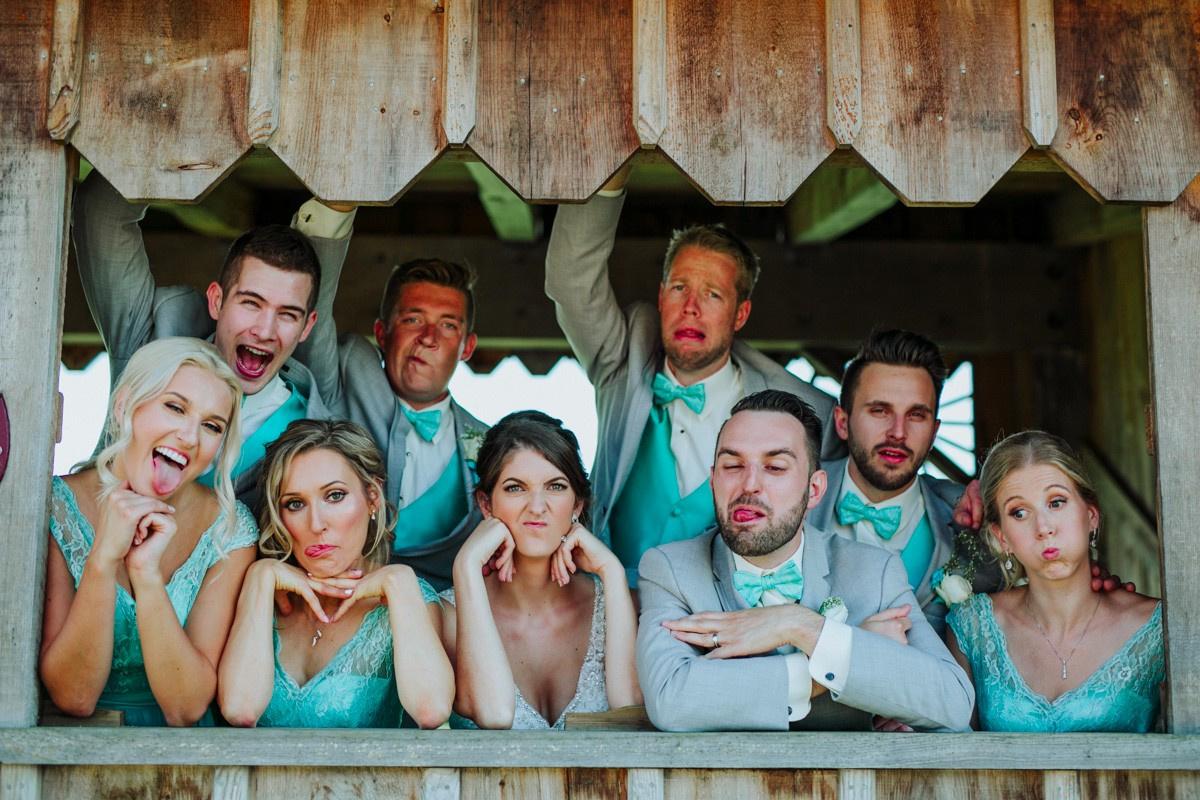 Tug of war
Split into teams and embrace a bit of friendly competition for this fun wedding party photo (just don't go overboard!).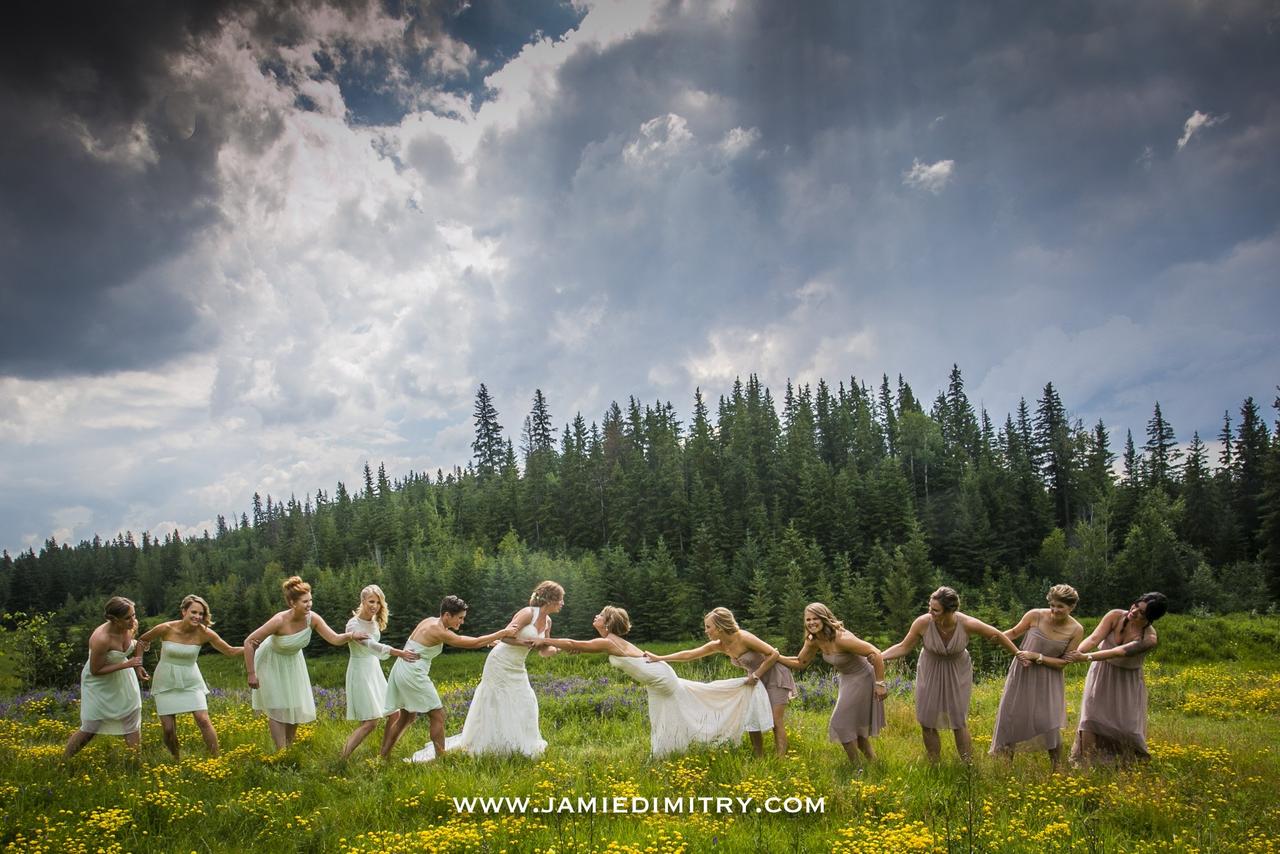 Standing still
Ask your photographer to capture this effect for a wedding album photo that's oh-so-romantic.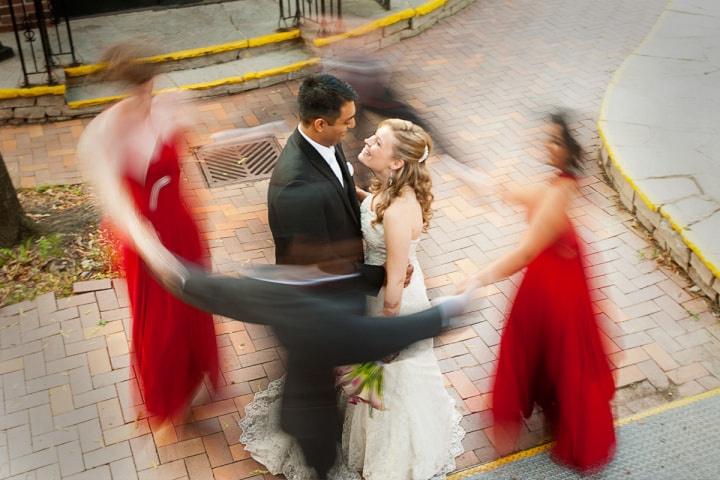 Recreate a moment
If you love the movie Bridesmaids as much as we do, then try recreating the film's poster with this bridal party pose.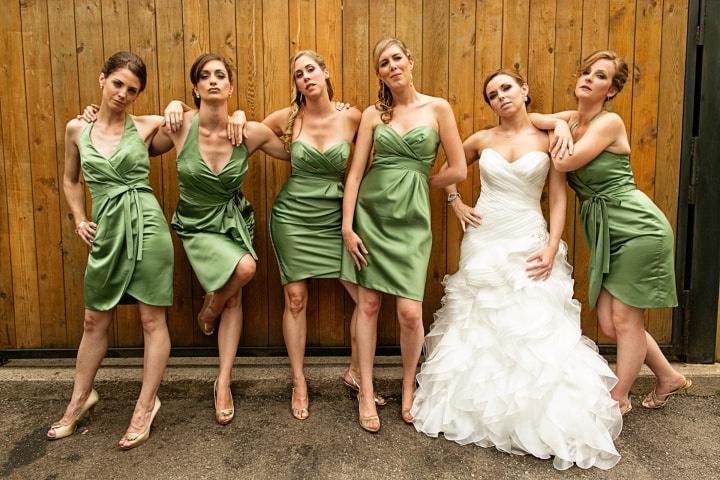 Get down to business
We have to admit that the matching suits, sneakers and sunglasses make these guys look extra cool. Are we the only ones getting a Men in Black vibe here? Plus, how cute is that ring bearer?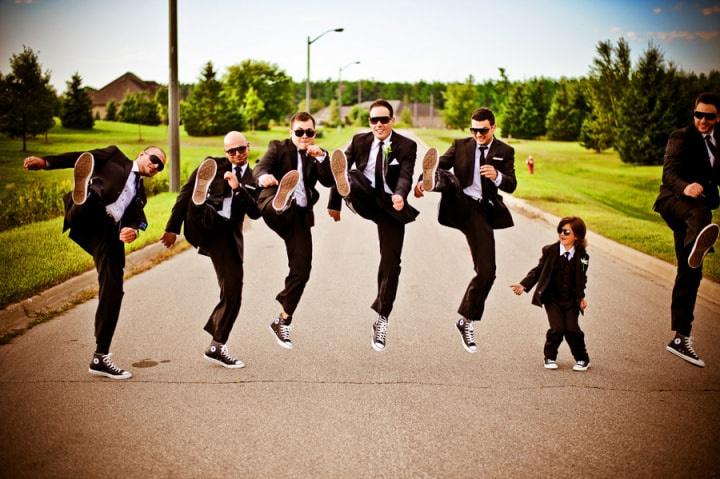 Group hug
Your wedding day is all about marrying your spouse-to-be, but don't forget about your best friends and loved ones! Capture the moment with a sweet group hug snapshot.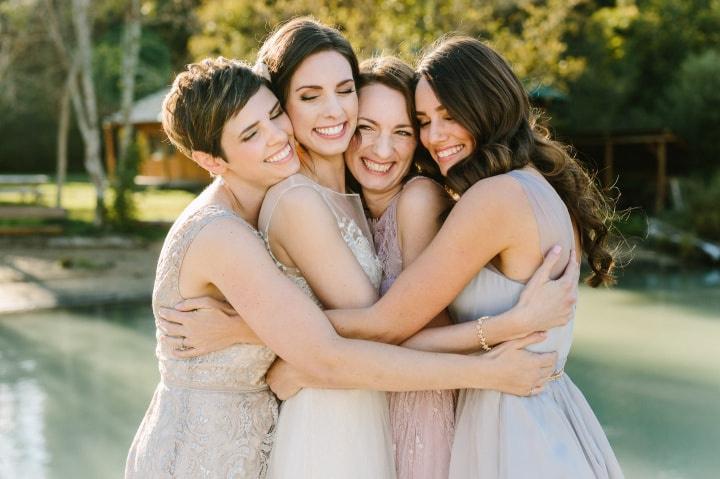 Sneak a peak
This concept featuring the bride and groom locking lips surrounded by the wedding party sneaking a peak actually makes for a pretty cute pic.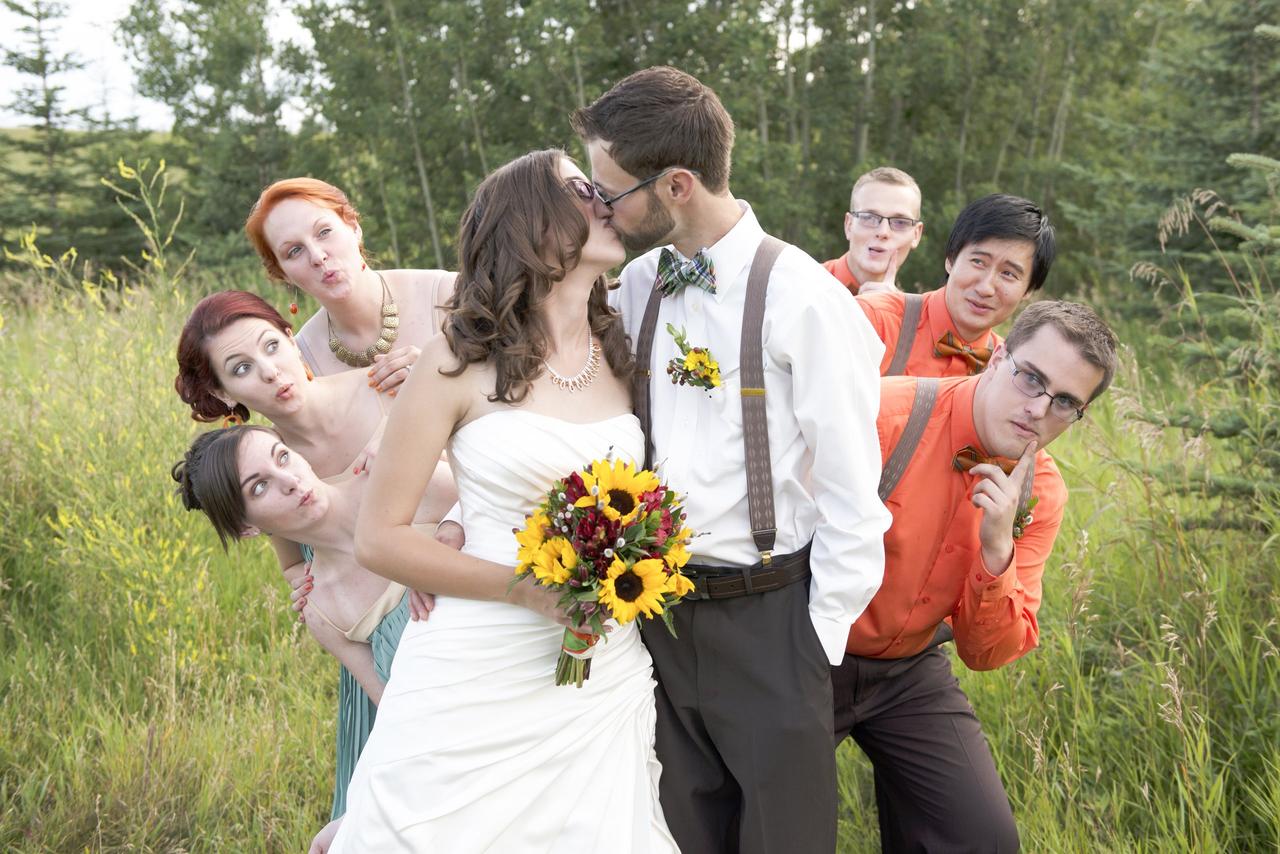 Show off your bling
One of the most exciting parts about saying "I do" is the brand new wedding band you'll be sporting at the end of the day. Don't be afraid to show it off!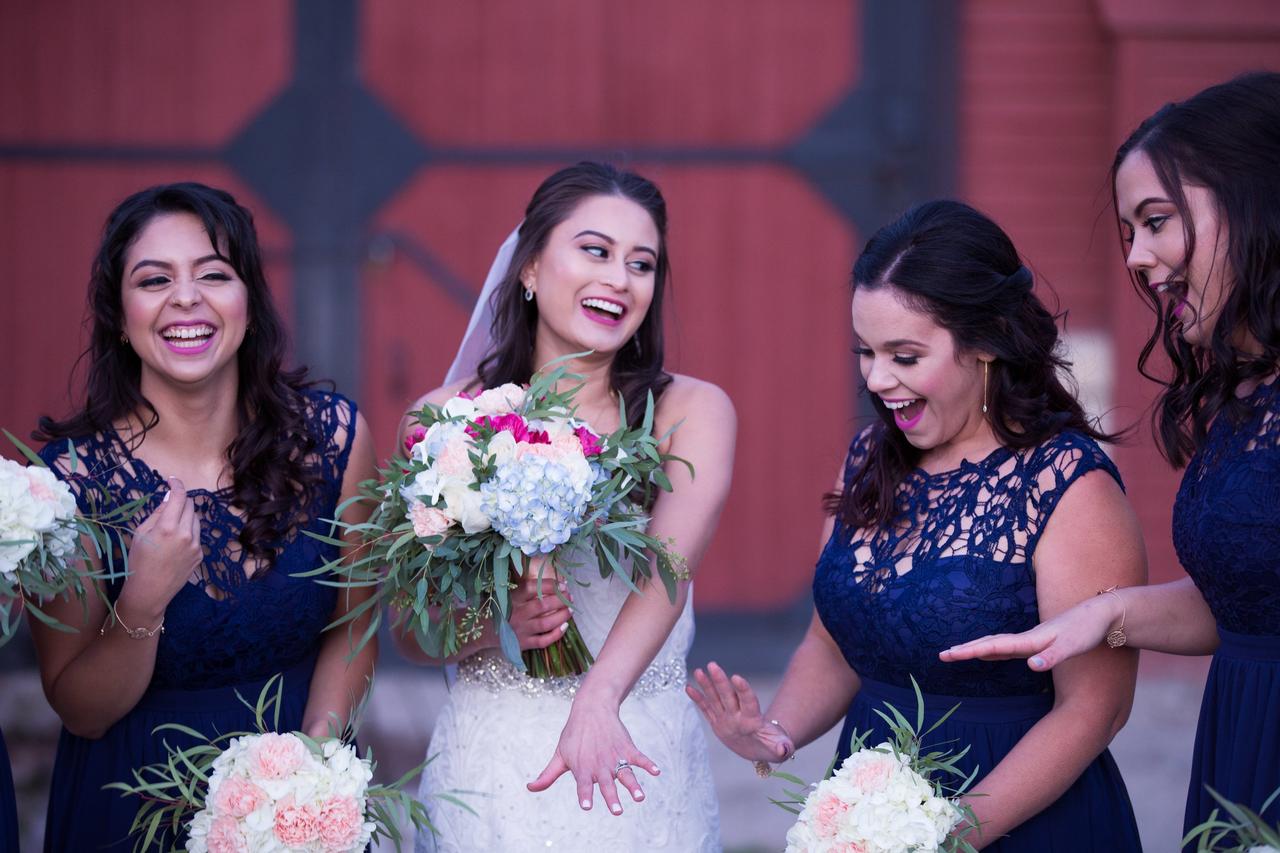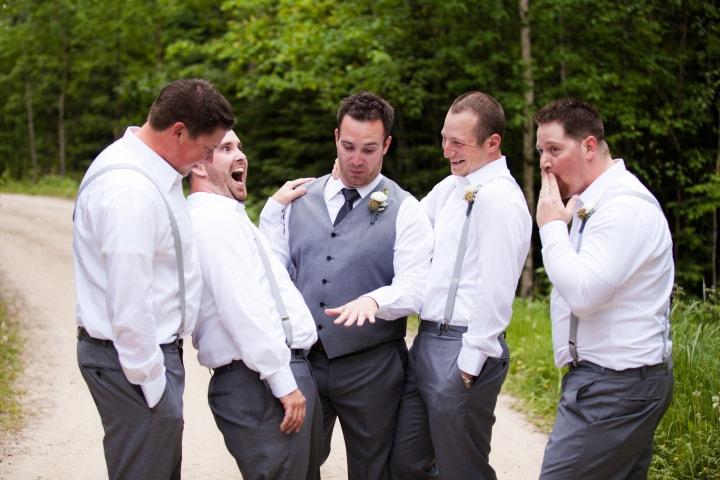 Find your wedding photographer on WeddingWire »