26 Awesome Festival Wedding Theme Ideas
If you're in the market for a fun and fresh vision for your big day, a festival wedding theme will be right up your alley.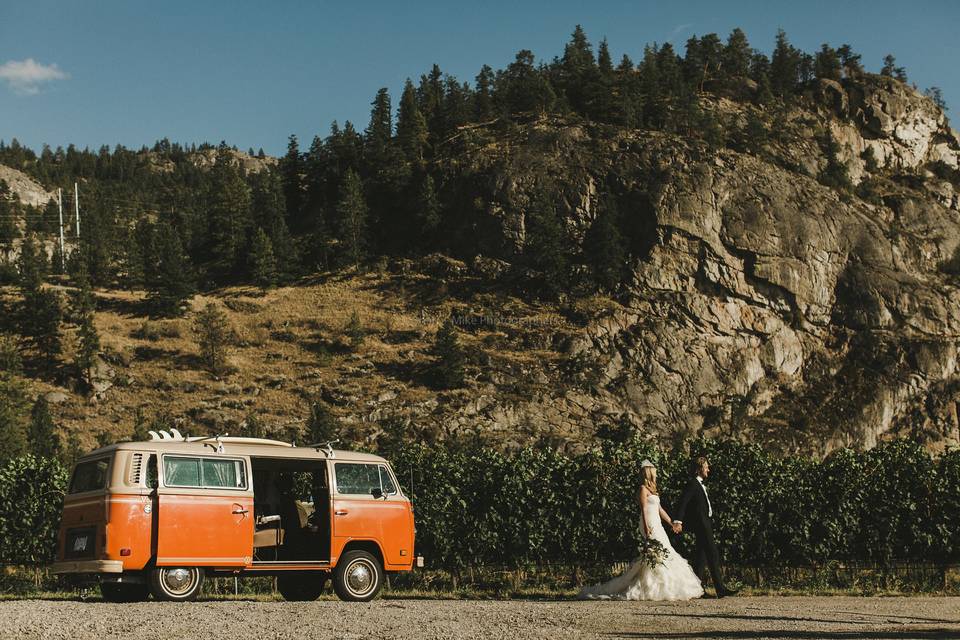 Tired of rustic-chic barn weddings? Yawn at the idea of hosting your big day in a hotel? Just want something a little different? Well, a festival wedding theme might be perfect for you. From an outdoor venue to trendy foods, we've rounded up everything you need to create an absolutely epic celebration.
Here are a few awesome festival wedding theme ideas.
Ticket invitations
Let your guests know that your big day is going to have a festival wedding theme from the get-go by sending out ticket invitations or VIP lanyards.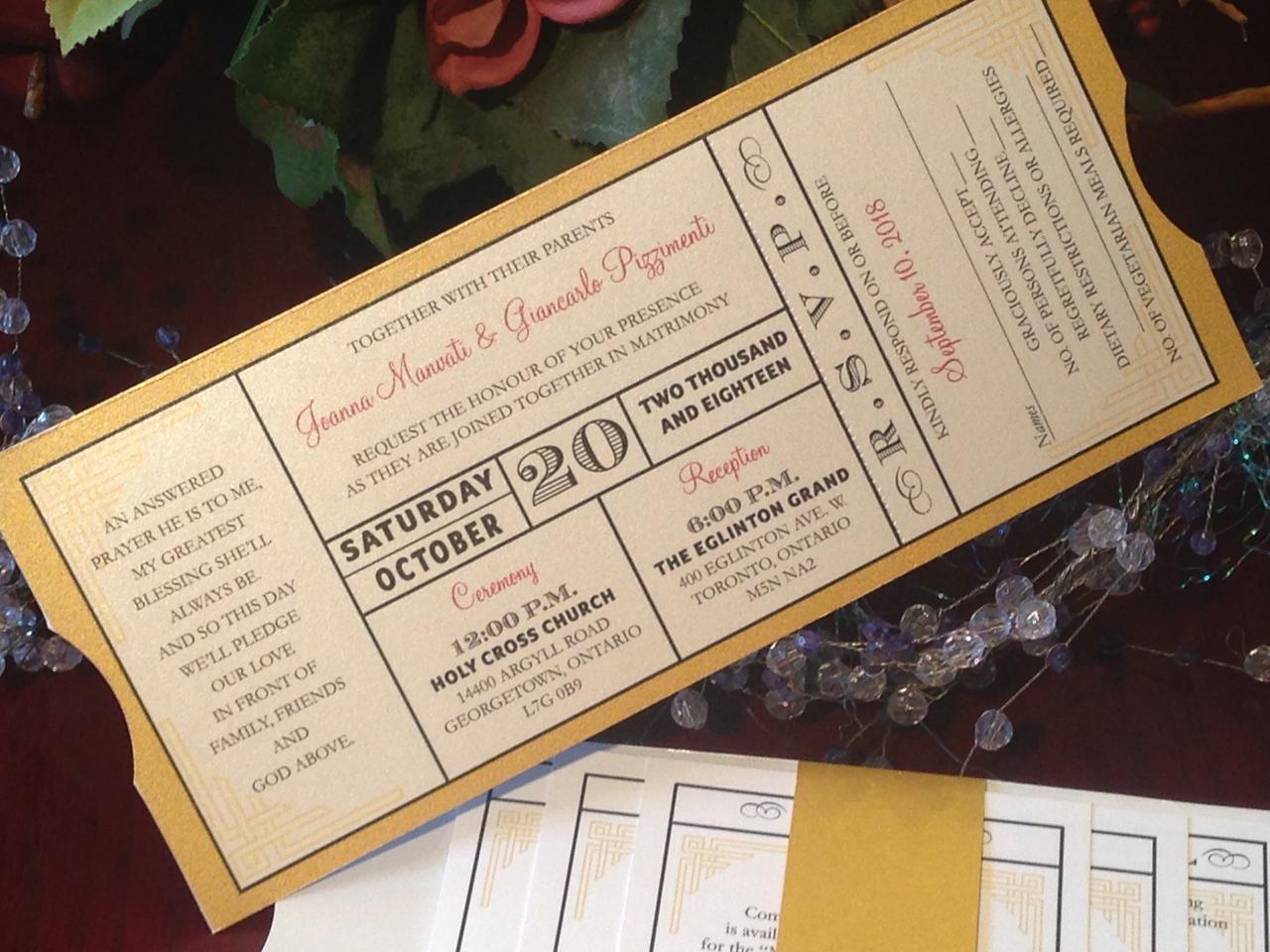 Outdoor Venue
Naturally, you're going to want to find a wedding venue that resembles a festival ground. That means looking for a place with acres of grassy land for your fun and frolicking. We suggest scrolling through our farm wedding venues section to find a dreamy countryside estate that fits the bill.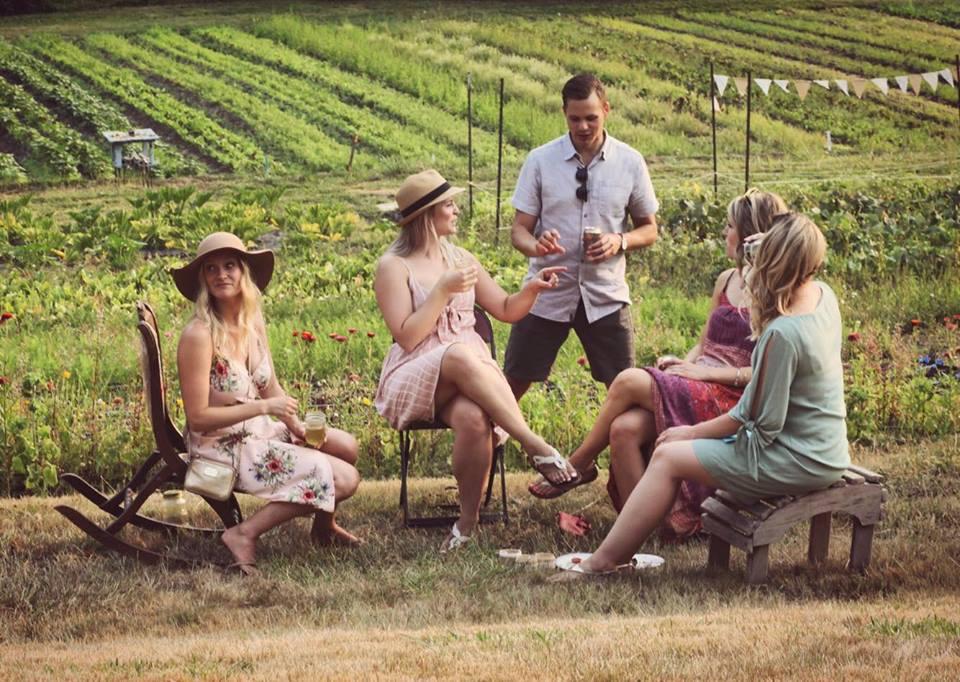 Marquee
Another thing you'll need for your venue is tents or yurts for your guests to party in when they need a break from the sunshine (or if rain strikes up).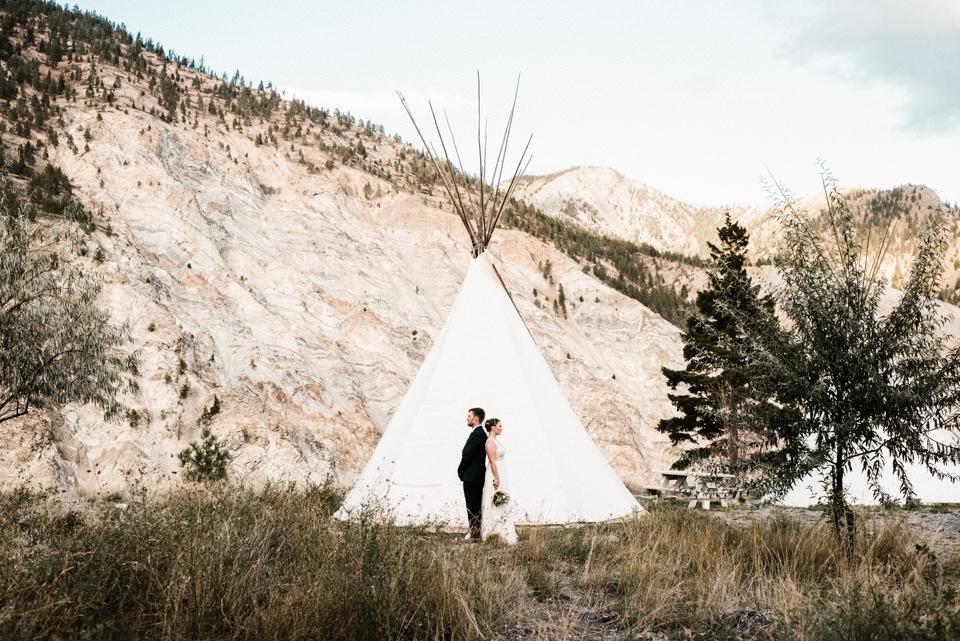 Tent Bridal Suite
Speaking of tents, you may want to invest in one for your bridal suite, as well. You can make this a VIP destination during your reception, too.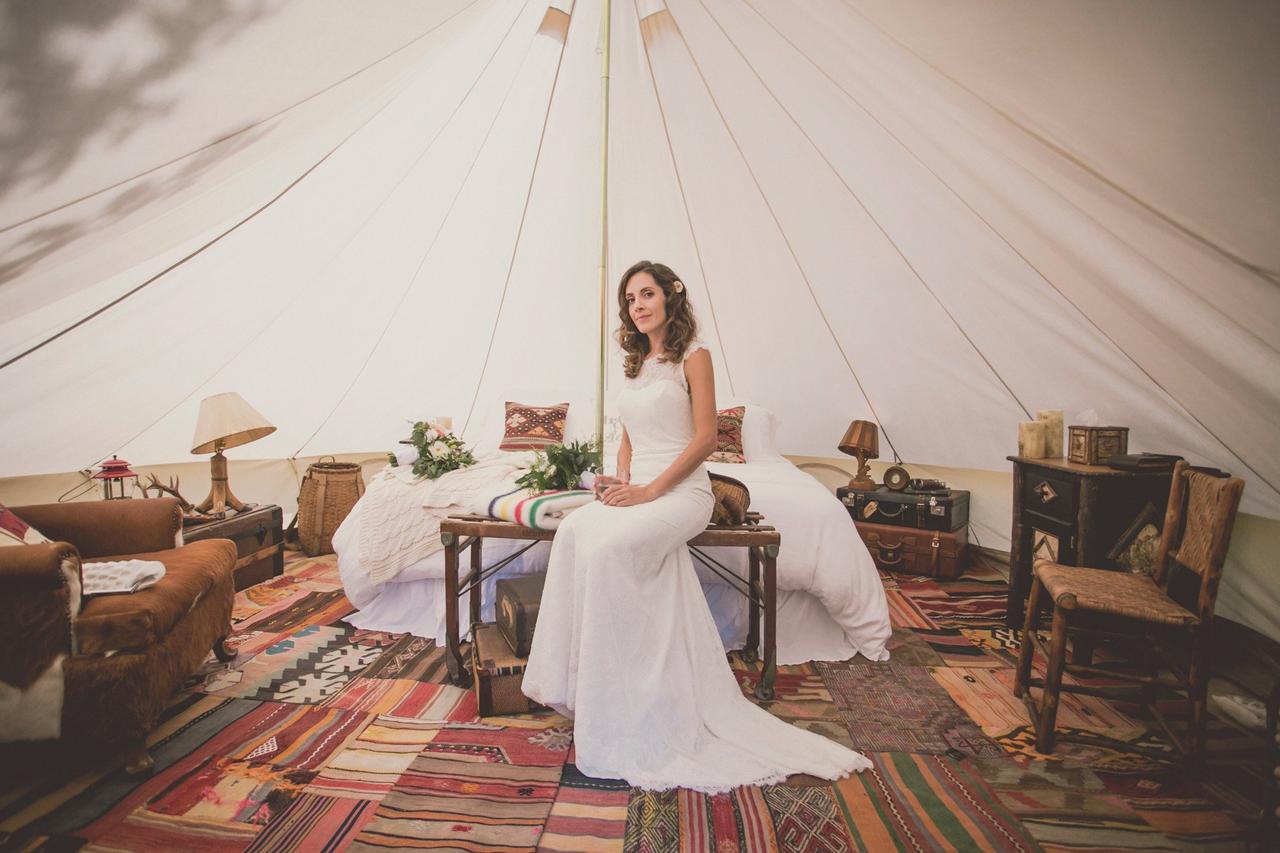 Over-the-Top Makeup
Everyone knows that festival season is the time to break out the crazy colour pigments, bold lippies, glitter and faux tattoos, so hop on the bandwagon for your big day. If you don't want to rock over-the-top glam at your ceremony, you can save it for your reception and wow your guests when you make an entrance.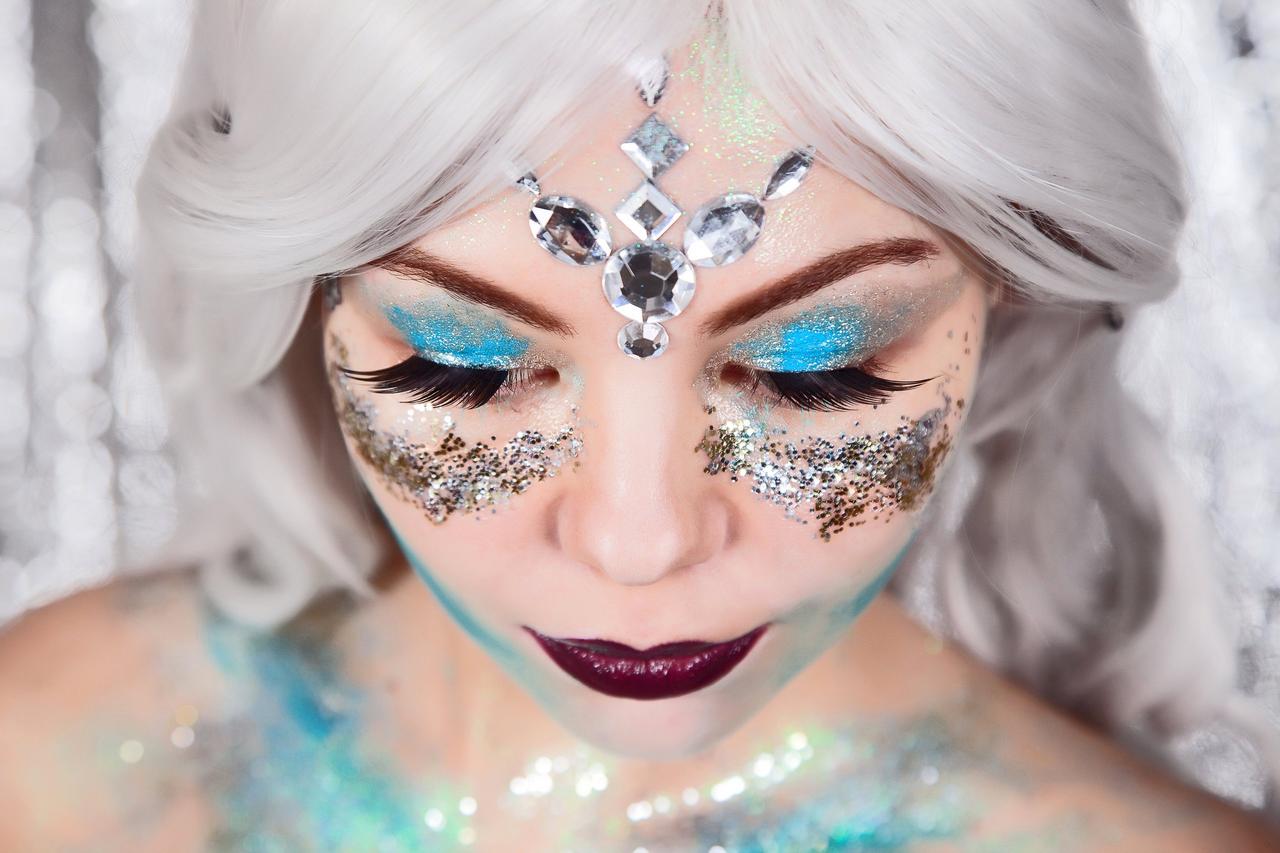 Converse
Imaging walking around festival grounds for hours and hours in heels? Sounds like a nightmare, right? Avoid getting your stilettos stuck in the grass by skipping them altogether and sporting Converse sneakers or stylish flats on your big day. Trust us, your feet will thank you.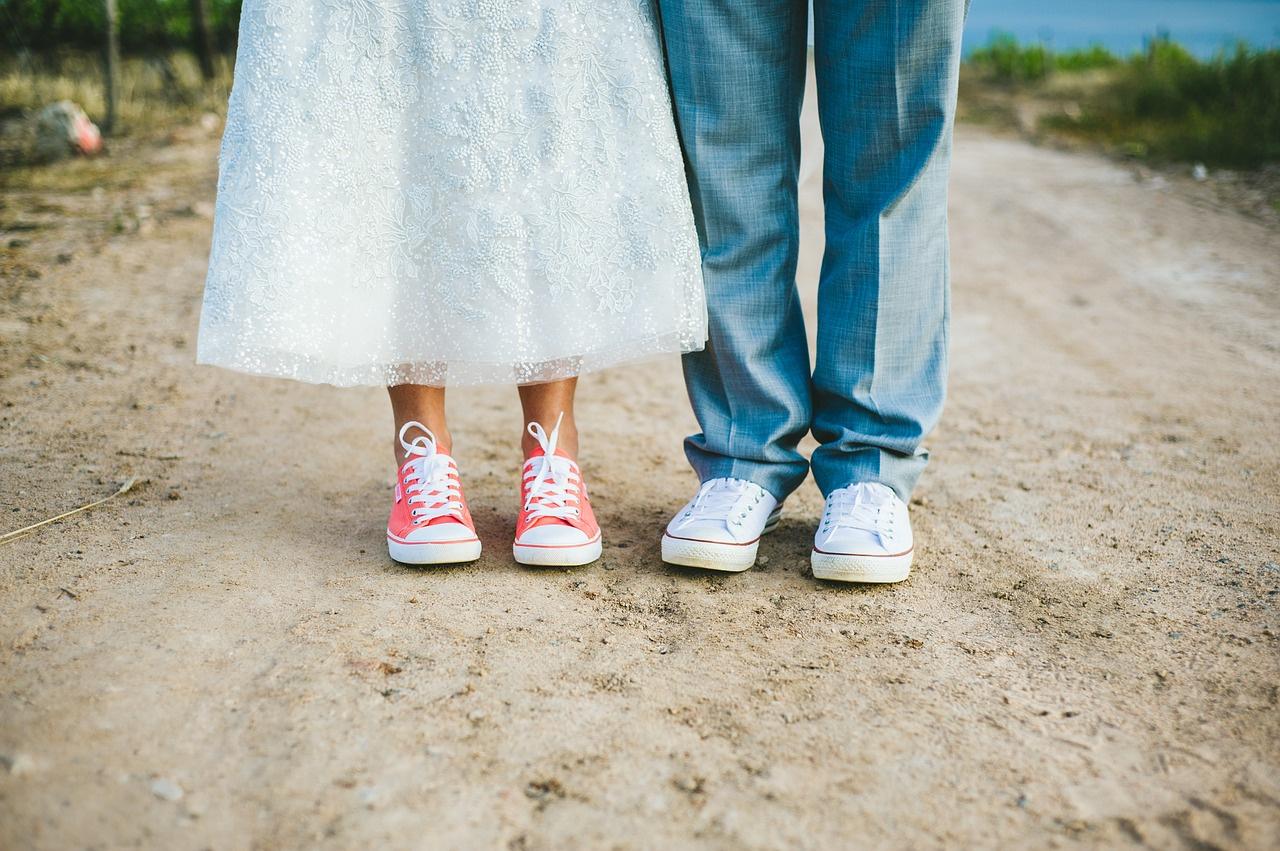 Colourful bridesmaid ensembles
Forget about blush pink and beige - rainbow bridesmaid dresses suit a festival wedding theme perfectly.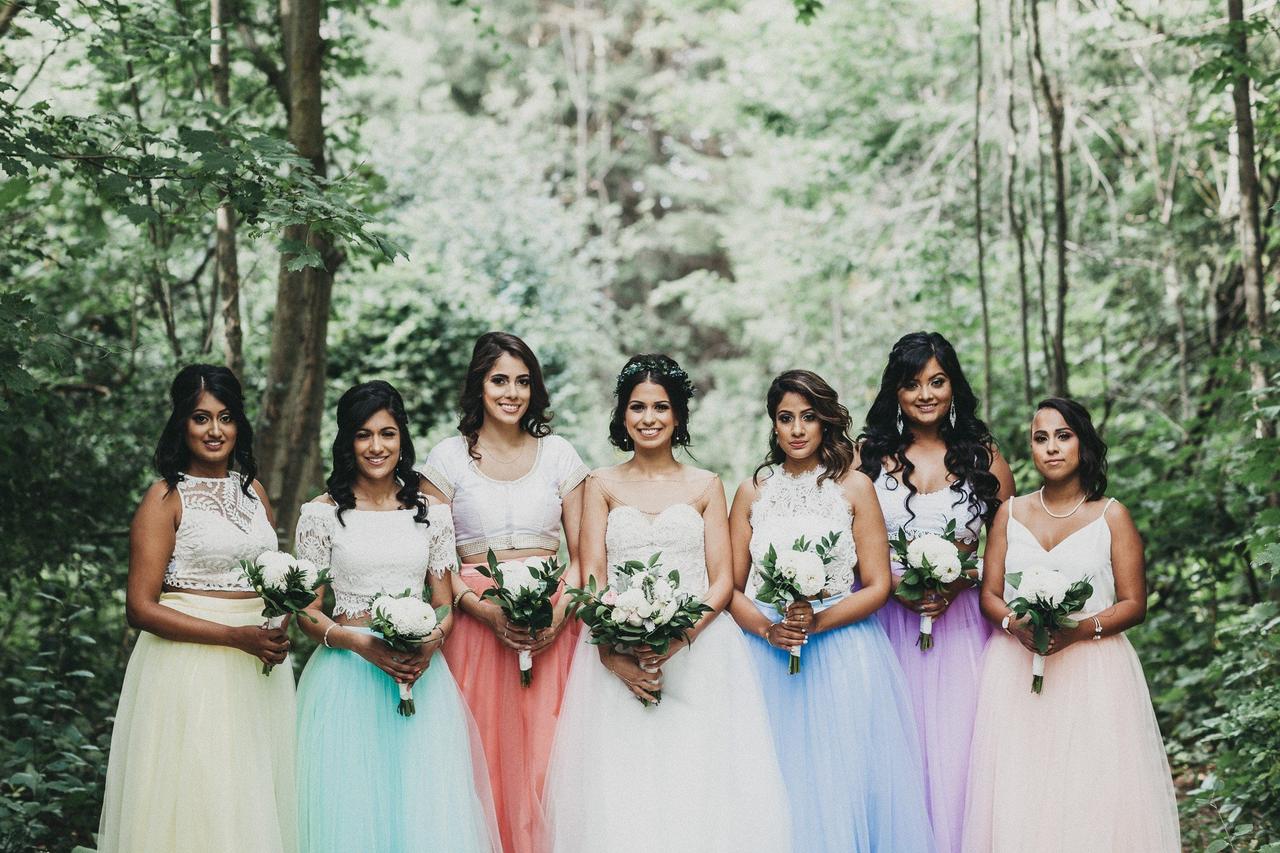 Wildflower bouquet
Carry those relaxed, boho vibes into your wedding bouquet by choosing loosely-tied wildflowers (we suggest following suit with your other arrangements, too).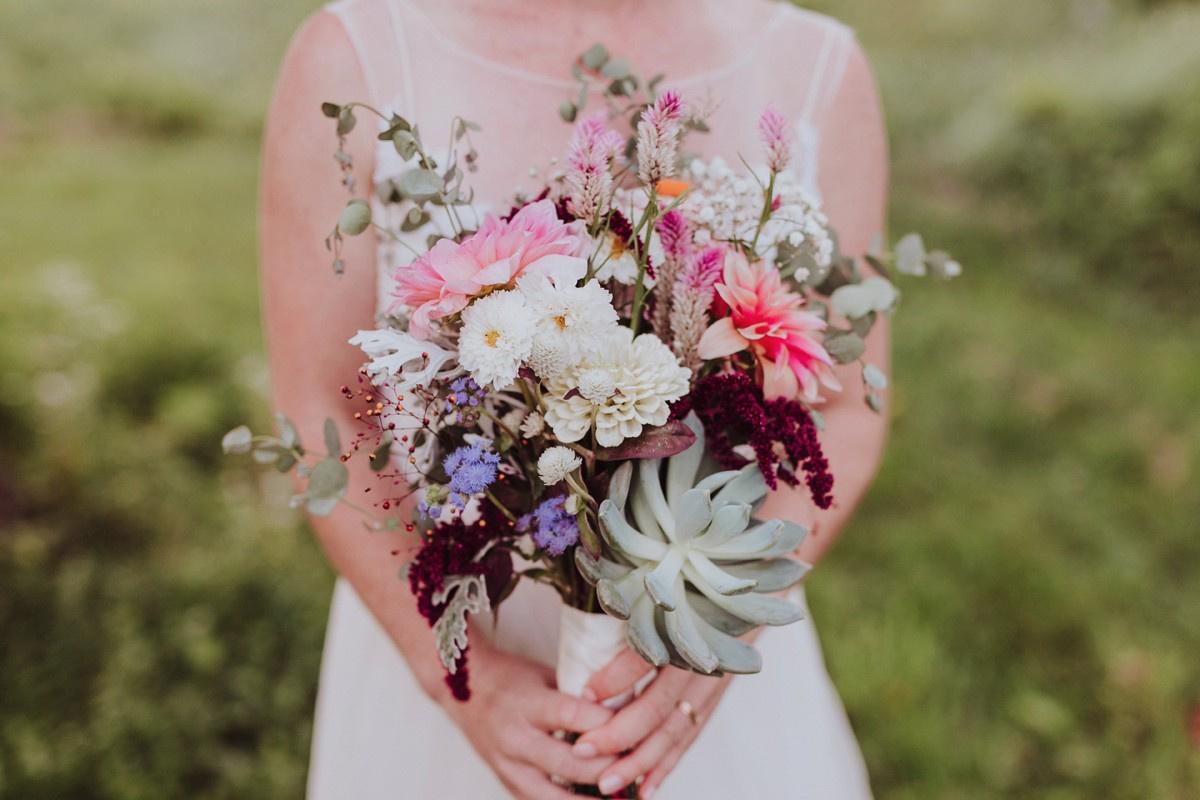 Flower Crowns
Speaking of flowers, festivals like Coachella, are where flower crowns are truly most appreciated, and good news, they make for great wedding hair accessories, too.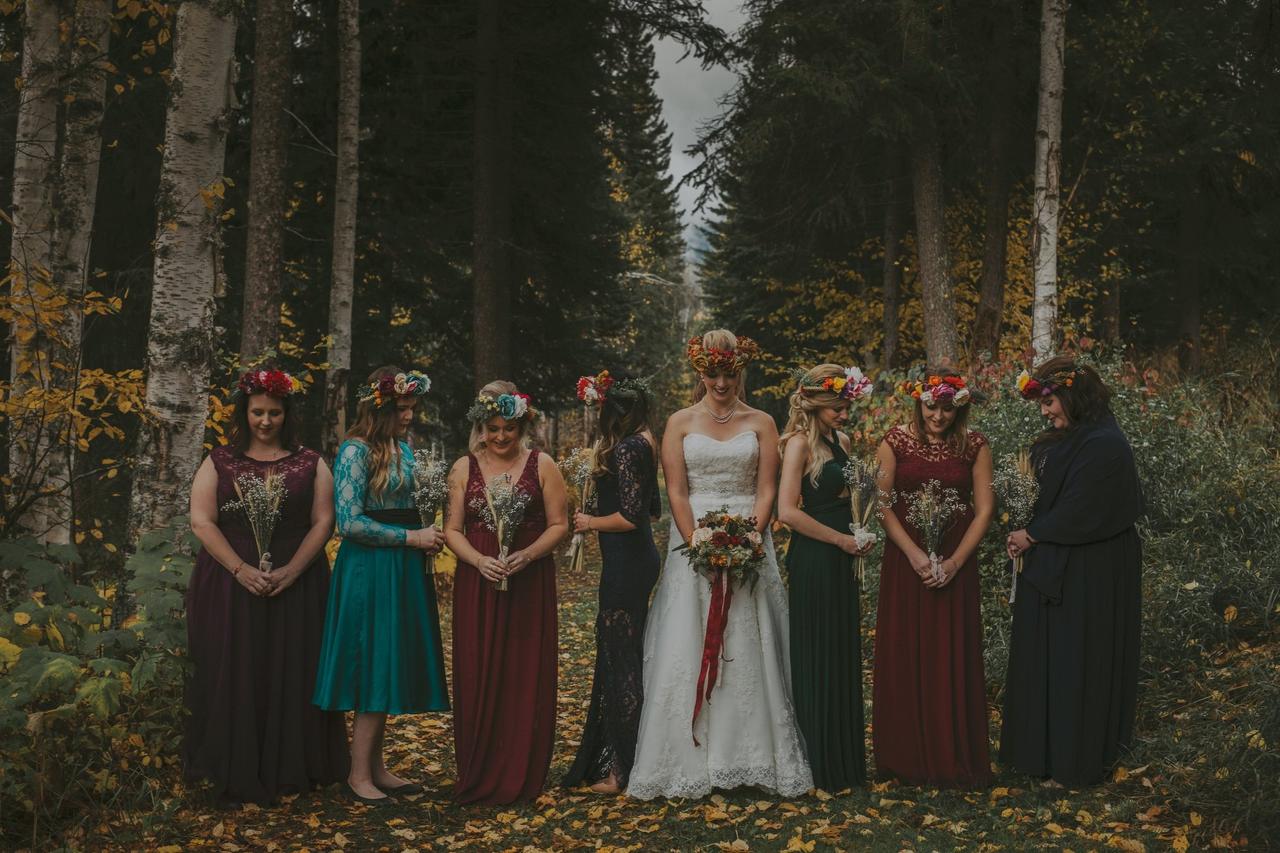 Lyrical Wedding Vows
Infuse your ceremony with your love of music by working some of your favourite love song lyrics into your wedding vows. You totally get bonus points if they're from your first dance song.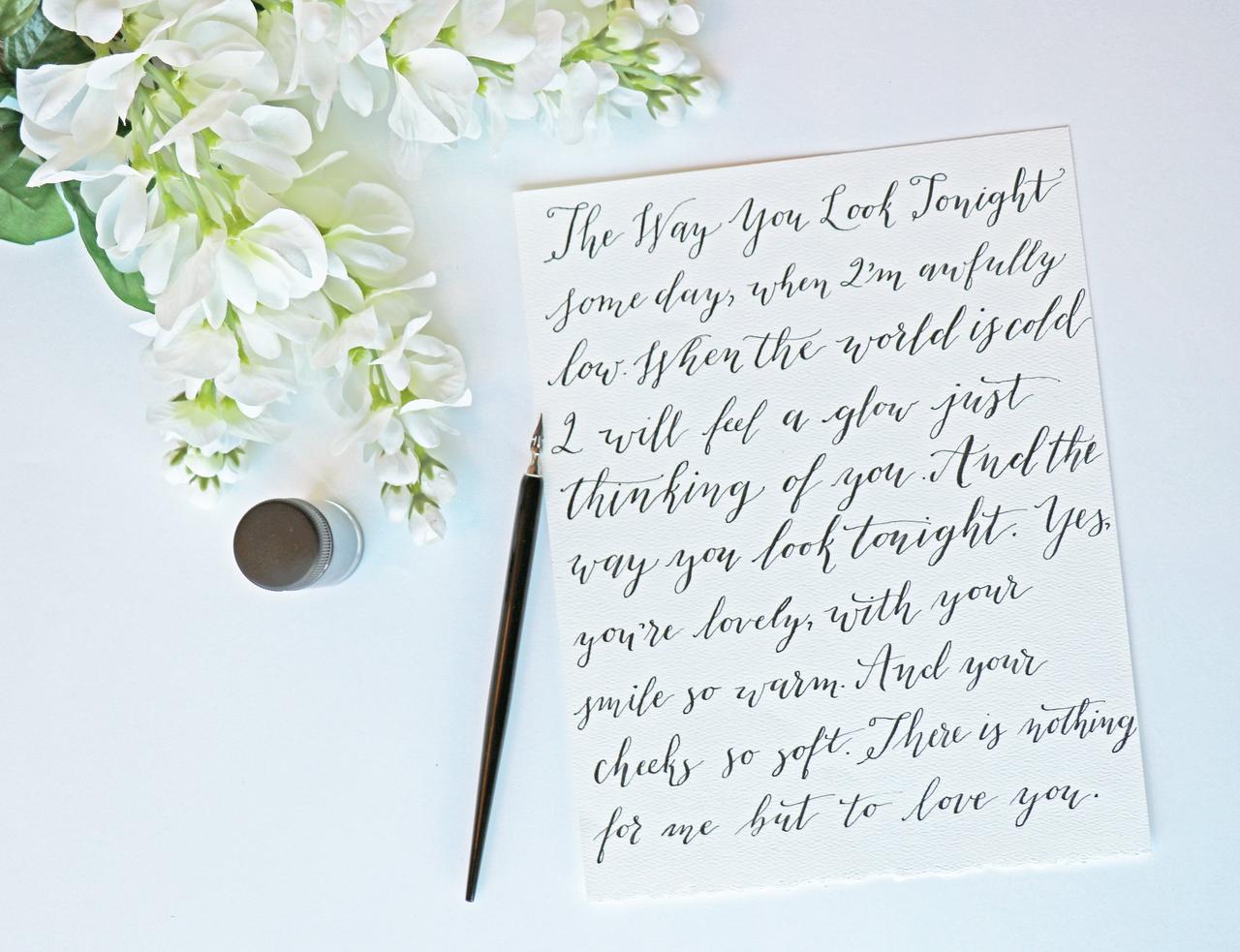 Fans
Things can get pretty sweaty in the summer sun, so gift your guests with fans to keep 'em cool. P.S. These can totally double as wedding favours.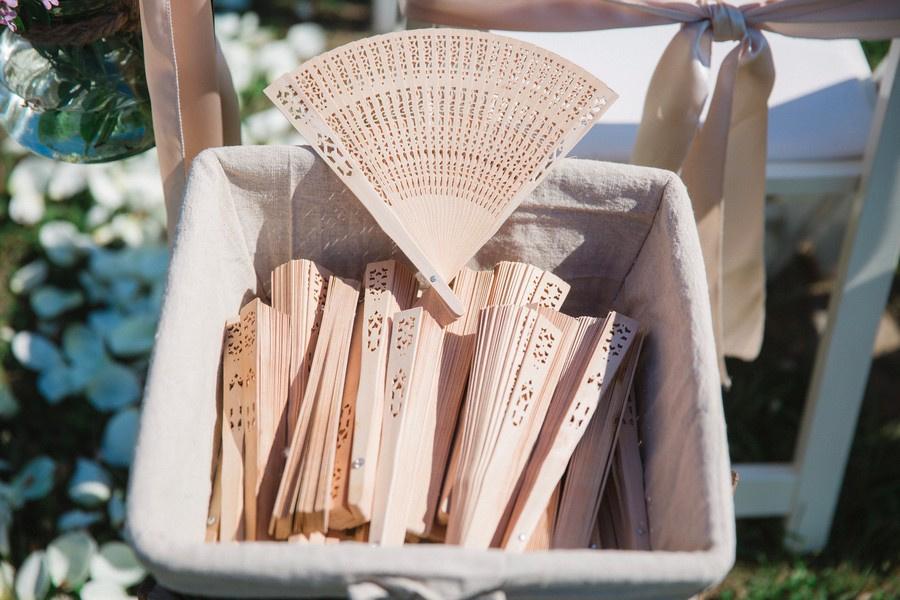 Airstream Photo Booth
Obviously, a photobooth is a must. I mean, half the fun of festivals is all the photos, right? Make yours a bit more interesting by skipping the basic backdrop and having it inside a vintage Airstream, instead.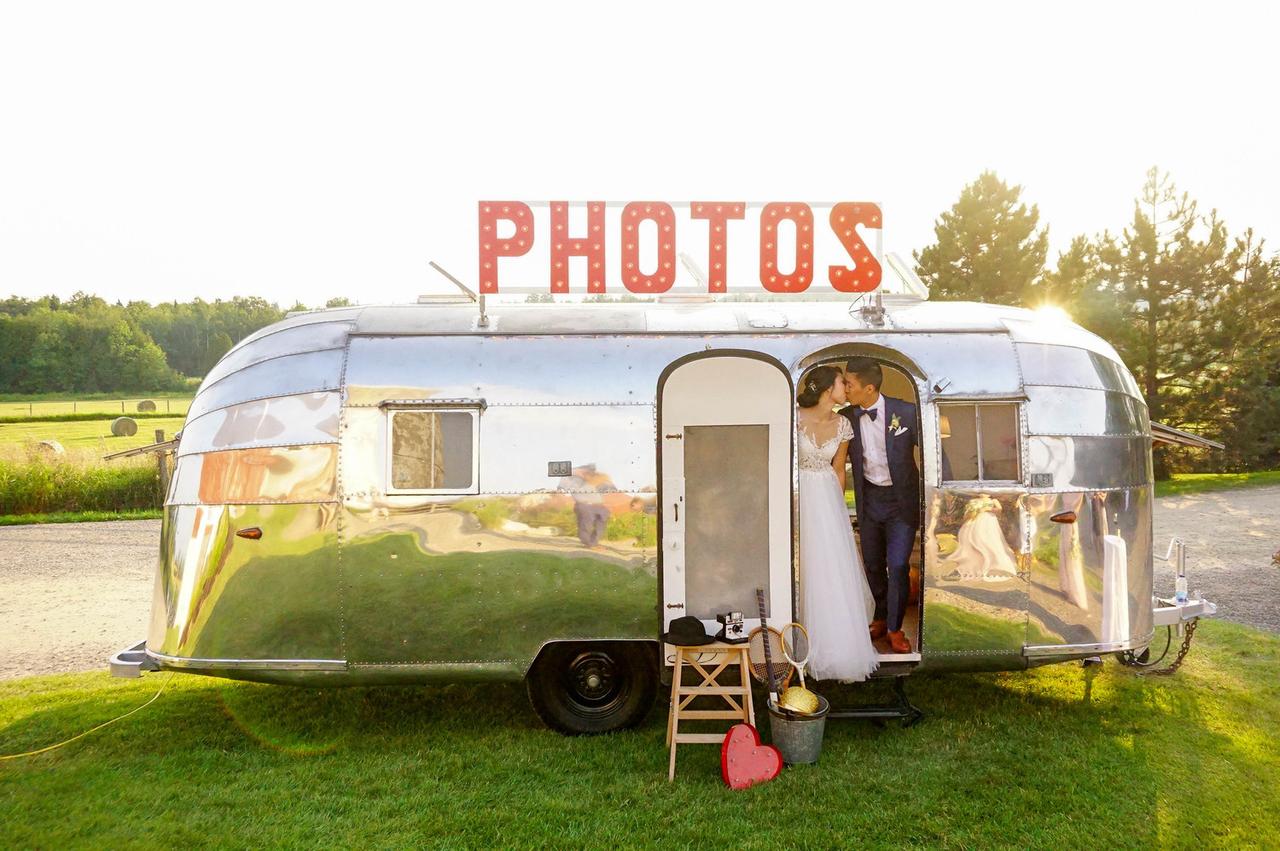 Hashtag
You'll definitely want to create a wedding hashtag so that all those sweet pics are easy to find on social media.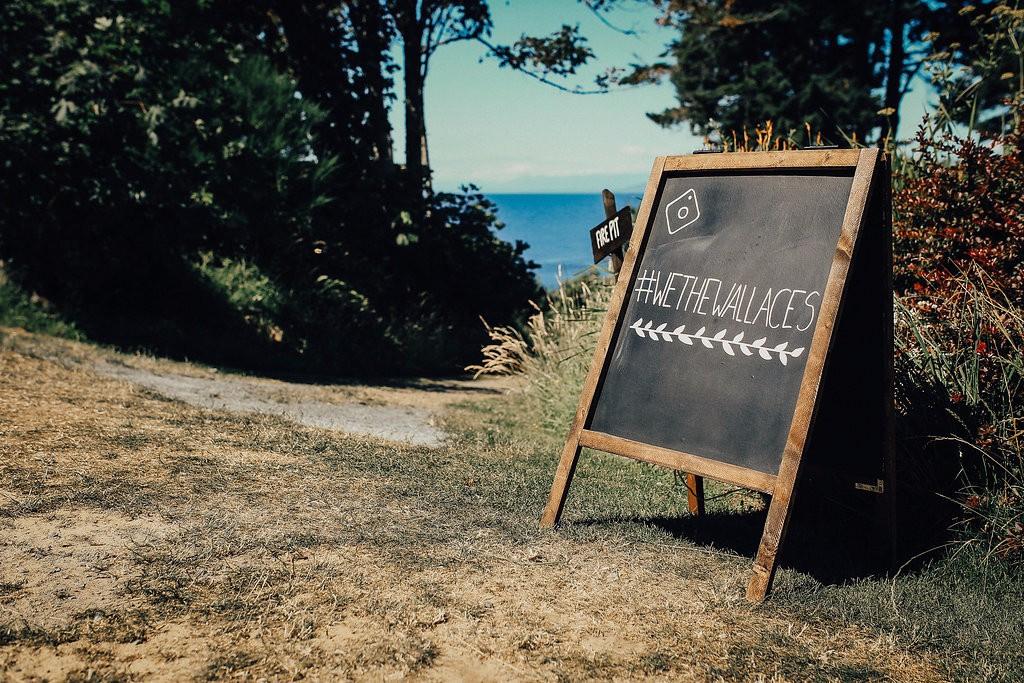 Donut Bar
Aside from music, one of the major draws of a festival is trying out trendy foods. One of the trendiest of all? Donuts. Create an installation that's as sweet to look at as it is to eat, like this one.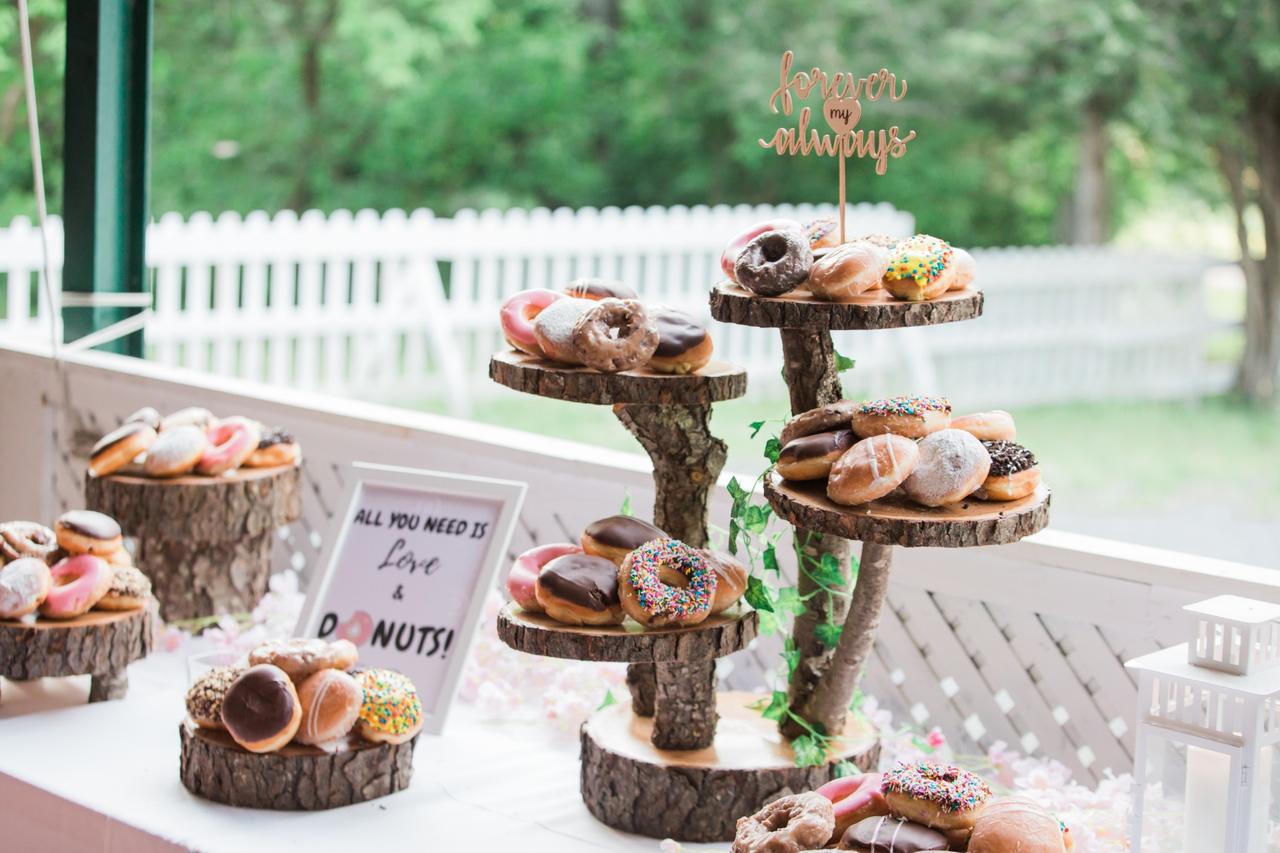 Caravan Bar
Set up a caravan bar/beer garden area where your guests can get their drink on when they need a break from dancing, mixing and mingling.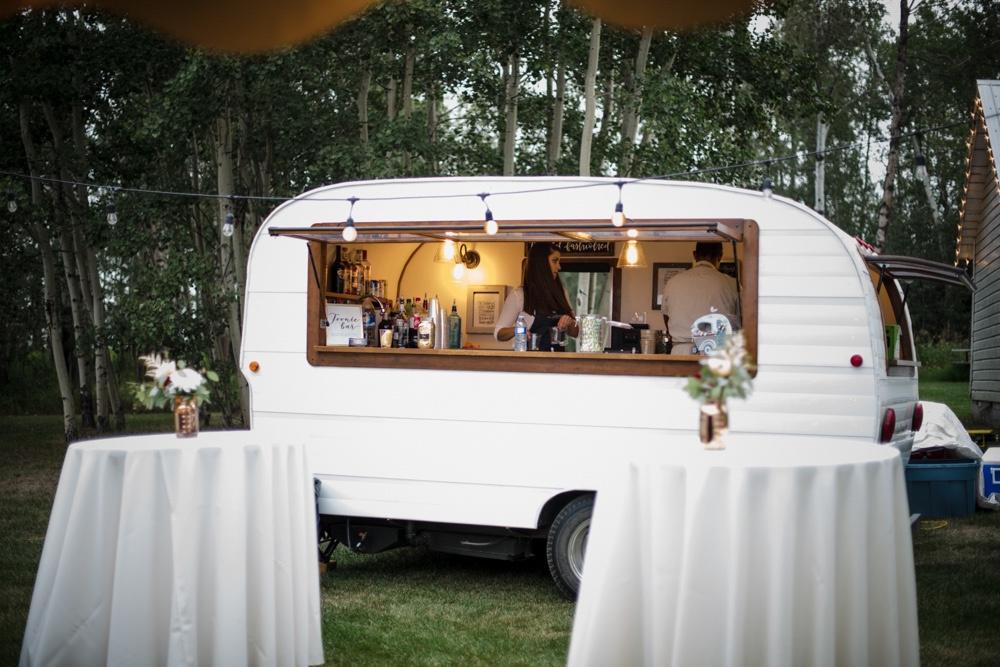 Beer
Speaking of drinks, beer is pretty much the official festival beverage, so you'll want plenty of it on hand for your reception.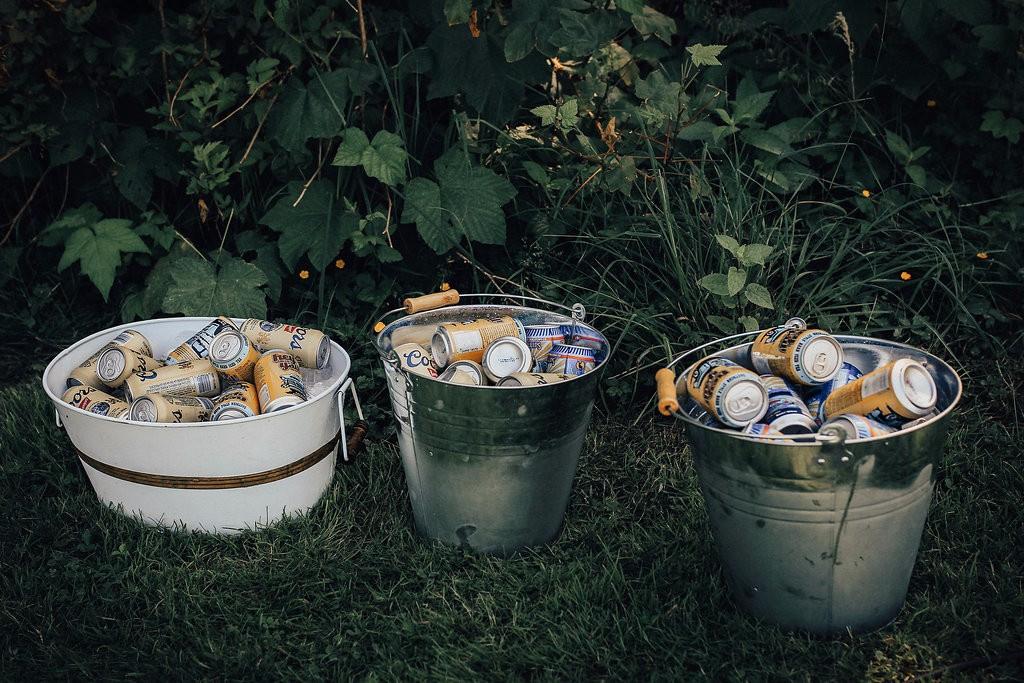 Live Music
Would you really have embraced the festival wedding theme fully if you didn't have live music?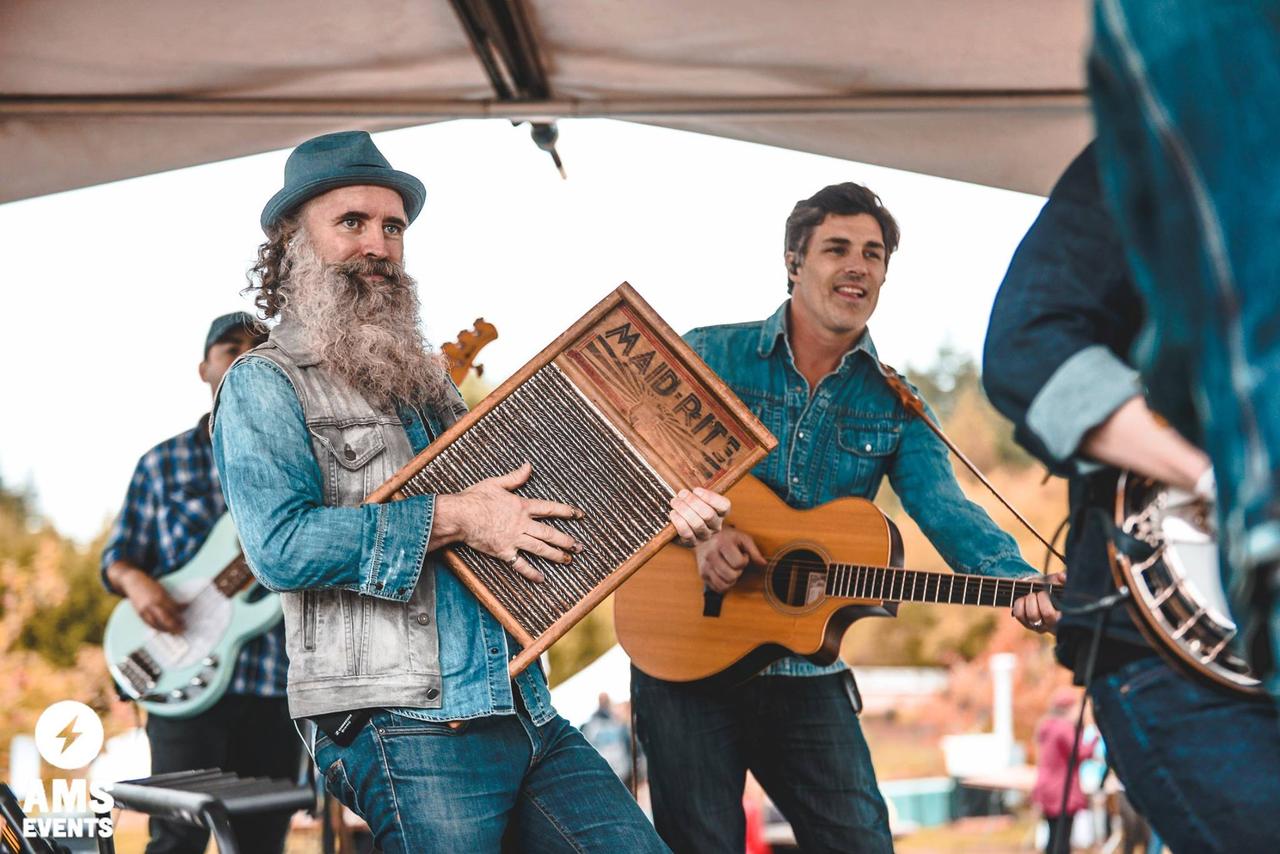 Fair Rides
If you're really splurging on your wedding, fair rides are a great way to really amp up those festival feels.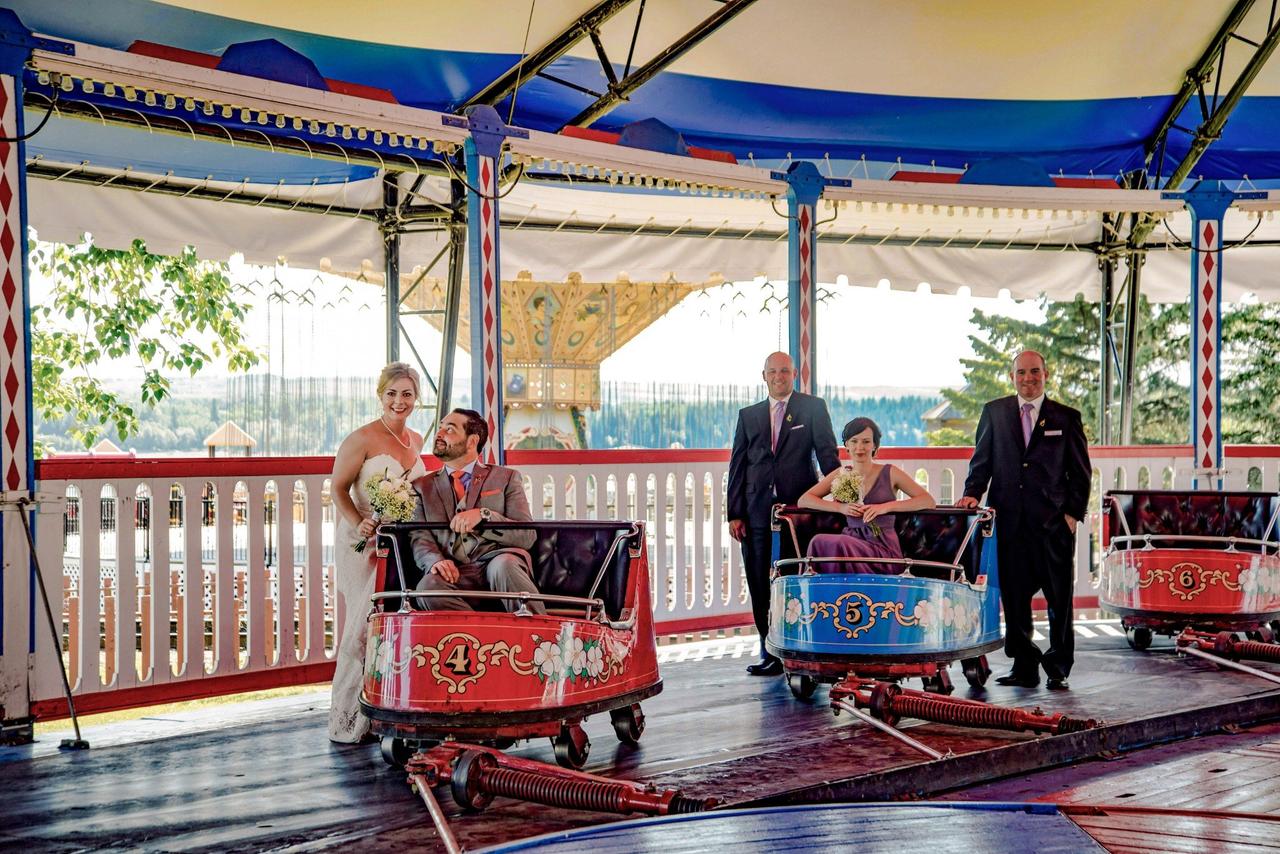 Bouncy Castle
On the hunt for a more affordable wedding entertainment option? Bouncy castles and inflatable obstacle courses will do the trick.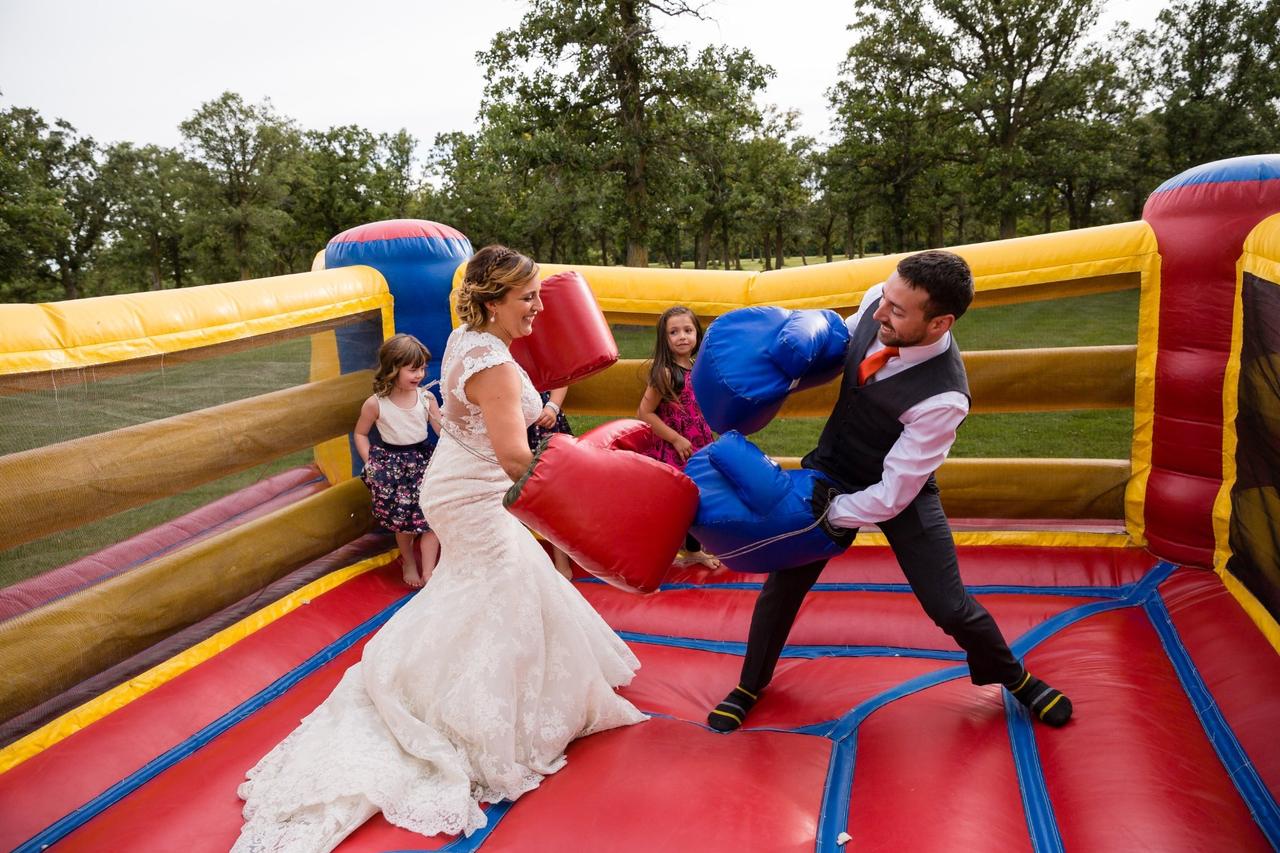 Detox Water
Your guests might need something other than boozy beverages to quell their thirst, so have plenty of water available. If you want to go the extra mile, create a few infused options with herbs and fruit to make hydrating an extra tasty experience.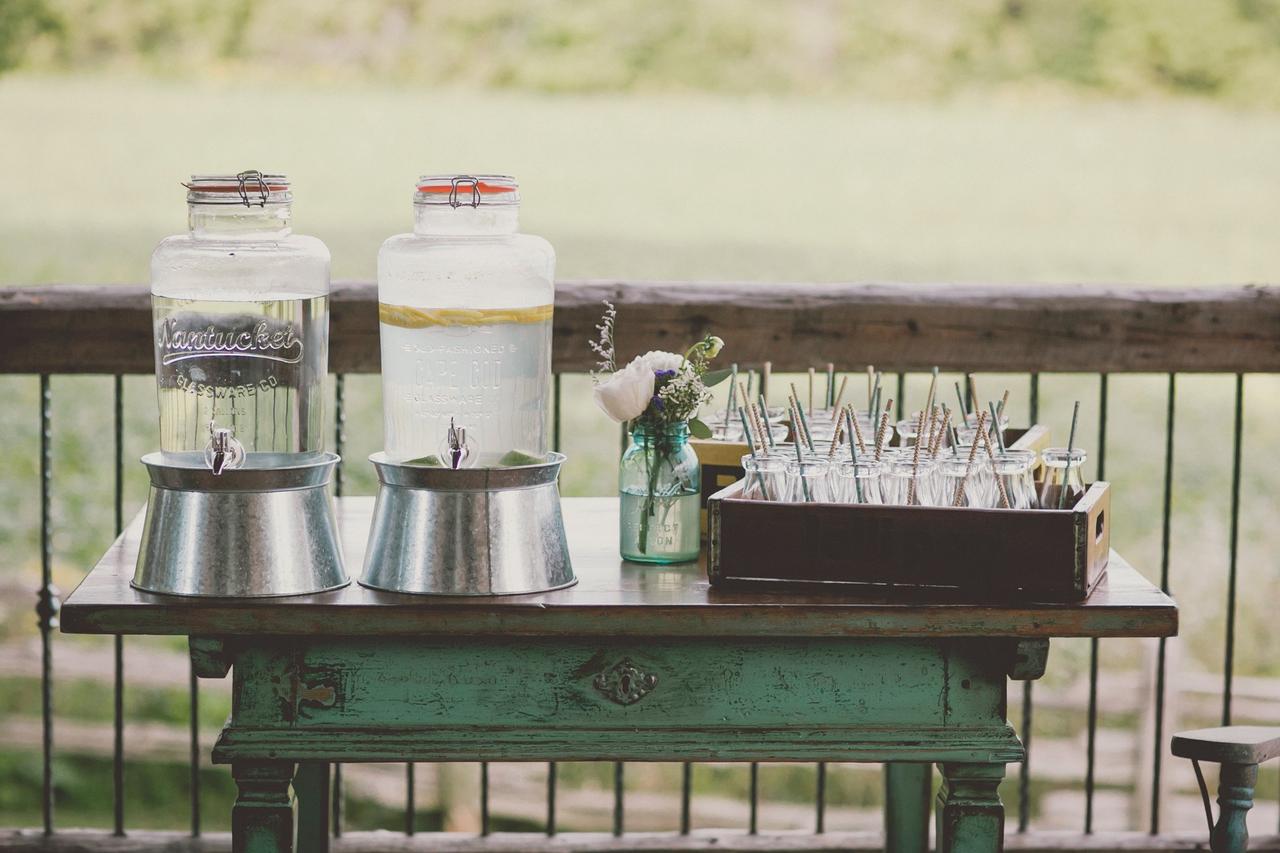 Food Trucks
Food trucks are a key part of any festival, so they're pretty much a non-negotiable.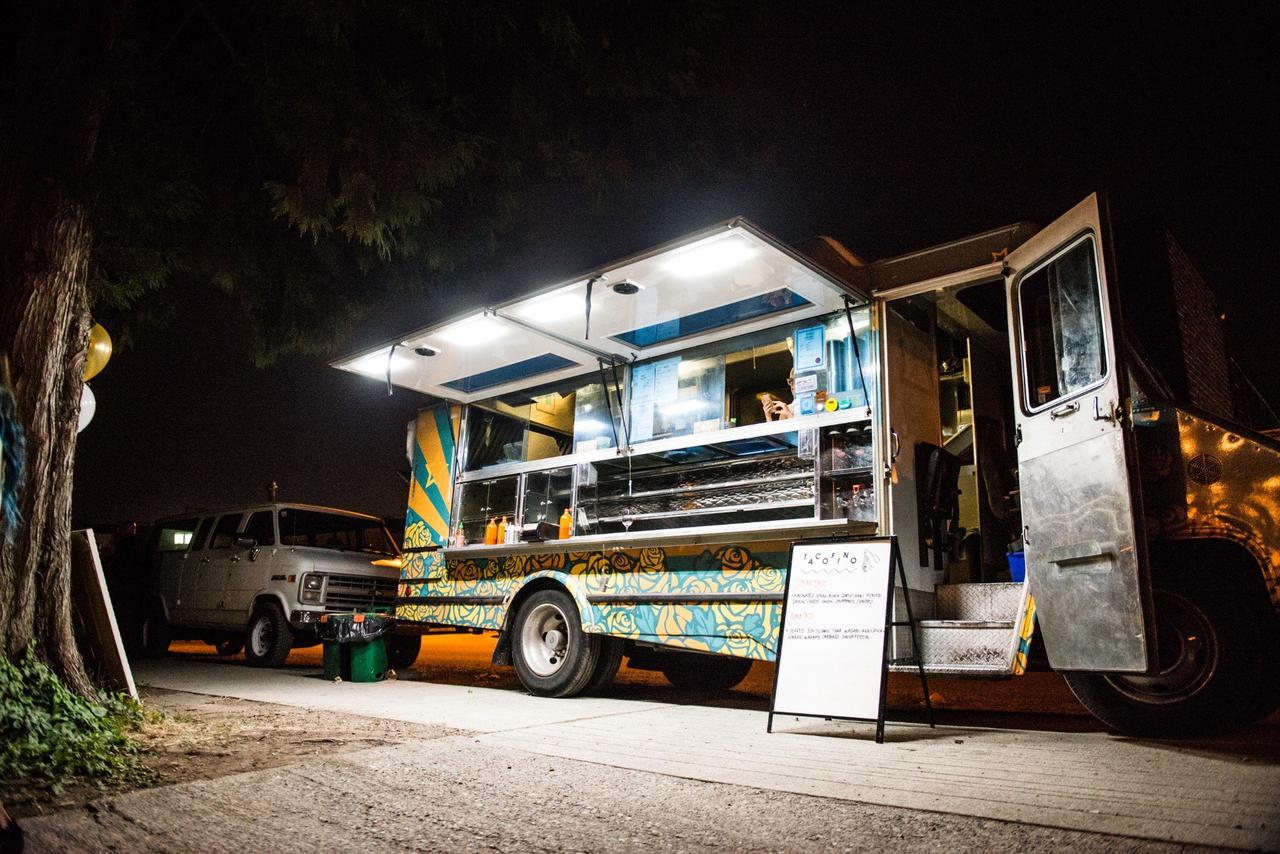 Picnic tables
Instead of fancy shmancy stuff, go with sweet and simple picnic tables. You can always amp them up with wedding centerpieces, runners and candles.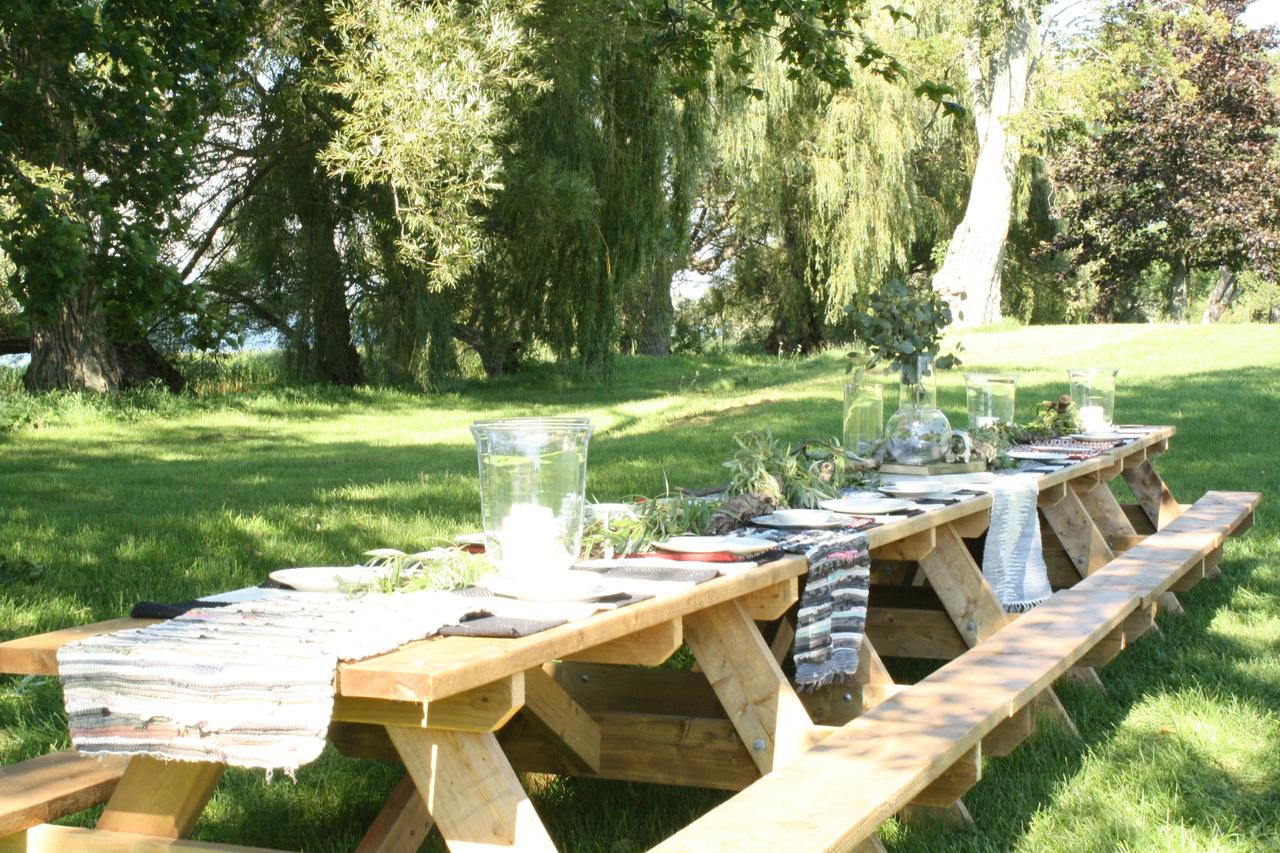 Tarot readings
Give your guests glimpses into their futures by hiring a tarot reader for your reception.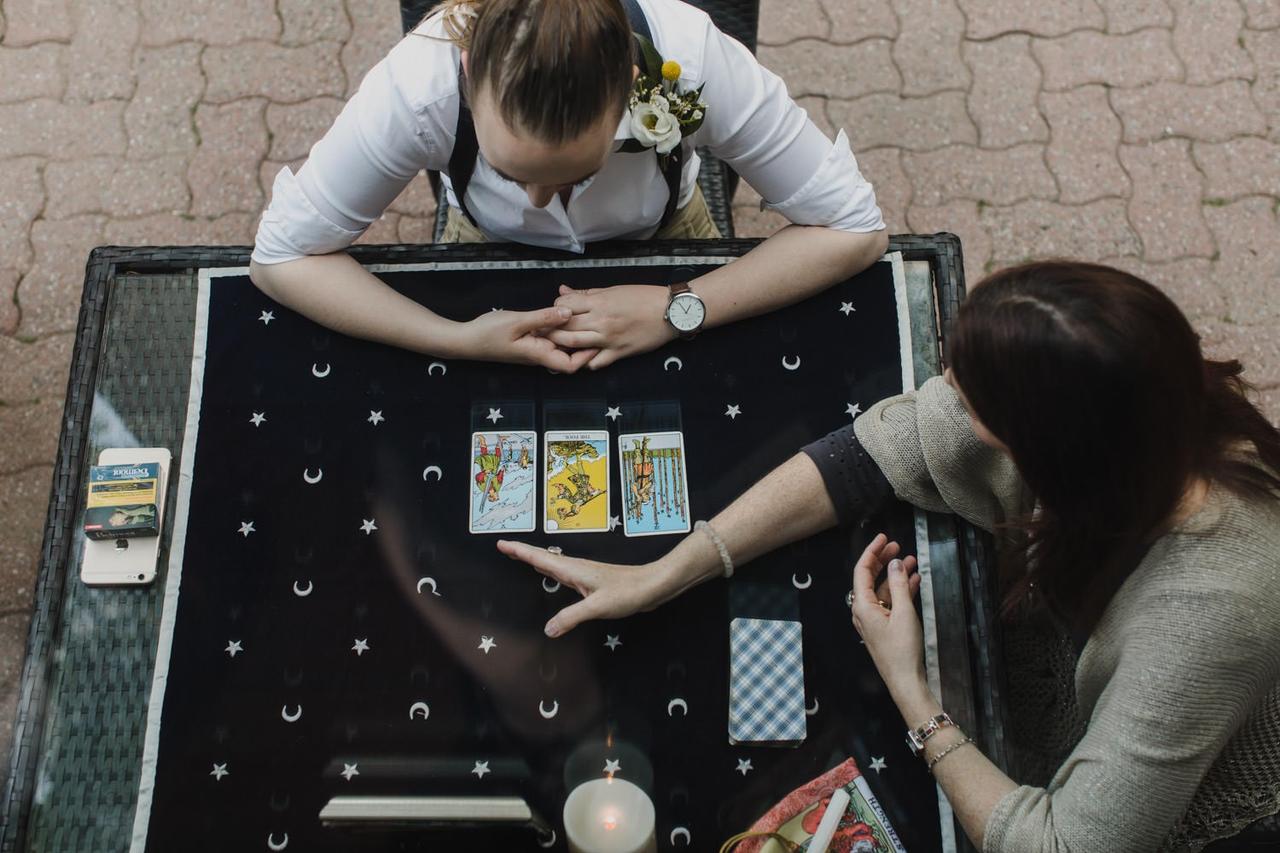 Sunglass Favours
Chances are some people will forget their Ray Bans! Offer up sunglasses as wedding favours so that you're friends and family can shield their eyes from the sun and look super stylish while doing so.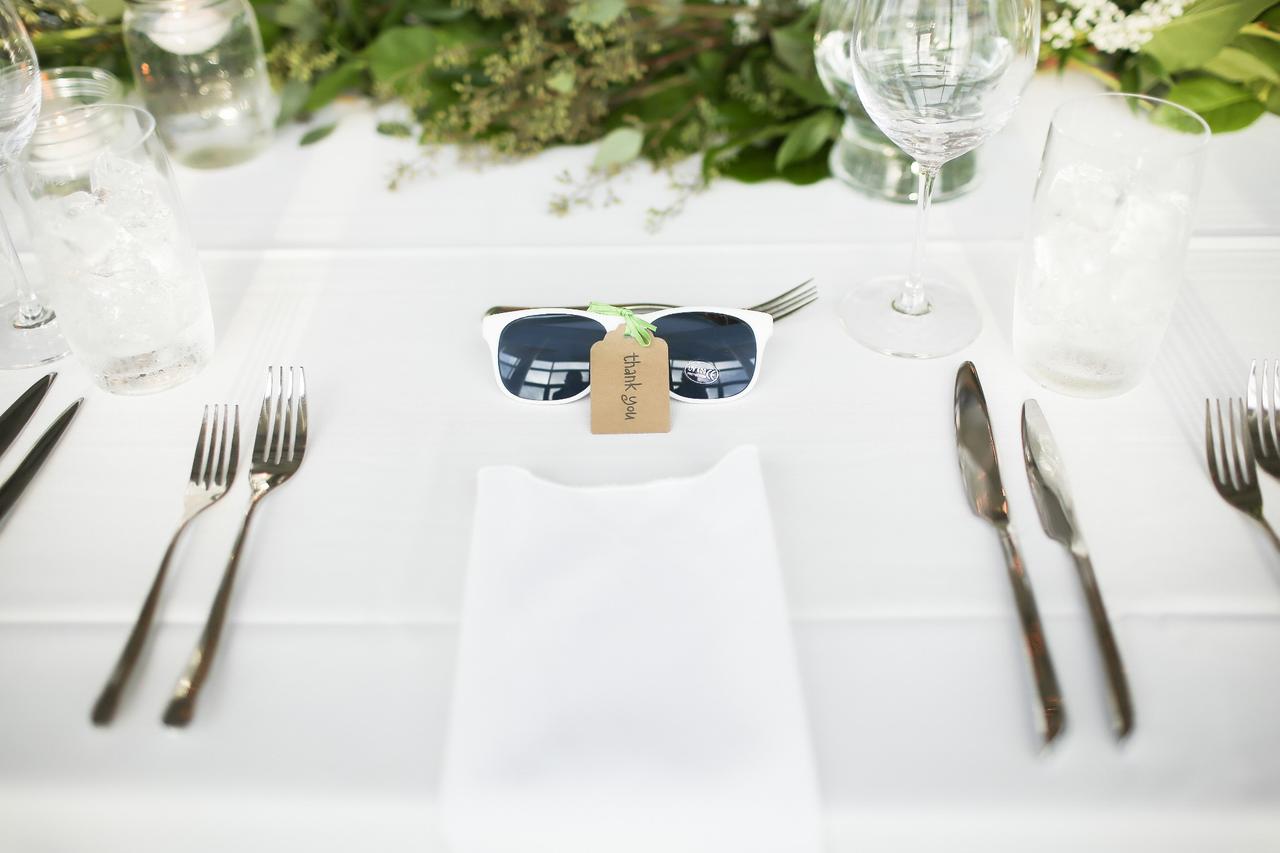 Vintage Van
Looking for something a bit cooler than a limo? Hire a vintage van for your arrival and getaway.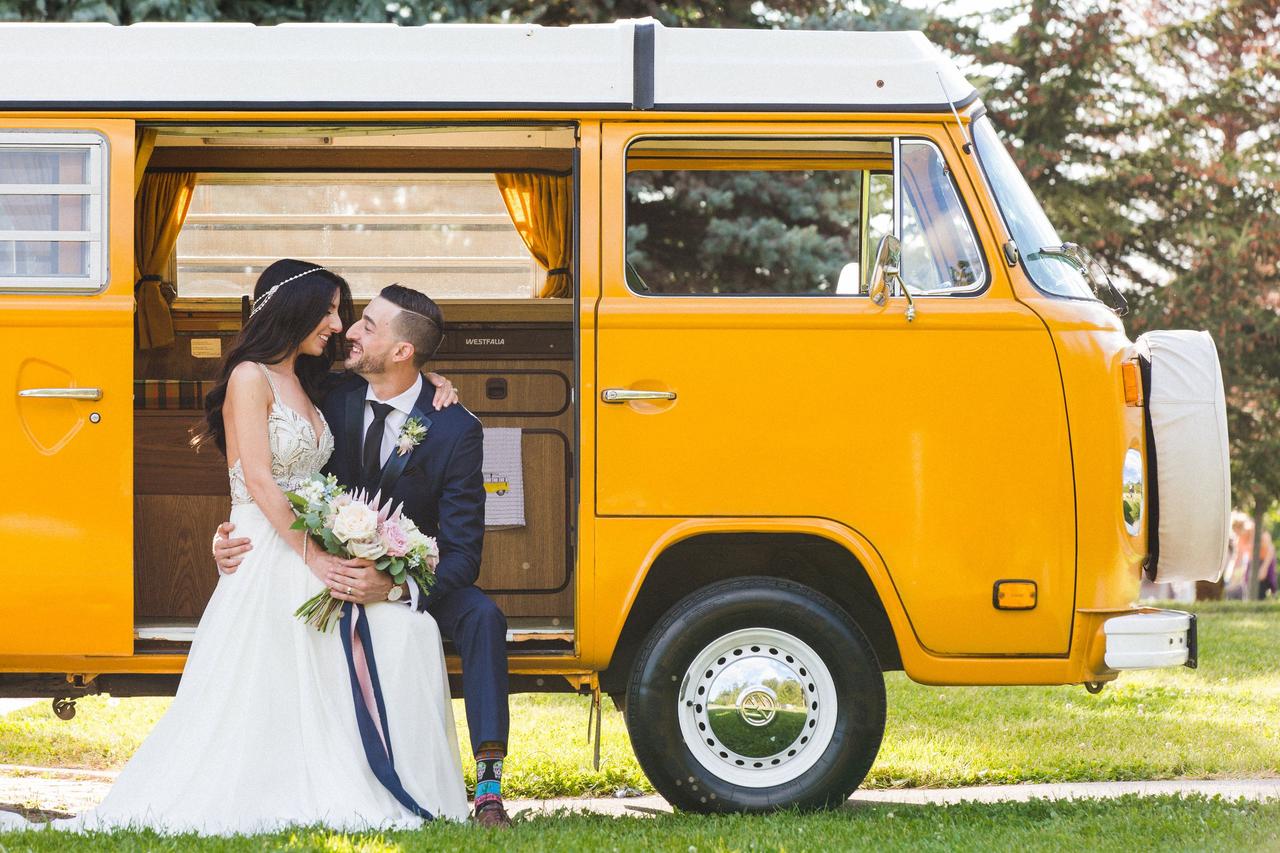 Fireworks
End the evening with a bang by putting on an epic fireworks show. It'll definitely make your celebration's finale more memorable.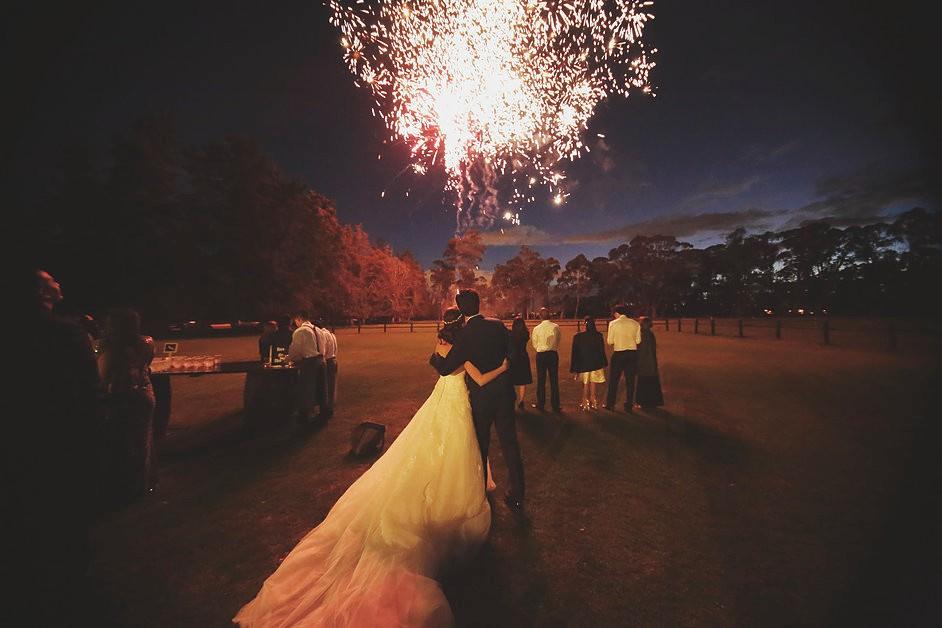 Find more wedding ideas and inspiration in our Real Wedding galleries »