24 Ways to Treat Yourself During Wedding Planning
If wedding planning starts taking over your life, it's time to take a step back. Here are a few of our favourite things to do when you need a little "me time".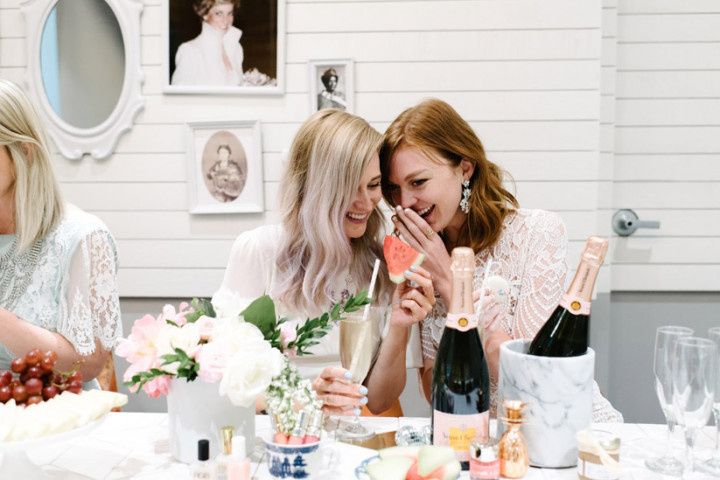 You know who deserves a bit of "me time"? You! You've been labouring over wedding planning details like your guest list, your cake flavours, your flowers and all the nitty gritty elements of your big day for months now, and, let's be honest, you're exhausted. Well, it's time to alleviate some of that stress. From getting in a bit of retail therapy to taking a sick day, these are just a few of the ways you can treat yo' self when wedding planning gets to be a little too taxing on your mind, body and spirit.
Here are a few ways to treat yourself during wedding planning.
Hit the mall. Nothing says relaxation like a bit of good old fashioned retail therapy.
Can't fit a spending spree into your budget? Window shopping can be just as fun.
Turn your bathroom into a spa. Don't forget to stock up on bath bombs, essential oils and candles beforehand.
Get a facial. Not only will this help you de-stress, it'll help you clear up your skin before your big day, too.
Commune with nature. Go on a hike, swim in a lake or cruise around on your bike.
Schedule a blowout appointment at a luxurious salon. You'll be blessed with a killer new 'do and you can count it as trying out a potential hairstyle for your wedding day.
Get crafty in the kitchen. Learn to make a new dish or cook a few of your tried and true favourites.
Schedule an extra cake tasting session. It couldn't hurt, right?
Turn off all your electronic gadgets - yes, this means kissing your wedding planning apps goodbye, too - and have a digital detox for a day.
Grab a bottle of your favourite wine and enjoy.
Master a new skill with the help of YouTube or Pinterest. Everything from salsa dancing to coding is right at your fingertips.
Every bride and groom-to-be could use a bit of beauty sleep. Get yours by cancelling all your alarms and sleeping until noon.
Get your nails done. Think about sampling out a shade or style worthy of your wedding.
Skip your wedding diet for a day and indulge in your favourite cheat meal. Mac n' cheese, pizza, fried chicken or a pint of Ben & Jerry's are all perfectly suitable options.
Have a date night. Or, if your S.O. is swamped with work, take yourself on a date. Who says you need a partner to go to dinner and a movie?
Purchase your fave snacks and have a day-long Netflix marathon. Maybe sneak in some wedding-themed faves like Bridesmaids, The Wedding Planner and 27 Dresses?
Make yourself a throwback playlist and dance like no one's watching.
Schedule a brunch with all your bridesmaids. There's no better place to discuss wedding planning than a table filled with pancakes and mimosas.
Embrace your inner artist and spend the day doodling, drawing or painting.
Call in sick to work. Since wedding planning is practically a second job, you deserve a mental health day.
Be a tourist in your own city. Pop into museums, galleries and boutiques, then grab a bite to eat at a new local hotspot.
Prep for your bachelorette party by having a night out with your BFFs.
Get out of town for a day or two. Hop in your car and drive to a neighbouring city or town to see the sights.
Sweat out your planning frustrations by trying a new workout. Do a class at SoulCycle, try barre for the first time or learn choreography at a dance studio.
Join the wedding planning discussions in our community forums »