25 Wedding Hashtags You Should Use While Planning Your Celebration
Want to make your big day go viral? Here are all the wedding hashtags you should be using while planning your celebration.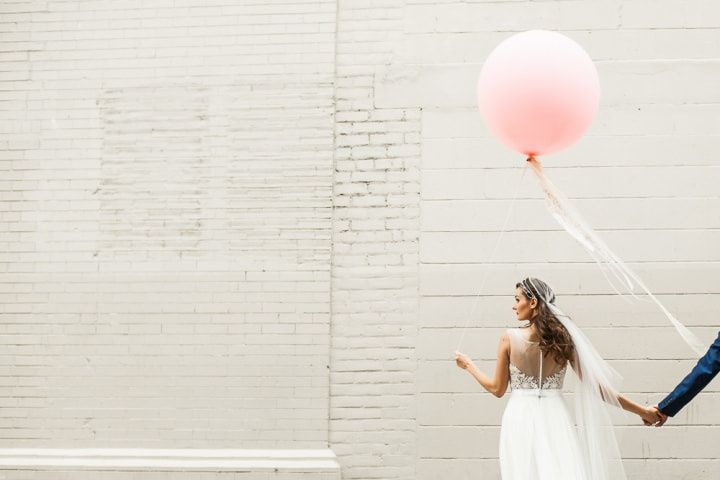 The wonderful world of Instagram is filled with crazy acronyms that you may have resisted before your fiancé(e) put an engagement ring on it. But now's the time to embrace the wedding hashtag and get your wedding trending. No, you don't have to go wild and stack your caption with forty wedding-related words, but one or two couldn't hurt. From #justsaidyes to #foodporn, this is where and when you should put Insta's best tool (other than filters, obvi) to use.
Here are a few wedding hashtags you should use while planning your wedding.
#justsaidyes: For your first pre-wedding posts.
#bridetobe (or #groomtobe): Because, duh.
#tbt: For when you take a romantic stroll down memory lane.
#(insert your bachelorette/bachelor hashtag here): For when you're partying it up with your squad.
#weddingcountdown: For when you just can't wait.
#covidweddingplanning to seek out support from other couples and wedding pros during the COVID-19 uncertainty.
#covidwedding so you can see how other couples worked social distancing into their big day.
#covidelopement if you want to get married now and postpone the party for later.
#weddingmasks for wedding-worthy face mask styles to keep you and your loved ones safe.
#nofilter: For when you want to show off how awesome your wedding is IRL.
#(insert your wedding hashtag here): For when the big day arrives.
#regram: For when one of your bridesmaids posts something cute.
#selfiesunday: For when you and your fiancé(e) are feelin' yourselves.
#manimonday: For when you've found your perfect wedding manicure.
#blessed: For every photo leading up to (and on) your wedding day.
#dreamdress: For when you're posting a sneak peek of "the one".
#weddinginspo: For when you're crafting your vision.
#weddingtrends: For the hottest wedding trends in the bridal biz right now.
#weddingfail: For when that Pinterest DIY doesn't work out quite right.
#mcm (or #wcw): For when you want to give your fiancé(e) some love.
#happyhour: For when your cocktail hour kicks off.
#ootd (or #ootn): For when you want to show off your pre-wedding party ensembles.
#foodporn: For when your wedding caterer knocks it out of the park.
#wedding: For when you want to keep things simple and to the point.
#wanderlust: For when you and your new spouse head out on your honeymoon.
Create your own wedding hashtag using WeddingWire's wedding hashtag generator tool and follow WeddingWire Canada on Instagram for inspiration »