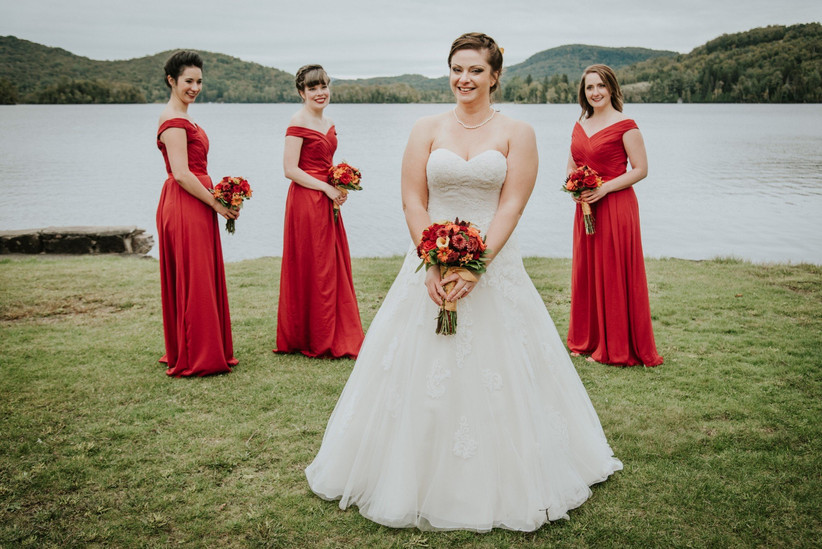 Planning a wedding is expensive - like, really expensive. So, naturally, you'll want to save money wherever you can. Wedding dresses can cost thousands of dollars and for some brides, that can seem a little crazy since you'll probably only rock yours once. If you don't want to put a ton of your wedding budget into a ball gown, don't stress, you can rent one for a small fee, instead. We've rounded up where to find wedding dress rentals in Montreal to help you hunt down the bridal gown of your dreams on a budget.
Here's where to find wedding dress rentals in Montreal.
Oui, Je Le Voeux
Oui, Je Le Voeux is where to go for wedding dress rentals in Montreal if you really want to explore your options. The store has more than 2000 frocks available, so you can try on a ton of different wedding dress silhouettes and styles to see what suits you best. Its stock includes gowns by big labels like Maggie Sottero, Bonny Bridal, Essence of Australia, Stella York and many more, so you can really get a feel for what's out there.
Atelier Privé
Atelier Privé is a luxury lending service that makes finding the perfect frock for any occasion a breeze. While wedding dresses aren't its specialty, it does have a ton of gorgeous designer dresses available that are totally wedding-worthy. If you're looking for something modern, unique and anything but traditional, its showroom is worth visiting. P.S. your bridesmaids could totally find their dresses here, too.
La Petite Robe Noire
La Petite Robe Noire is a lending service similar to Atelier Privé, specializing in special occasion dresses, but not necessarily wedding gowns. Before you knock it - it does have a number of designer dresses that you totally could wear on your big day, including cute blush pink minis, sequin maxis and colourful silk gowns. Basically, if you're on the hunt for something bold, beautiful and offbeat, this is a place to check out for wedding dress rentals in Montreal.
Le White Closet
Le White Closet is the bridal-focused sister of La Petite Robe Noire, offering gorgeous white wedding dress rentals in Montreal. It has a bevy of different style in sizes 0 to 12, so you're bound to find something that fits your style and body type here. Still not sold? It also has a selection of bridesmaid dresses, bridal accessories and shoes, so you can take care of everything for your bridal ensemble in one fell swoop.
Station Service
Station Service is a rental service that stocks pieces by local designers. Though it isn't specifically geared toward brides, there are a few pieces in its Cocktail section that you could totally rock for a more relaxed wedding. If you're not a ball gown gal and love the laid-back look, take a scroll through.
Browse our wedding dress galleries by silhouette, neckline and designer for gown inspiration.